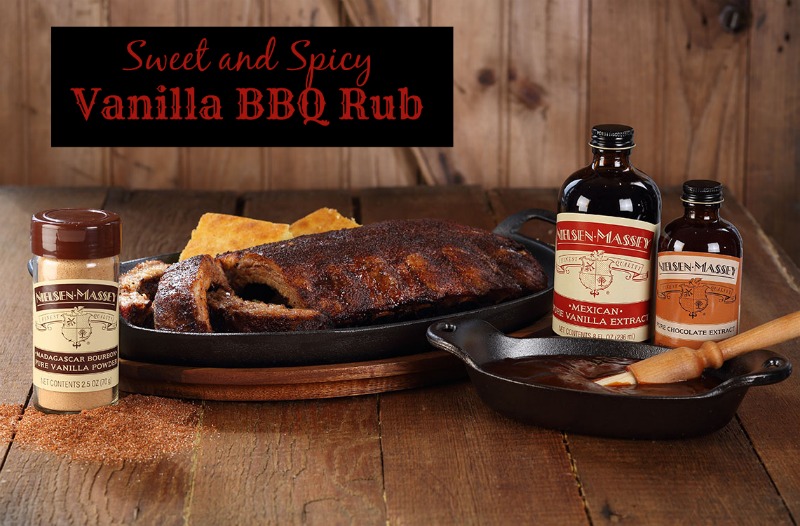 Here is a delicious rub for your next cookout. It's the perfect combination of sweet and spicy. I love using Nielsen-Massey Madagascar Bourbon Pure Vanilla Powder in my baking so I was thrilled to find this sweet and spicy vanilla BBQ rub recipe.
Not familiar with Nielsen-Massey or their vanilla powder? Here's a little description from their site:
"The alluring flavor of our Madagascar Bourbon Pure Vanilla in an all-natural, alcohol and sugar-free powder. Distinctive from our extract or paste, this powder is ideal for dry mixes, liquid or color-sensitive recipes, such as icing, and flavoring for beverages. Elevate the flavor of all your cakes, cookies and pancakes with a sprinkle of this versatile powder."
Sweet and Spicy Vanilla BBQ Rub Recipe
(Makes about ⅓ Cup)
INGREDIENTS
1 tablespoon Nielsen-Massey Madagascar Bourbon Pure Vanilla Powder
1 tablespoon smoked paprika
1 tablespoon firmly packed dark brown sugar
1 tablespoon Mexican style chili powder
1 teaspoon garlic powder
¼ teaspoon ground marjoram
½ teaspoon onion powder
1 teaspoon cocoa (Dutch processed)
1½ teaspoons salt
½ teaspoon pepper
DIRECTIONS
In a small bowl, add vanilla powder, paprika, sugar, chili powder, garlic powder, marjoram, onion powder and cocoa powder, salt and pepper; combine. Store in an airtight container until ready to use.
This BBQ rub works great with chicken, pork, beef or fish. Whether grilling or oven roasting, generously apply rub before cooking.