Acorn squash recipes are perfect for anyone from the seasoned home chef to the timid beginner cook, making this versatile recipe a kitchen essential for all types of tastes.
Plus, if you had a successful gardening season and have an abundance of squash you may be looking for new ways to enjoy this delectable fruit.
17 Delicious and Delightful Acorn Squash Recipes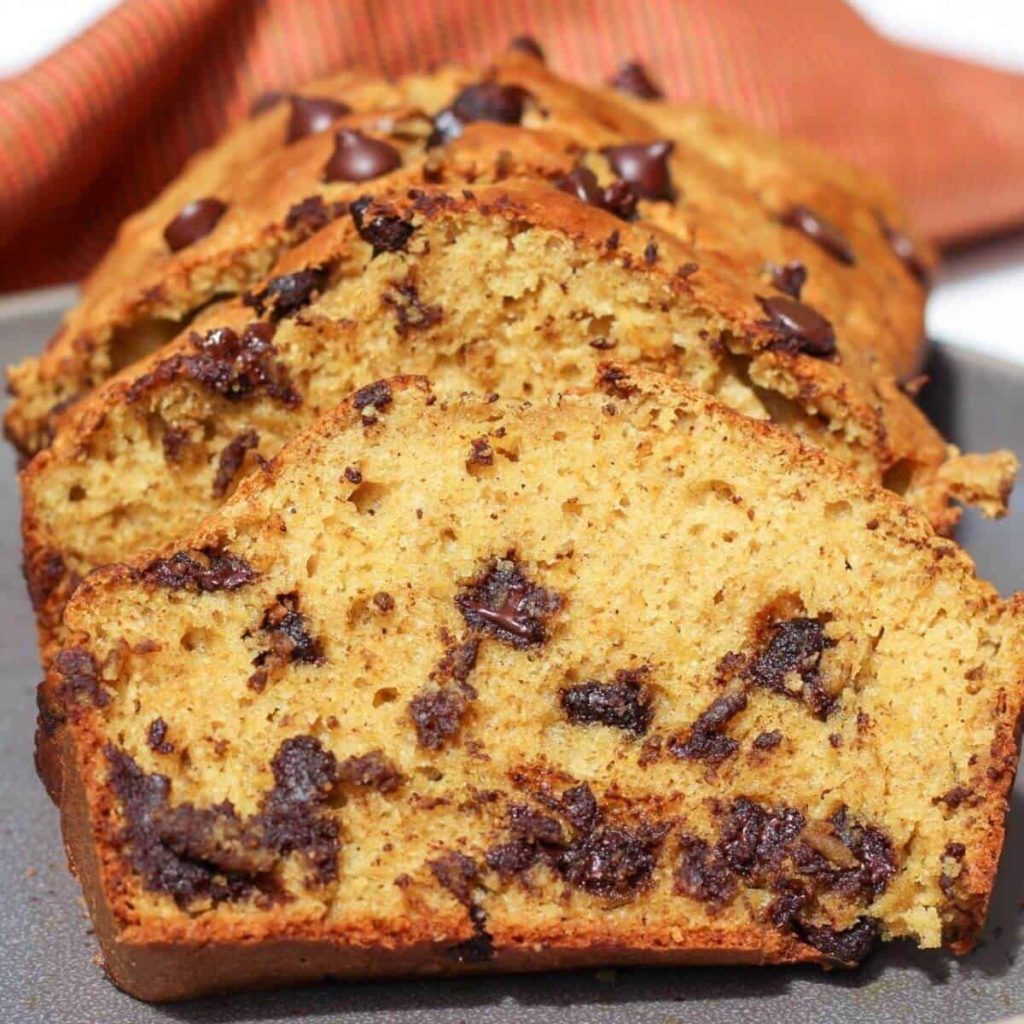 Acorn squash bread is a quick bread that is flavored with fresh acorn squash puree, coconut sugar, cinnamon, nutmeg, cloves, vanilla extra and mini chocolate chips.
While you can use canned acorn squash puree, the fresh taste is the best. Making the fresh acorn squash puree is easy but requires some time to cook and cool.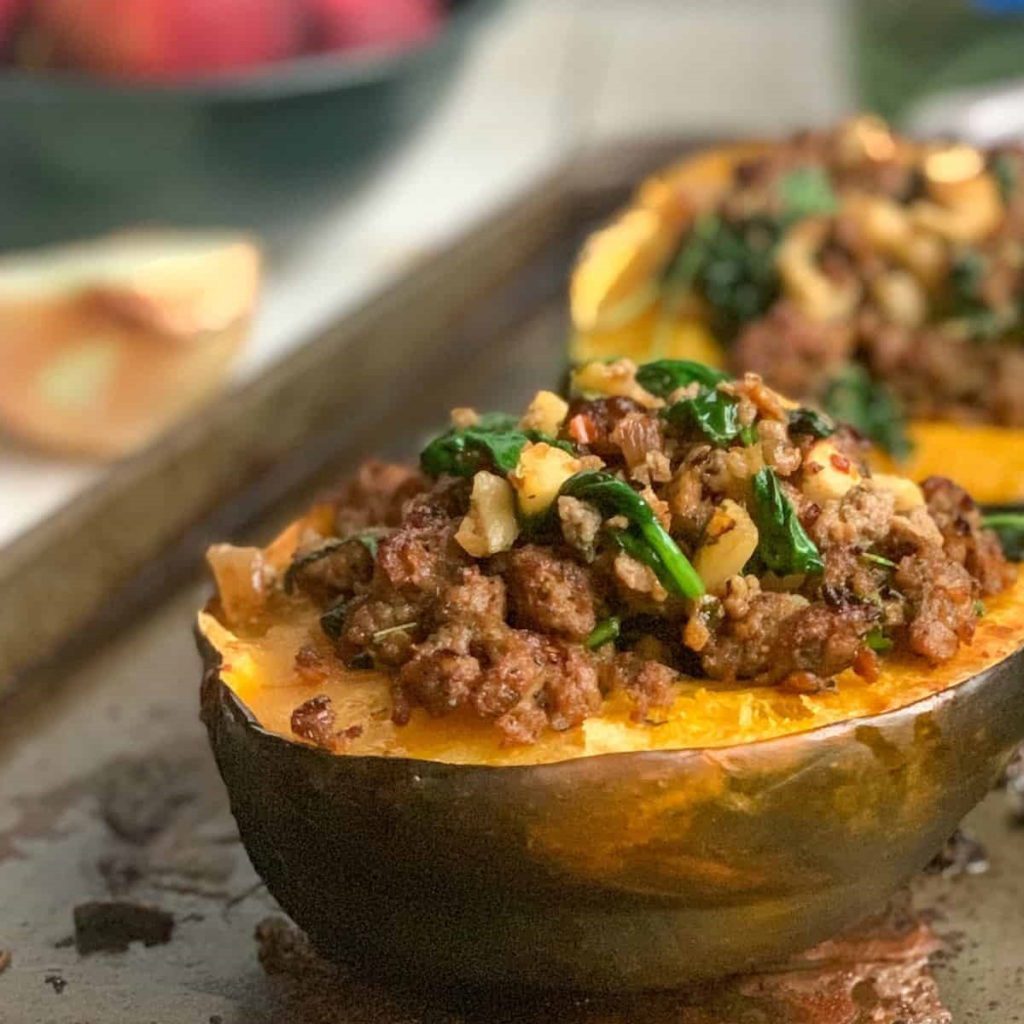 Stuffed Acorn Squash with Sausage Filling is a delicious way to usher in fall! Full of flavor and healthful ingredients like spinach and apples, this is a recipe the whole family will love.
The prep will take you less than 20 minutes and then the oven will do the rest of the work. Most of the hour long bake time is hands off time, making this a great recipe for those busy week nights! Did I mention it uses less than 10 ingredients and only 2 of them need to be chopped? Yes, that's my kind of recipe.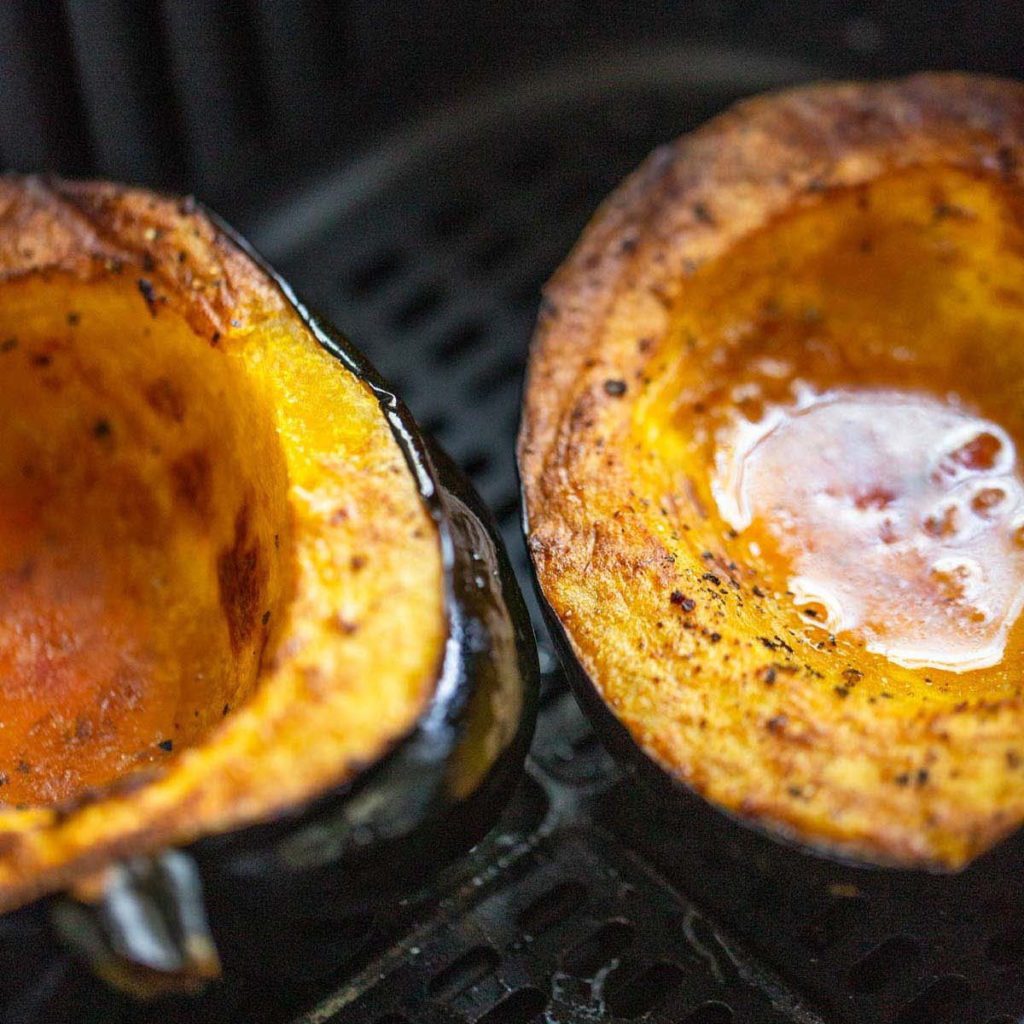 These air fryer acorn squash halves are a little bit of fall foodie love that I am excited to share. Acorn squash roasts up so beautifully in the air fryer and it's a fabulous way to enjoy winter squash.
It may just be me and I am not even sure why but acorn squash halves seem so much easier to cut in the first place.
PLUS there is nowhere near the amount of squash to deal with when it comes time to eat. I've made air fryer butternut squash halves and we've made air fryer delicata squash but I am throwing it out there that I think these air fryer acorn squash halves might be your new favorite.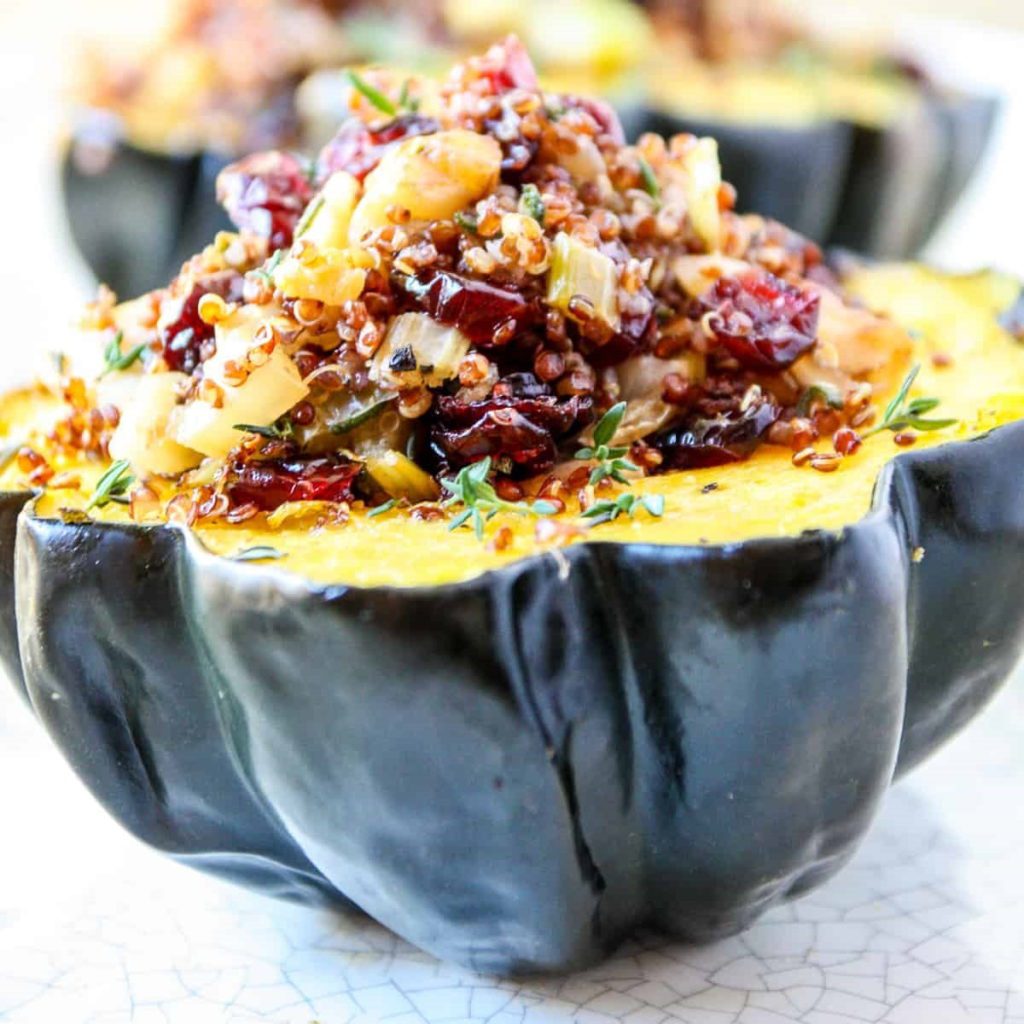 Air frying makes it easy to serve stuffed acorn squash at any time of the year! Acorn squash gets its name from its resemblance to a giant acorn.
It's a type of winter squash, with a slightly nutty flavor and rich, golden-orange flesh. It has a firm texture and holds its shape well when cooked, which makes it the perfect vessel for a delicious herby stuffing of quinoa, apples, cranberries and walnuts.
There are quite a few ingredients in this recipe. But really, it's a pretty simple process. If you can cook some quinoa and mix it with a few things, you're good to go. If you're making extra crispy roasted chickpeas to go with, you'll want to start those first.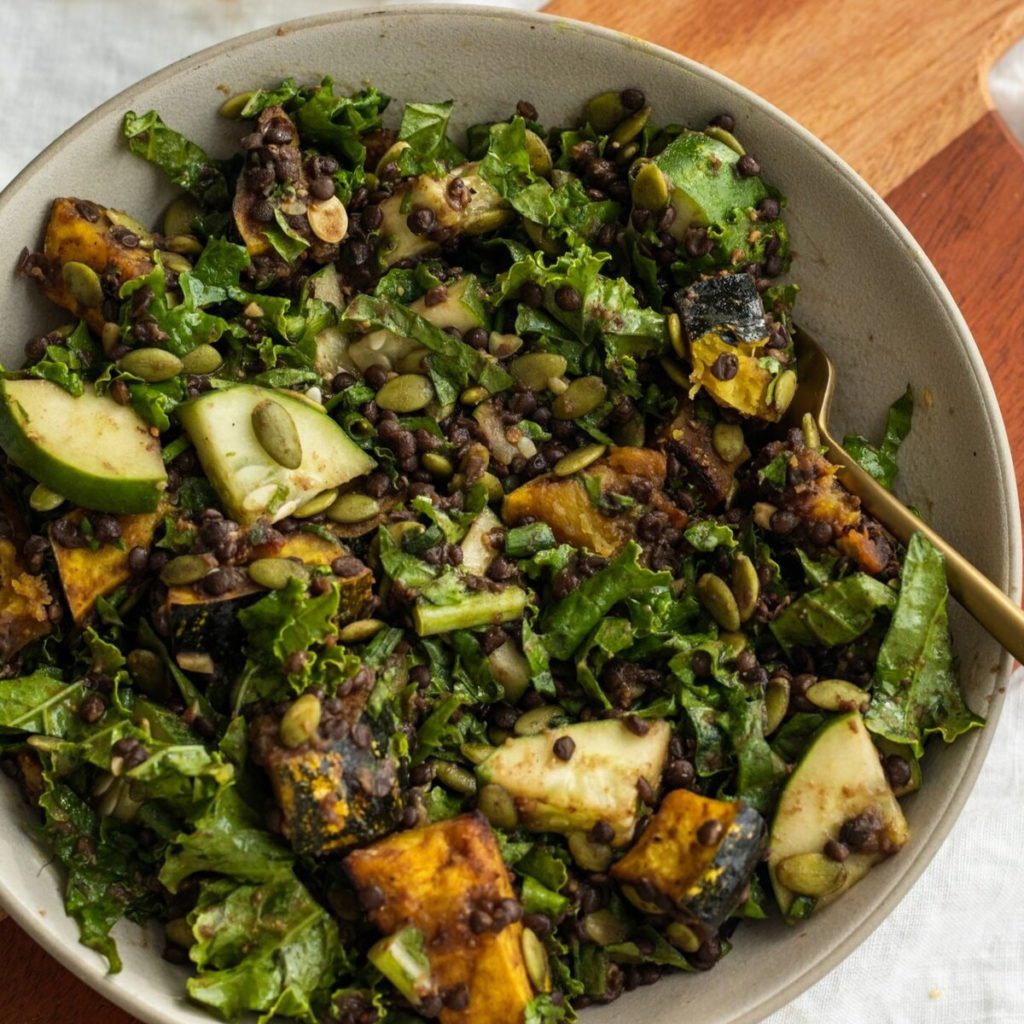 Fall always feels like a salad season to me, so making this Black Lentil Acorn Squash Kale Salad with Maple Miso Mustard Dressing really hit the spot. Like bellowing loud, it's FALL when a salad is made with roasted acorn squash.
The Maple Miso Mustard Dressing ties everything together in a way that just makes the whole thing pop.
I love using kale for salad beds because I can meal prep with the dressed salad all week and not have a soggy disaster waiting for me in the fridge.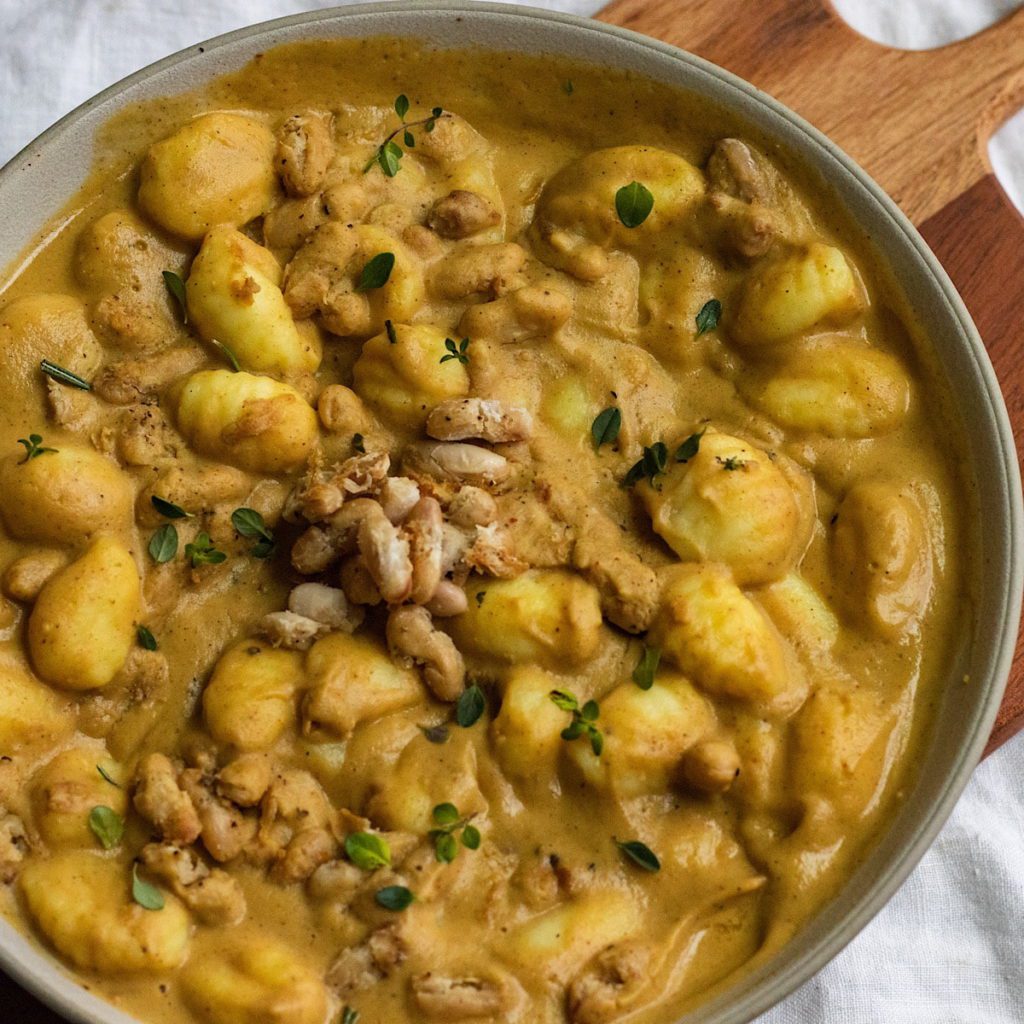 This creamy acorn squash gnocchi pasta is legit amazing. IMO, acorn squash is pretty underutilized in sauces. Everyone is dropping butternut squash into things, which is cool, but I'm hopping aboard the acorn squash train.
And while I'm at it, I'm throwing in some warming herbs too like thyme and rosemary. It's a perfect warming comfort meal.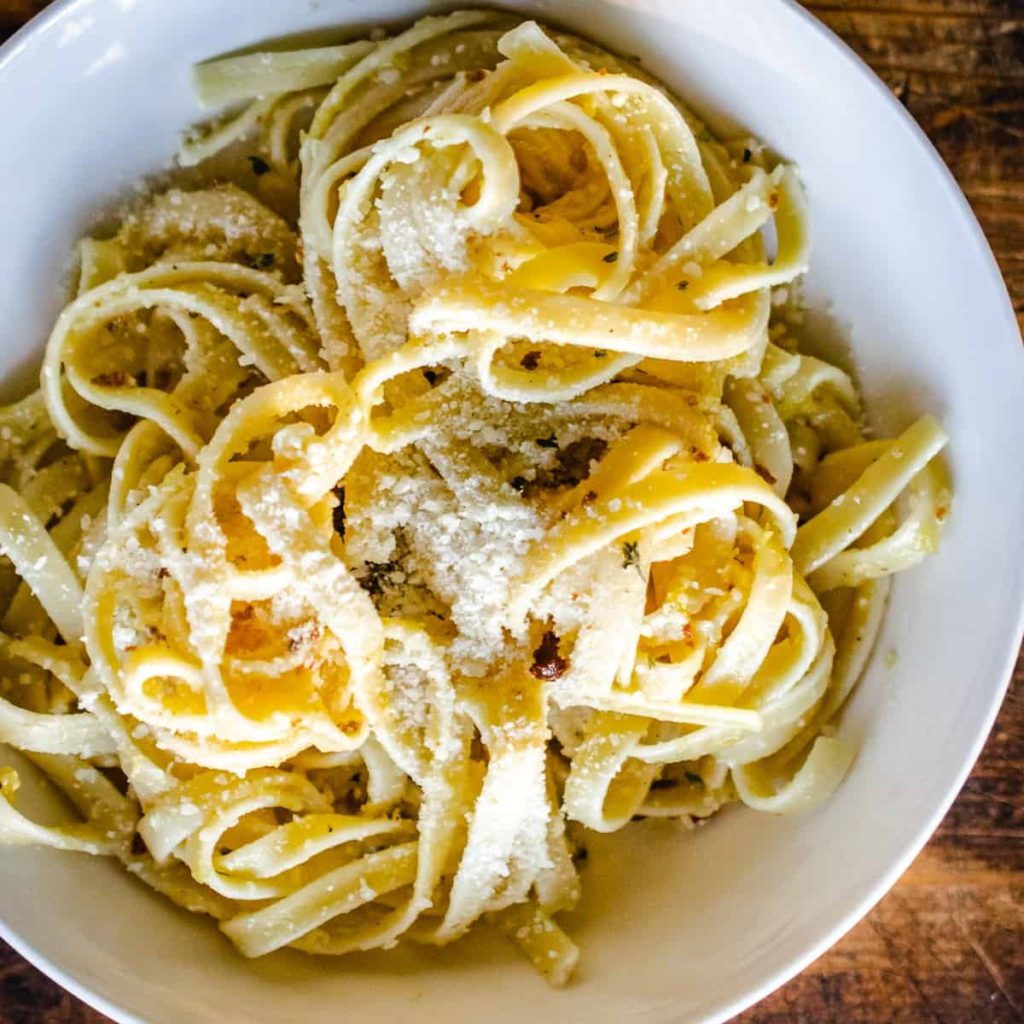 A simple and easy non traditional Thanksgiving recipe that will have dinner on the table in no time. This is a beautiful dish to use as a main course for your vegan meal. The acorn squash is the star of this meal, and it creates an amazing taste for the sauce on the noodles.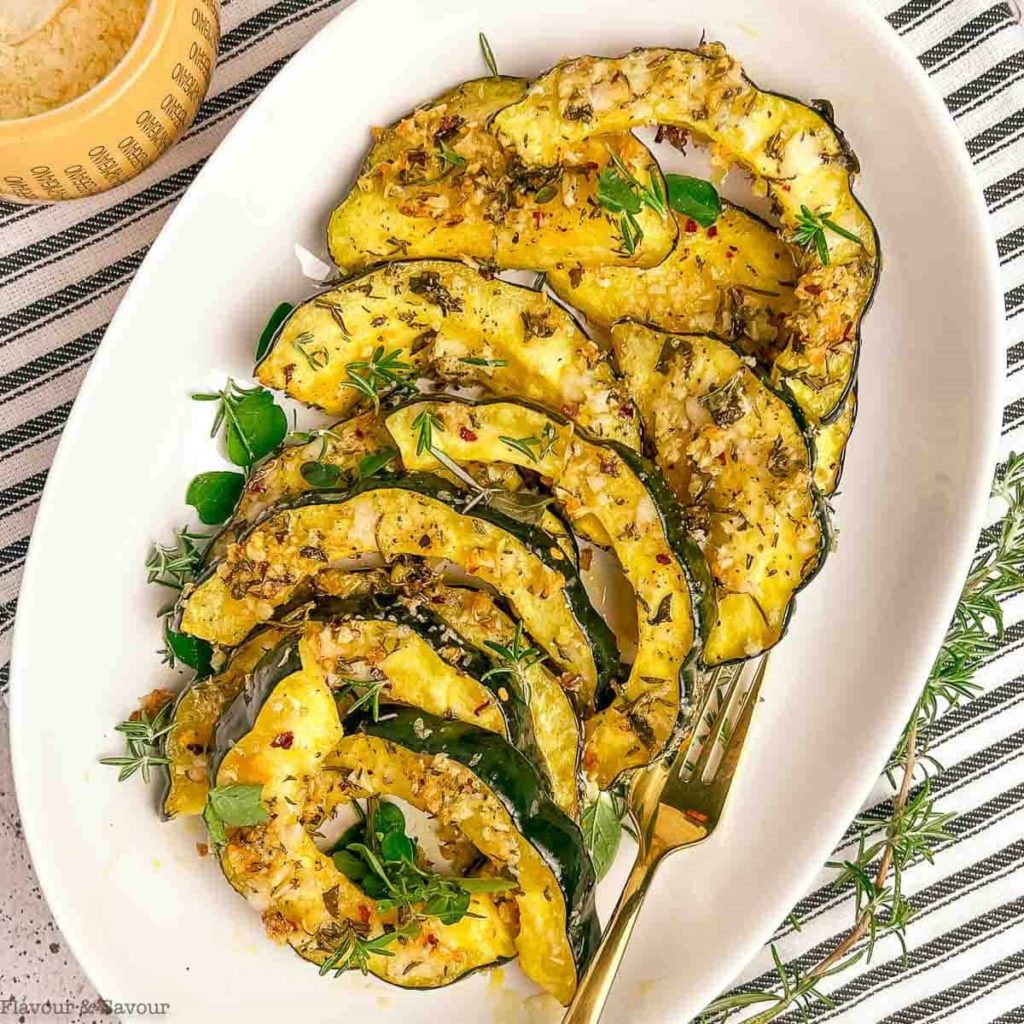 For the holiday table, roast some Garlic Parmesan Roasted Acorn Squash Slices. Deliciously simple, this Baked Acorn Squash recipe is a savory side that pairs well with prime rib.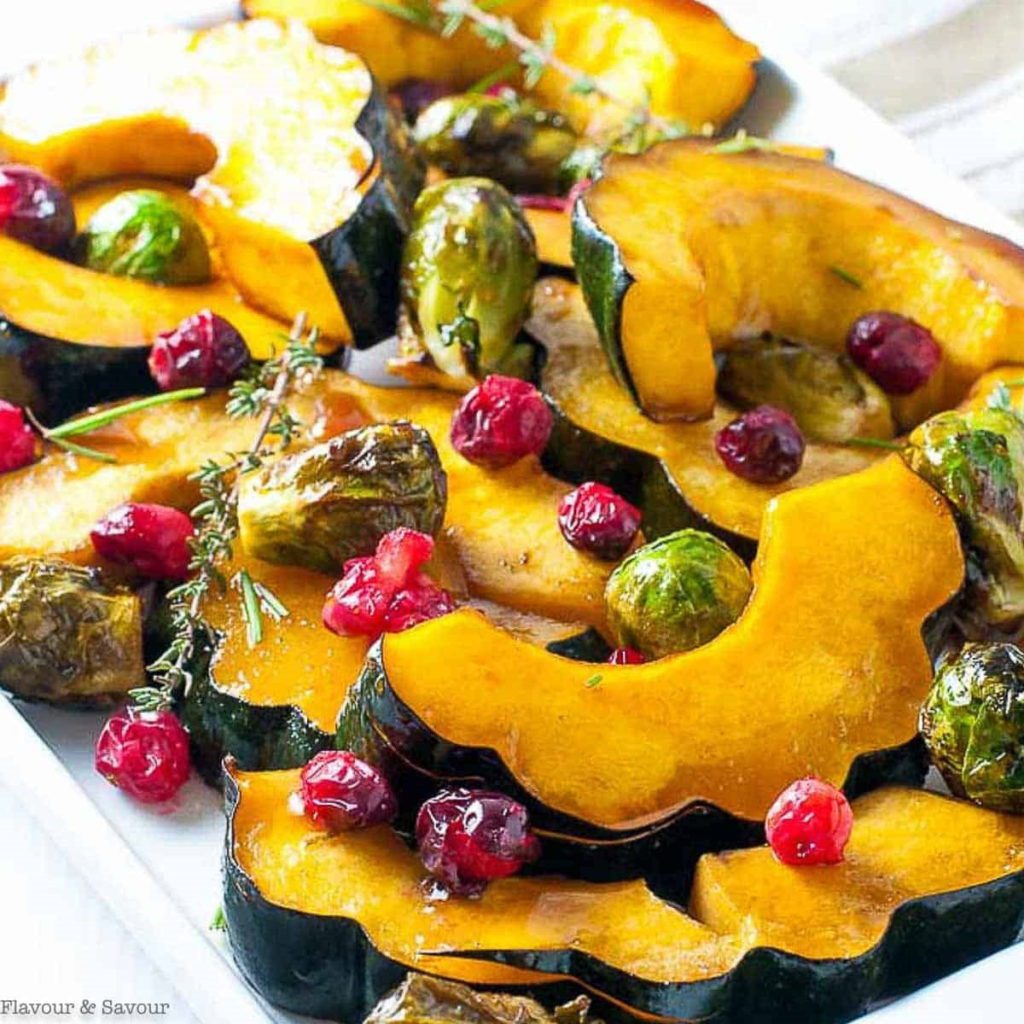 This recipe for honey roasted acorn squash combines tender slices of squash, sprouts, and cranberries with a tangy glaze of balsamic vinegar and honey.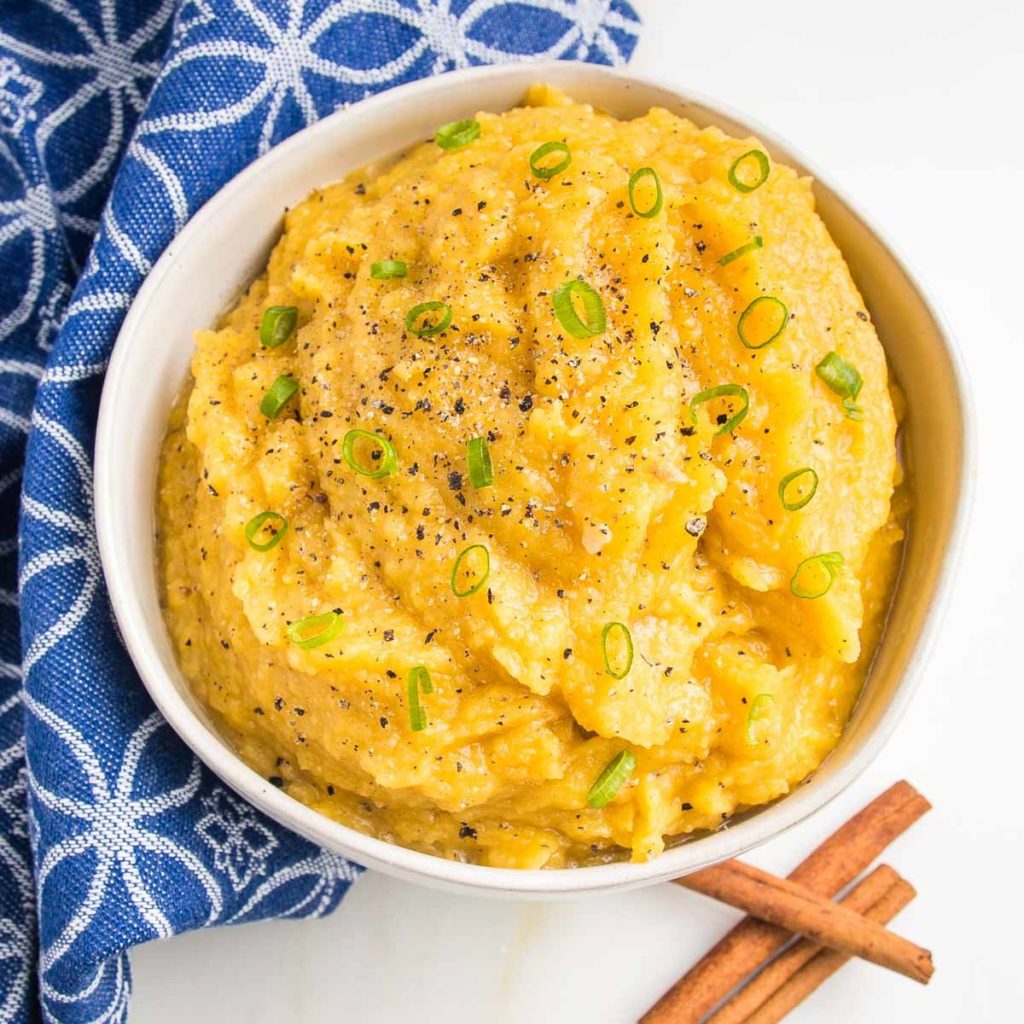 Mashed acorn squash made with minnimal ingredients that tastes like you want to keep dipping in for more and more.
This mashed acorn squash recipe is easy to make with simple ingredients and it tastes incredible. The only acorn mash you'll ever need.
Oh, you know you want this in your life….a super delicious side dish recipe (that happens to be healthy)! Savory, cozy fall vibes in every bite. As far as acorn squash recipes go, it doesn't get any better than this.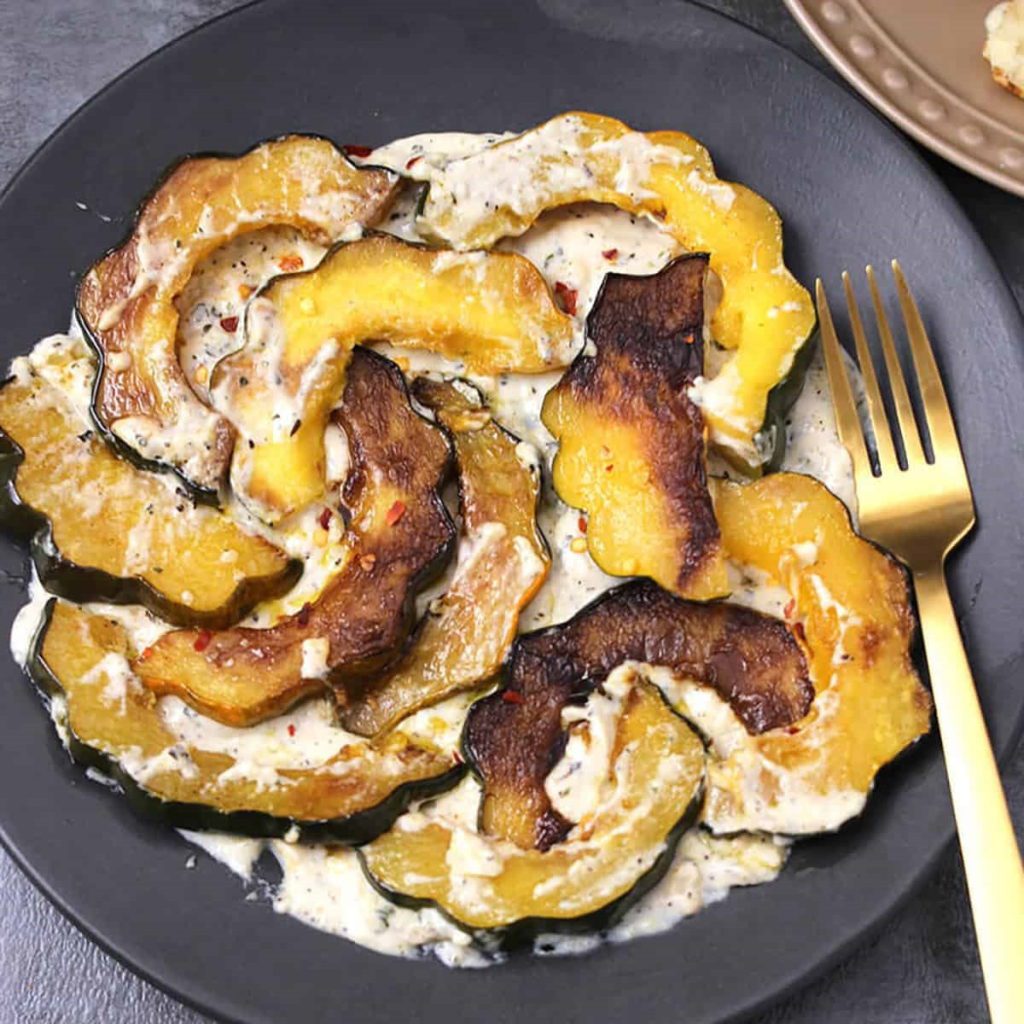 Roasted Acorn Squash Slices tossed in garlic cream sauce is an easy butternut or acorn squash recipe that is perfect as a satisfying appetizer.
Golden, roasted, tender, caramelized acorn squash slices are tossed in homemade, creamy garlic sauce, which can be made from scratch. The result is a guilt-free, healthy and nutritious recipe prepared in less than 30 minutes. Perfect as a pre-dinner party appetizer, and also a must-try fall and holiday recipe.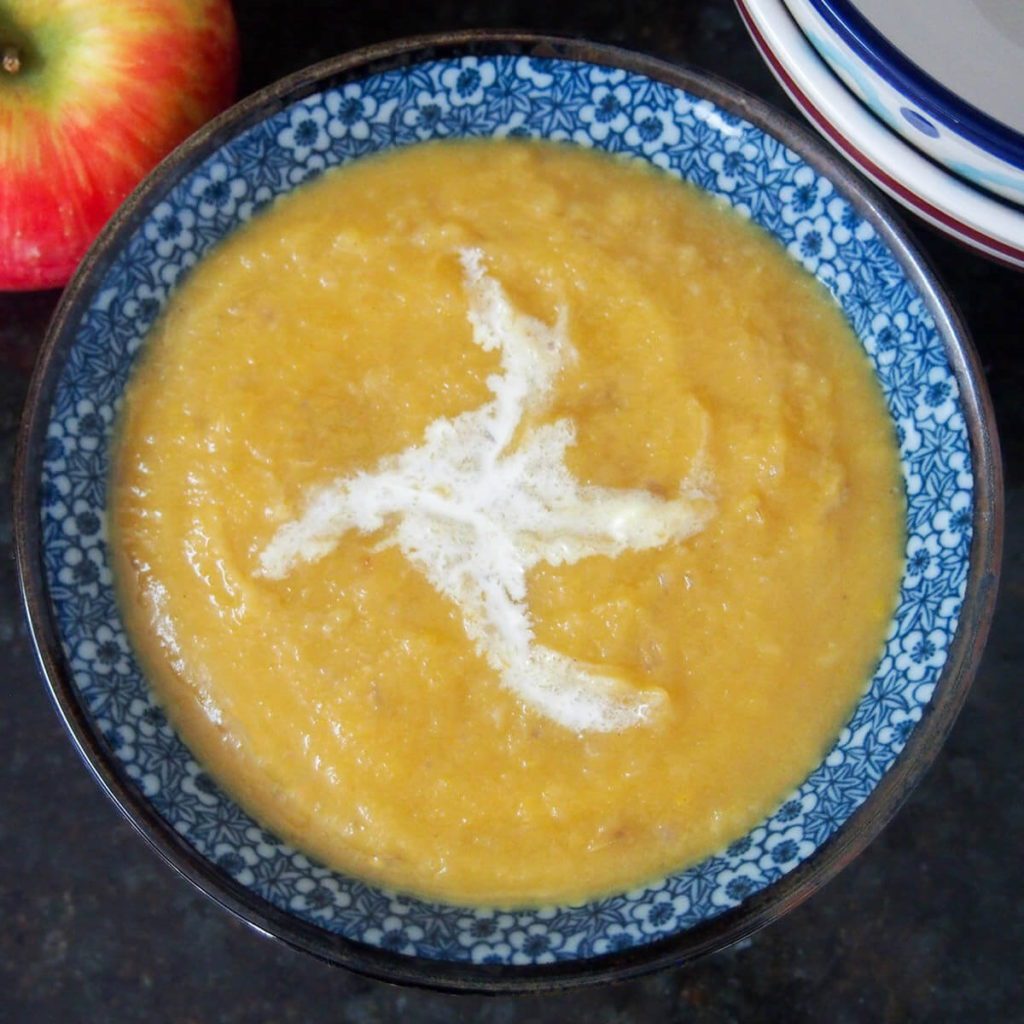 You are going to love this Roasted Apple and Acorn Squash Soup. It is so easy, creamy, rich and just comforting. I love when you pop something in the oven and let it roast and from that experience you get so much flavor.
It's also nice when you don't have to worry about things in a pot sticking to the bottom of the pan or a pot boiling over.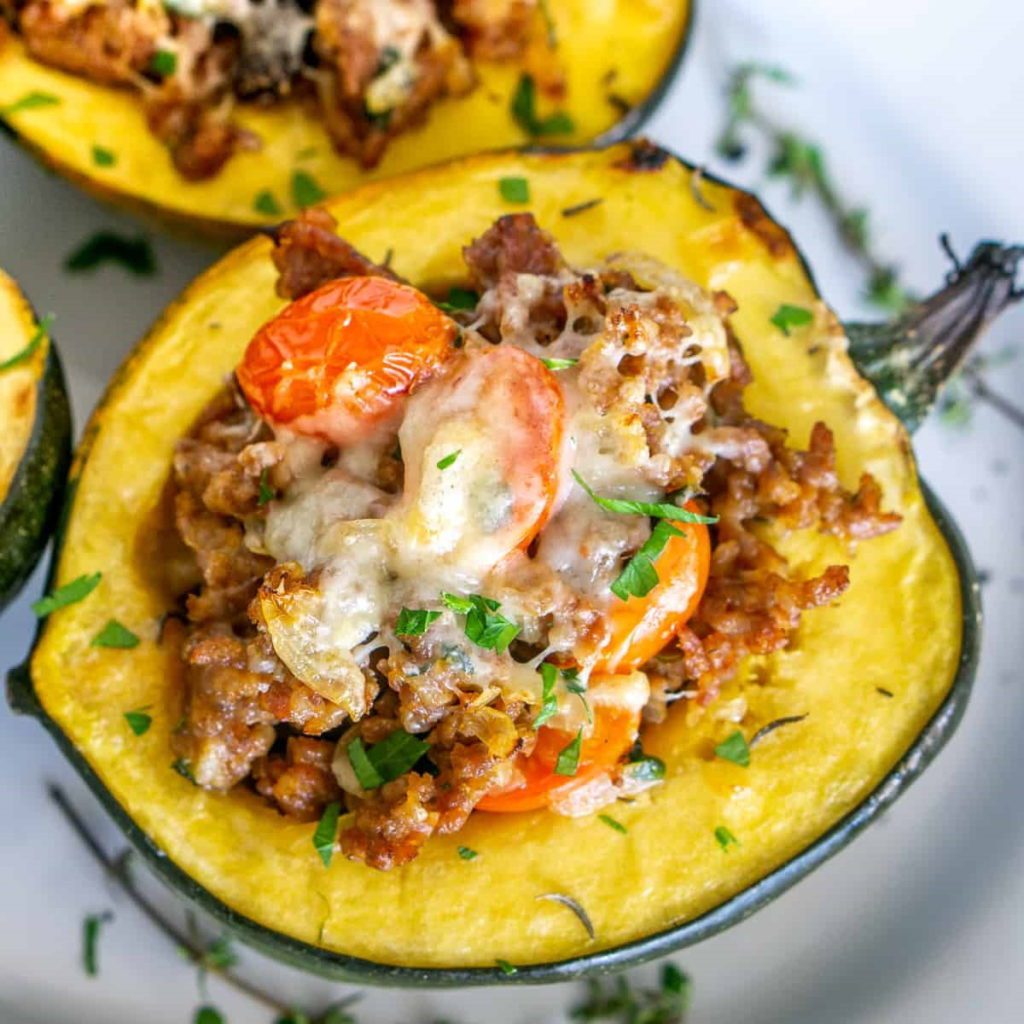 This Sausage Stuffed Acorn Squash is the perfect Fall side dish that is healthy, hearty, filling and packed with flavor.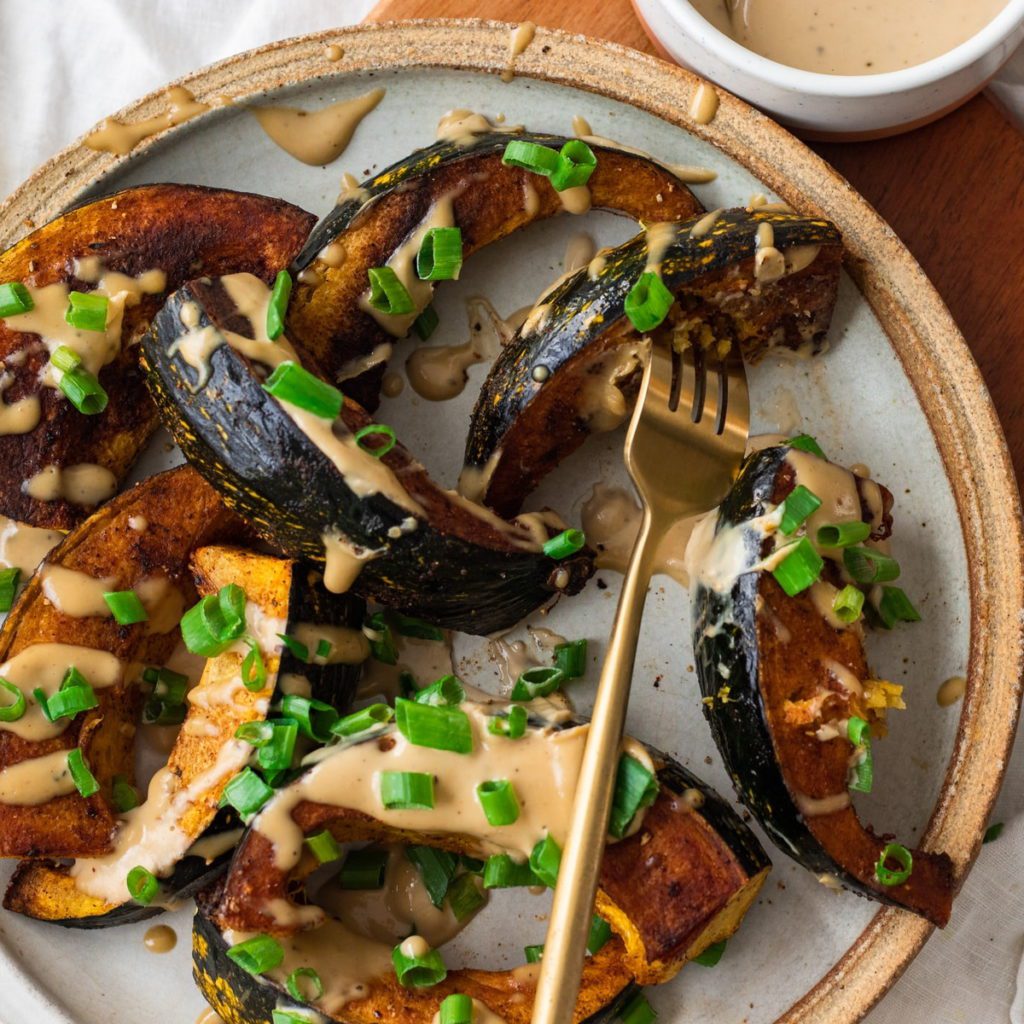 I absolutely love fall produce. Acorn squash is one of those items that has such a distinct flavor, I absolutely LOVE IT!!! This Simple Roasted Acorn Squash with Tahini Sauce is one of m favorite preparations of squash, ever.
The squash is tossed in simple, fall flavor spices and then it is roasted. Lastly, it is topped with a creamy, delicious tahini sauce that makes this dish complete.
This is a perfect plant based side dish and I love to serve it alongside of a protein like tofu.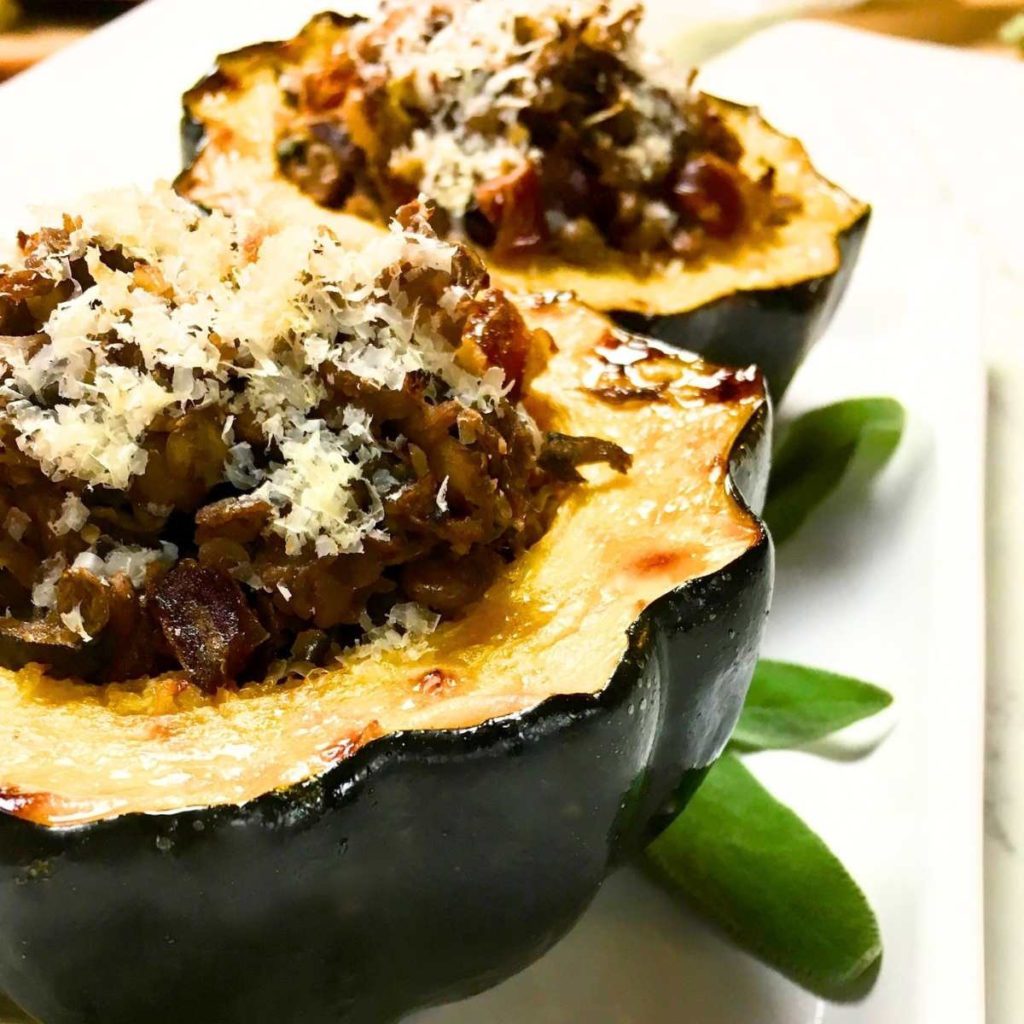 Looking for a Stuffed Acorn Squash recipe? This is a protein packed dish that is filled with flavor. Crisp pancetta, rich Portobello mushrooms, sweet dates, and aromatic sage bring fabulous, yet diverse, flavor to every bite.
One of the health benefits of acorn squash is that it is a great food for diabetics. The high fiber content helps to regulate blood sugar levels and the slow-burning carbs help to keep energy levels stable.
Acorn squash is also a good food for heart health. The potassium in acorn squash can help to lower blood pressure and the fiber helps to reduce cholesterol levels.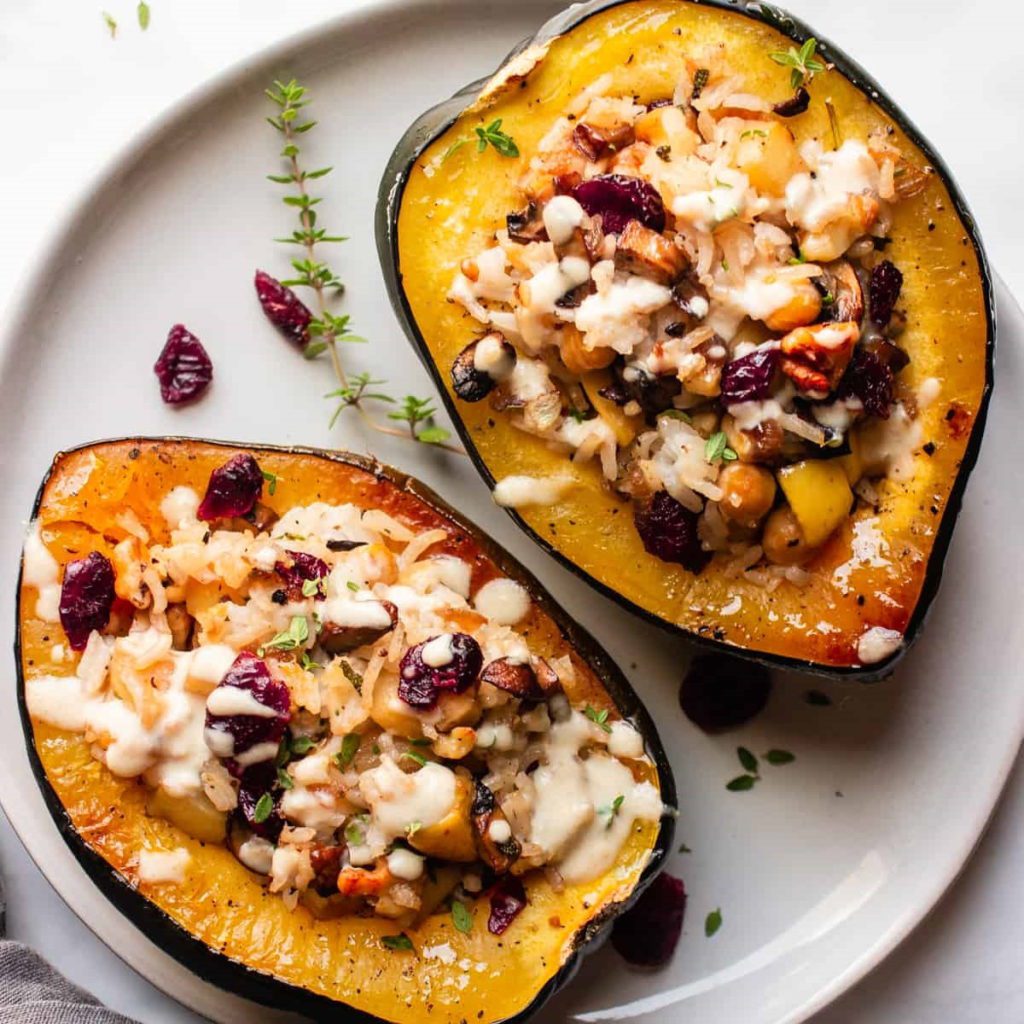 The Ultimate Vegan Stuffed Acorn Squash With Mushrooms And Chickpeas is just the dish for your holiday table. You're going to love this healthy and filling dish; that's perfect for the fall and winter holidays.
You're not going to miss any meat with this dish for sure. There're so many different squash types out there; which one is your favorite?
I've been enjoying butternut squash all the time, in soups, roasting and even in salads.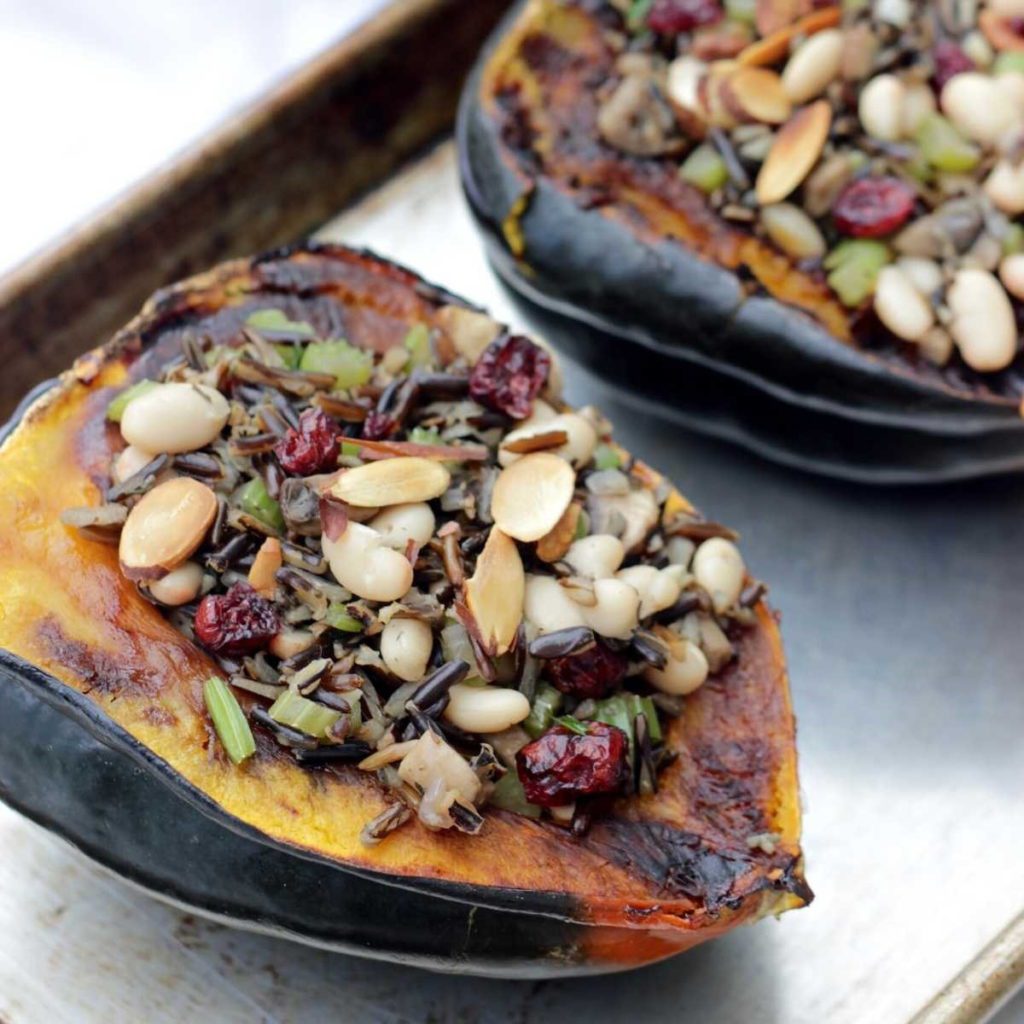 Craving those warm flavors of a hearty meal but don't want to get that full? This wild rice stuffed acorn squash has all of the flavors that you are seeking on a cozy winter day.
Okay guys, let's talk about Thanksgiving!! Am I the only one who gets more excited for the sides than the main dish?? Sides are where it's at right? But it's nice to have a main dish option as well.
This stuffed acorn squash meets both of those requirements. This meal was created when I used my gluten free wild rice stuffing recipe for Thanksgiving.
Want more recipes similar to these acorn squash recipes? Check out these additional tasty squash recipes.
Pin to Pinterest