Holiday travel is always fun, but Texas really knows how to do it right!  The Gaylord Texan Resort is truly an amazing holiday travel destination everyone in your family will fall in love with.  Not only will you love visiting the heart of Texas, but you'll be amazed by the Texas hospitality offered at the Gaylord Texan Resort.
5 Ways Gaylord Texan Resort Makes Holiday Travel Special
ICE!:  During the holiday season, the Gaylord Texan Resort turns into a veritable winter wonderland. From giant statues of Santa and 2 MILLION pounds of hand carved ice and snow tubing setups, this is a fun place to spend the holidays.  It truly is a small version of the North Pole and will bring all of that holiday cheer to your family that you've dreamed of having.  Music, play, and a gorgeous holiday scene make it perfect for a unique vacation.
Full-Service Spa:  Every mom needs some rest and relaxation.  The Full-Service Spa at the Gaylord Texan Resort is the perfect way to give mom not only what she needs but what she wants for your next holiday.  The Relâche Spa & Salon is a perfect way to spend a day being pampered.  Not only do you have amazing accommodations, but you can give mom that day spa experience she needs so desperately.
Family-Friendly Suites:  Traveling with family during the holiday can make it nearly impossible to have time alone for romance.  The Gaylord Texan Resort gives you the option of amazingly comfortable suites that give parents privacy they need while also giving kids plenty of space to watch TV or even play games.
Comforts Of Home:  For families that want a bit of relaxation with the convenience and comforts of home, it's easy to appreciate things like the ability to stream Netflix or Hulu in your room.  These little additions to your stay at the Gaylord Texan Resort make it fun for everyone and a true holiday travel experience you'll love.
Incredible Texas Cuisine:  Whether you want the classic food of the holiday season or your preferred Texas fare like BBQ or Tex-Mex, the Gaylord Texan Resort has everything you need.  You never have to leave the area.  All you have to do is enjoy the food offered from the resort restaurants to satisfy all of your cravings.
The Gaylord Texan Resort truly is an amazing option for holiday travel.  You'll find yourself embraced in the fun-filled hospitality of Texas and overwhelmed with good times and comfort at your fingertips.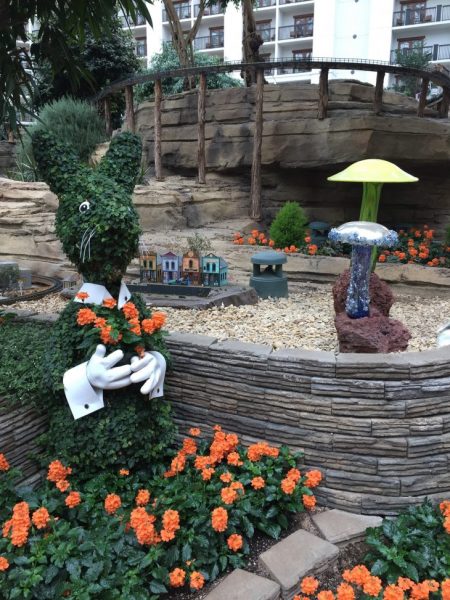 disclaimer: Big Thanks to Gaylord Texan Resort for hosting my stay.