Looking for a fun place to stay in Orlando is usually pretty easy. I mean, you're surrounded by some of the best amusement parks in the world. Fun places to stay are a dime a dozen.
However, if you're looking for something a little more "out of this world" then I highly recommend staying at the Galaxy tiny house in Orlando.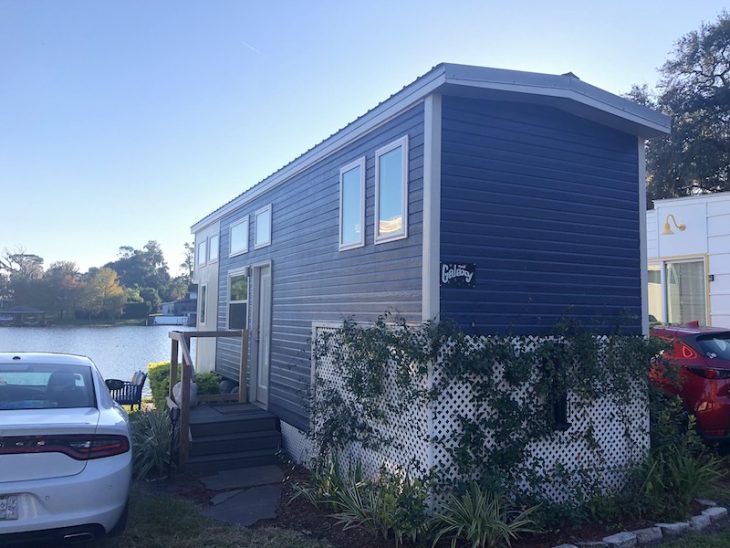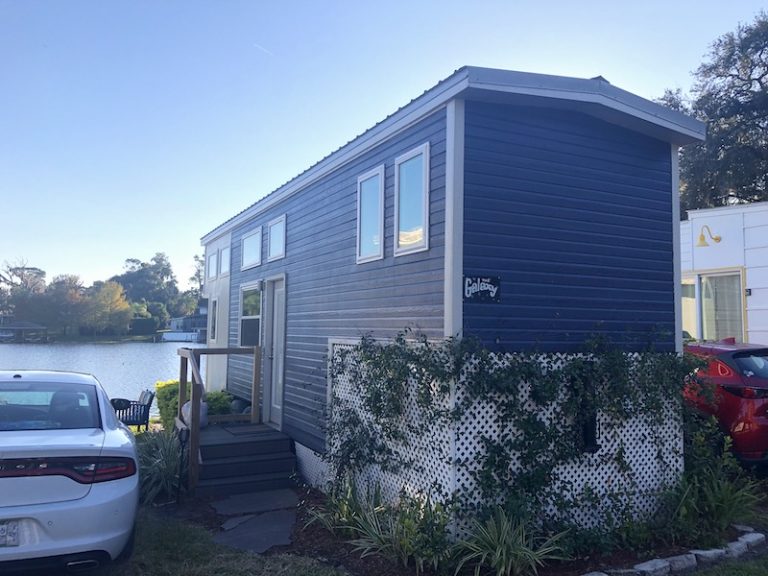 A couple of miles north of Universal and Disney World you'll find the Orlando Lakefront Tiny Home & RV Community.
THIS ARTICLE IS WRITTEN IN PARTNERSHIP WITH GlampingHub.com. THIS ARTICLE MAY CONTAIN AFFILIATE LINKS.
An adorable community of tiny houses some of which are rented as vacation homes through GlampingHub.com.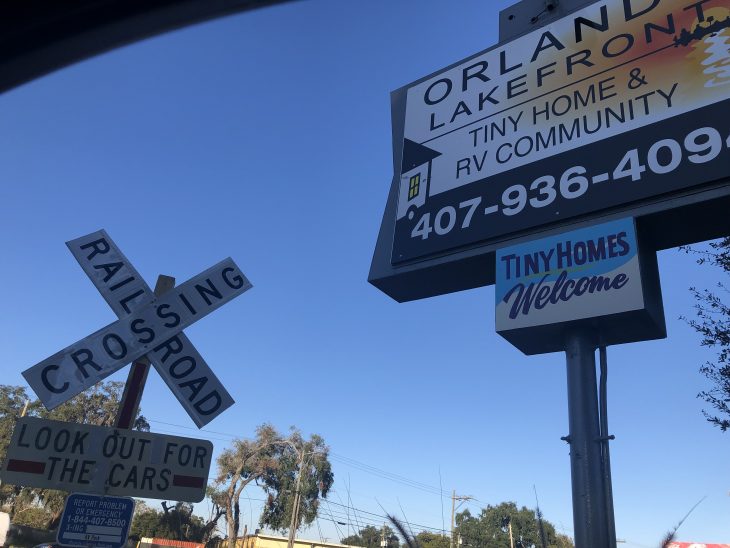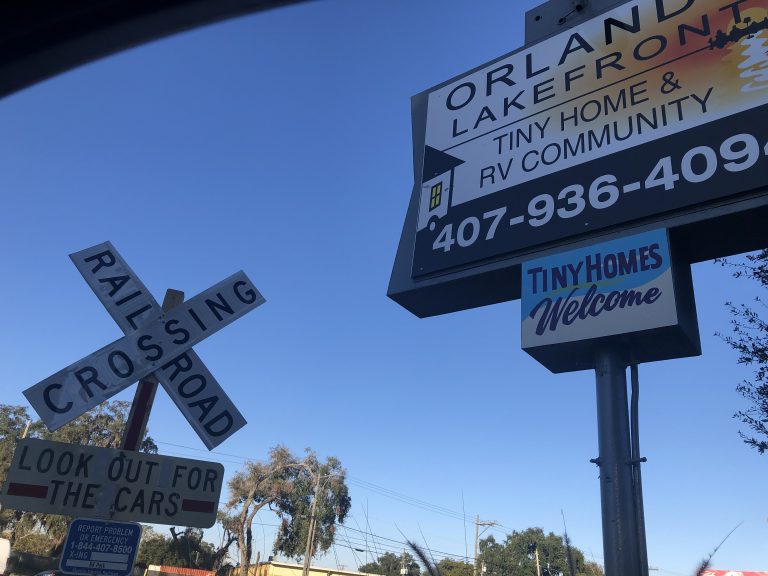 Located on Lake Fairview this 1950's revitalized RV park is now home to 34 tiny houses, a handful of RVers, and a few full hookup spots for those that are just passing through.
If you've ever wondered if tiny house living is for you this is a great way to try the lifestyle without building your own home.
Be sure to use the Dosh App so you can earn money back on your travels.
The Galaxy Tiny House at Orlando Lakefront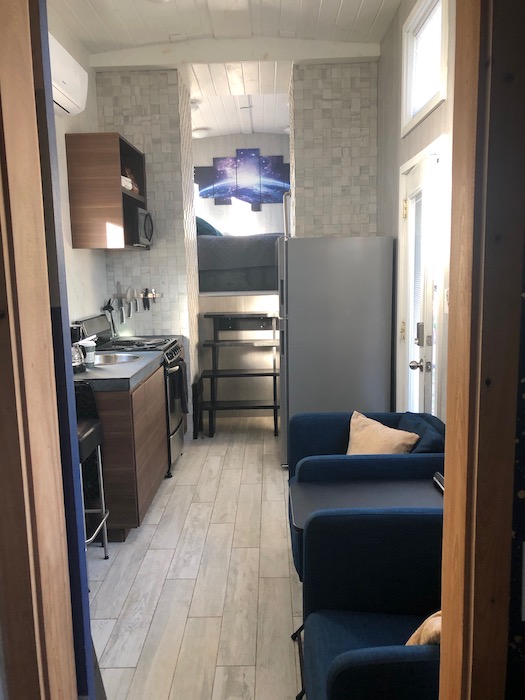 We stayed in the Galaxy tiny house. Coming in at just 400 square feet we were thrilled that it had 2 loft bedrooms and was located on the lakefront.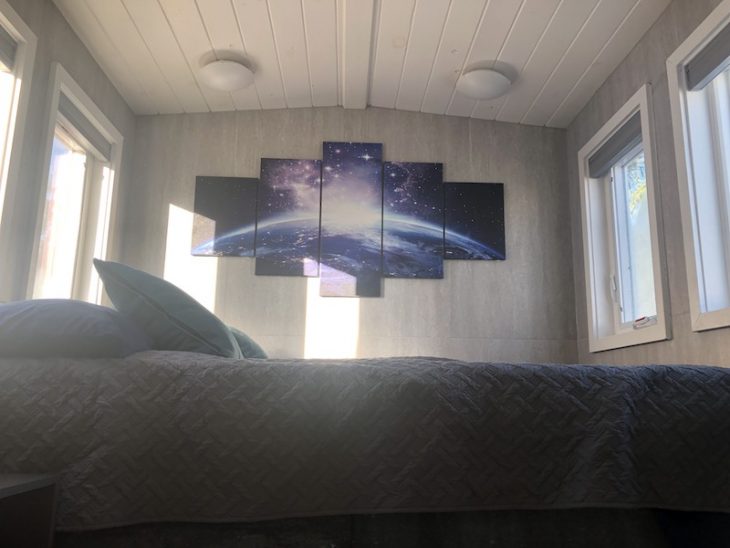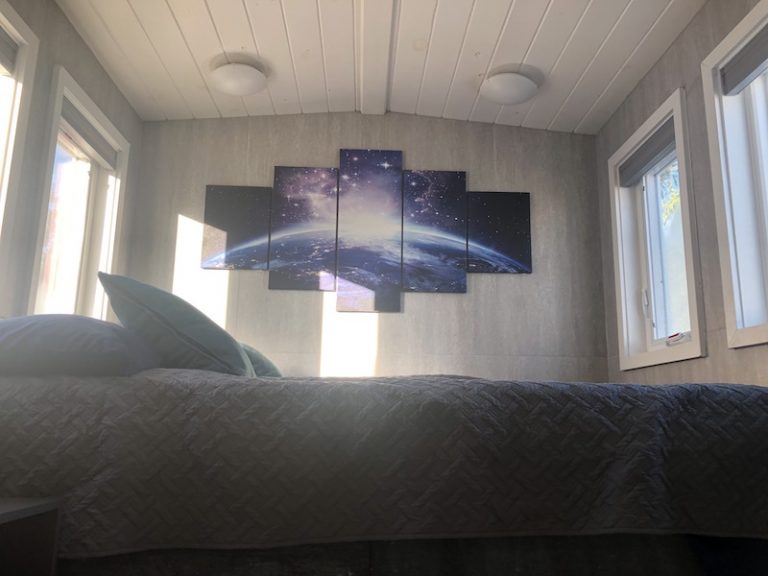 Additionally, the Galaxy has a full-size kitchen, stove, and refrigerator, plus a full-size bathroom. No teeny tiny RV style bathroom in this tiny house which is wonderful.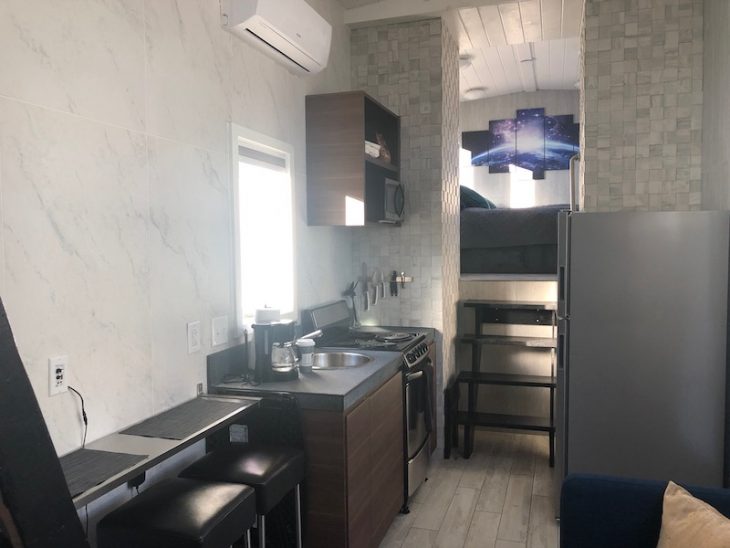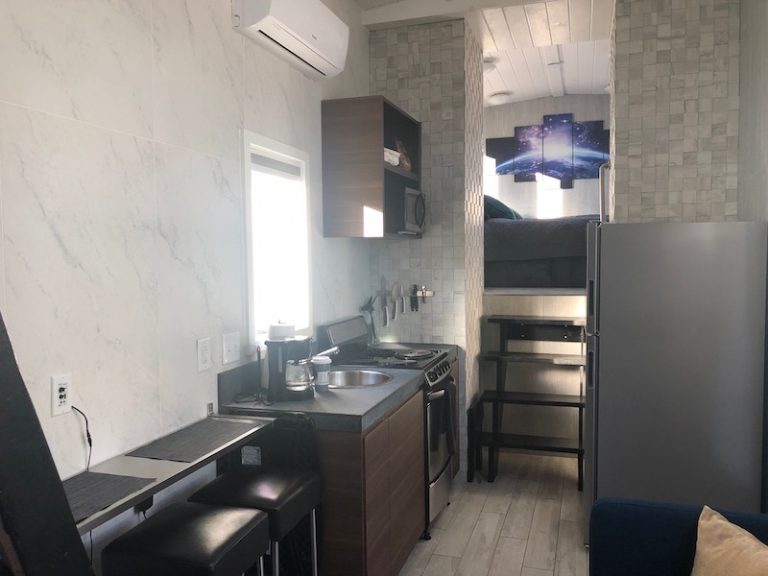 In the sitting area, there are two chairs and two bar stools for dining at the counter.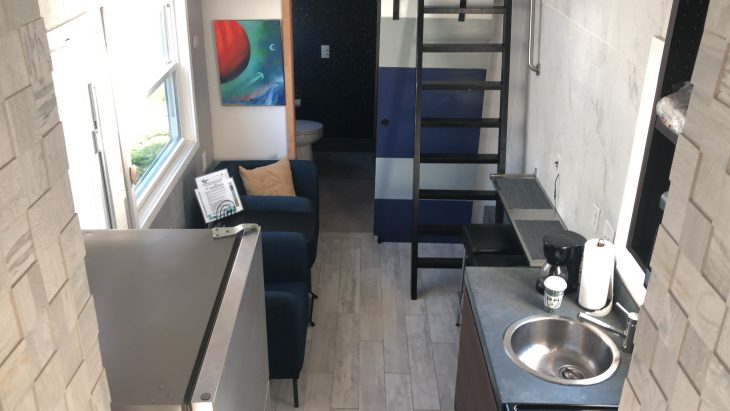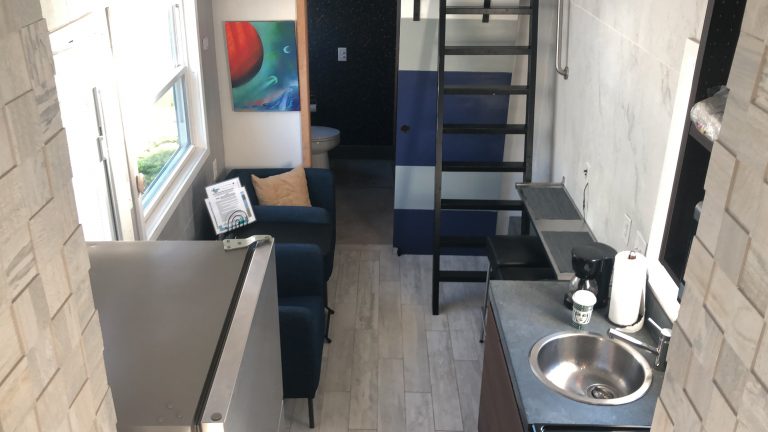 Located directly above the chairs is a TV projector that projects a 55″ screen onto the wall above the counter. Oh, and there's bluetooth with surround sound so basically you have a very cozy theater setting.
All you need to do is bring the popcorn.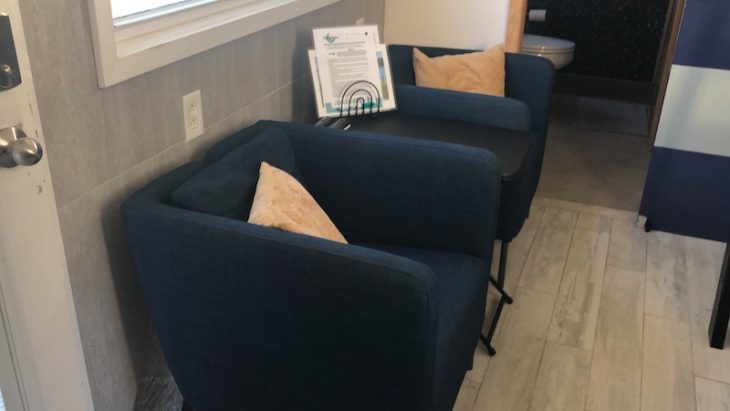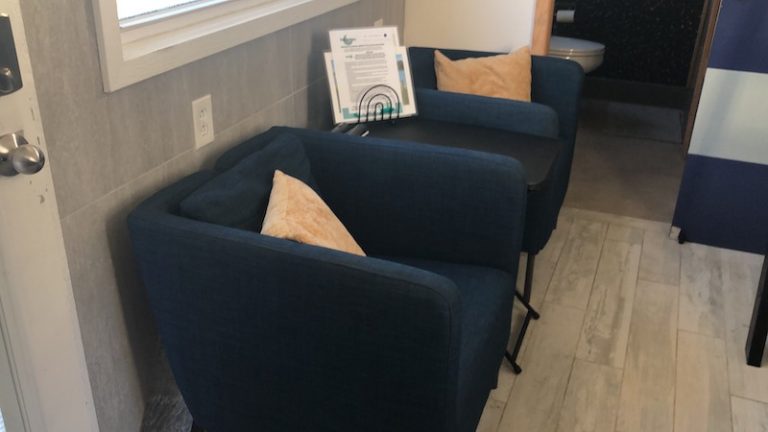 The one loft bedroom has a 7-foot ceiling in it which is nearly unheard of in tiny house living, but I gotta say that was one of our favorite features.
Alan is 6'2″ so having extra headspace is always a bonus for him.
In addition to the 7-foot ceiling, there are two closest to store your suitcases.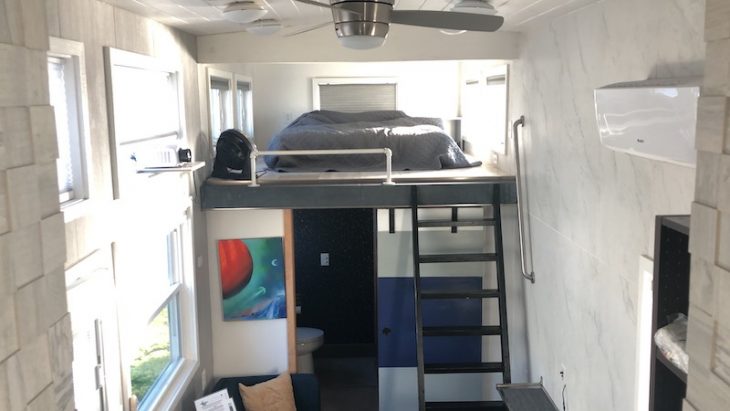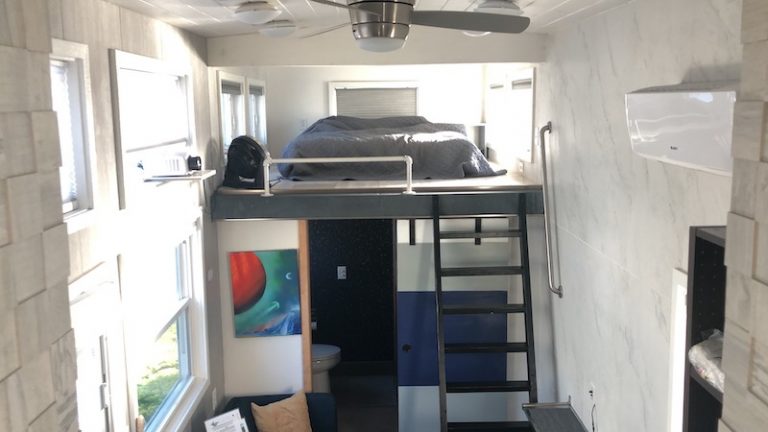 At the other end of the house is the other loft bedroom.
This one you have to climb a ladder to access and basically crawl into bed.
Our 6'3″ son and his fiance stayed on that side and they managed fine.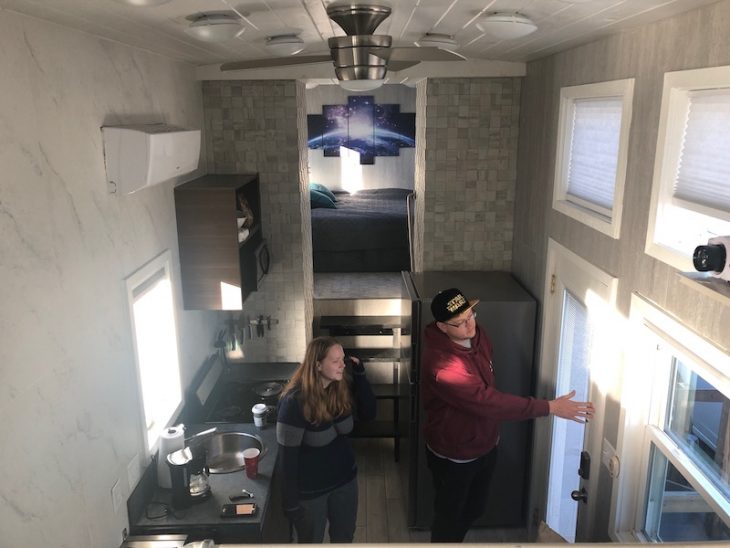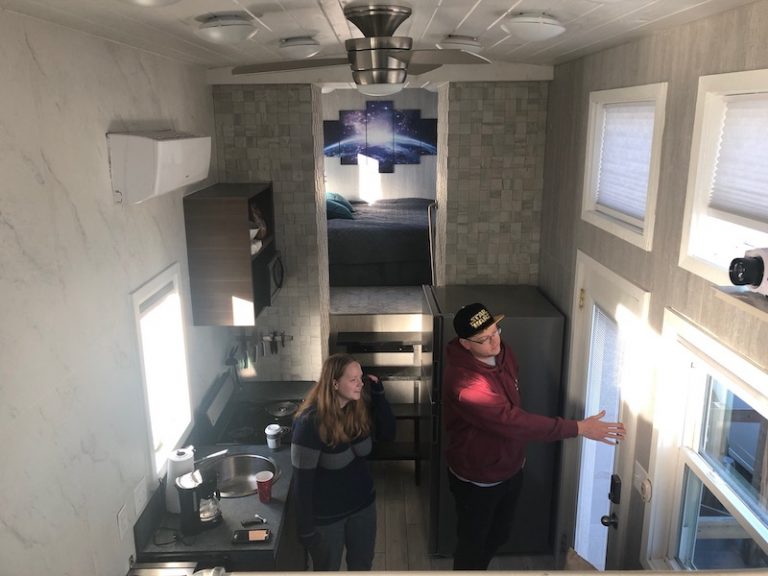 The full-size bathroom has additional storage space in it if needed.
Plus a full-length mirror which I really appreciated.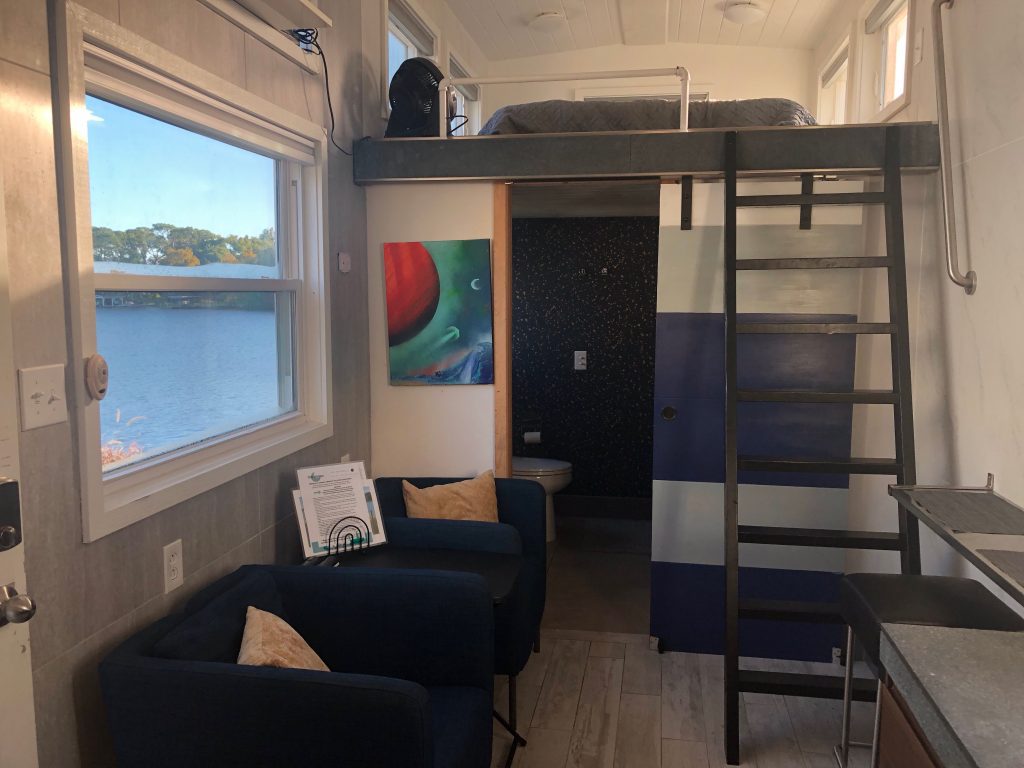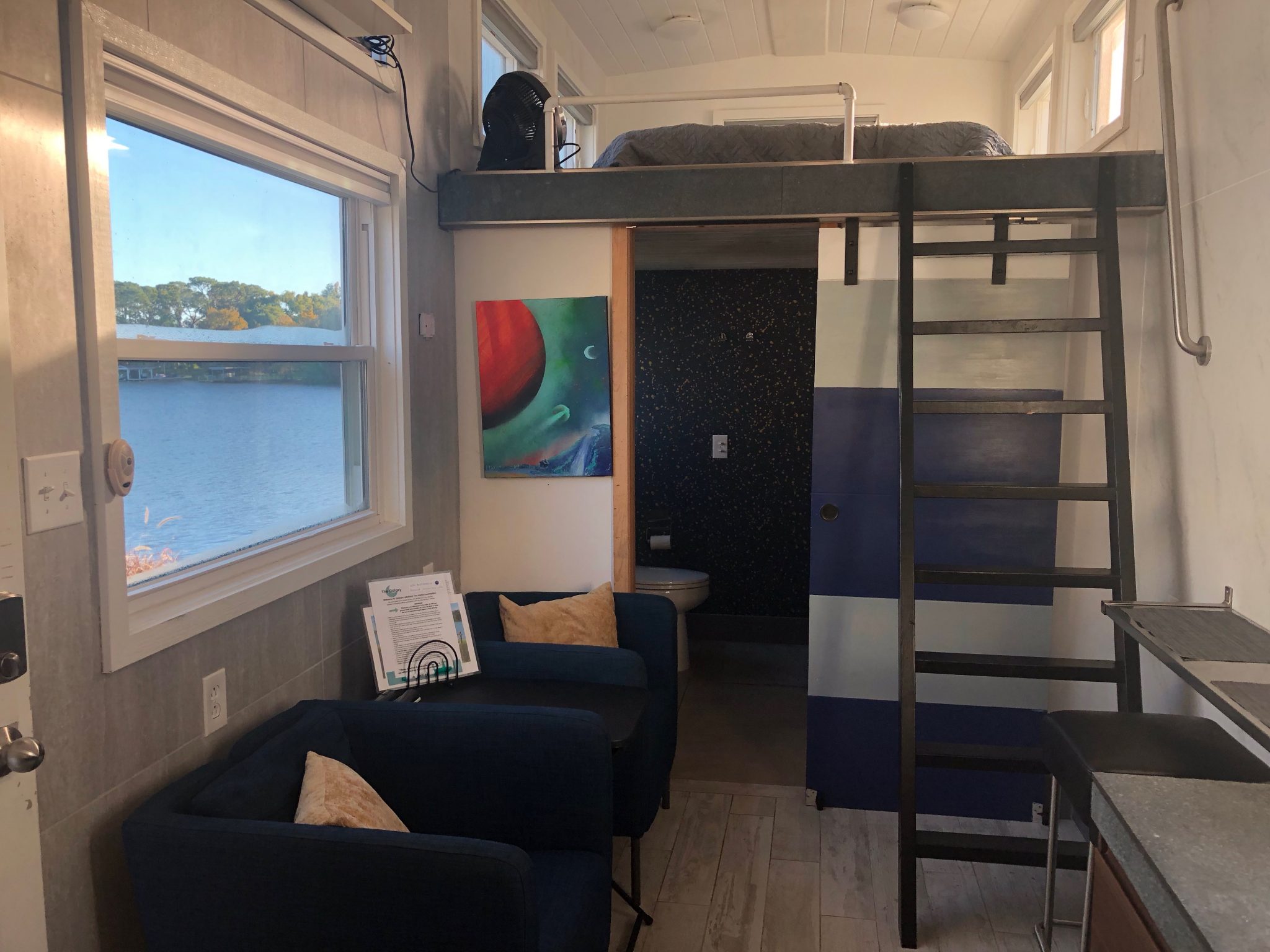 What You Need To Know About Your Stay At The Galaxy Tiny House
The house is accessed via a keypad that will be texted to you prior to your arrival. I love this keyless entry system.
No worries about losing the key and no need to check-in by a certain time.
We arrived after dark and while the house was easy enough to find parking is a little challenging due to the nearness of the other tiny house and the location a small green space that divides the road.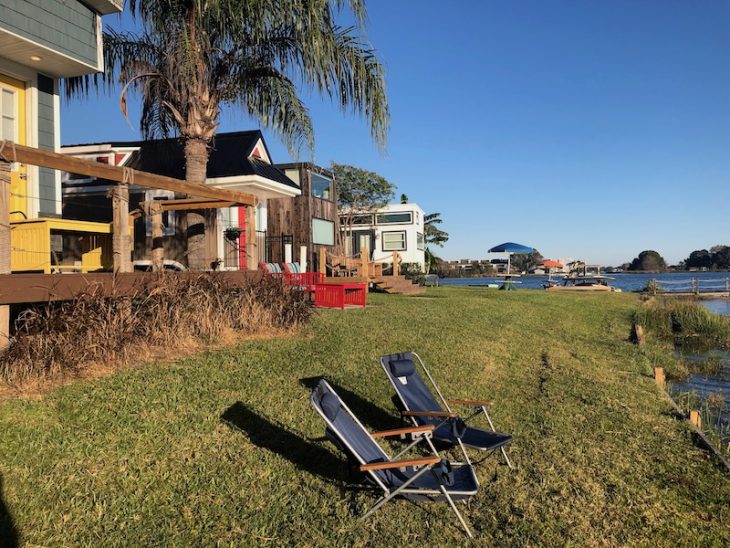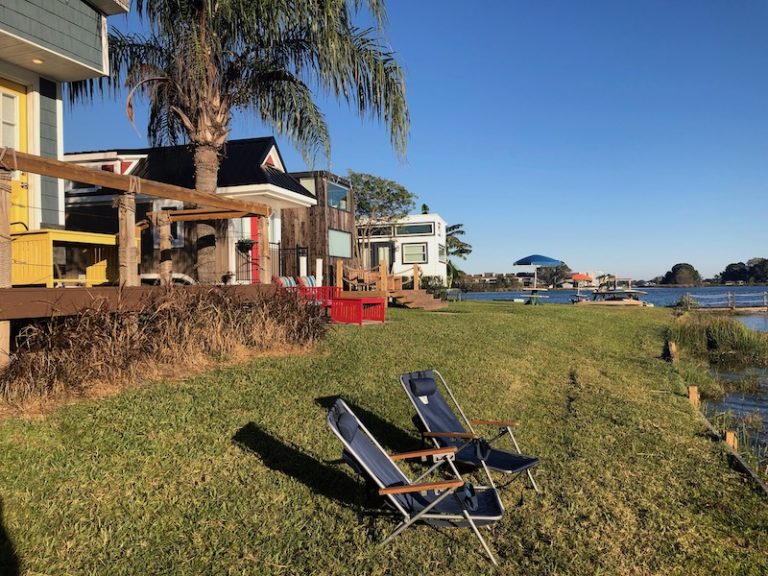 We were driving a Dodge Charger so not a huge car, but it took a little maneuvering to pull into the spot.
We're pretty savvy when it comes to driving and parking so I'm just putting that out there as a heads up so you're aware.
An active train track runs directly in front of the park, parallel to the main road. Each night a train went by the park and while it wasn't an issue for us if you are sensitive to noise you'll want to bring earplugs.
Other than that the park is quiet and pleasant.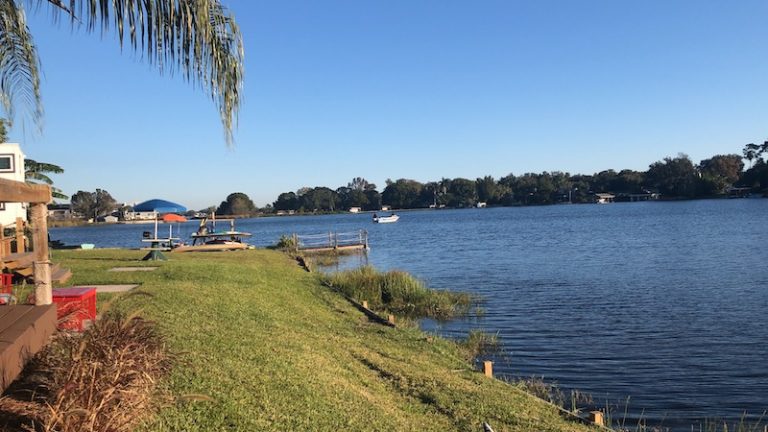 The Galaxy description states that it sleeps 4, which it will, but I'd like to say that 2 adults and 2 small children are probably the best comfort level.
Four adults were a bit tight, but there is plenty of outdoor seating when the weather is nice.
Plus, if you're like us, you don't spend a lot of time at your accommodations because you're out exploring.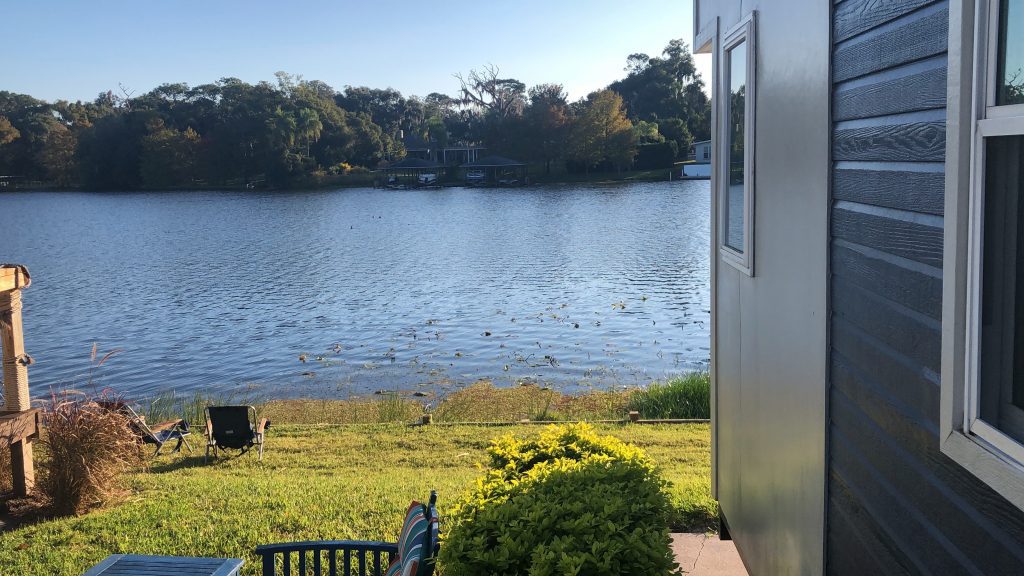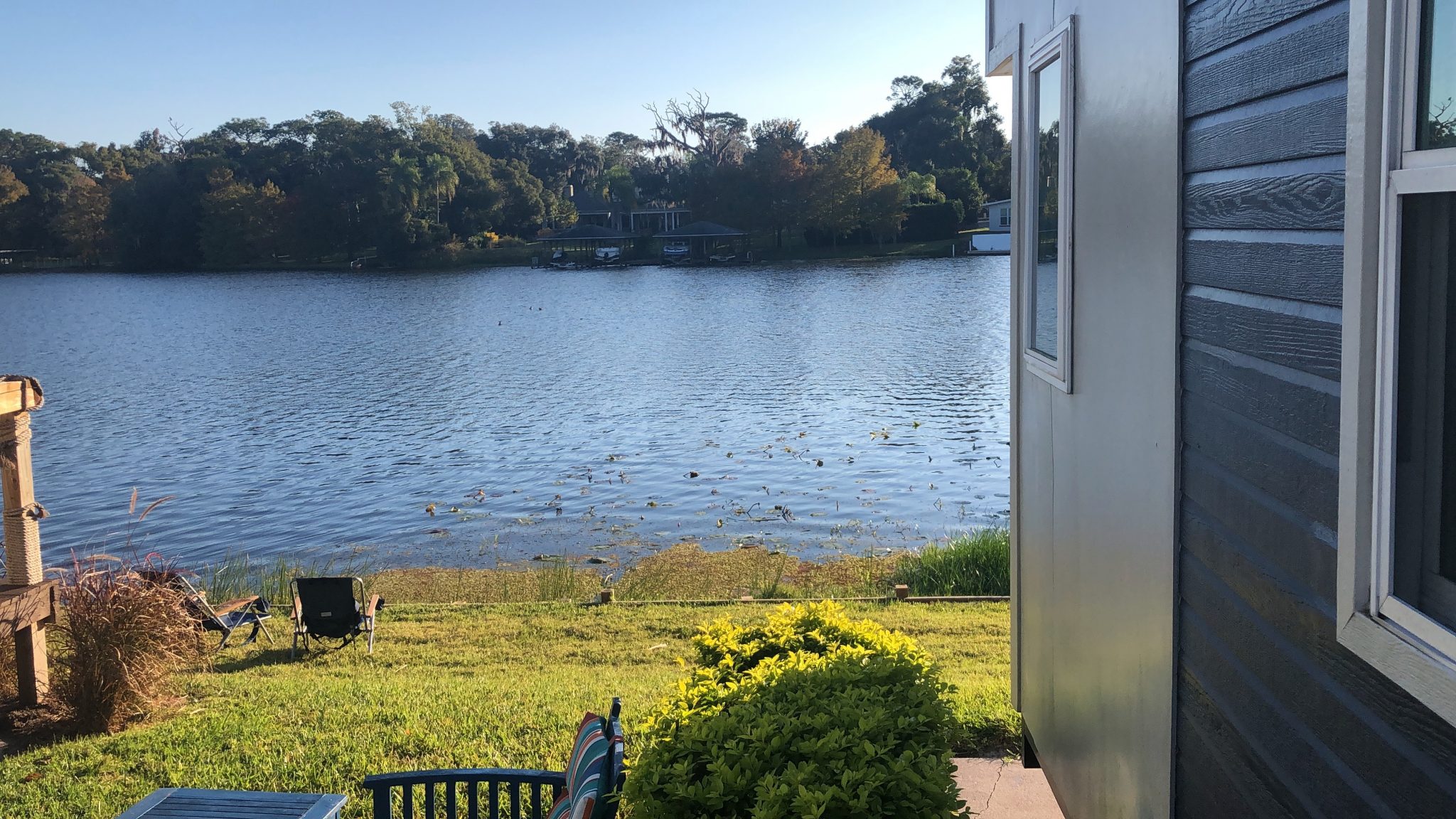 Now, on that note, you might want to build in time to play at this lakefront community. I didn't and I regret it.
Tiny House Community Amenities
When you rent the Galaxy tiny house it comes with a nice selection of amenities including:
FREE fishing gear (shhhh, I didn't tell Alan about this because he would be so bummed we didn't go fishing)
Kayak and Paddleboard rentals (I'm bummed I didn't do either of these….)
Gas BBQ
Deck chairs
Row Boat
Pontoon Boat
Corn Hole Boards
Lake access
Fishing docks
If you're staying a while there is a private laundromat on the property.
I put together a short video that shows the park and inside the Galaxy.
This tiny house in Orlando can be rented through GlampingHub.com. There are other tiny houses available as well so you're sure to find one you want to stay in.
Pin Tiny House in Orlando to Pinterest