We woke up to overcast skies and a coughing (due to asthmas/croup) 4-year-old so we knew we wouldn't be making big plans for the day. A lazy morning is always good when you are on vacation and I took full advantage of it by enjoying my morning coffee and a short writing spree. Going out for lunch sounded like the perfect way to break up our day. Sanderling Resort in Duck, very near our vacation rental, had invited us to join them for lunch while we visiting. It wasn't a hard decision since the restaurant is right on the sound with incredible views. This is the place to go for a sunset view with dinner.
Since we visited during the off-season we were seated in the Kimball's Kitchen Restuarant. That restaurant is usually reserved for fine dining, but since the casual restaurant, Lifesaving Station, is under construction we sat in Kimball's but ordered from the Lifesaving Station menu. It was the best of both worlds.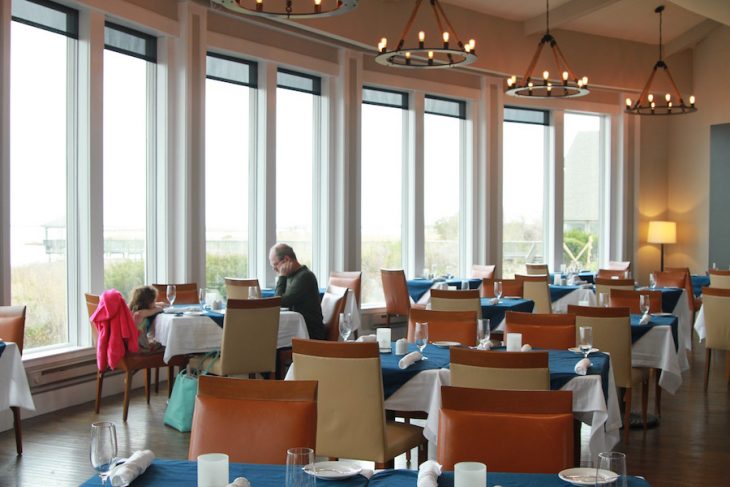 Floor to ceiling windows line the back wall of the restaurant giving diners one heck of a view. Tables are tucked in right next to the windows. However, seating is limited next to the windows so if you'd like a window table I highly recommend putting in a reservation as soon as you make plans to come to the Outer Banks.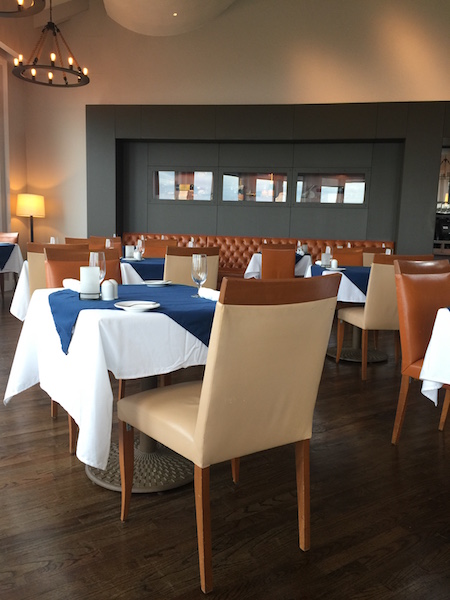 The decor is an upscale beach with blues, whites and sand colors throughout and rustic nautical chandeliers adorning the ceiling. When the restaurant is operating as Kimball's (starting May 2; the Lifesaving Station will open April 6th) all the linens are white giving the dining room a very crisp and clean feel. Large bottles of wine are displayed in a glass encased built-ins along the banquet seating area.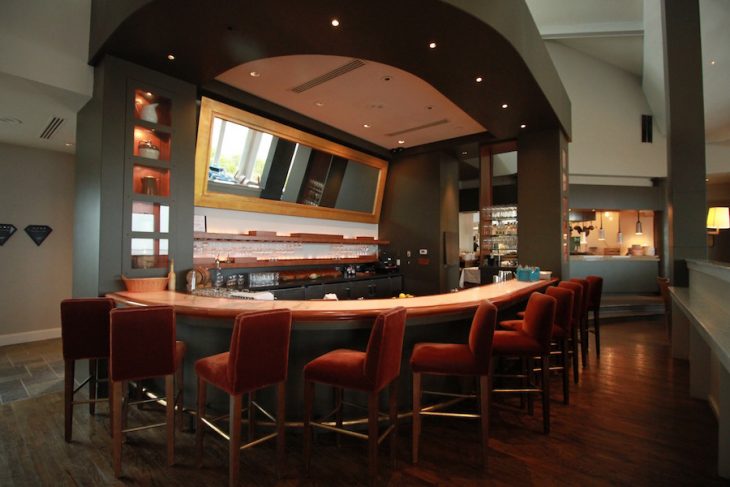 A gently curved bar encourages diners to enjoy a pre-dinner cocktail and an open kitchen allows guests to watch the magic happen behind the scenes.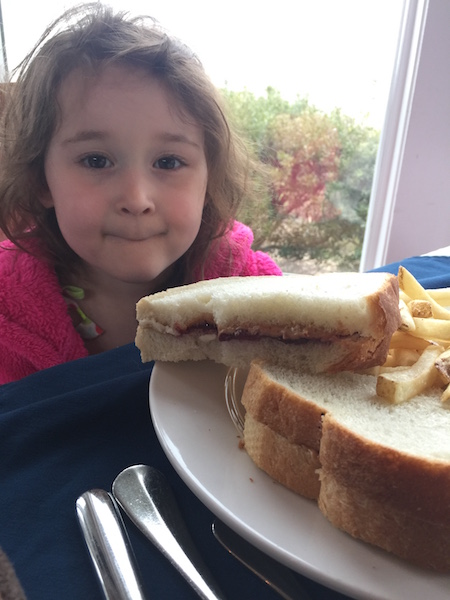 We dined with a 4-year-old which is always interesting. The staff kindly took her order and brought her food while we were still deciding. It was a relief to not have to entertain her while we reviewed the menu. Miss S had a peanut butter & jelly with fries. Her sandwich was huge and more than she could finish. The great thing, there is plenty for her to have leftovers when she wants a snack later.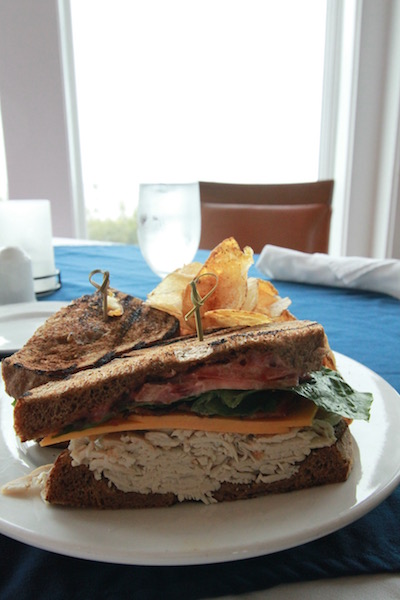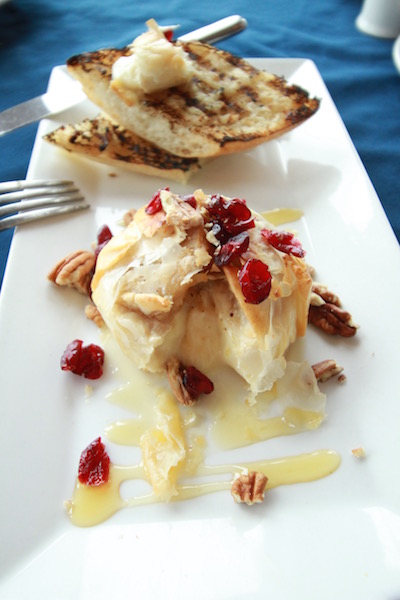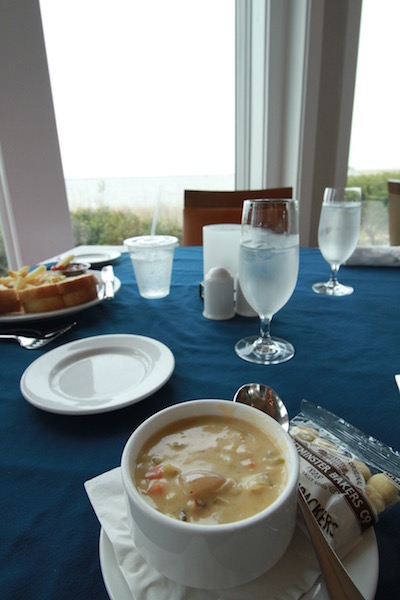 Alan settled on a Sanderling sandwich, a turkey, bacon, cheddar, lettuce, tomato and cranberry mayo on lightly grilled bread. I had to try the corn and crab chowder and baked brie in phyllo. Alan's sandwich was just about as big as Scarlett's making it plenty for me to snag a quarter of his sandwich to try. To be fair, I did share my chowder (which I LOVED) with him.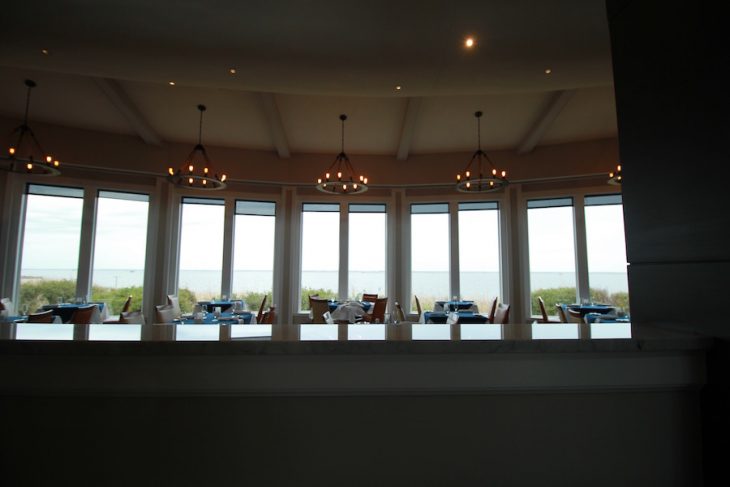 Overall, a lovely lunch with a great view. We would definitely return to either Kimball's Kitchen or the Lifesaving Station on our next visit to the Outer Banks.
Learn more at Sanderling Resort.
Big thanks to Sanderling Resort for hosting our meal.