A couple of weeks ago I was in Grand Rapids and I went to one of my favorite restaurants, The Electric Cheetah. The food is so good!
I live in an area that, in my opinion, doesn't have one really great restaurant. Yes, on occasion I order from an ok place because I'm too tired to cook, but really that is just substance and not food to be enjoyed.
Living here has made me truly appreciate great restaurants when I travel. The Electric Cheetah is one of those places.
On my most recent visit I indulged in grilled cheese and tomato soup. Sounds boring, right???
Um, not at the Electric Cheetah. My taste buds were doing all kinds of happy dances.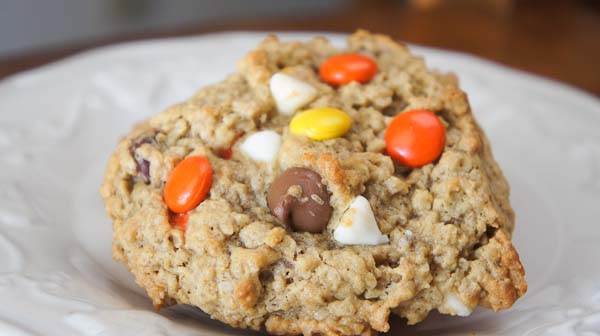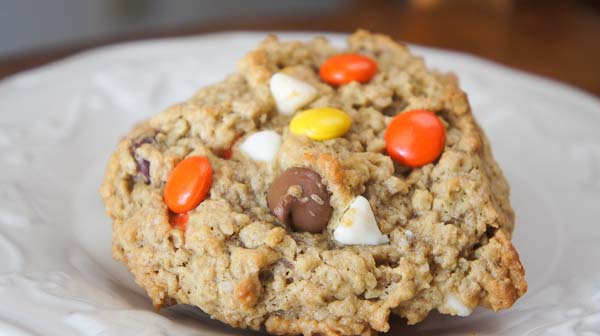 When we placed our order we also ordered monster cookies. The cookie order has to be placed with your meal order because they are cooked on demand.
No cookies sitting around waiting to be brought out. Nope, they are cooked while you are enjoying your meal and they are delivered to your table warm and gooey straight out of the oven.
This was the first time I had ordered the cookies, but it won't be the last. We placed one order, which is 2 cookies, for the table and ended up taking 1 cookie home. Yes, they are that big.
All that to say, the Electric Cheetah inspired me to come up with my own version of the monster cookie. I think mine is just as good except mine are smaller and have fewer chocolate chips (in case you don't know this about me yet, I do not really like chocolate–gasp!).
My version does have a few chocolate chips in it, but those are there mostly for Alan & Em and to ensure that I won't be too tempted to eat them.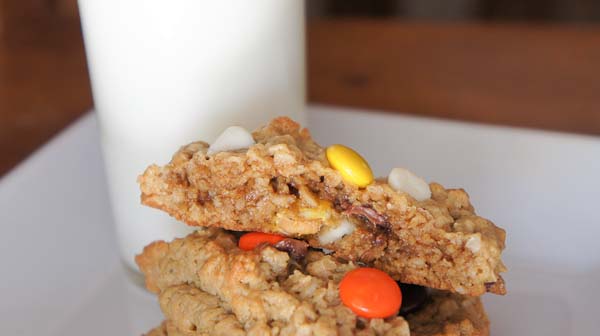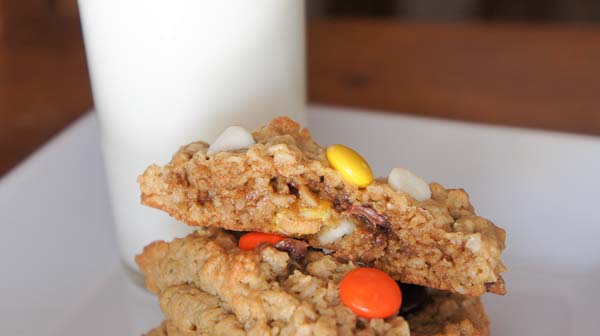 Ready??? These are so easy you'll wonder why you don't make them every week.
Monster Cookie Ingredients
3/4 cups peanut butter, creamy or chunky, either will work
1/3 cup packed light brown sugar
1/3 cup granulated white sugar
4 tablespoons unsalted butter, softened
2 large eggs
1/2 tablespoon vanilla extract
2 1/4 cups quick cooking oats
1 teaspoons baking soda
1/3 cup white chocolate chips
1/3 cup Reese's Pieces candy
1/3 cup milk chocolate chips
Monster Cookie Directions
1. Cream together the peanut butter, sugars, and butter. Add eggs and vanilla and mix to combine.
2. Add the oats and baking soda. Stir until everything is mixed well. Dump in the white and milk chocolate chips and Reese's pieces.
3. Drop heaping spoonfuls of cookie dough onto a parchment lined cookie sheet. Top with extra Reese's pieces to have colorful cookie tops.
4. Bake at 350 degrees for 10-12 minutes. Let cool completely.
Note: I made 12 cookies with this recipe. If you need more just double the recipe.
***PIN MONSTER COOKIE RECIPE TO PINTEREST***