I jump in the Huey helicopter seat with a few others and my heart starts to beat a bit quicker. I'm not sure if its from excitement or fear that the pilot will do air stunts ((shudder))).
At this point, the Huey is simply being towed from the hanger to the helicopter landing.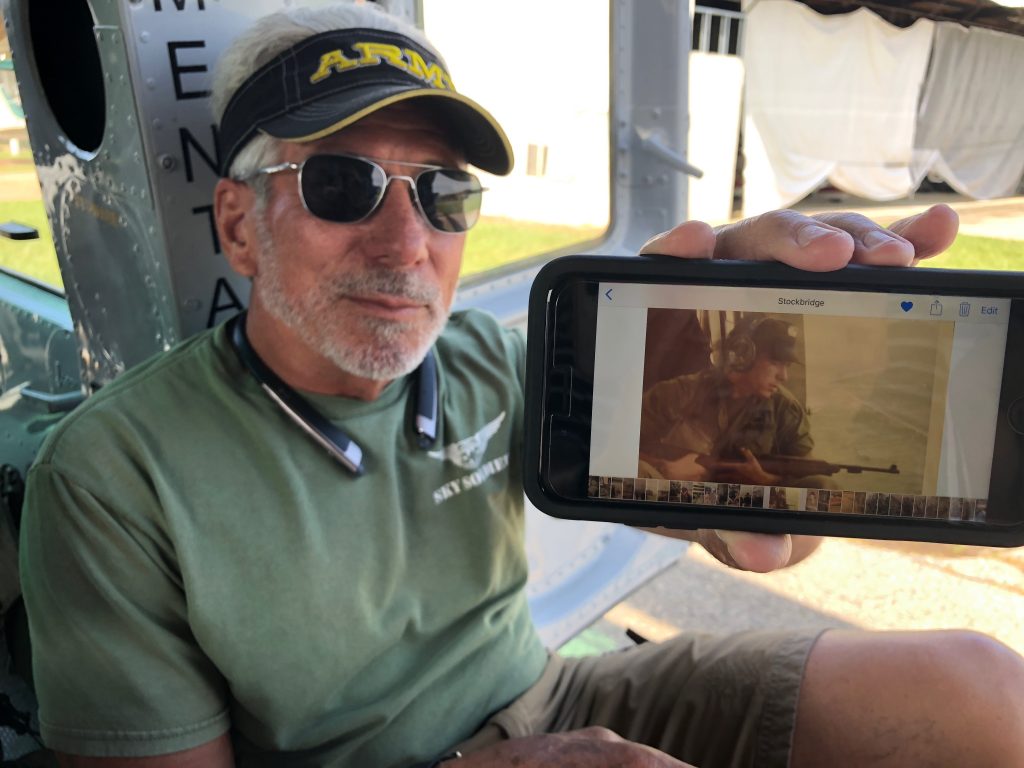 Sitting in front of me, on the very edge of the chopper floor is Lee Stuart, a Vietnam Vet that comes from a long line of a military family.
Lee tells me this was his favorite place to ride at 19 years old and is still his favorite spot today.
He shows me a photo of him heading into combat. He speaks matter-of-factly about his military experiences and his love for flying.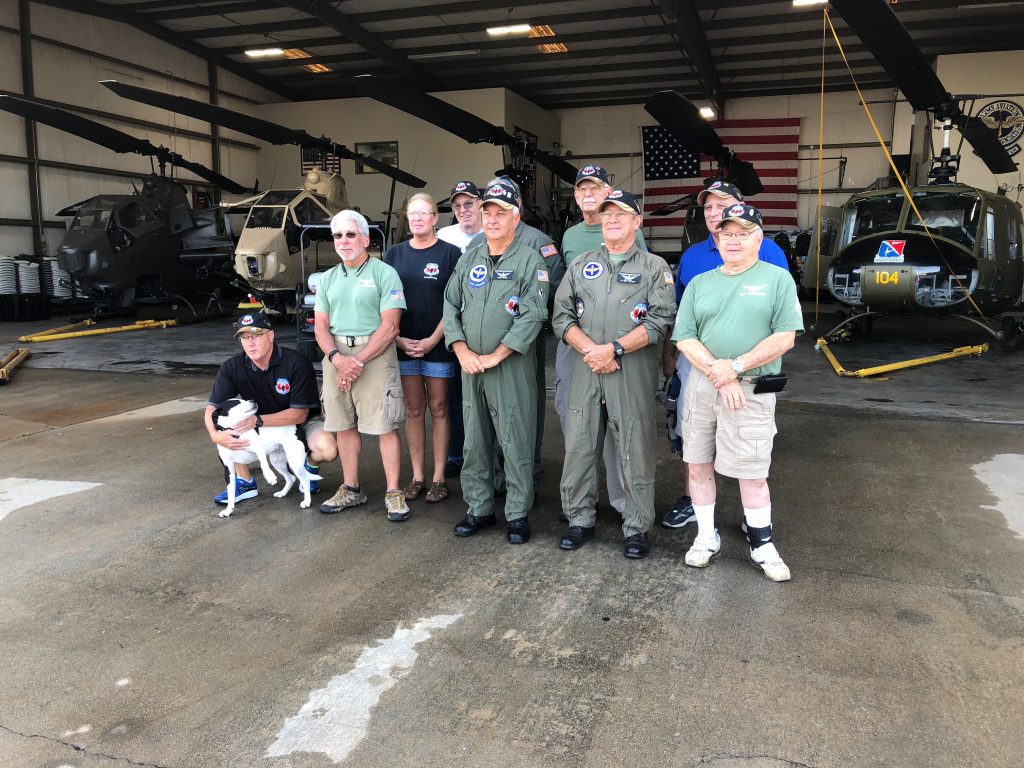 SKY SOLDIERS: KEEPING AMERICAN SOLDIER STORIES ALIVE AND WELL
Lee is a member of the Sky Soldiers of the Army Aviation Heritage Foundation in Henry County, GA. Comprised of retired and ex-military soldiers, they bring history to life while providing a once in a lifetime adventure for some and closure for others.
During my visit, I listen to many stories of others that have flown with the Sky Soldiers.
A widow whose husband flew in Vietnam, a terminally ill veteran having the last wish fulfilled. To funeral flyovers.
The stories are plentiful and I know that what these men and women are doing is not something to be taken lightly.
ARMY AVIATION HERITAGE FOUNDATION – ALL THE RESPECT
The foundation, located next to the Atlanta Motor Speedway, offers free hangar tours as well as paid rides in either a Bell UH-1H Huey or Bell AH-1 Cobra helicopter.
Through this program, the AAHF shares the story of Army Aviation, while connecting the American Soldier with the public.
The day of my visit there were a number of Sky Soldier members on hand to share their experience, talk about the aircraft and answer all the questions while we explored the choppers and exhibits in the hangar.
The Army Aviation Heritage Foundation

A national, nonprofit public educational foundation, the AAHF acquires, restores and maintains vintage Vietnam-era aircrafts. Through flying presentations, helicopter rides, educational presentations and other events, their Sky Soldiers teach the public about Army Aviation. Volunteers are comprised of military veterans from several eras, including Vietnam, Gulf War and Operation Enduring Freedom – Afghanistan, as well as active and patriotic civilian members.

A HELICOPTER WITH A TRAGIC STORY
I climb up onto a Bell AH-1 Cobra helicopter that was shot down twice in Vietnam. During one of the unfortunate events, a pilot lost his life in the very helicopter I sat.
That gave me an incredible pause.
Maybe because I'm older and I understand how fragile life is. Maybe because I've watched my Mom stand at death's door too many times. Either way, it was bittersweet sitting there.
The Bell AH-1 Cobra is now "retired" and used for education and daring stunt rides for the truly brave (not me!).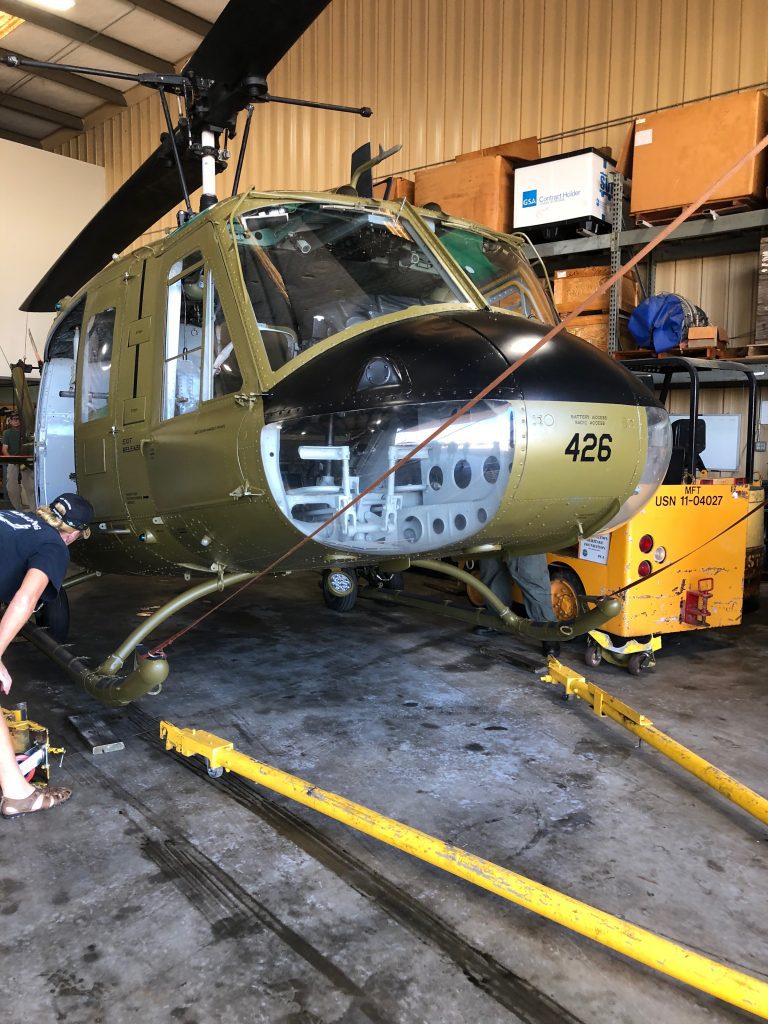 UP UP UP IN A HUEY HELICOPTER RIDE
After the hanger has been completely explored its time to move to the landing area for the Huey helicopter ride. The team is busy ensuring the chopper is completely safe for flying and giving the riders safety instructions.
The chopper is piloted by Bruce Whitley, co-piloted by Jim Utley, and Mike is our crew chief.
The chopper and riders are finally ready and we load into the seats. I pick a seat directly behind the pilot while others pick seats in the gun wells which are set to the back of the chopper and seat you looking directly out (no thank you very much).
We belt in, give the thumbs up and the chopper lifts up. So far, so good. We are moving gently across the landscape and I'm enjoying the experience.
Then the pilot banks right and the gals sitting in the right gun wells are screaming at the top of their lungs.
For me, I'm just tilted a bit to the side, for them, they are looking almost straight down with just a seat belt securing them in.
Next is the left tilt and I'm looking at the ground.
The tilting left and right is all good and I'm thinking "I got this! I'm getting better at adventures." Then the pilot puts us into a bit of a dive that feels exactly like that drop when you crest the top of a roller coaster.
Dear lord baby jesus.
I remind myself there's no screaming like a girl, grit my teeth and hold on. Two dipty dues and we are back to nice even flying.
Whew, I may have failed at Whitewater Rafting, but I'm really enjoying the Huey Helicopter ride.
AN ENLIGHTENING EXPERIENCE
As I watch the shadow of the chopper cut across the land below I can't help but wonder how many soldiers this machine flew into hell and how many it flew out.
It's a little bone-chilling if you have a vivid imagination, but I wouldn't trade this experience for anything.
Landing back on terra firma, complete with Huey hair, I'm thrilled that I dug up my courage to take this ride and have a whole new level of gratitude for the men and women who fight for this country.
Sometimes, it's something as simple as eight short minutes that can give you a brand new outlook on life and liberty.
My deep felt thanks to Sky Soldiers and the AAHF for keeping Army Aviation stories alive for future generations.
Watch my YouTube video to see my before and after story–oh, and some incredible views from the flight.
I love how YouTube ALWAYS picks a thumbnail of me with a goofy face ;(
NOW ITS YOUR TURN
If you'd like to take a ride in a Huey or Cobra you can do so at their home field in Hampton, Georgia or at one of the many air events they attend across the United States. Follow them on Facebook to stay up-to-date on where they'll be!
PIN HUEY HELICOPTER RIDE TO PINTEREST