I've wanted a bar cart for years but never wanted to pay the price for a new one. I was recently at TJ Maxx and they had carts about half the size of this one with a price of around $100. Way too much money in my opinion, but I'm frugal like that. I knew if I was patient I would eventually stumble across one at a tag sale or thrift shop and that is exactly what happened.
Well, I didn't personally find it but I let friends know I was searching and the fab writer behind week99er.com called me one day to let me know she spotted one at a sale. If memories serves, it was around $45, but it was a hideous yellow color. That's ok for $45 I can work with it. I was able to take the bar cart from drab to fab with a bit of paint and styling all for under $100.
BAR CART MAKEOVER
Like every single project in our home, this has been sitting and waiting to be completed for months. We finally finished this project. Not necessarily in the color I wanted (my pick a metallic silver or bronze, what I got was a flat blue-grey #marriagecompromise), but it ended up looking pretty good. We purchased two cans of Valspar Color Radiance Paint & Primer Spray Paint in Flat Silver Fox for the very affordable price of $5-ish each.
Of course, Alan waits until one of the coldest days of the years paint the bar cart. Seriously, cold. Like ZERO degrees outside and probably 20 or 30 degrees in the garage. I just shake my head and tell him good luck!  Amazingly, the Valspar paint held true to the metal (which had been inside so was warm) and the claims on the can were true. There were no drips and no wait needed although we did let the cart warm back up between coats.
Safety Tip: If you are painting in an enclosed space even though it's well ventilated please use a mask to filter the fumes from going into your lungs!
BAR CART STYLING
Once the bar cart was completely dried we brought it inside and my work began. I knew I wanted to feature Cruzan Rum (the good folks at Cruzan sent a couple bottles my way, cocktail recipes coming soon) on the cart but wasn't sure how else I wanted to go about styling it. I had a couple of failures (see above) and I still haven't found a barware set that I love so went with what I had on hand and found a few items at TJ Maxx.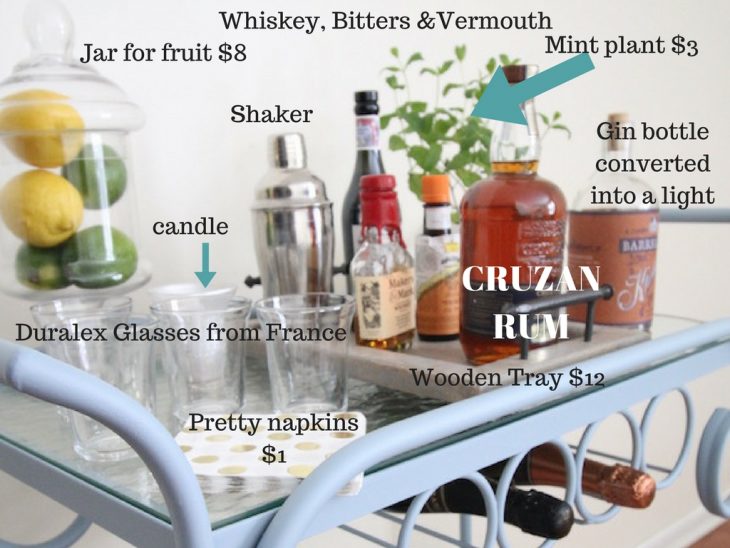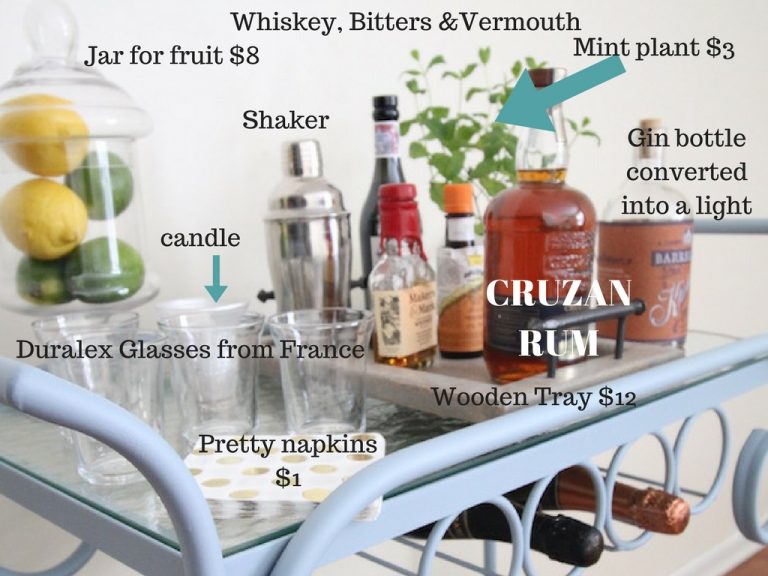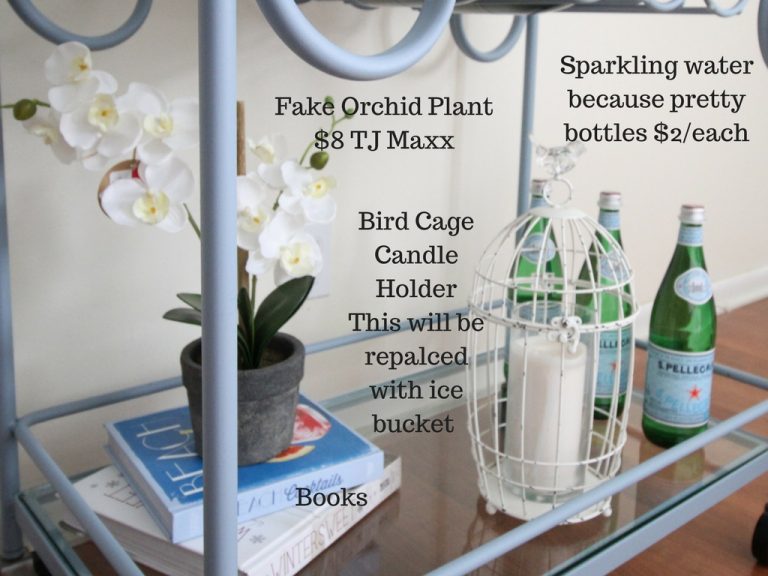 Purchased Bar Cart Items
Jar for fruit: $8
Fruit $3
Mint plant $3
Wooden tray $12
Pretty paper napkins $1
Fake orchid $8
Sparkling water, 3 bottles $2/each
Total: $41
Bar Cart Items From House
Cruzan Rum (THANK YOU CRUZAN)
Duralex glasses (which I LOVE and aren't your typical rocks glasses but I dont care 🙂
Silver shaker
Makers Mark WhiskeyOne of my whiskeys of choice, need a new bottle 🙂
Bitters
Vermouth
Silver frosted candle holder
Gin bottle converted into a light (made by Alan, DIY coming soon)
Birdcage candle holder
Books
The total for taking a bar cart from drab to fab is (drum roll please)….$96!!!! Holy WOW!!
For less than $100 (the cost of a cheap, new bar cart only) we have a gorgeous bar cart for our living room.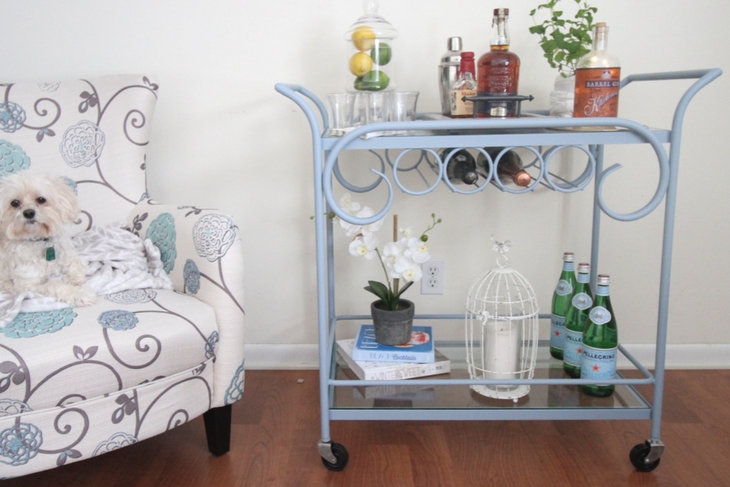 Doesn't BB look adorable?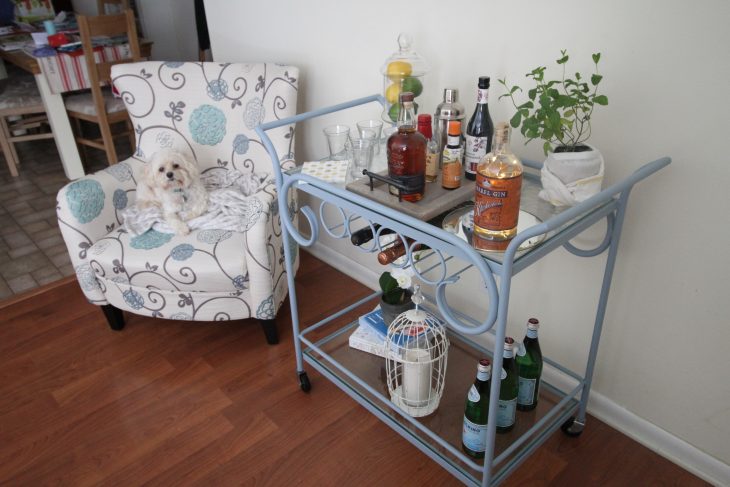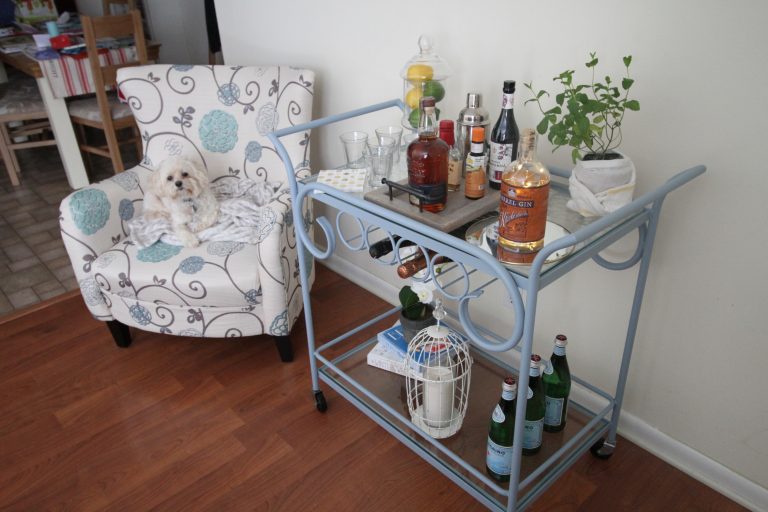 Even thought Im not completely in love with the color I love how it turned out and it looks perfect with our new furniture.  Bar cart cocktail recipes coming soon!
More home styling DIY and home improvement tips:
Kitchen Remodel on a Small Budget
Kitchen Remodel Prep and Budget (What does it REALLY cost to remodel a kitchen)
***PIN HOW TO TAKE A BAR CAR FROM DRAB TO FAB TO PINTEREST***