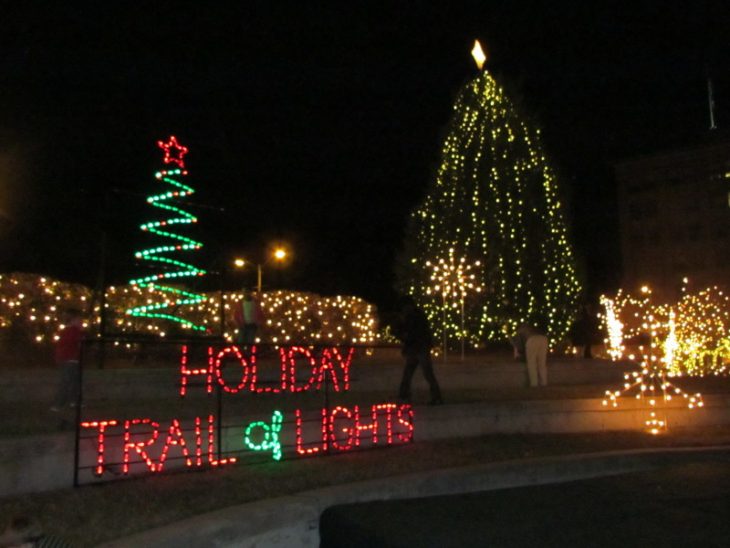 It's really no surprise to me that Louisiana's Holiday Trail of Lights is a really big event in the state. I mean, Louisiana knows how to throw a party and that extends way outside of the French Quarter in NOLA. Mardi Gras may be the biggest celebration in the state, but I have a feeling Christmas is a close second. One way to celebrate Christmas the Louisiana way is by taking a tour of the Holiday Trail of Lights.
The trail goes through eight cities in northern Louisiana. Each city offers visitors an unique holiday experience filled with holiday cheer, holiday decorations and thousand upon thousands of lights. A complete list of holiday events, parades, and celebrations can be found here.
Alexandria kicks off the holidays on December 3 with their Holiday Magic Downtown event. Alexandria will flip the switch and set their town aglow with lights, Santa arrives and their is much fun and merriment. During the Holiday Trail of Lights season be sure to visit the zoo for more lights. There will also be an Old Fashioned Christmas, Christmas Parade, and Garden Tour. Beyond the trail of lights there are good eats and shopping to be found in the region. Read more about that experience here.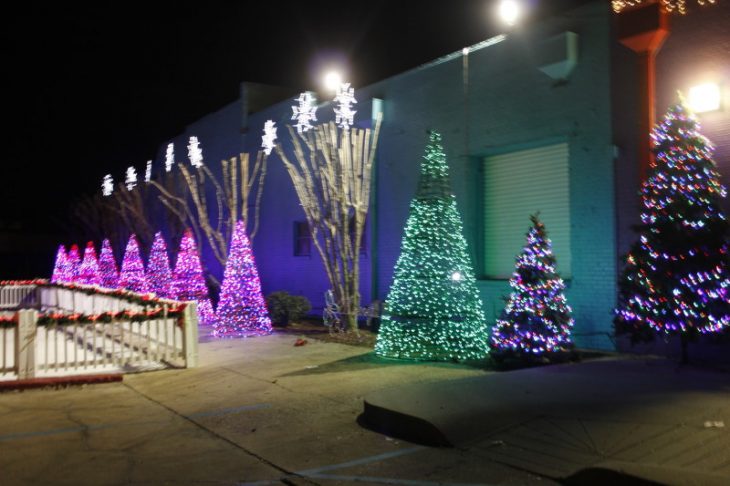 Start your visit with a tour of the Biedenharn Museum & Gardens which is in full Christmas regalea. Biedenharn is the historic home of the man who bottled Coca Cola for the very first time. Be sure to walk the gardens and find all five iron maidens that were originally imported from Italy and weigh in at 1700 pounds each. As you tour the house be sure to look at the quilt on the master bedroom bed. It was made in the 1700s and came from England. It's amazing to me that it is so well preserved.
If you have children with you head over to the Children's Museum to enjoy their Santa's Christmas Village. Here, children can taboggan, ice skate and play in the snow all the while requiring no special coats, gloves or hats. This is winter play at it's finest in Louisiana. Oh, there are also dancing trees and many lights at the museum.
While in the area a stop at Antique Alley is required for a rock n roll Christmas. Take a sleigh ride to other attractions, enjoy hot cocoa and join the holiday fun.
If you happen to be in West Monroe of December 5th, please please please go to the Redneck Parade!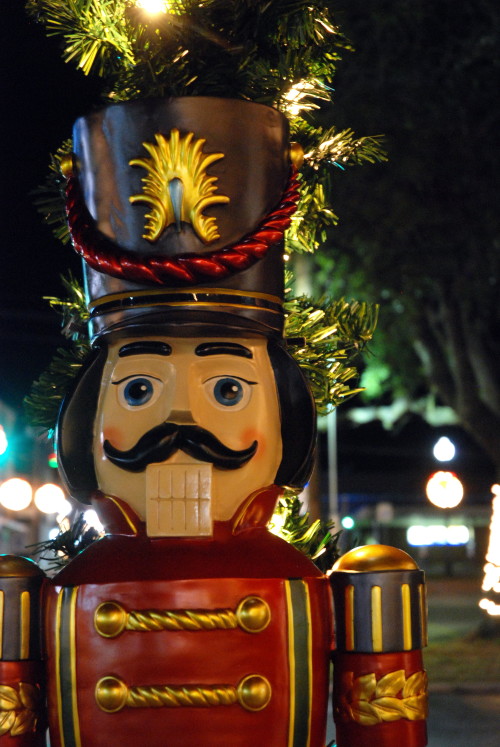 Two not to be missed activities include driving the streets and a park lined with light and Christmas sets and visiting Germantown decorated as an early settlers holiday. This adorable town still has brick-lined streets, a Christmas Faushing, and life sized nutcrackers that line main street. I loved seeing all the Christmas lights in town. There is probably the best antique/thrift store in the entire state, Second Hand Rose Antiques and a great fashion and accessory store, Say Baby, that is housed in a converted gas station (I may have found a Christmas gift or two while in Minden).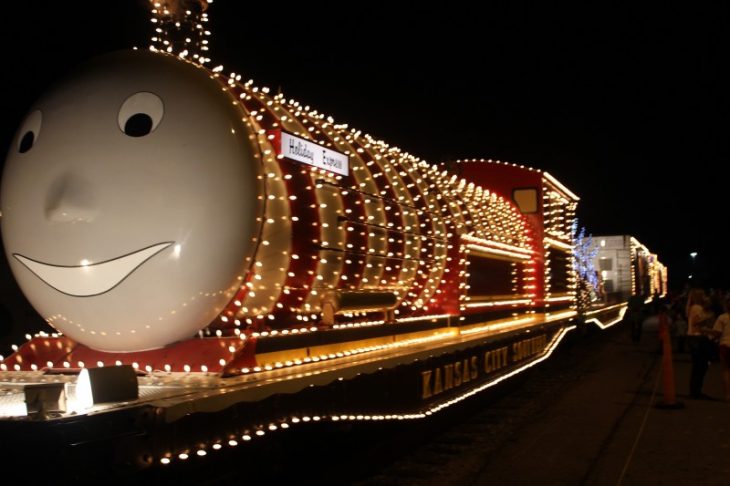 Drive straight to the American Rose Society for their Christmas in Roseland event. They transform the grounds to a walk-through winter wonderland with thousands of lights, lighted displays and giant sized Christmas cards. Visitors also enjoy seeing Santa, train rides and so much more. Special note: December 4-5 there is a special Roseland Christmas Market that brings local artisans to one spot for your holiday shopping needs. In addition to Christmas in Roseland there are other special events happening including fireworks on December 5th and a Cajun Christmas Festival on December 11th.
While you're in Shreeveport/Boosier stop into Agora Borealis, a local artisan market, for unique Christmas gift ideas.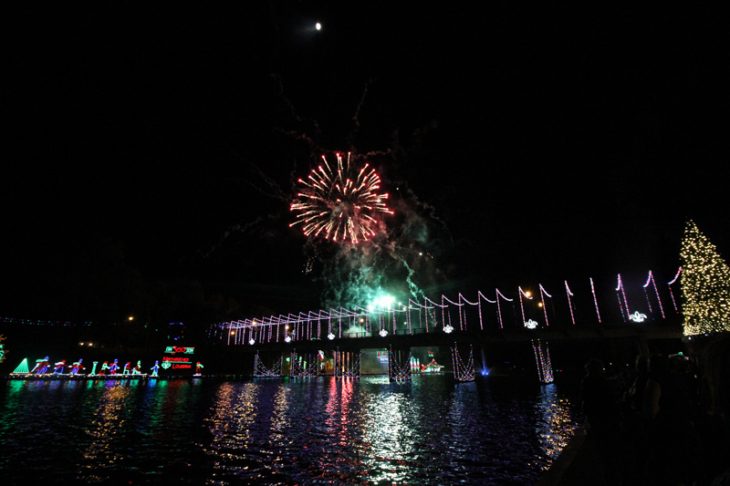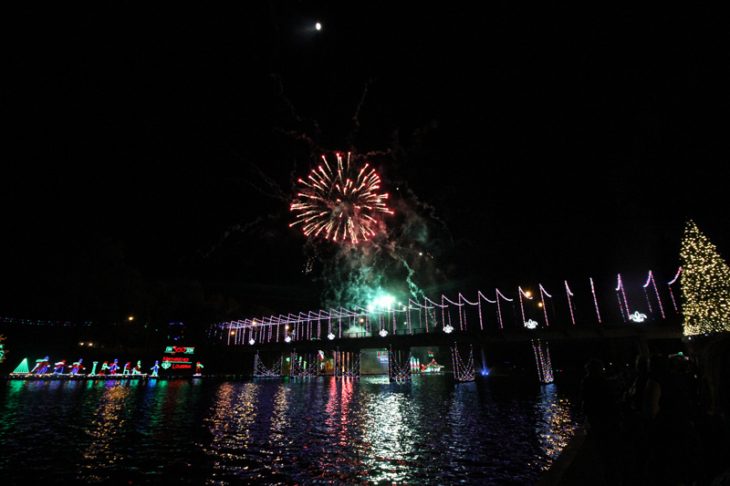 Visit the town where they celebrate the holidays for 45 days straight with weekly fireworks and 300,000 lights making things merry and bright. Natchitoches has been named Best Small Southern Town by USA Today and for good reason. The charming town along the banks of the Cane River Lake provides the perfect backdrop for a holiday celebration. Be sure to attend their Christmas festival on December 5th complete with Festival of Light Parade, the largest fireworks display of the holiday season, Mr. & Mrs. Claus, and so much more!
A complete list of all the fun happening along the Holiday of Lights Trail can be found here.