We all are running in this fast-paced, stressful professional world, meeting targets and fulfilling other professional and personal commitments. In between, we tend to skip meals or order junk and unhealthy food that spoil our health.
Meals play a significant role in maintaining a healthy lifestyle and diet. Unfortunately, most busy professionals do not have the time to chop and cook their food by themselves but prefer to prepare it for later consumption.
They ensure that the client does not have to worry about what to cook and whether he/she should eat it or not. It allows customers to eat nutritiously, even when they are on the go.
Several prepared meal delivery services help solve this issue by providing cooked meals at your doorstep. In addition, they are an excellent way to ensure that you're getting a balanced, healthy meal, no matter how busy your schedule is.
And for those who still wish to dabble with their culinary skills in the kitchen once they have spare time, here are the easy-to-make delicious dinner recipes to try at home.
Easy Dinner Recipes for Busy Professionals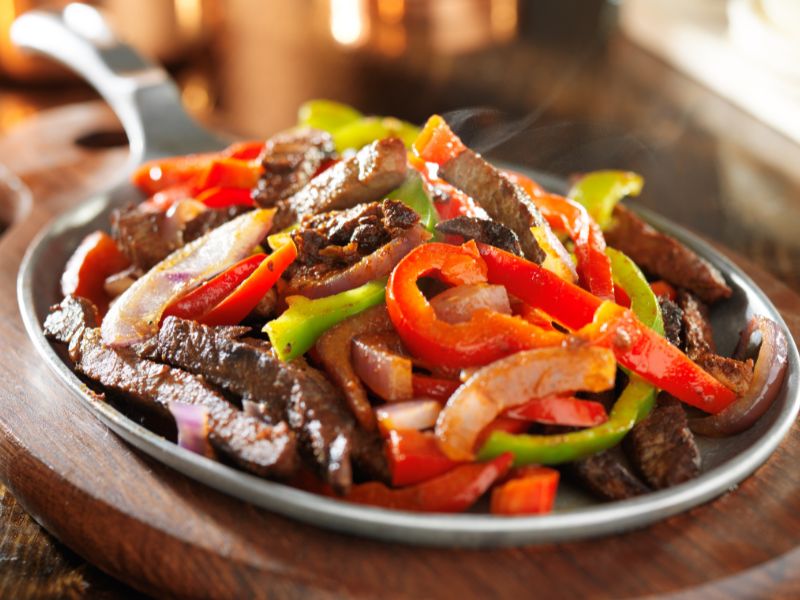 Pan Sheet Steak Fajitas
Pan Sheet Fajitas Ingredients
2 tablespoons olive oil
1 large, thinly sliced onion
1 finely sliced bell peppers (I like using green, red, and yellow)
Thinly cut, 4-5 ounce lean steaks (round or sirloin)
1 packet taco seasoning
Smoked paprika, two teaspoons
One-half teaspoon of mild chilli powder
Lime juice from one (about 1 and a half tablespoons)
Serving platter with tortillas, tomatoes, lettuce, cheese, sour cream, and avocado (as desired)
Pan Sheet Fajitas Directions
Set oven's temperature to 400 degrees
Pour olive oil onto a sizable sheet pan.
Add the thinly sliced steak, sliced onions, sliced bell peppers, taco spice, paprika, chilli powder, and lime juice to the sheet pan.
Toss everything together thoroughly with a set of tongs or your hands until the meat and vegetables are evenly covered in the oil and seasonings.
Bake for 12 minutes at 400 degrees Fahrenheit, or until the vegetables soften and the steak is browned on the outside. Nobody likes dry steak, so take care not to overcook the steak. Check a chunk after 10 minutes to see if it is done to your pleasure.
Serve in tortillas with chosen toppings such as lettuce, tomatoes, cheese, sour cream, and avocado.
Parmesan Crusted Chicken and Broccoli
Parmesan Crusted Chicken and Broccoli Ingredients
200 gram of broccoli florets
Two tablespoons olive oil
1 pound of chicken tenders seasoned with freshly ground black pepper and kosher salt
1 egg
1/2 cup panko
1/2 cup plus 1 tablespoon shredded parmesan cheese
1 teaspoon of dry basil
1/2 teaspoon of dried oregano
1/2 teaspoon of dried parsley
1/8 teaspoon garlic
1/4 teaspoon onion powder
freshly ground black pepper, to taste
Parmesan Crusted Chicken and Broccoli Directions
Set a rimmed sheet pan aside and preheat the oven to 425° F. Toss the broccoli in the olive oil, salt, and pepper mixture, then add it to the sheet pan.
Add the panko, 1/2 cup Parmesan cheese, and spices to a freezer bag that can be sealed. Shake to blend after sealing the bag.
Stir the egg with a tablespoon of milk or water in a small bowl. After coating them in the egg mixture, add the seasoned chicken tenders to the dish. Put the chicken in the freezer bag after removing it from the plate. Shake to distribute the panko mixture over them.
Put the sheet pan in the oven with the chicken tenders on it. After 10 minutes of baking, turn the chicken and broccoli should be turned over after 10 minutes of baking. Bake the chicken for a further 8 to 10 minutes, or until cooked through. Remove the broccoli from the oven and top with the remaining tablespoon of Parmesan cheese. Serve the dish plain, over pasta, or with a side of marinara sauce.