If you're looking for what may be the best donut you will ever have in your life, I may have just the place for you. The Doughnut Vault is an amazing little hole in the wall (I mean that almost literally) nestled in central Chicago.
With barely enough standing room for maybe 4 people, marked by nothing more than a beautiful blue brick sign just outside the door.
Even the poor cashier was barricaded behind the counter locked in place by a giant speed rack (metal rack used in kitchens to hold large sheet pans of food for cooling) full of donuts of all shapes and sizes, including what I believe to be the largest donuts I've ever seen.
To top that off, not only were these the largest donuts I've ever seen but they were hands down the best donuts I've ever had. I haven't even been able to bring myself to return to my local donut shop in Ypsi because I know they just won't hold up to my new donut standard.
And that's saying something because I had previously believed those to be the best donuts one could find.
I want to say that Doughnut Vault keeps things simple but that's not quite right. They bake all of their Doughnuts fresh daily and only have a few flavors each day but the flavors are anything but simple, ranging from chestnut glazed to chocolate drizzle orange cream old fashion and everything in between.
We of course had to try a variety of donuts, for our own scientific purposes, and the ability to properly report back to you all here.
With that in mind we ended up with two donut holes with sprinkles, 1 vanilla glazed donut, and 1 orange cream old-fashion donut with chocolate drizzle. The donut holes were very good but there was nothing special about them. Just very good donut holes.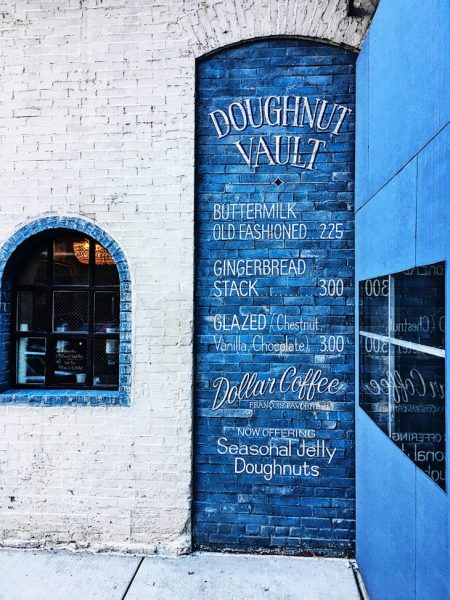 The other two on the other hand, my god. The glazed donut was pure bliss. In my mind, there are two things that make or break a glazed donut; the airier the better, and it should melt in your mouth.
Now don't get me wrong, I'm not a snob, I won't turn my nose up to a donut that doesn't meet those criteria, that would just be stupid. But let me tell you, this glazed donut may be my new gold standard. It was beyond airy and to top it off it basically dissolved in my mouth.
As for the old fashion donut, I don't have them that often so I don't have much to compare it to, but it was quite delicious. We all enjoyed it, and I think I may have liked that one more than the glazed (I know, weird right). The orange flavor was not overpowering or too subtle, but just right.
Another thing that made it better in our eyes was the chocolate drizzle. My mom and I are not big chocolate fans, her more so than I, and neither of us were off put by the amount of chocolate on them. Just enough to add depth of flavor but not enough to completely overwhelm the experience.
All in all, there is no question in my mind that every time I go to Chicago I will do everything in my power to make a stop at The Doughnut Vault.
One last little bit of info to encourage you to stop there on your next visit is that they actually have two locations and an awesome looking Doughnut mobile (dubbed The Vault Van) to help meet all your doughnut needs.
The first location and original location is on Franklin St., the second location is on N Canal St., and the Vault Van can be found roaming the streets from spring through fall.
Also, from what I hear, they also seem to sell out pretty fast so the sooner in the day you can get there the better.
More: