The title of this cookbook, the Clean and Simple Diabetes Cookbook, is what really captured my attention. What's not to love about clean and simple?
Clean, to me, means, easy, fresh ingredients and simple always makes me happy and this book does not disappoint.
The best part? This cookbook is for anyone regardless if you have diabetes or not. Every recipe comes with a complete nutritional breakdown so if you're following Weight Watchers, Paleo, Keto or just counting calories this book is a great resource to keep you on track.
The amount of helpful advice, beyond the recipes, in this book is incredible.
There are meal plans for cooking for one or cooking for four. I seldom stumble across cooking for one meal plans so that is a great bonus.
Another section covers 25 of the easiest ever three-ingredient recipe ideas. Three-ingredients? I'm all over that!
If time is an issue, there is a section on meal prep with make-ahead weekly menus. Love, love, love.
This book is great for those that have been cooking for years or those just finding their way around the kitchen. I love that its a bit of kitchen resource book at the beginning and has so many great recipes throughout.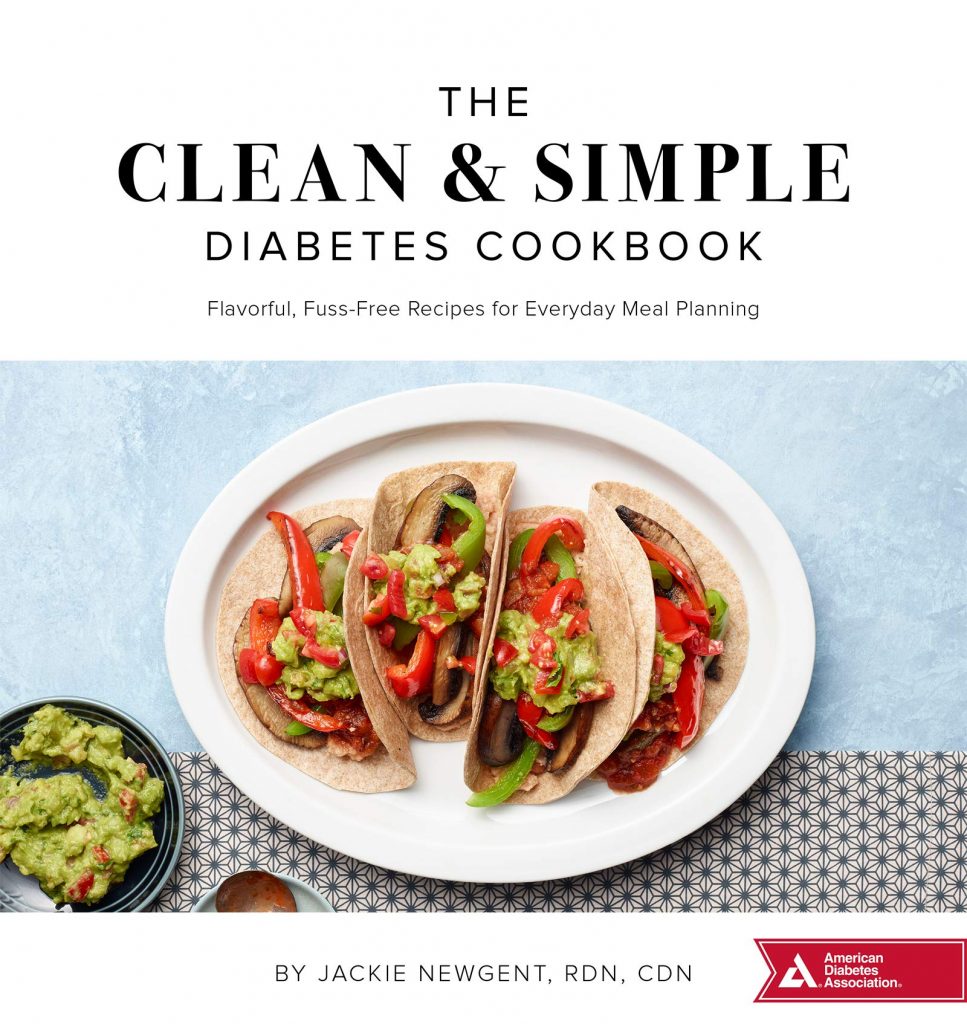 About The Clean & Simple Cookbook
Cooking at home is one of the best ways to eat healthier, but it can be difficult to know where to start. In the latest book from dietician and Gourmand World Cookbook Award-winner Jackie Newgent, readers will learn that eating better to manage your diabetes or prediabetes doesn't have to be complicated
The Clean & Simple Diabetes Cookbook: Flavorful, Fuss-Free Recipes for Everyday Meal Planning [American Diabetes Association | January 2020 | $19.95 US/$29.50 CAN] will walk you through the basics of simple, home-cooking, using fresh, whole ingredients to kickstart your healthy, clean-eating lifestyle.
Best of all, every recipe has been customized to meet the nutritional guidelines established by the American Diabetes Association making them all diabetes-friendly!
More than just a collection of recipes, the Clean & Simple Diabetes Cookbook also provides tips on cooking and eating to prevent or manage diabetes or prediabetes, essential cooking how-to's to build your confidence in the kitchen, grocery shopping guide for clean eating, step-by-step guides for meal planning and prep (all 15 minutes or less), and meal plans for fuss-free healthy eating. The book contains more than 100 recipes, including:
Mason Jar Sesame Chicken Salad
Sheet Pan Chili Lime Shrimp and Peppers
Super Green Guacamole
Tuna and Avocado Power Bowl
Flourless Peanut Butter Cookies
Published by the American Diabetes Association, the book offers readers a primer on the "Diabetes-Friendly Lifestyle", a step-by-step guide to easy cooking for diabetes, 25 easy 3-ingredient recipes, and a mouthwatering collection of more than 100 flavorful, fuss-free recipes for everyday meal planning such as:
Oaxacan Brunch Style Nachos
All-American Portobello "Cheeseburger"
Turkey Meatballs Arrabbiata
Buffalo Garbanzo Snackers
Cacio e Pepe e Spinaci
Single-Serve Peach Cobbler with Pecans
Sweet Cherry Milkshake
From weeknight meals for the whole family to snacks on the go and even desserts, there's something in here for everybody in The Clean & Simple Diabetes Cookbook.
Best of all, each recipe follows the ADA's dietary and nutritional guidelines. And a diabetes-friendly diet isn't a special diet, it's a smarter diet!
About the Author of The Clean & Simple Diabetes Cookbook
Jackie Newgent, RDN, CDN, is a New York City-based classically-trained chef, registered dietitian nutritionist, award-winning cookbook author, recipe developer, and media personality.
She's the author of several cookbooks, including her newest book, The Clean & Simple Diabetes Cookbook (American Diabetes Association, 2020).
She's a healthy cooking instructor at the Institute of Culinary Education, a food writer, and a former national spokesperson for the Academy of Nutrition & Dietetics.
Jackie has made guest appearances on dozens of television news shows.