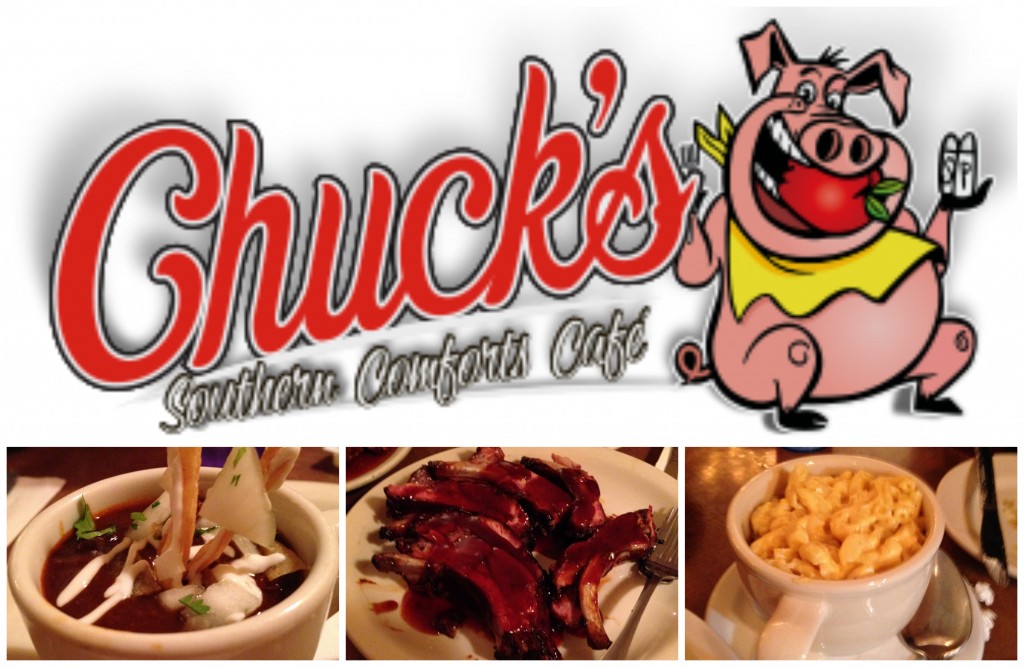 I enjoy trying BBQ around the United States, so on a recent trip to the Chicago Southland, I was told that I needed to try Chuck's Southern Comfort Café. Now, I was a little skeptical, as the Chicago area is not really known for their BBQ, maybe pizza, hot dogs, and fine dining but not BBQ. But since I was in town, I figured why not give it a try and was I ever wrong, as Chuck's in the Chicago Southland is one of the best BBQ restaurants around.
Chuck's isn't just BBQ though, it is the blend of Mexican, Cajun-Creole, good old south cooking and the best slow cooked BBQ you have ever had according to the chef/owner Chuck Pine. Chef Pine who was trained under Rick Bayless for several years and also worked for Topolobampo Mexican restaurant before opening the first Chuck's in the Chicago Southland. Chef Pine's experience and love of food mixed with great flavors comes out in the dishes he prepares. He also cares about the ingredients he uses, which is why he grows a good deal of them.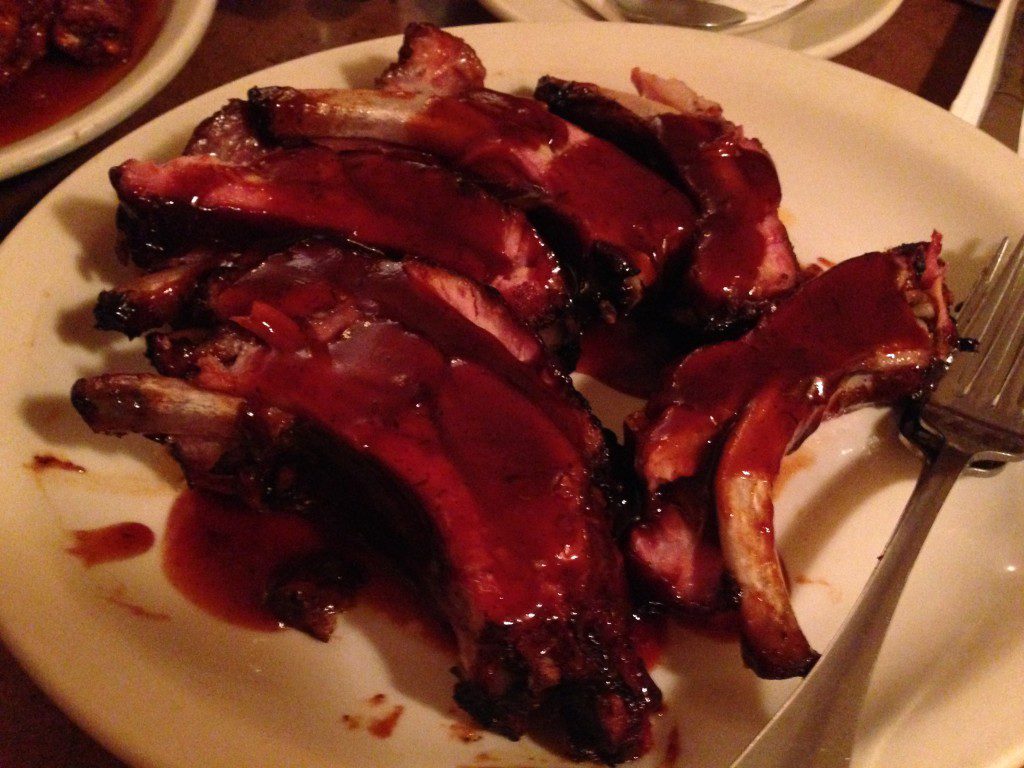 The menu at Chuck's is so diverse that you can find something for everyone, including a large selection of gluten free options. While there I was able to enjoy several of the dishes Chef Pine prepares on a regular basis.
Chef Pine was kind enough to come out and chat with us on our visit. He suggested we try Tapas style dining, which the restaurant does every third Tuesday of the month. This allows diners to try a variety of dishes without ordering too much food.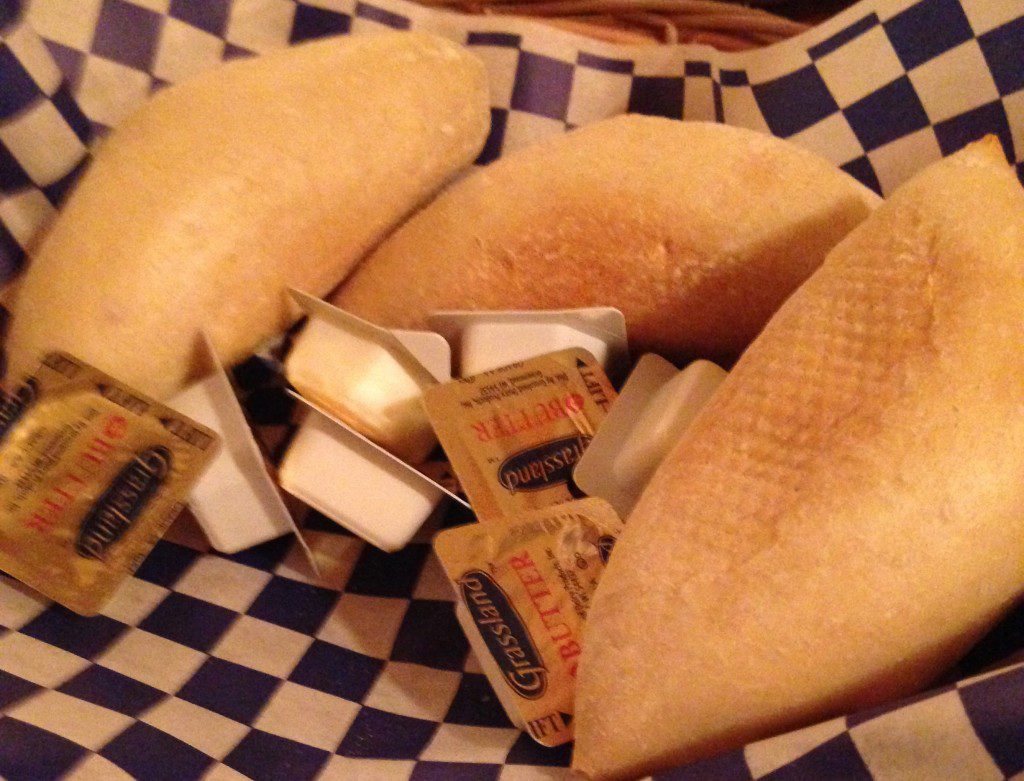 The starting course was a selection of fresh baked dinner rolls and Jalapeno-Cheddar Corn bread. The bread was warm and airy taking me back to my grandmother's kitchen when she used to bake fresh bread on the weekends. The corn bread on the other hand woke up your taste buds, as it has a little bit of a kick from the jalapeno but also some sweetness from the corn bread both were served with a sweet honey butter.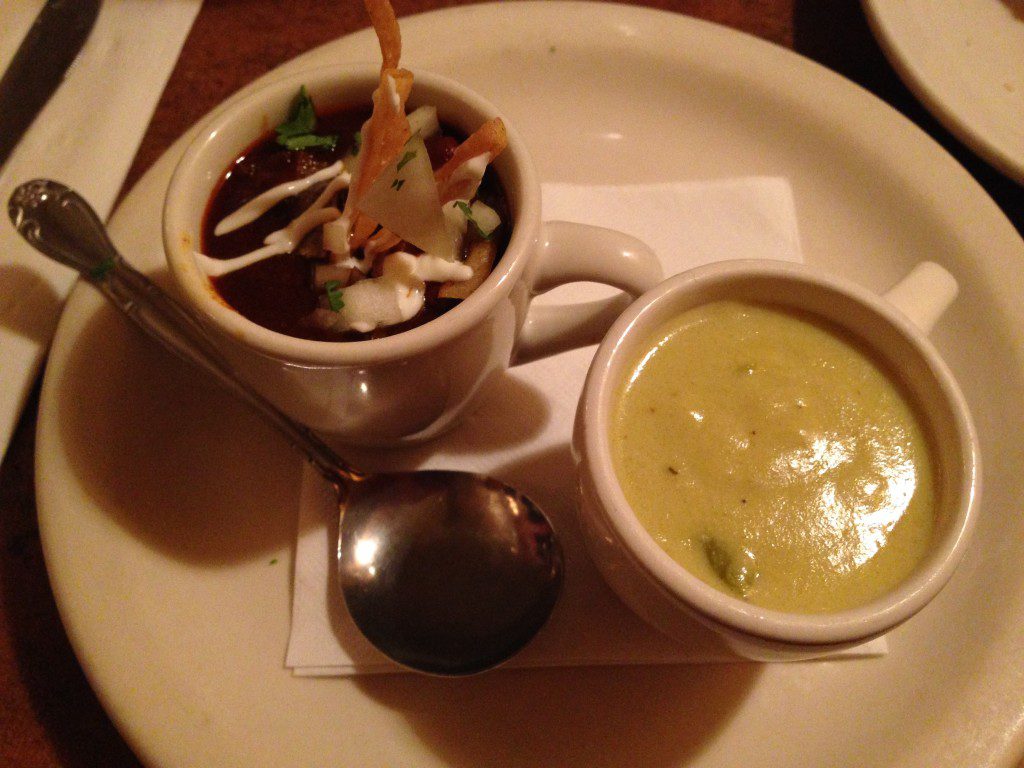 Next up were two amazing soups. The soup of the day, which was a cream of jalapeno and Chuck's Red Chili both of which have a wonderful and amazing depth of flavor. The cream of jalapeno was not too spicy and had a smooth texture of a cream soup. Chuck's Red is simply one of the best Mexican style beef chili's I have ever had. It had many different levels of flavors with the right amount of heat from the spices. The chef makes the chili with the right amount of beef and beans topped with a sour cream and tortillas.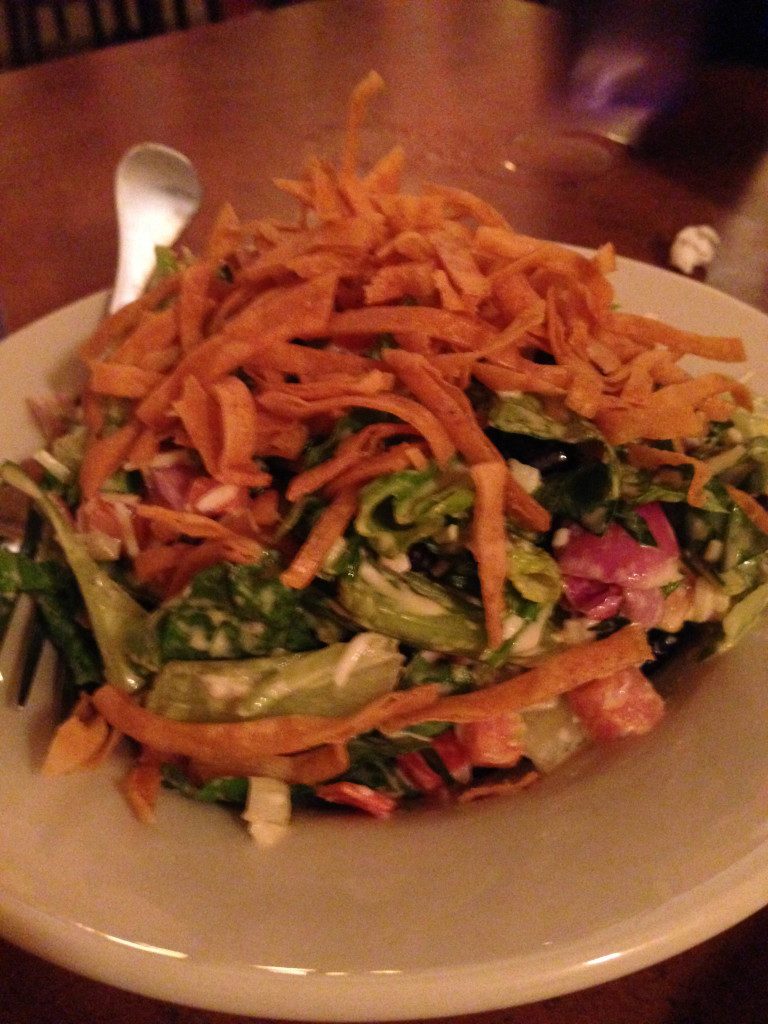 He also suggested trying the super Caesar salad and chucks special sandwich, as they are both house specials. Both dishes show Chef Pine's skill and knowledge in knowing the right combinations to make a simple dish become a memorable dish. This Super Caesar salad was so scrumptious; I did not want to stop eating it. Much like a normal Caesar it has romaine lettuce and cheese but that is where it stops being normal and heads to wonderful. The salad also has black beans, red onions, tortilla strips and salsa and is dressed perfectly with the chef's own spicy homemade Caesar dressing.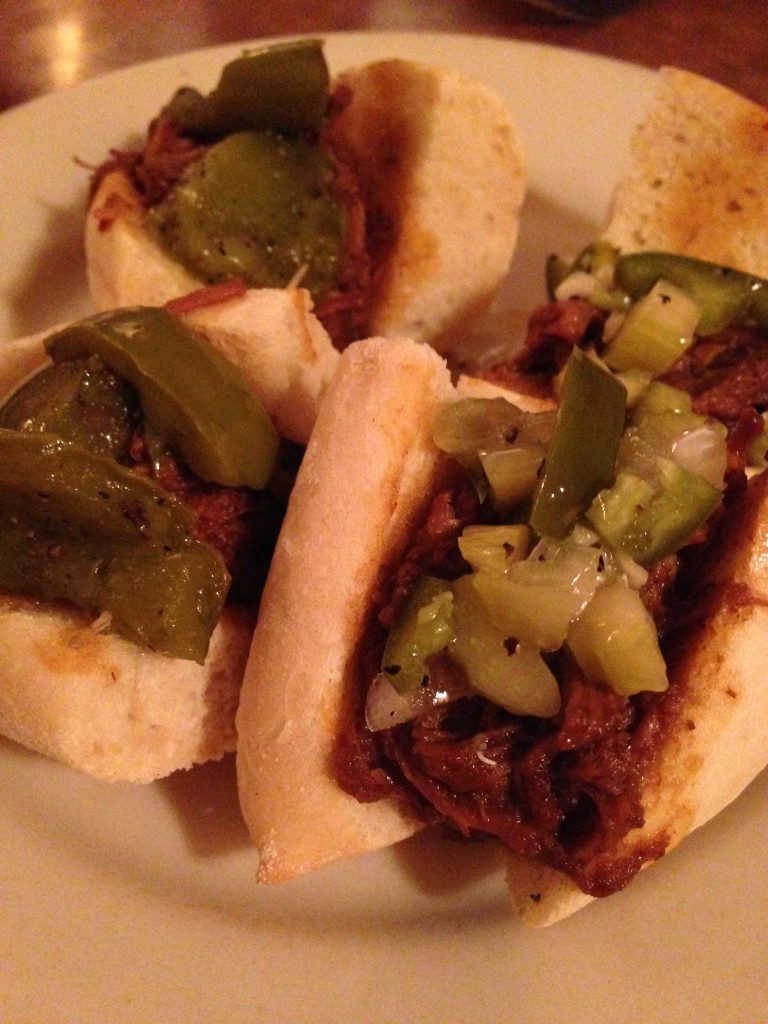 The Chuck's Special is another piece of perfection and layering of flavors. The sandwich is made with Chef Pine's slow smoked beef brisket that just melts in your mouth. He finishes off the sandwich with peppers, onions and cheese serving it with a side of au jus. Chef then brought out samples of his beef brisket, ribs glazed in a mild North Carolina BBQ sauce, Chicago and Jamaican jerk wings, and to finish it off a selection of sides. There are just no words to describe how good his food is, but if I had too put it into one word I would say "scrumptious."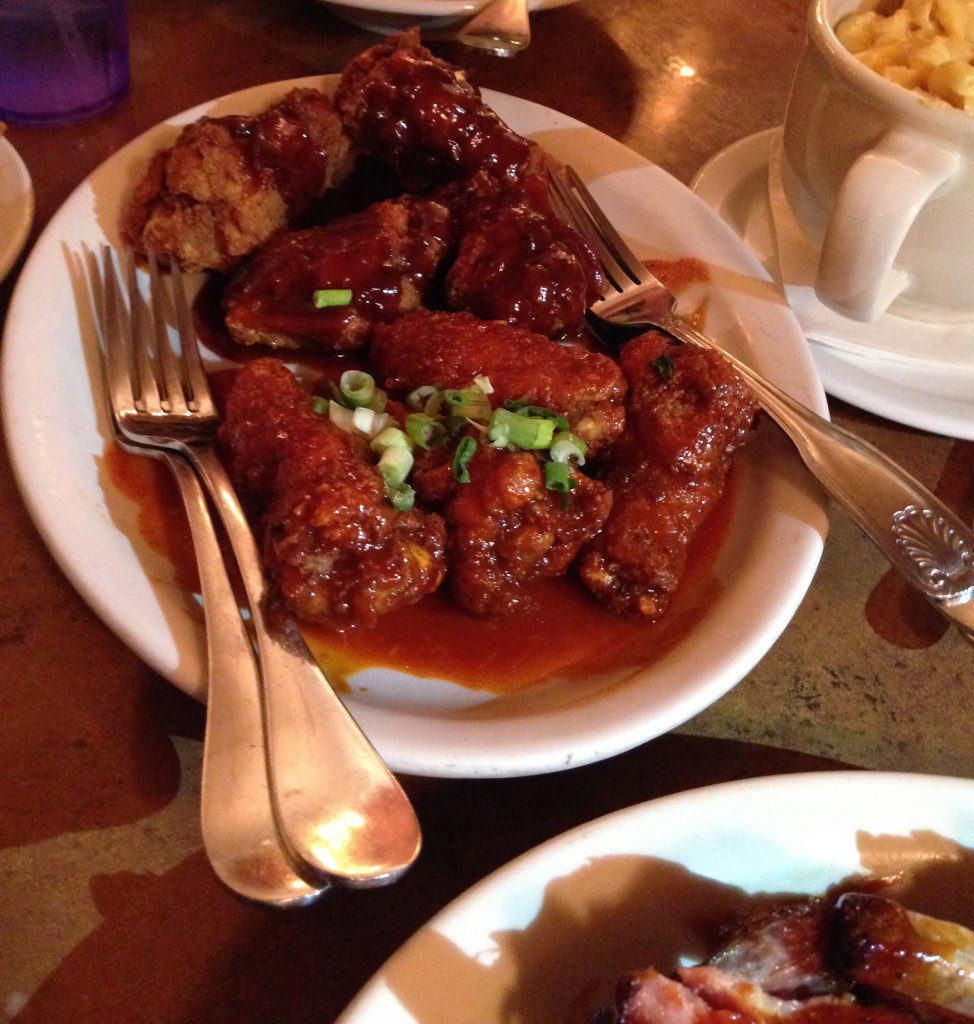 We then finished our meal off with Banana's Fosters Crepes, which is sin on a plate. For this dish bananas are sautéed in a caramel sauce and served over crepes and topped with vanilla ice cream and toasted pecans. This is one dish where you will want to lick the plate when you're finished. Besides the Banana's Fosters Chucks also offers great selection of homemade desserts and I recommend saving room for at least one of them.
The next time you are in or near Chicago, I recommend you make the trip out to Chuck's Southern Comforts Café for an amazing meal.  Chuck's also hosts a number of events through out the year, such as Mardi Gras, Valentine's Dinner, Tapas Tuesdays, Beignet Breakfast, and Super Bowl Sunday.  Please check the the website www.chuckscafe.com for further information.
Chuck's Southern Comforts Café
Two Locations
Burbank, IL
6501 W. 79th Street
Burbank, IL 60459
708.229.8700
Darien, IL
8025 S. Cass Ave.
Darien, IL 60561
331.431.4000