I've never been able to figure out how birds stay warm in the winter, but somehow they always seem to survive. Of course, we try to do our part by feeding the birds during the year.
I found this adorable birdseed cake recipe over at Country Woman and just had to share it.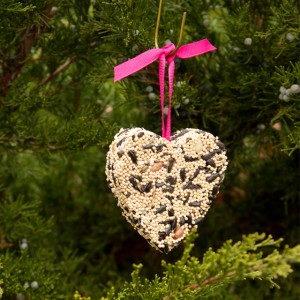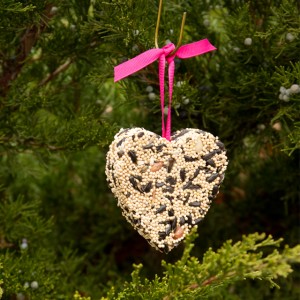 It looks really easy to make. It is held together by gelatin. I don't know why I never thought of that. I usually use peanut butter which is so expensive. The gelatin is much more budget friendly. Of course, you wouldn't have to use heart cookie cutters. Feel free to use any shape you have on hand. I'm pretty sure the birds won't mind.
Easy To Make Birdseed Cake Craft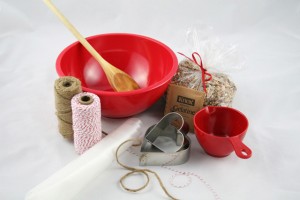 Birdseed Heart Craft Materials
Twine, string or ribbon
Unflavored gelatin powder, such as Knox
Birdseed
Baking sheet or countertop
Waxed paper
Heart-shaped cookie cutters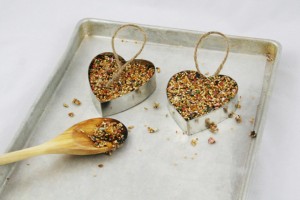 Birdseed Heart Craft Instructions
For each cake, cut a 12- or 18-in. length of twine, string or ribbon. Loop and tie the ends in a knot. Set aside.
Mix 1/2 oz. gelatin (2 packages of Knox) with 1/2 cup boiling water. Stir well to dissolve gelatin completely.
Add about 1-1/2 cups birdseed to gelatin solution. Mix well. If the mixture is still watery, add more birdseed until it has a stiff but sticky consistency.
Line countertop or baking sheet with waxed paper. Place cookie -cutters an inch apart on paper.
Fill each cookie cutter half-full of birdseed mixture. Place knotted end of the hanging loop on the top center of -mixture. Fill cookie cutter with more birdseed mixture on top of the loop. Firmly press mixture with the back of the spoon to compact in place.
After a few hours, gently unmold each cake onto fresh waxed paper. Let dry, flipping periodically, for 72 hours or until completely hardened before hanging.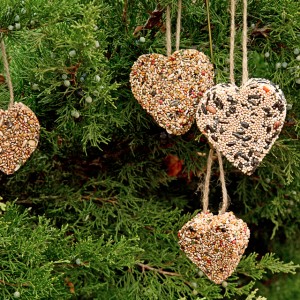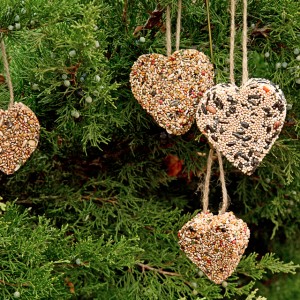 Pin the Birdseed Cake Craft to Pinterest