From green spaces and public art to national monuments and airplanes, Arlington, located in northern Virginia, is going to make you want to stay for a while.
Arlington may be widely known for being the home of Arlington National Cemetery but did you know that many DC area visitors, don't explore beyond the hallowed grounds?
Don't miss these other fun things to do in Arlington!
Note: My visit to Arlington, Virginia was hosted by Northern Virginia. The opinions and observations offered are my own.
5 Things To Do in Arlington (beyond the National Cemetery)
1. Explore Public Art
Stroll around Arlington's Rosslyn neighborhood and discover a variety of public art within one square mile.
There are 14 art installations in this area, but overall Arlington has 60 works of art in their permanent collection.
Even if you don't have time to find all the art make sure you enjoy a least a few of them.
Note, check with Visit Arlington as guided walking tours are sometimes offered.
These are some of my favorites: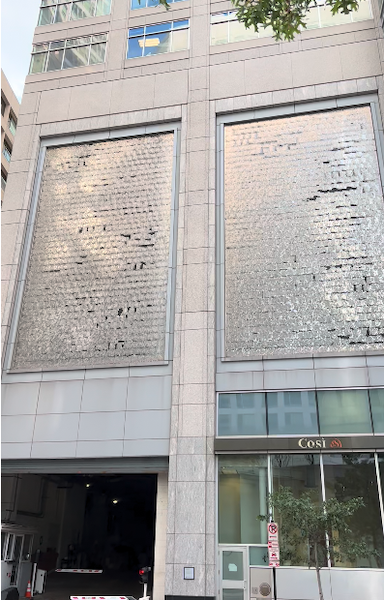 Liquid Pixels (1801 N Lynn St.)
Located on the side of a building there are six panels covered with 630,000 one-inch disks that move freely in the wind. It really looks like water cascading down the side of the building.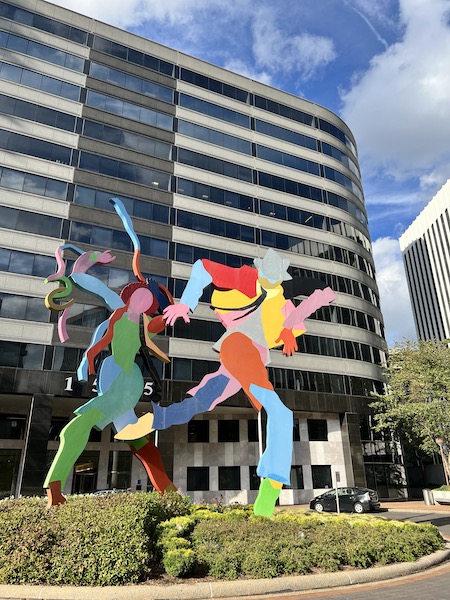 Anna and David (1525 Wilson Blvd)
Brightly painted 3-story high sculptures are a fun addition to Wilson Blvd.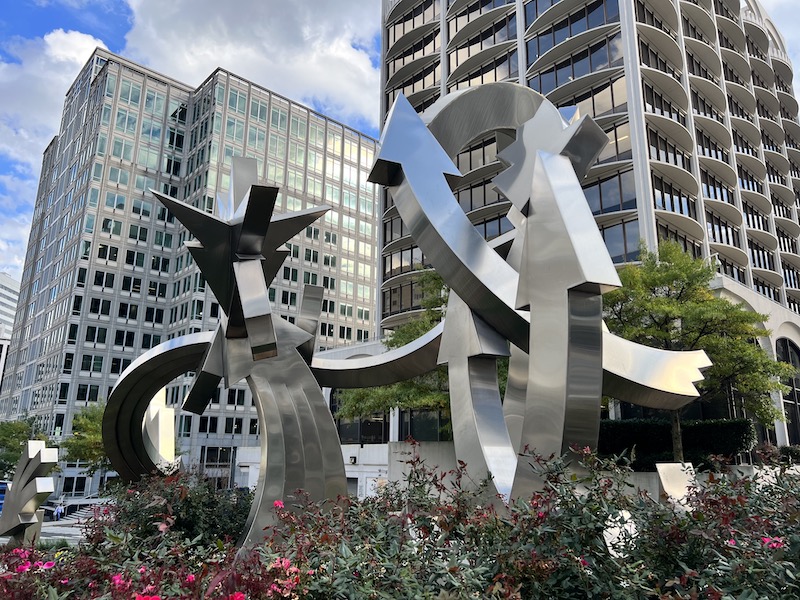 Cupid's Garden (Wilson Blvd & Clarendon Blvd. between Oak St. & Nash St.)
This one was my absolute favorite. Located at a busy intersection the arrows seem to be directing the never ending traffic.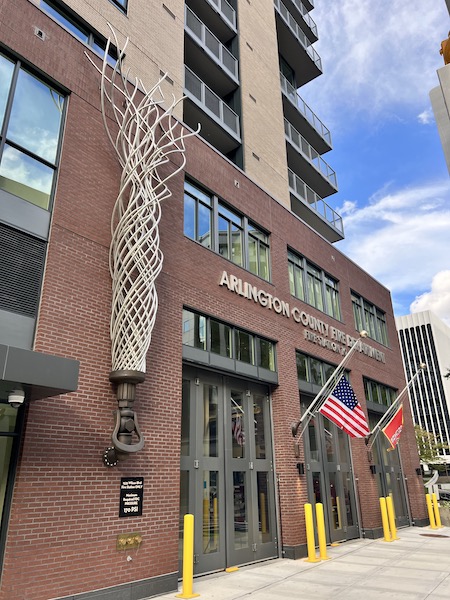 Arlington County Fire Department
Located on Wilson Blvd is this incredible torch sculpture. I didn't find any information on the Arlington Public Art Walking Tour about it, but feel it's worth a stop to see.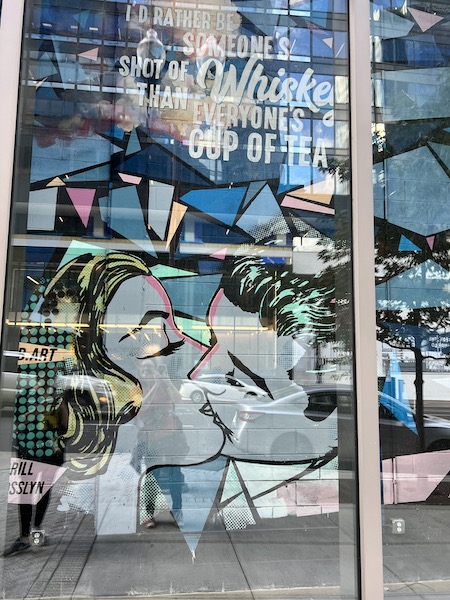 Someone's Shot of Whiskey
I spotted this on the walk back to my car. If memory serves me right it was on N. Lynn St. between Wilson and 19th St. Absolutely adore it, mostly because that is one of my favorite quotes.
2. Grab lunch at Open Road
After you finish exploring the public art scene grab a table at Open Road. It's a great place for lunch and/or cocktails.
I'm always on the hunt for a good salad and Open Road did not disappoint. It was exactly the energy I needed for the next adventure.
The outdoor seating was perfect as we were able to watch planes fly overhead on their approach to the airport.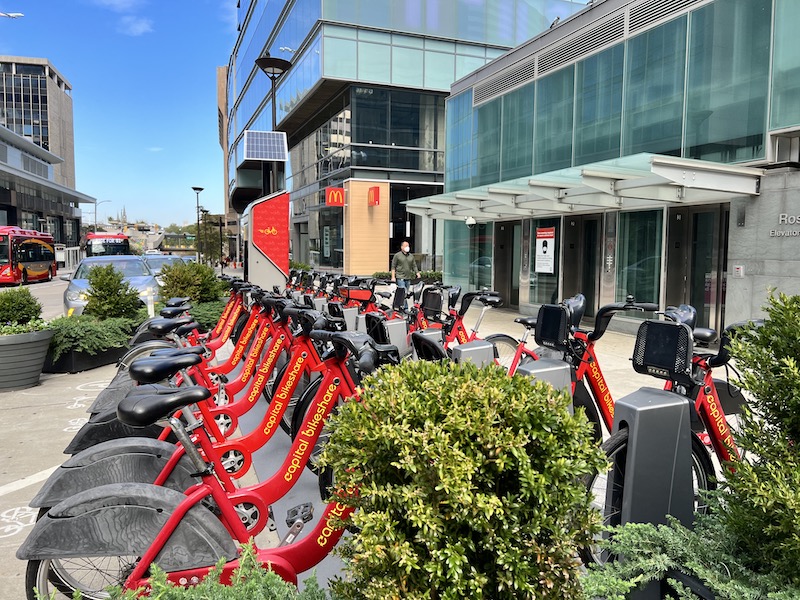 3. Take A Bike Ride Along the Mount Vernon Trail
After your delicious lunch, grab a bike at Capital Share Bike Rental, located in the same outdoor area as Open Road.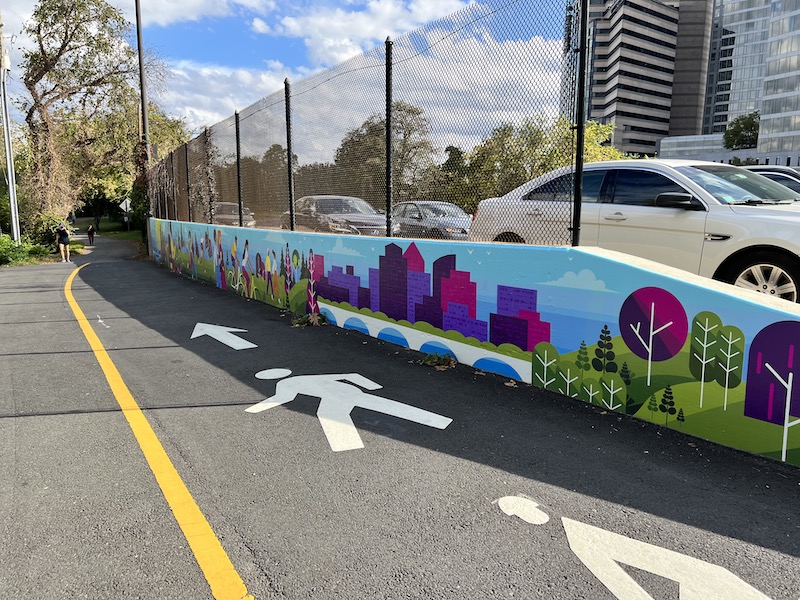 Simply download the app, enter your credit card information, follow the instructions, and you'll be off.
Try to find a bike with a basket to toss your purse, water bottle and/or backpack into.
The entrance to the Mount Vernon trail is just a couple of blocks away and downhill.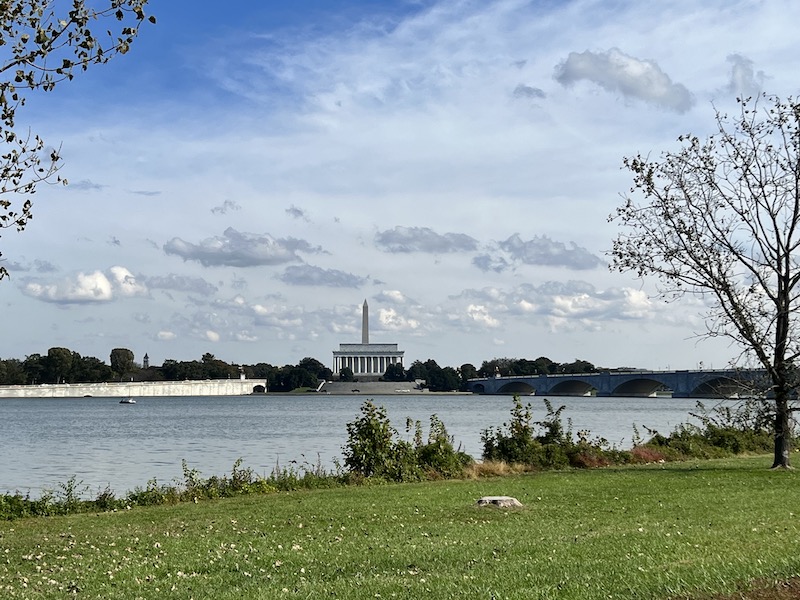 Once you are on the trail you'll enjoy a leisurely ride along the Potomac River.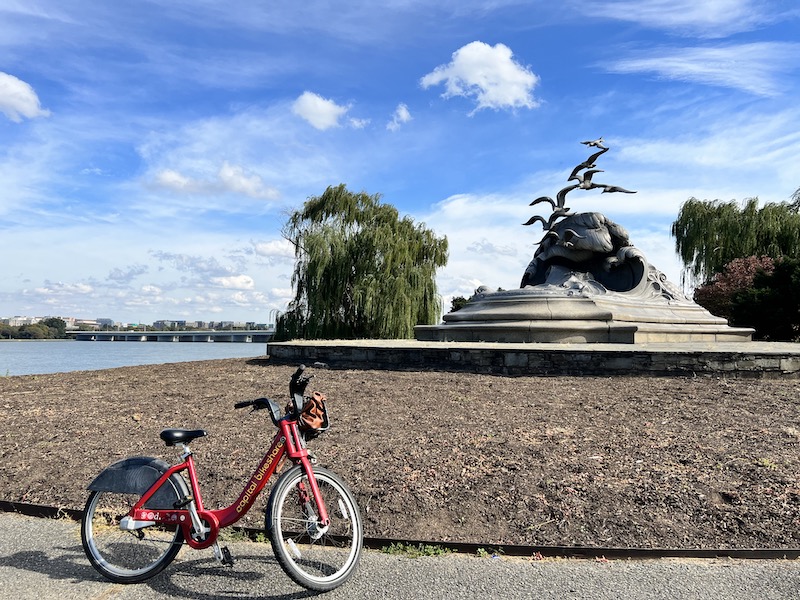 You'll pass by sculptures, green spaces, picnic areas, across wooden bridges and enjoy views of our nation's capital and its iconic landmarks.
You can bike as much or as little of the trail as you'd like. The bike rental is charged by the hour.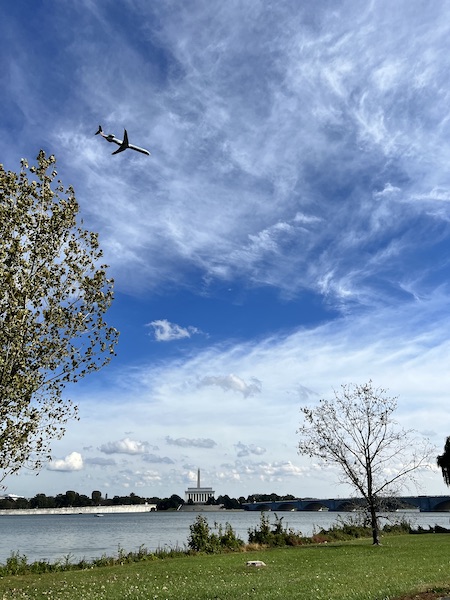 We rode our bikes back to the parking lot for the Mount Vernon trail where there is another Capital Bikeshare location.
Our walk back to the car was uphill so returning our bikes at a different location made the most sense for us.
I think our total for this outing was around $10 per person, so totally worth it.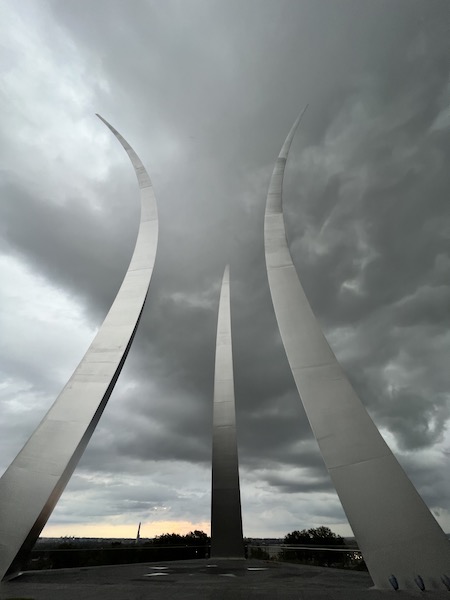 Visit the brand new Air Force Memorial
We arrived just as it started to rain and it wasn't long before the skies really opened up.
The three stainless steel spires reach a height of 402 feet above sea-level and it's impressive to see up close.
We weren't able to visit for long, but I'm so glad we went.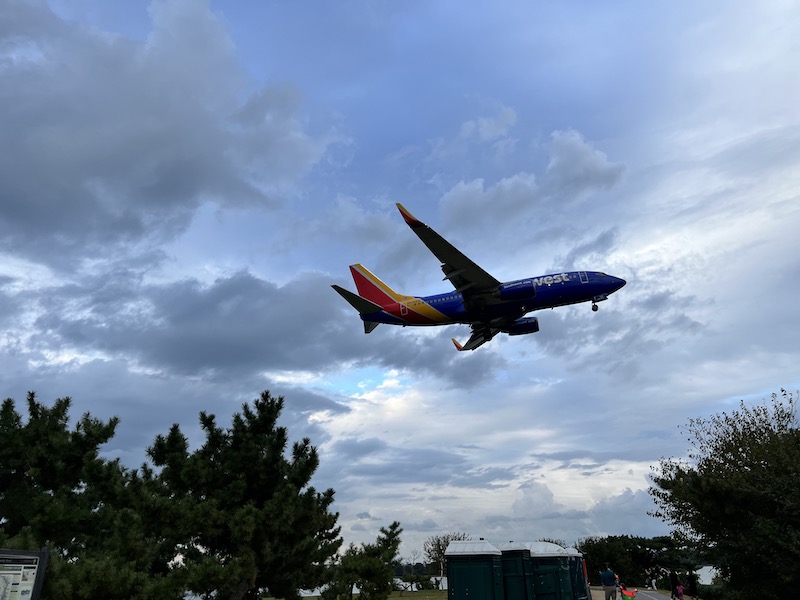 Watch planes land at Ronald Reagan National Airport from Gravelly Point Park
Once you stand under a massive passenger plane as it is coming in for a landing it gives you a whole new appreciation for pilots.
Honestly, I didn't think I would enjoy this as much as I did. I could have spent hours watching the planes land.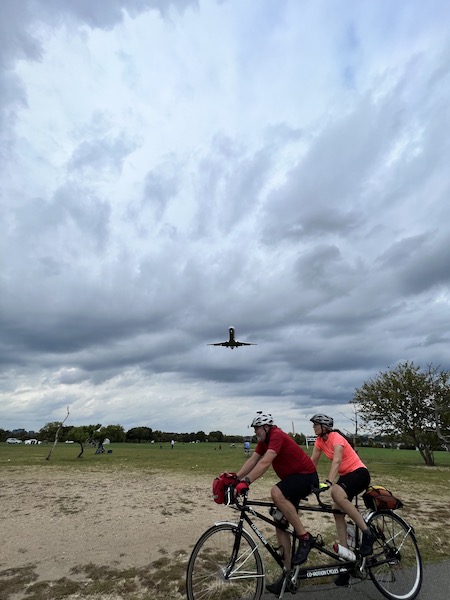 You stand pretty much at the end of the landing strip. The planes are so close to the ground when they go overhead.
It's amazing and one of the best things to do when you're in Arlington!
This is a popular spot, but there is plenty of parking at Gravelly Point Park or you can ride your bike along the Mt Vernon trail to the park.
Note–if driving over you'll use the George Washington Memorial Parkway.
Pin Arlington, Virginia – 5 Things To Do Beyond The National Cemetery to Pinterest