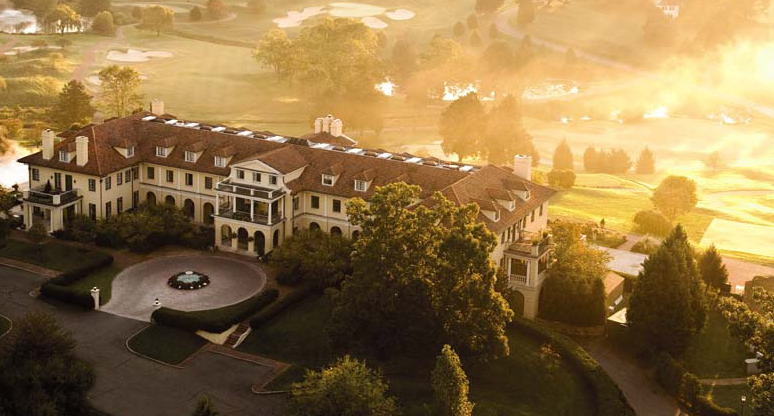 Glancing in my rear view mirror I see Charlottesville's city lights behind me. Soon after the GPS kindly instructs me to turn left. I look around and wonder if I put the information in the GPS incorrectly. The turn takes me down a curving winding dark road that I hope takes me to my destination. Living in northern Michigan dark country roads don't bother me, but I do wonder if I'm going the right way. Surprisingly, my GPS was correct and I'm soon turning onto Keswick Hall property and my anticipation for a lovely dinner grows. Arriving in the dark I don't get the full impact of the grounds and buildings but what I do see if lovely. I make my way into Keswick Hall and to Fossett's Restaurant for a fine dining experience that everyone should experience.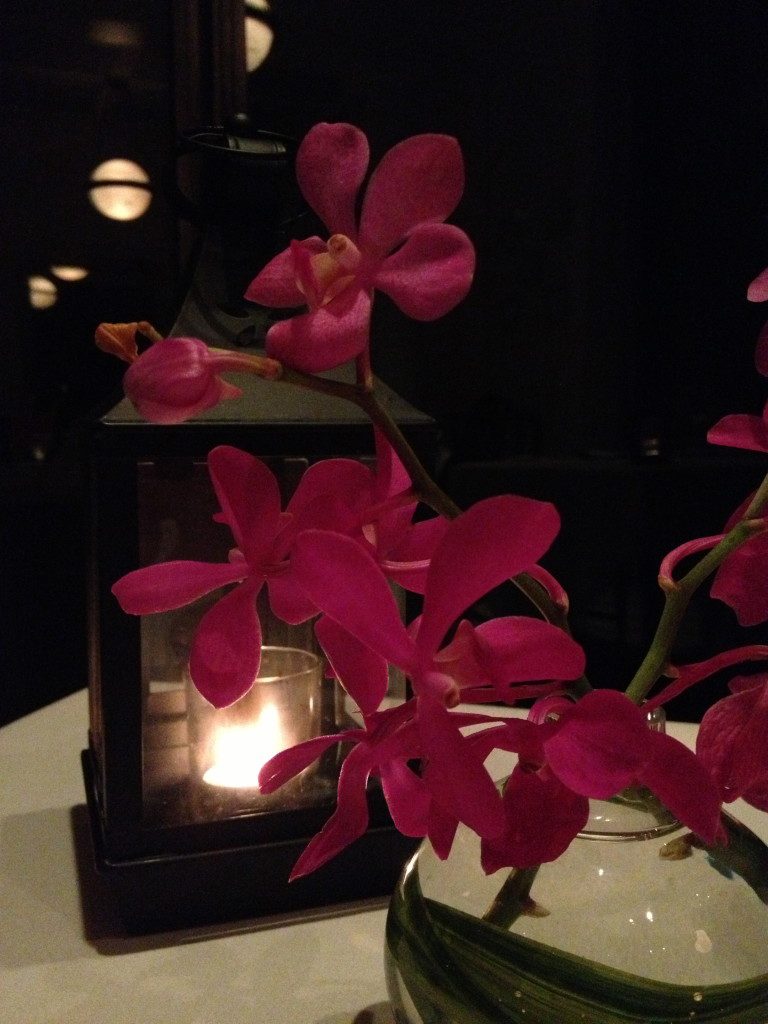 White linen tablecloth, orchid centerpieces, subtle lighting, quiet music and a very attentive staff assure me that I will very much enjoy dining at Fossett's. The overall atmosphere encourages patrons to leave their worries at the door and to relax and enjoy a fabulous meal. Our waiter, Sean, takes extra care to explain the evening's special and recommend wines to accompany our meal. Questions are easily answered and suggestions made and I'm reminded me why I love fine dinning so much.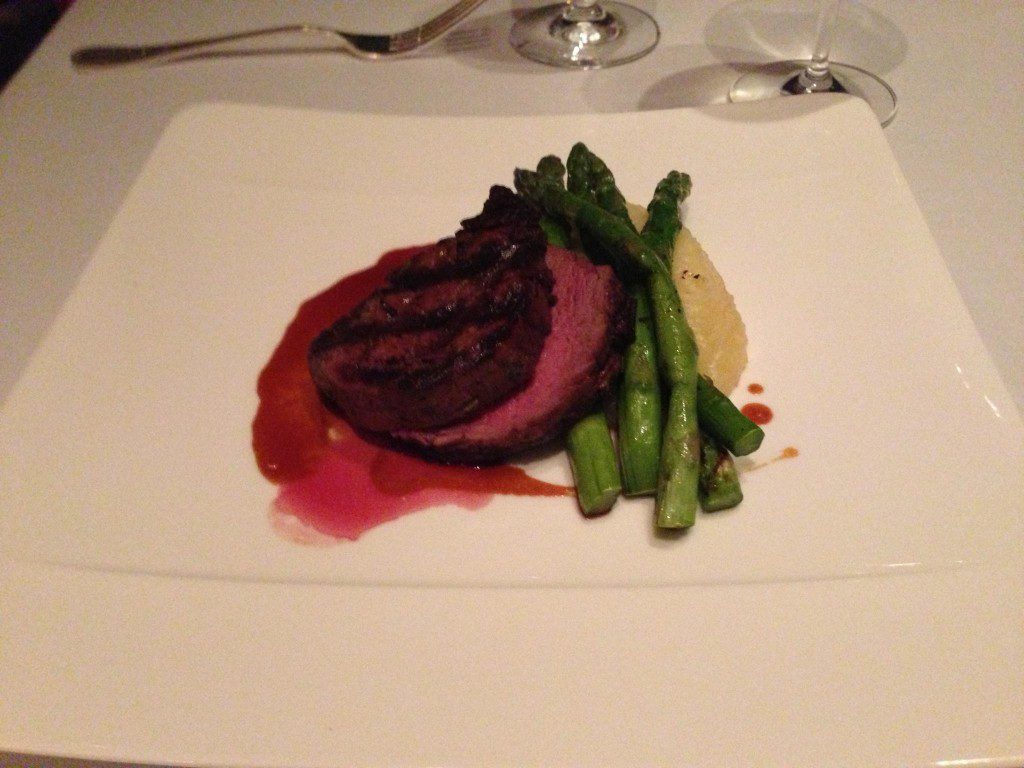 That evening I indulged in Certified Angus Beef Tenderloin with grilled asparagus, charred lemon scented mashed yukons, and a thyme demi glace while my dinning companion had Slow Cooked "Best of What's Around" Beef served with golden bantam corn risotto, radish salad, and fortified braising jus.
The food arrived beautifully plated and cooked to perfection. The beef tenderloin was so delicious and the charred lemon scented mashed yukons provided delightful bursts of flavors. My companions slow cooked "best of what's around" beef was just as tasty and she was thrilled to try corn risotto (a new experience for her).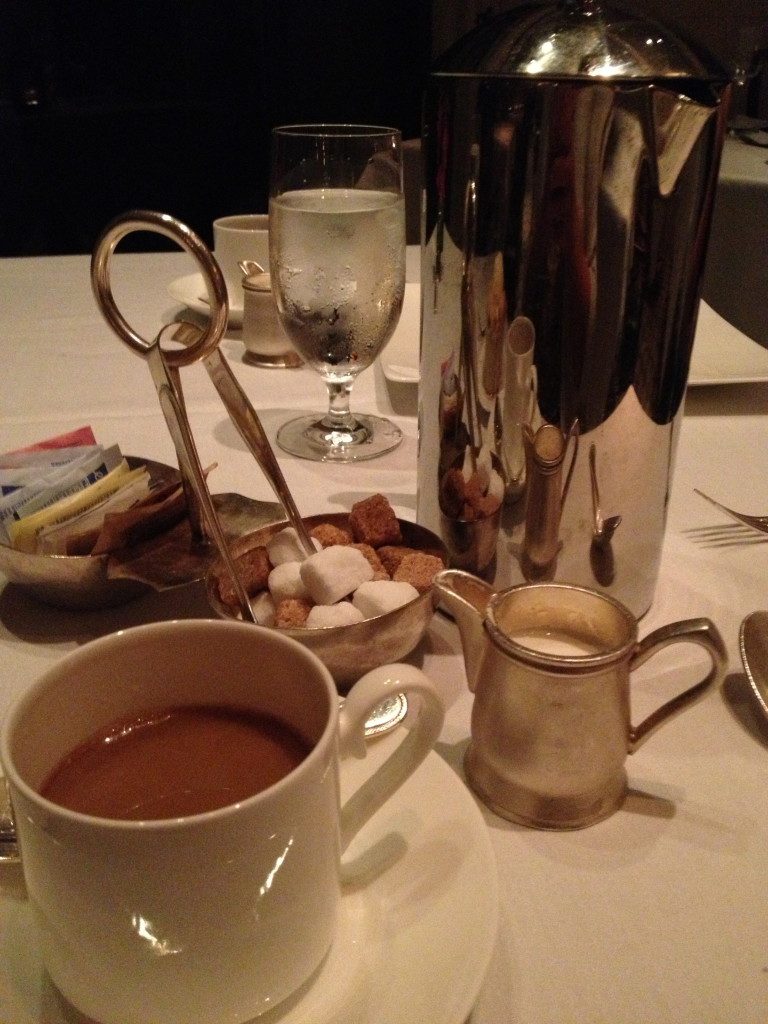 Feeling fully sated after dinner I still couldn't resist ordering dessert and coffee just to enjoy the ambiance of Fossett's for a tiny while longer. My peach and berry cobbler was the perfect way to end my evening of decadence.
My sincere thanks to executive chef Aaron for creating food that was truly enjoyable to eat. The next time I'm in Charlottesville I will be making a stop at Fossett's for another great meal…I recommend you do the same.
As a side note, Fossett's will be hosting a Woodford Reserve Bourbon Dinner on February 14th at 645p. Make reservations now to take the one you love to what is sure to be a fabulous dining experience. You can find more information here.
Fossett's is open daily:
Breakfast: 7:00 am – 11:00 am
Sunday Brunch: 11:30 am – 2:00 pm
Dinner: 6:00 pm – 9:30 pm
Location: 701 CLUB DRIVE KESWICK, VA 22947