04.1.14
This post brought to you by eCards from American Greetings. All opinions are 100% mine.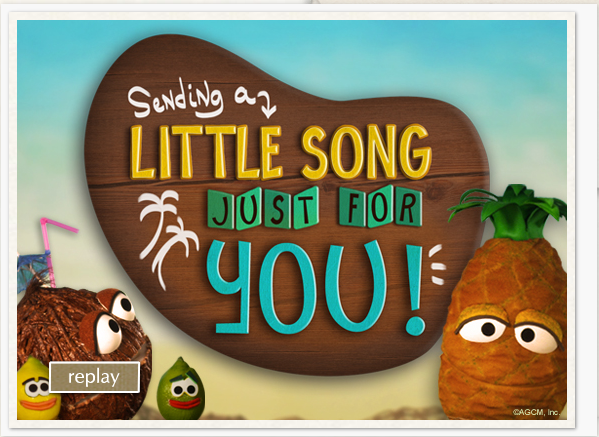 I'll be the first to admit that I haven't been consistent with sending out birthday or holiday cards to friends and family for quite a while. Finding the perfect card at the store, scrounging around for stamps or going to the post office, searching for an address all became too much work at some point. Lucky for me and others like me American Greetings now offers eCards.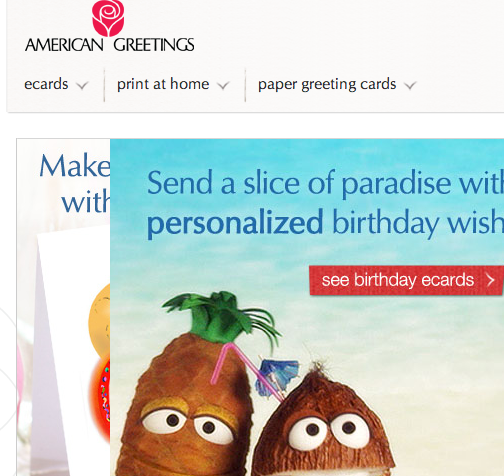 When you visit American Greeting.com just click on the ecards link in the upper left corner (see image above) and prepare to have fun! I may have spent a little too much time personalizing and sending cards just because. Best part about American Greeting ecards is that you can schedule them to be delivered. Spend an hour or two scheduling all your birthday, anniversary, and holiday cards and you are done for the year! American Greetings will do the rest. Love.It.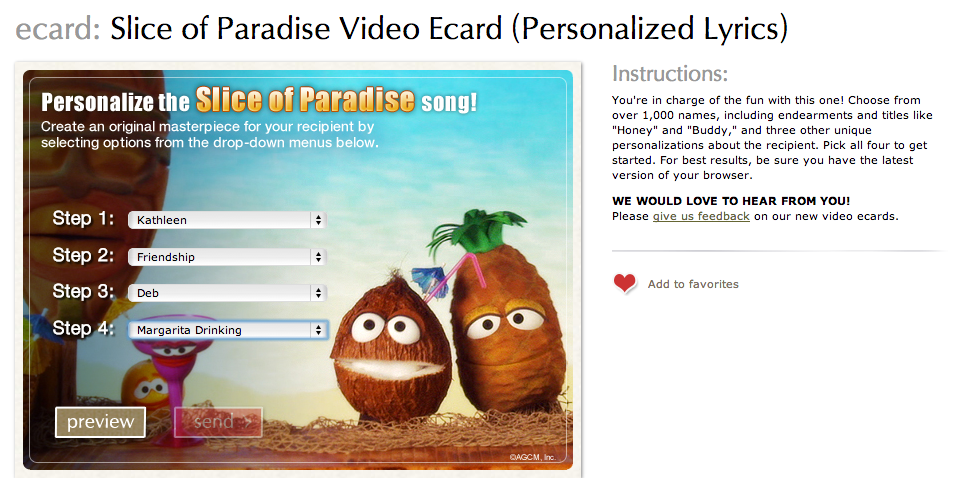 Personalizing the new ecards is as easy as 1, 2, 3, 4. Pick from 1,000s of names and activities to customize a card and make it perfect for family and friends. The singing coconuts are pretty fantastic. I'm sending this card to my friend Kathleen at Life with 4 Boys. Here and I could both use a little slice of paradise right now. Hopefully this card will make her day a little brighter.
Want to give it a try? Make your American Greetings eCard now.
American Greetings offers a free 7-day free trial membership that includes the video cards. After the 7 days membership rates are incredibly reasonable.
$3.99/month
$19.99/year
$29.99/2-years
The last singing card I bought at the store was over $5. For $19.99 I wouldn't even be able to buy 4 cards. With American Greetings e-cards I can send unlimited cards and video cards for an entire year. That is a great deal! Learn more
Cards can be sent via email, Facebook or direct to mobile to keep you instantly connected to the ones you love. Which eCards will you be sending to family and friends?
03.31.14
This is a sponsored post. I am a Shop Your Way blogger and all opinions are my own. I love online shopping. Live and breathe by it. I live in the land of very limited box stores so being able to shop online has been a life changer. The only downside is usually the shipping […]
03.30.14
Are you ready to turn your Monday blahs into a Monday ahhh? I know I'm always ready to turn Mondays into a fantastic start of the week. Right now you can sign up for the "Happy Monday" promotion to receive a special discount code of 35% off any hotel stay you complete before May 22, […]
03.27.14
The other day I shared a vegan meatball recipe that my son makes at work. I was taking photos of the recipe process and was able to sneak in this photo of him. He's been working at the cafe for almost 3 years and has really honed his cooking skills. I love when he comes […]
03.26.14