Note: The article is brought to you in partnership with RVshare
If you spend much time on Instagram or Pinterest you can't help but notice all the beautiful, scenic RV (short for recreational vehicles) camping photos.
Sometimes it feels like everyone is either a full-time RVer or on long term camping trips.
It might make you dream of driving your own RV or pulling a camper to a campground with a jaw-dropping backdrop for you next vacation. At least it does for me.
For many though, the thought of RV ownership just isn't within the realm of possibility. There is the cost involved, you need a place to store it, and you might not use it often enough to make it worth the investment.
If that's the case, I have some really fantastic news for you!
RVshare is to camping what air bnb is to hotels. It's a way to enjoy that bougie, over the top camping adventure without the hassle of RV ownership. I know, day made, right?
I've put together this RV camping guide so you'll see how easy it is to have a summer RV trip adventure!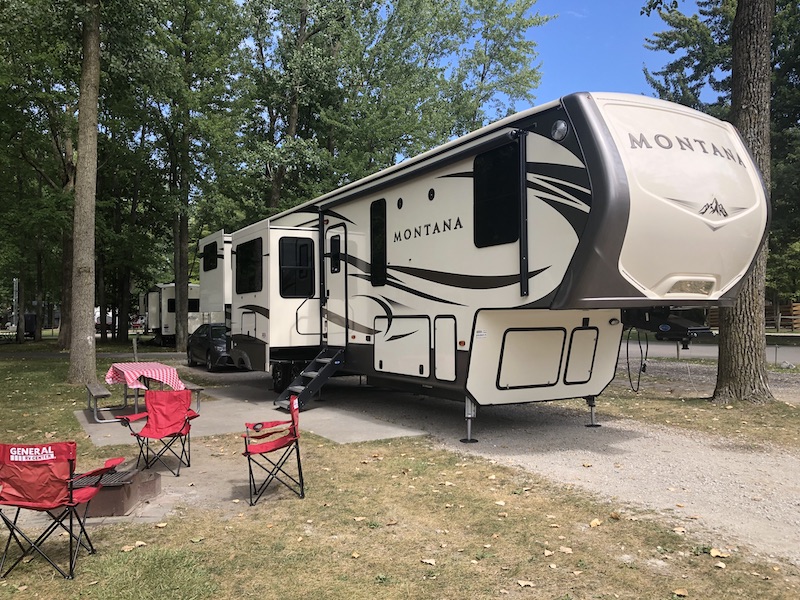 RV Camping Guide Part 1 – 5 Reasons Why You'll Love RVshare
It's Affordable
Honestly, for me, that's the main reason to love RVshare.
I can spend thousands on an RV, plus maintenance, plus insurance OR I can do an RV rental for a weekend for a fraction of the cost.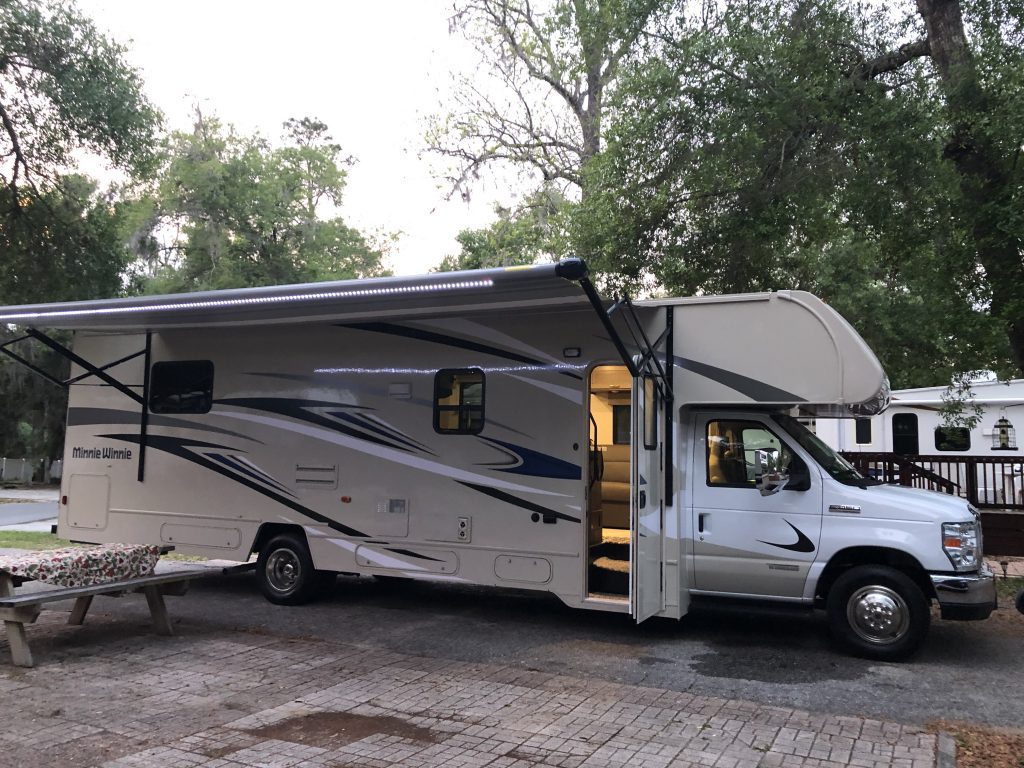 They'll Deliver
A couple years ago a friend and I drove a 32′ RV around Florida. It was the biggest vehicle I'd ever driven and at times it was a bit intimidating.
If I'd have had the option of having the RV delivered to my campsites I would have jumped at the chance.
Well, with RVshare that is exactly what can happen.
Let's say, for instance, that you want that snow-capped mountain and lake view as your RV camping backdrop, but you don't want to drive or tow an RV hundreds or thousands of miles.
No problem, simply connect with RVshare in your destinations and make arrangements for the RV to be delivered to your campsite.
It really doesn't get any easier than that!
Do I have you convinced to give RV camping a try yet? Need more reasons? Here you go…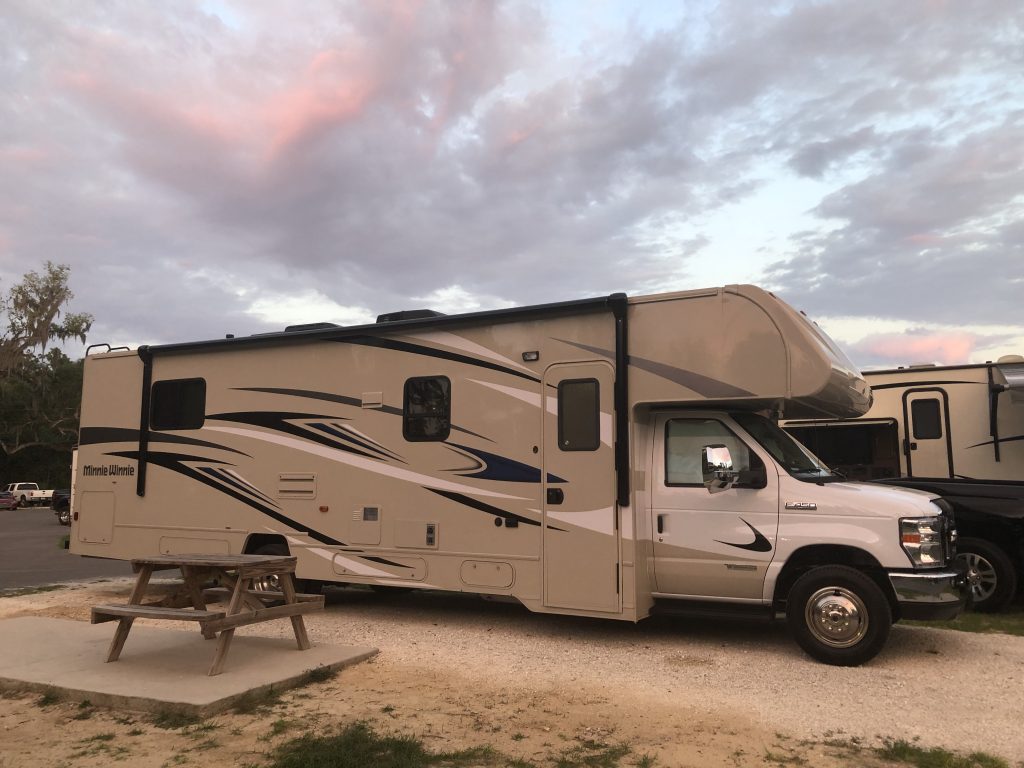 It's Camping With All The Amenities & Comforts of Home
Alan and I like tent camping in some pretty remote areas when we road trip. For us, that is our preferred method of camping. As long as there is a picnic table and a fire ring we are usually ok.
For many of my friends and acquaintances there is no way there are living without modern day conveniences like indoor plumbing and running water.
RV camping gives you the best of both worlds. You get the fun of campfires and being in nature with the bonus of walls, RV mattress, a flush toilet, electricity, and running water.
RVs are kinda like vacation homes on wheels! How fun is that?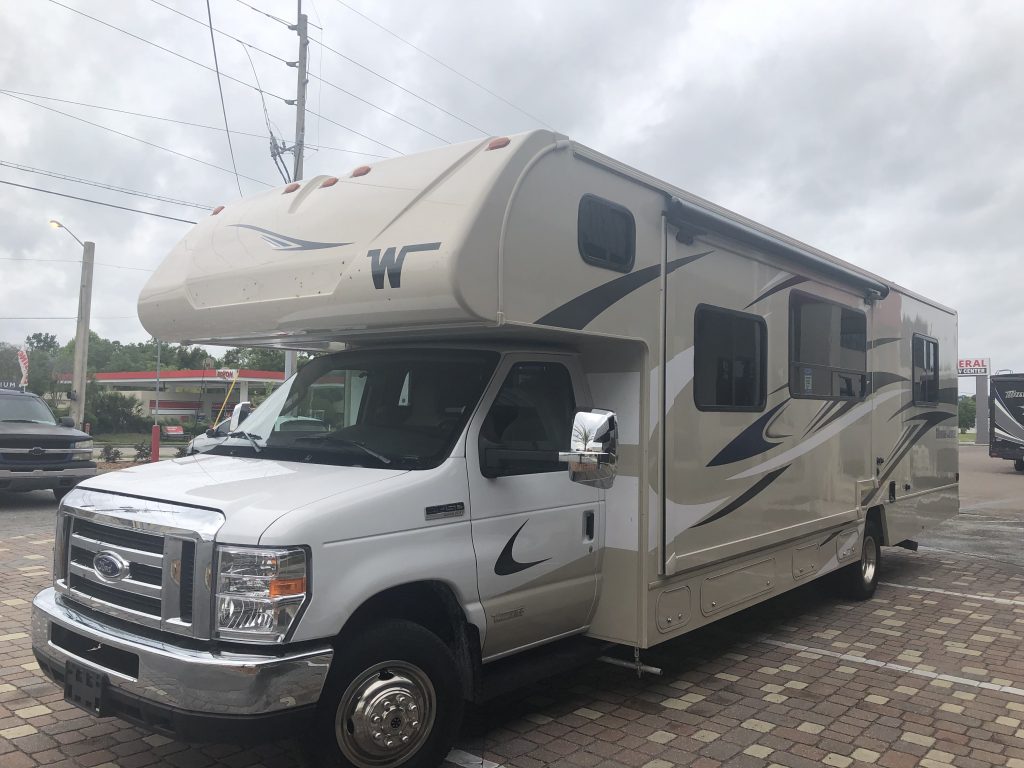 Try Before You Buy
Maybe you're thinking of buying an RV, but you're not sure if you'll love it or what you'd want to purchase.
RVshare is a great way to try a variety of different options before you buy.
Plan a couple different weekends with different models from 5th wheels to travel trailers to a motor home.
This is a great opportunity to see which one is going to fit your life the best!

It's Safe
These are some crazy times we are living in and travel can feel a bit intimidating.
RV travel is one of the safest ways to travel.
Your self-contained house on wheels has everything you need to be comfortable PLUS its completely disinfected before you pick it up.
No need to use hotels, go into restaurants or use public bathrooms if you don't want to making it a safe and convenient way to travel.
Learn more about RVshare and book your RV adventure now.
RV Camping Guide Part 2 – 3 Places to RV Camp with RVshare
The possibilities are endless of course. You can go anywhere from a scenic byway, a recreation areas, and historic sites.
To keep the options at a minimum and help you make an easier decision I'll share 3 of my top places for RV camping.
I will drop this little side note. Campgrounds are filling up FAST! If you want a spot book it now and figure out the details later.
Most holiday weekends in Michigan are already filled. Not sure how other states are looking, but book sooner rather than later.
Also, if you're taking an RV for the first time I highly recommend looking for a pull through spot so there is no backing up a large trailer or motor home.
National Parks & State Park
Any of the national parks are worth a camping adventure. There National Park Service has 130 parks that offer overnight camping, but only 13 of those have full hook-ups for your RV.
The number of state parks and RV campgrounds is almost limitless. Research an area you'd like to visit and then google for campgrounds. Camping around National Parks are always my favorite.
However, the great thing about RV camping is that it's completely self contained so you can survive without full hook-ups for a few days!
If I had to pick just one or two parks to camp it would be Yellowstone or the Grand Canyon.
The park is GORGEOUS and well worth the visit. There was nothing we didn't like about camping in Yellowstone.
From listening to wolves howl in the distance in the early morning hours to watching Old Faithful and using a kind strangers spotting scope to watch bears in the distance.
Everything about the park is memorable.
Oregon Coast
Ok, this is my dream, bucket list destination. I want to spend weeks by the Oregon seashore. There isn't one specific place I would recommend except to say YES to all of it.
Friends have loved Seaside, Oregon and Cannon Beach and Coos Bay. I don't think there would be a bad spot anywhere along the coast.
If you have the time I'd recommend just driving the entire coast and camping along the way.
Fun little tidbit about camping along the Oregon Coast, you can camp in rest areas as long as there isn't a no camping sign which means FREE RV camping.
There is also a lot of public lands in Oregon for free camping. Both of these free camping options, however, have no amenities so make sure the water tank is full because you won't find full hookups.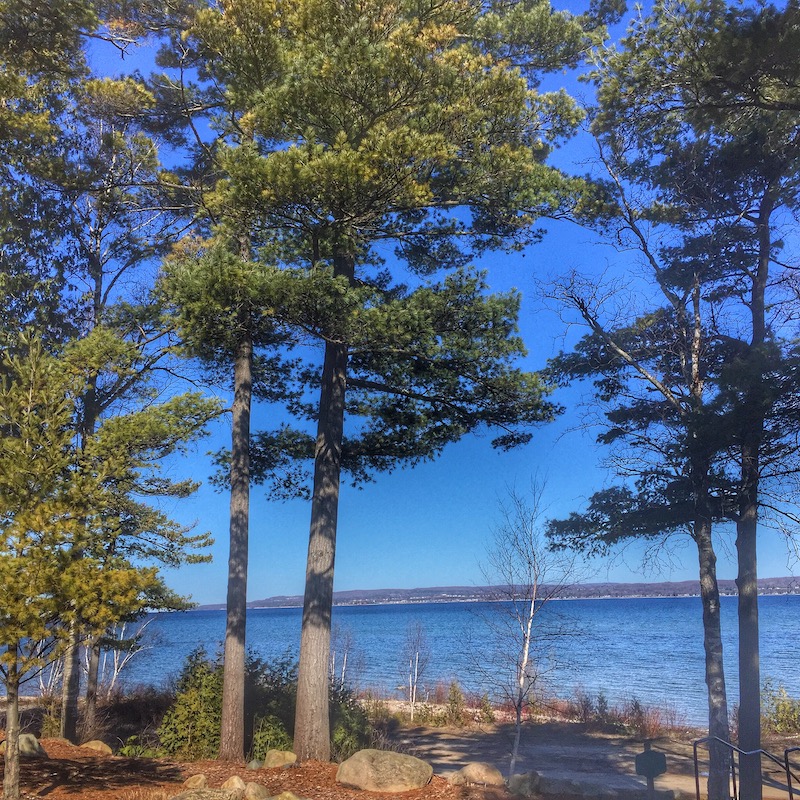 Michigan's Upper Peninsula
Ok, I'm completely biased, I'll admit it, but Michigan's Upper Peninsula offers incredible camping opportunities. you have the great lakes, water falls, and national parks. I mean, what's not to love.
If it's your first visit I recommend picking a spot near Munising for Pictured Rock National Lakeshore, lighthouses and waterfalls.
It's one of our favorite places that we try to visit every couple years.
Unusual Places to Camp
Now, if you find yourself feeling tired and you don't have a spot to stay for the night you have a couple options. First, consider well lit, busy truck stops.
I've taken naps in my car before at truck stops and wouldn't hesitate to grab some zzz's in an RV at one.
Not a fan of truck stops? Look for large parking lots. Some of the big box stores allow overnight stays in their lots. Be sure to double check for signs that state no overnight parking so you don't get rudely awakened.
Use a handy map to look for united states forest service land for more free camp sites. It might just be a parking lot at a trail head, but when you're tired it might be good enough.
Sure, none of these are full hookup RV sites and may not be the best rv campsites, but on the flip side they are free and usually convenient for a short stop.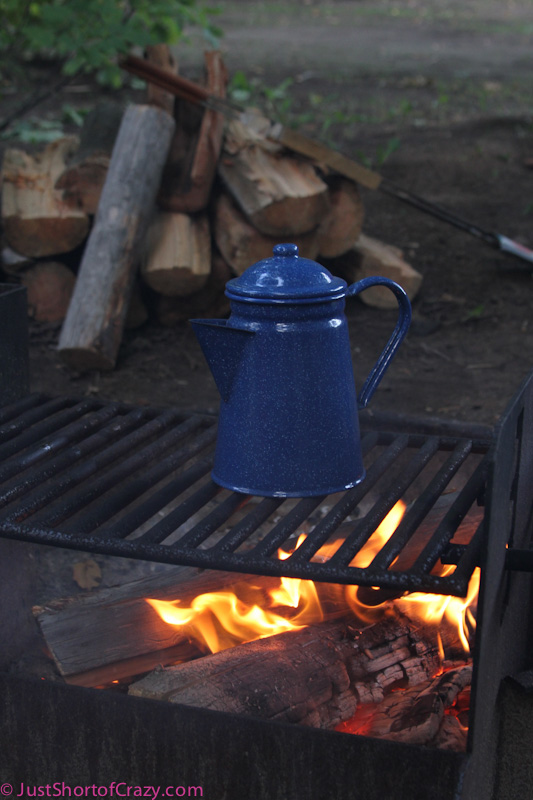 RV Camping Guide Part 3 – A Few RV Camping Tips for Beginners
RV Camping Tutorial
When you pick up the RV or have it delivered plan on spending some time learning the in's and out's of RV use. The RV owner will spend time explaining how the unit works, how to set it up, how to hook up to services and how to return it. This is incredibly helpful especially if you are new to RV camping.
Pack as much as you want
Seriously, there is quite a bit of room in an RV so there is plenty of room to pack that extra outfit and shoes. Most RVs will come fitted out, but you'll want to check with the RV owner to see if there is anything you'll need to bring beyond personal items.
Pull-Through Sites
I mentioned this earlier but it bears repeating. Book the pull-through sites. This allows you to pull directly into your campsite and to drive ahead when you leave. No backing up required.
RV Resort
RV Resorts usually have some pretty great amenities. From a game room to a dog park, to laundry facilities and cable tv, to electric hookups to a dump station. RV resorts are usually found near popular destinations.
Don't Forget to Pack these Important Items
You'll want to see what is included with the RV, but you may need to bring your own camping chairs and linens. Definitely pack some bug spray and you may even want to consider the Thermacell Backpacker Mosquito Repeller. We have one and love it.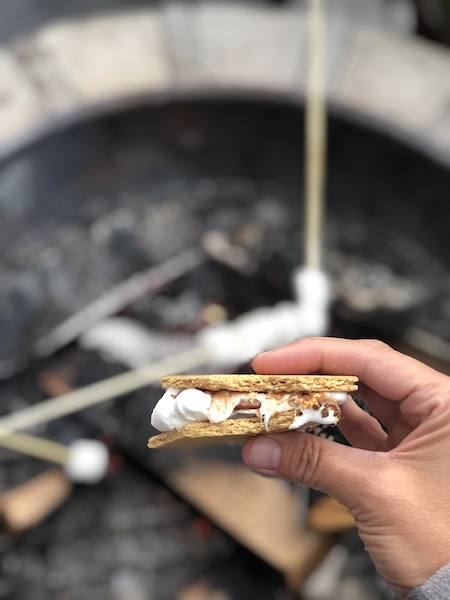 Campfires
These are a must when camping. If you're not sure how to build a campfire pop over to You Tube and look for a quick and easy campfire starting 101 video. You'll need matches, tinder, small kindling wood, and some larger logs. Most often you can buy campfire wood right at the campground making it one less thing you have to bring. Note, not all campgrounds allow campfires. Only build a campfire in designated spots and only if allowed.
And, if you're having a campfire you absolutely must have s'mores!
Ready to go RV camping? All the information you need is available at RVshare.com
Pin RV Camping to Pinterest