Guest post by Campfires and Conceigres
Pictured Rocks National Lakeshore extends along the southern shore of Lake Superior in Northern Michigan, from Munising to Grand Marais. There are several ways to experience Pictured Rocks, including backpacking, camping, and boating.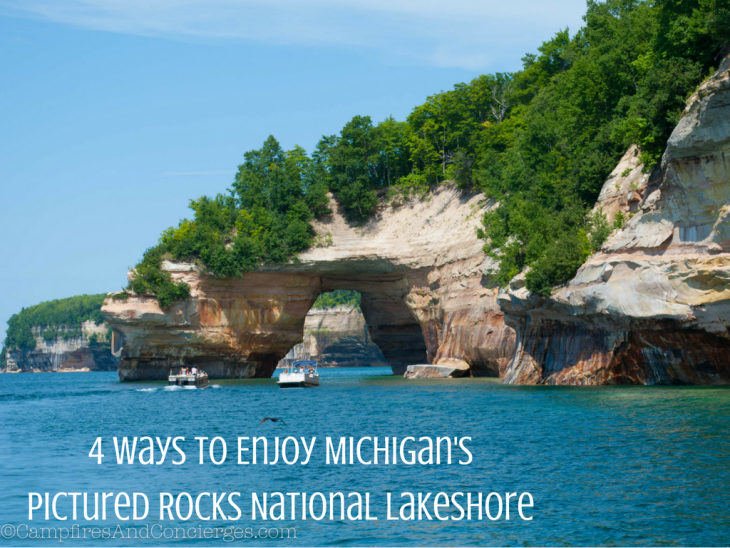 4 Ways To Enjoy Michigan's Pictured Rocks National Lakeshore
1. Pictured Rocks Cruises
Seeing Pictured Rocks from the water is a unique experience and much easier than hiking into some remote sites along the shore.
As part of the National Park Service, dogs aren't allowed on the hiking trails. I was thrilled when I found out that Pictured Rocks Cruises offers on-site kennels for customers!
My ticket was $38, which I thought was a good price, given that parking and dog kennel were free! The cruise lasted 2 1/2 hours and is a great way to see the park from the water.
Taking a kayak tour from Munising is also an option, but paddling on Lake Superior is not recommended unless you have prior paddling experience.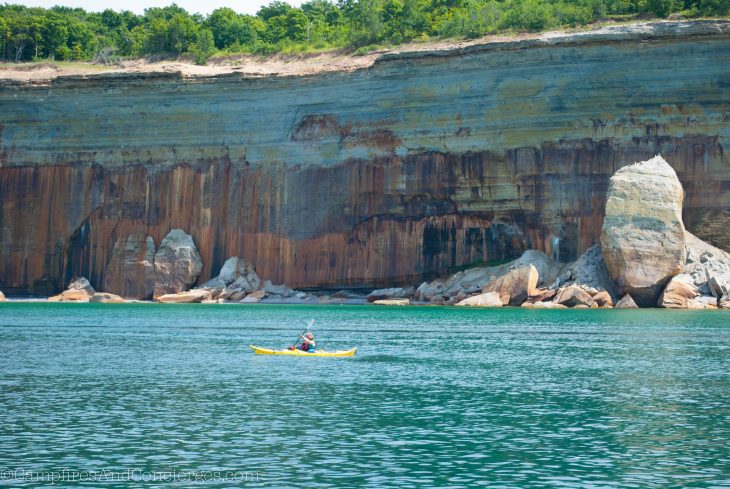 2. Pictured Rocks Backpacking
Pictured Rocks is a great place for a beginner backpacker or first-time solo trip. It's nearly impossible to get lost, as you follow the lakeshore almost the whole way and if you veer too far south, you'll hit the park road.
There are established campsites along the way, all of them have bear boxes and poles, many have a vault toilet and potable water, and there are several "bailout options" as you pass through several day-use areas along the way.
Backcountry campsites at Pictured Rocks are spaced about 4-7 miles apart, along the 42-mile Lakeshore Trail (which also is part of the North Country Trail.)
3. Pictured Rocks Camping
Pictured Rocks has three drive-in campsites: Twelvemile Beach, Little Beaver Lake, and Hurricane River. All camping is on a first come, first served basis, so getting a spot can be tricky and early arrival is recommended.
The campgrounds are rustic – no electric, water or sewer hookups. Watching the sunset over the lake and falling asleep to crashing waves just below your campsite is completely worth the effort, though!
Additional campgrounds and hotels can be found in Munising if you don't feel like roughing it!
4. Pictured Rocks Hiking
There are several scenic spots that can be reached with a short stroll or a day hike. Munising Falls is just behind the visitor's center in town.
The park service has a great list of waterfalls on its website.
Between beaches, waterfalls, and wooded paths, there is plenty of options for hiking at Pictured Rocks.
Thanks, Leigh, for sharing all the fun ways we can enjoy Pictured Rocks National Lakeshore. Be sure to follow Leigh on social!!
***PIN PICTURED ROCKS NATIONAL LAKESHORE TO PINTEREST***