It was just our luck that we stumbled across Congaree National Park on our road trip to Florida. We were taking the non-traditional way (NOT I-75 straight south from Michigan to Florida).
This underrated National Park is only a bit off the beaten path on a drive from Asheville, NC toward I-95 and you'll soon see why it should be considered a South Carolina National Treasure.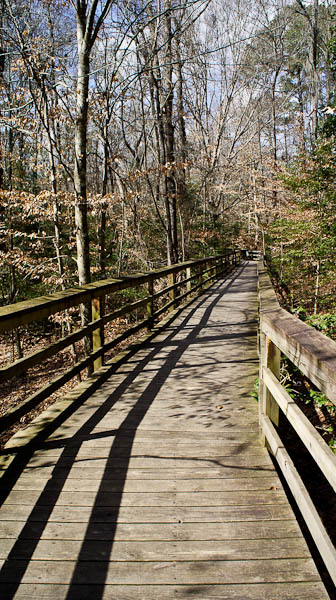 As we left Asheville the temperatures started to climb out of the 40's and by the time we reached Congaree it was a beautiful 72 degrees. Ahhh, yes. Finally, some warm weather.
VISITING CONGAREE NATIONAL PARK
The Harry Hampton Visitor Center at Congaree National Park that is worth stopping at. The current hours are Monday – Sunday 9 a.m. to 5 p.m. but ALWAY call ahead to check. The park will be open, but the visitor center may be closed.
If you're traveling with kids be sure to pick up a Junior Ranger book at the visitor's center. It's packed with fun activities and tidbits of information. Kids can also earn a junior ranger badge by completely some tasks. <<–HIGHLY recommend!
Just a heads up, you might want to stop by the restroom before you head out because there are no facilities out on the trails. Oh, and if you are visiting during the summer bring insect repellent.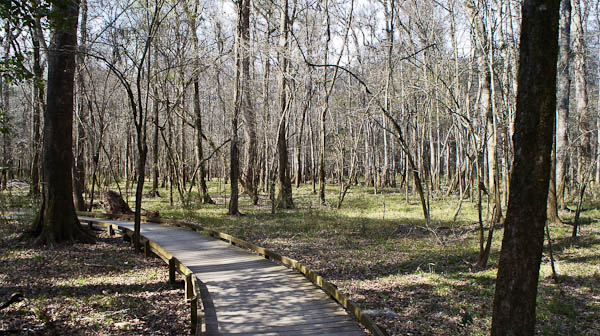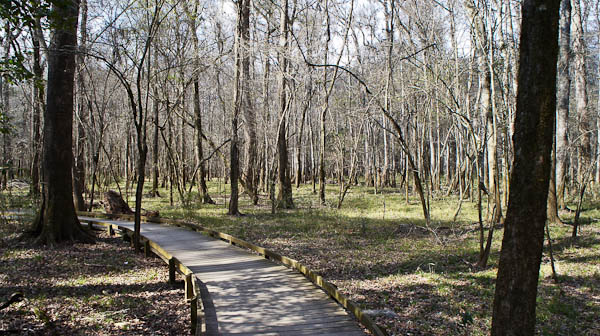 CONGAREE NATIONAL PARK BOARDWALK TRAIL
The Congaree National Park has a 2.4 mile boardwalk loop path that offers a wonderful walk through the park. Part of the boardwalk is raised off the forest floor and some is level with it.
The entire loop is a nice way to stretch your legs after being in the car.
Make sure you pick up a loop guide in the visitor center. There is great bits of information in it that tells what you are seeing.
We learned about snags, knees, and old tress.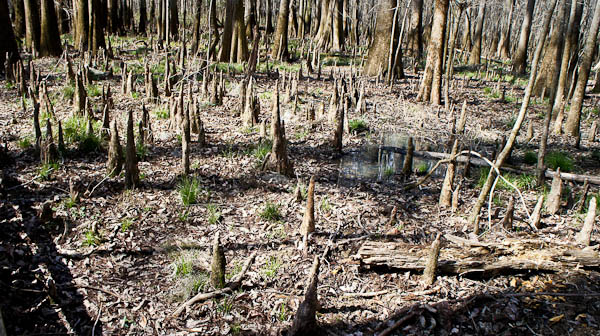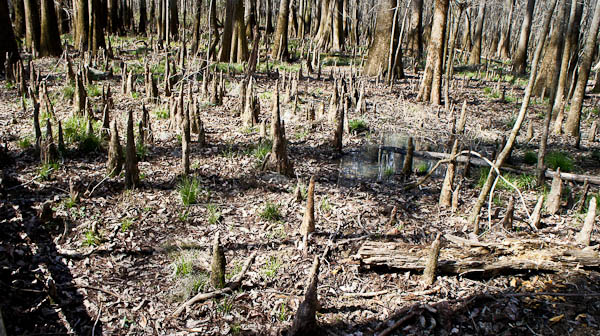 It was very quiet and serene during our visit. There were only a handful of other visitors so it was like we had the entire place to ourselves.
That is a nice perk of traveling during the off season…no fighting the crowds.
Emma & I walked most of the boardwalk and then took a non-boardwalk path for a bit to see if we might spot any animals.
Of course, we were there mid-day so our chances were slim of spotting anything. We did see 6 gecko lizards, a couple squirrels and quite a few birds.
Congaree is a great birding spot so remember to bring your binoculars.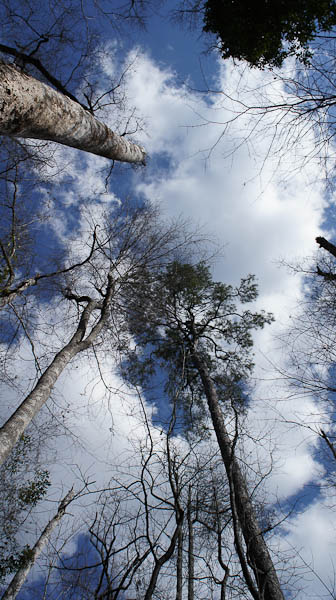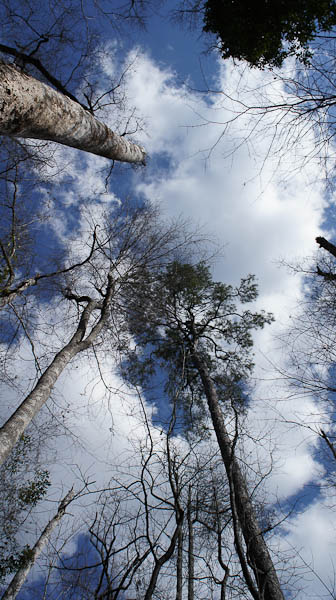 If you navigate well in the woods (we don't) you can go off the boardwalk and hike out to some impressive giant trees. The ones along the boardwalk had some wow factor to them as well.
CONGAREE NATIONAL PARK TRAILS
There are a number of trails provided within the park system.
You can also drop in a canoe or kayak and float through Cedar Creek.
Although, it comes with a warning to be aware of poison ivy, mosquitoes, wasps, spiders, and snakes which is more than enough to keep me far, far away.
I love the outdoors, but I don't always love the inhabitants of the outdoors.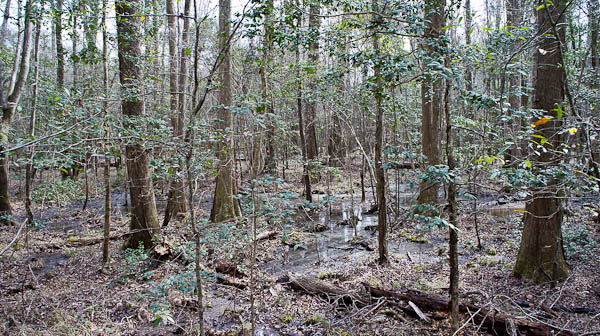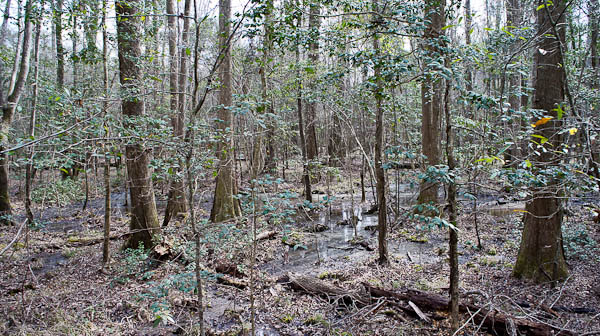 We really enjoyed our time at the park. We were there about two hours which was more than enough time to stroll the boardwalk and made for a nice break in our drive.
FREQUENTLY ASKED QUESTIONS ABOUT CONGAREE NATIONAL PARK
What Is The Park Known For?
It's the largest intact expanse of old growth bottomland hardwood forest remaining in the southeastern United States.
Visitors can experience both a unique old-growth bottomland hardwood forest, home to numerous national and state champion trees and one of the most biodiverse forests in the nation.
Is The Park Worth Visiting?
I'm all in when it comes to visiting the National Parks and this one is no exception. I absolutely recommend to everyone. If you're in the area, you'll want to visit, especially if you're a bit of a nature nerd like yours truly.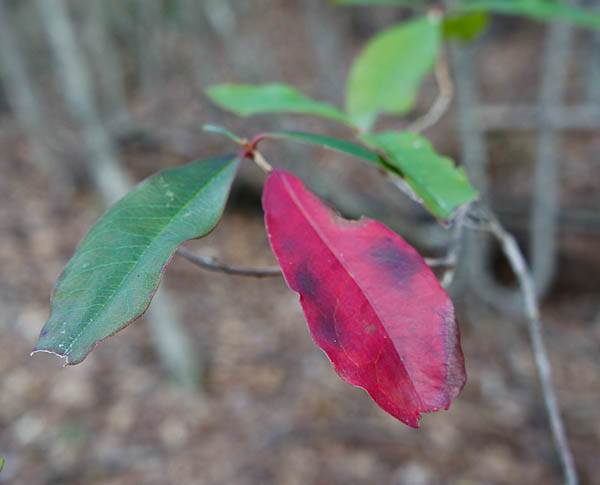 What Makes Congaree National Park Extra Special
You're not going to want to miss the Synchronous Fireflies spectacular that happens each spring. You can find all the information about getting tickets, etc on the NPS website.
Is Congaree National Park Dangerous?
In my opinion, no more than any other park or place. Be aware of your surroundings, pay attention to where you step and you should be good to go.
What Are The Park Hours?
The park is open 24 hours a day, 7 days a week. The visitor center is open 9:00 am-5:00 pm 7 days per week with the exception of New Year's Day, President's Day, Columbus/Indigenous People's Day, Thanksgiving, and Christmas.
What Is The Fee To Visit?
It is free to visit and to attend tours.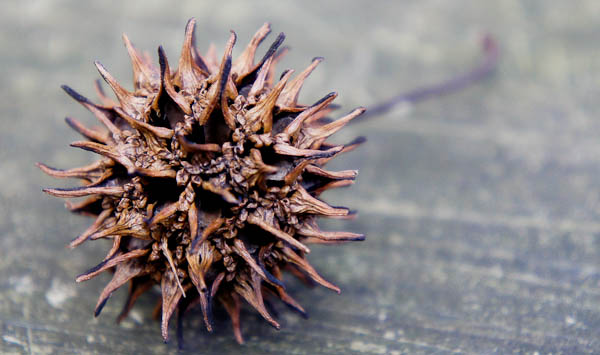 When To Visit The Park
I recommend visiting late fall, winter, or early spring. If you go after the temps really start heating up you'll have to deal with mosquito, no see ums, probably a number of other flying bugs and heat/humidity. If those things don't bother you than the park is good to visit anytime, in my opinion.
Does Congaree National Park Have Alligators?
Yes! There are gators in the park Will you see one? The potential is always there, but we didn't on our visit. There are also quite a few mammals that call Congaree home including deer, hogs, fox, coyotes, bobcat, skunk and more.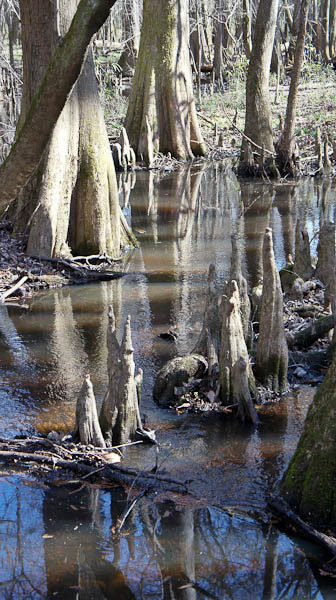 How Far Is Congaree National Park From Columbia, Myrtle Beach, Charleston?
Congaree is located in central South Carolina.
From Downtown Columbia, SC its about a 30-minute drive
From Myrtle Beach, SC it's 2 1/2 hours, if you're driving from or two Myrtle Beach here are some things to do along the way.
From Charleston, SC it's almost 2 hours
What Else Is There To Do In The Area?
Be sure to explore Capital City/Lake Murray Country for places to stay, where to eat and more to do!
Pin To Pinterest: