This spring I was supposed to take an RV road trip through Arkansas with another travel writer. We had the entire trip planned, campgrounds booked, Hot Spring spa, diamond hunting, and tours lined up. It was going to be EPIC!
Little did we know that life was about to come to a screeching halt and my travel calendar would go from booked to empty in a blink.
Life is all about being flexible and leaning into the curves and that's exactly what we did. I'm finally starting to dip my toes in the travel waters again. Doing it safely and at a distance. I hope you'll do the same.
Today, we discover where to chill out in Arkansas.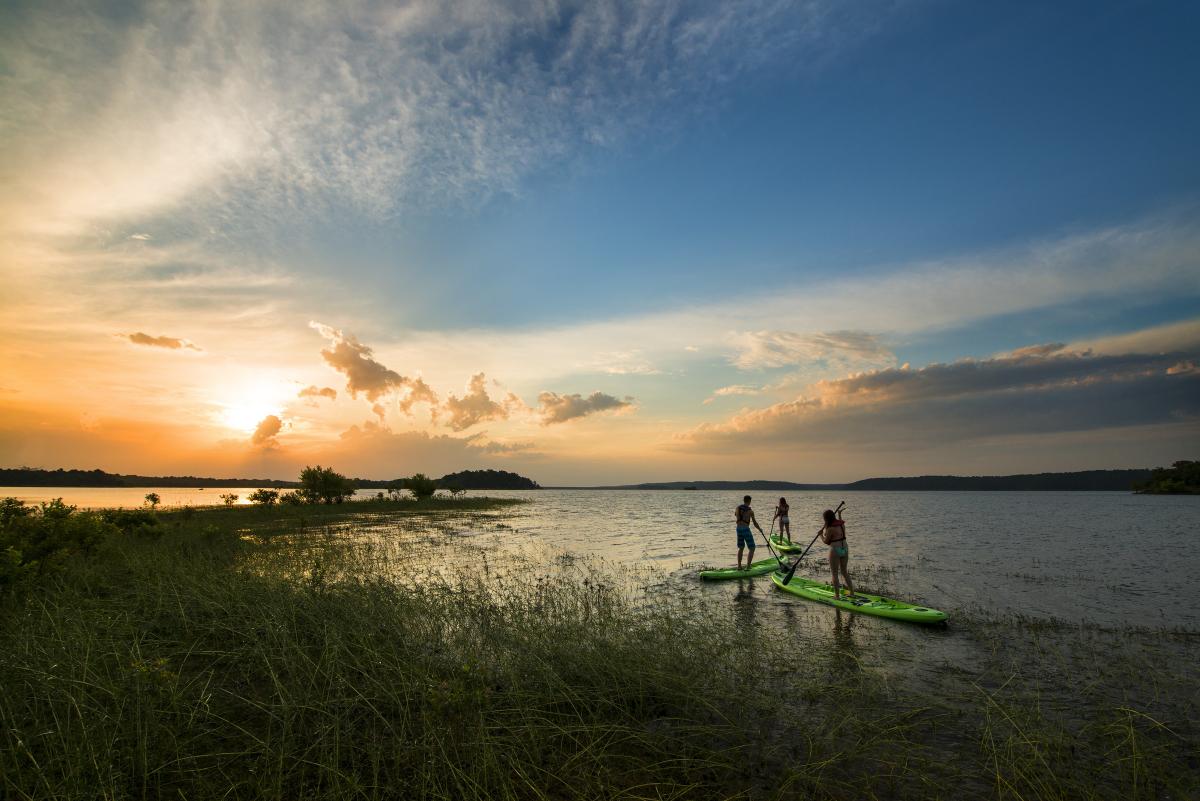 CHILL OUT IN ARKANSAS
Check out these cool waterways!
Arkansas has an abundance of cool waterways for summer visitors to explore with the Arkansas Water Trails system of mapped water trails throughout the state.
Created by the Arkansas Game & Fish Commission, the program highlights the diversity of paddling terrain in the state, adding trails to the system as site assessments are completed and maps developed, with 13 currently open.
The Little Maumelle River Water Trail near Little Rock is a great option with easily accessible launches at Pinnacle Mountain State Park and Two Rivers Park.
Scenic views include cypress trees and wildlife like ospreys, bald eagles, migrating waterfowl.
There's a camping platform on this trail, available by reservation, where you can set up for the night if you want to spend the night on the water. Canoe and kayak rentals are also available.

DeGray Lake is another great paddling destination and is home to the 3-mile Islets Cove Paddle Trail.
Yellow signs posted along the shoreline mark the route and kayaks, canoes or stand-up paddleboards can be rented at the DeGray Lake Resort State Park marina.
While paddling on the lake you might catch sight of herons, loons, osprey, and bald eagles.
DeGray Lake Resort State Park accommodations include a lodge, campsites, and Rent-A-Yurts.

Find more details about Arkansas Water Trails here.

Float the Spring River
The city of Mammoth Spring epitomizes Arkansas's slogan, The Natural State.
Outfitters and resorts abound to take care of visitors coming to float and fish surrounded by astounding scenery and outdoor landscapes like the National Natural Landmark for which the city is named.
Mammoth Spring is one of the world's largest springs with nine million gallons of water flowing hourly to form a 10-acre lake, then running southward as the Spring River, a famous Ozark trout and float stream.
Remnants of a mill and hydroelectric plant are part of Mammoth Spring's history, interpreted at Mammoth Spring State Park.
There's also an 1886 Frisco train depot and museum.
Adding to things to do is a playground, picnic area, baseball field, walking trail, Arkansas Welcome Center, and gift shop, plus pedal boats and kayaks available to rent.
The city is also home to Mammoth Spring National Fish Hatchery.
Built-in the Ozark foothills, it capitalizes on the availability of cool gravity flow water from Mammoth Spring. The hatchery maintains the only captive spawning population of Gulf Coast striped bass in the world.
This small rural town is host to big outdoor fun: http://www.mammothspring.org.

Explore Arkansas's highest peak
Mount Magazine has lured people to its peak for centuries.
Rising 2,753 feet from the Arkansas River Valley, Mount Magazine is the highest point in Arkansas.
Today, the rewards for making the trek up the mountain in Paris, Arkansas, are much the same as they were for pioneers who settled the summit in the 1800s – breathtaking vistas, recreational pleasures, and cooler summer temperatures, frequently 10 to 15 degrees cooler than those in the valleys.
At the top, you'll find Mount Magazine State Park, featuring a full-service lodge, conference center, restaurant, indoor pool, and hot tub, plus fully-equipped cabins with fireplaces and hot tubs on the deck overlooking the river valley.
Park roads lead to overlooks with expansive views of Blue Mountain Lake and the Ouachita Mountains to the south and of the Arkansas River Valley and the Ozark Mountains to the north.
A park trail provides access to the state's high point.
Adventurers love hiking, camping, horseback riding, rock climbing, rappelling, hang gliding, and cruising the park's bicycle lane, but the less adventurous can stay firmly planted on the mountain while watching the hang gliders, stars, birds or just the scenery from Arkansas's highest overlook.
Pin Where To Chill Out In Arkansas to Pinterest