Our entire trip to Arkansas came about because Alan had heard about Crater of the Diamonds State Park and wanted to try his hand at finding diamonds.
The state park is located in Murfreesboro, AR in the western part of the state and is the only diamond-producing site in the world where the public is allowed to search for diamonds. How cool is that?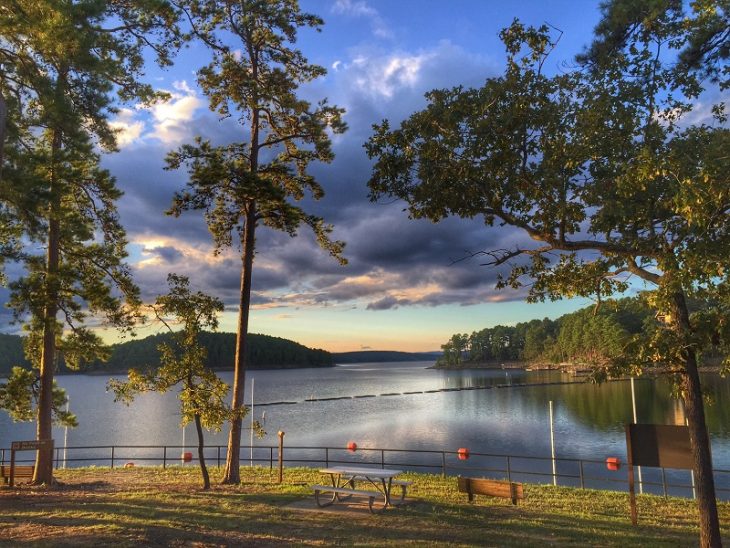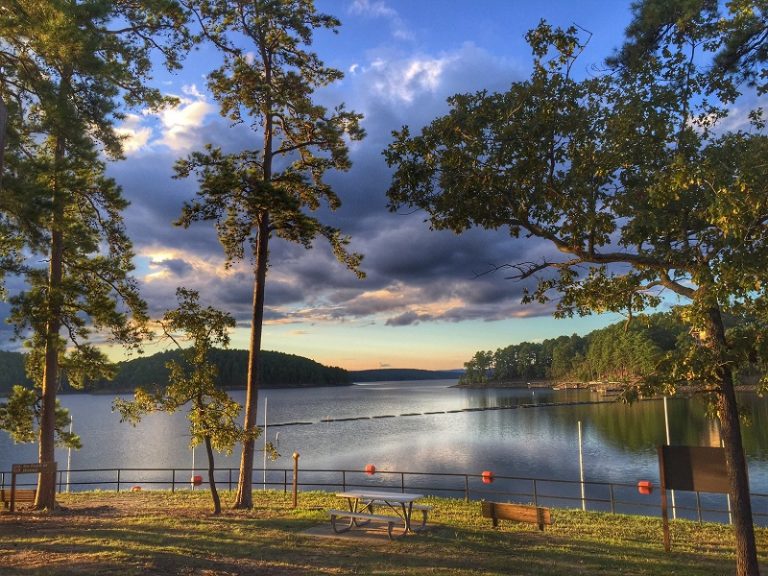 In 2022, 162,886 people visited the park to try their hand at finding a diamond. During that year, 758 diamonds were found, 17 of which were over 1 carat.
To put that in a bit of perspective that means about .004% of the people that visited the park were successful in finding diamonds.
So the odds are pretty slim, but it's the hunt and thought of finding a diamond that keep people coming to the park year after year.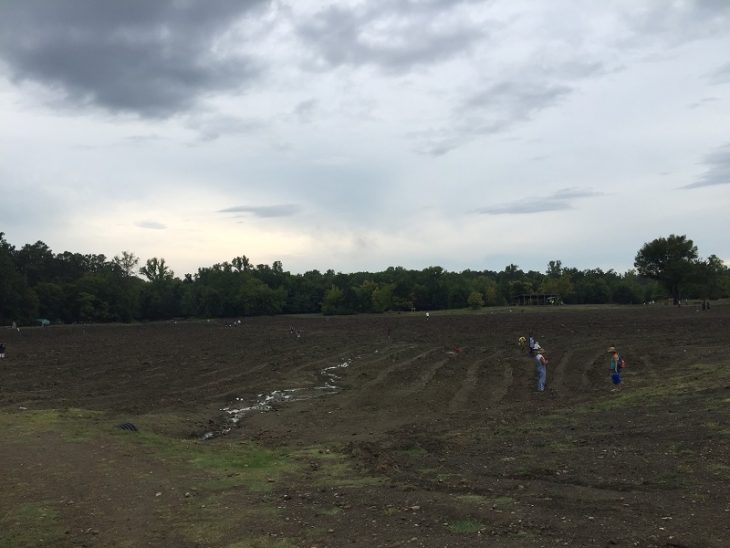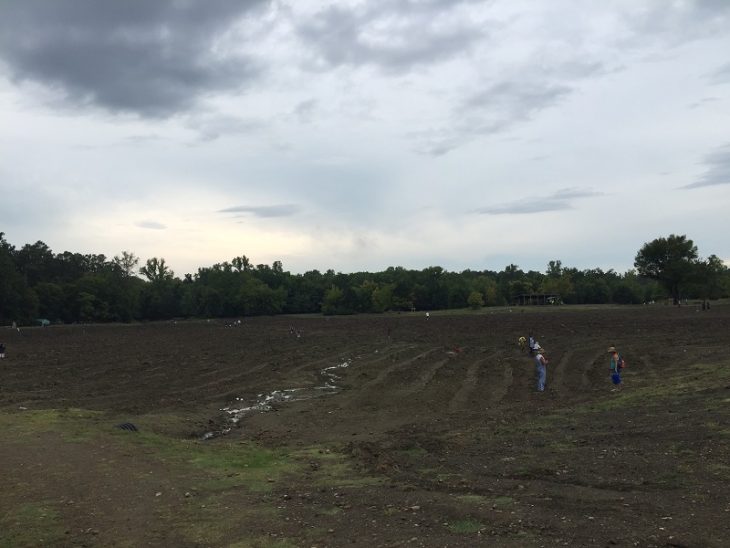 A 37 1/2 acre plowed field is where visitors hunt and dig for diamonds.
Pretty much it's like looking for a needle in a haystack. Acres and acres of plowed field with diamonds hidden in the dirt just waiting to be found.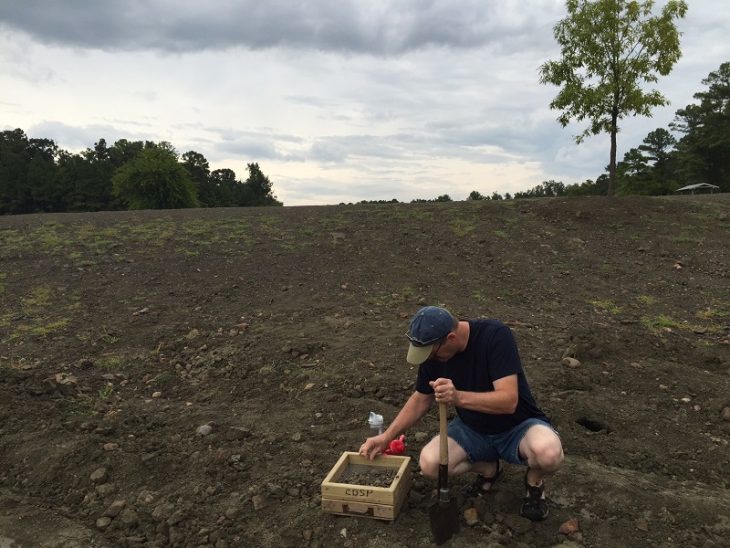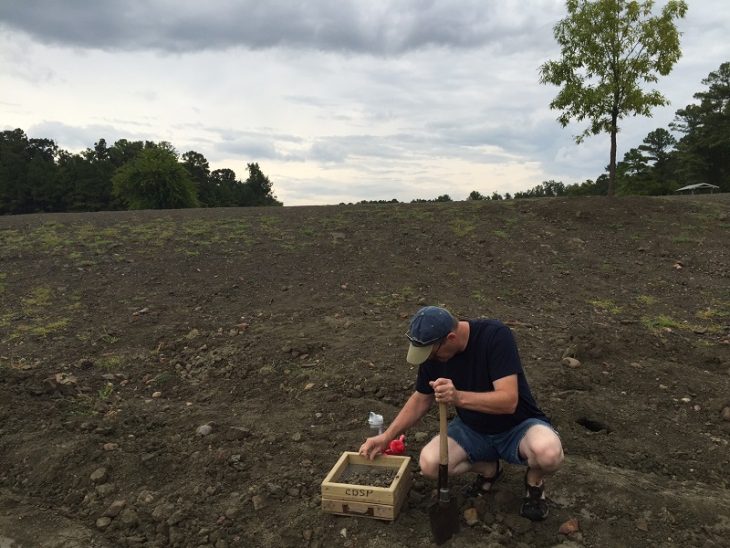 To make the search a little more challenging the majority of diamonds are no larger than a match head.
Finding Diamonds Fun Fact
This is the eighth largest, diamond-bearing deposit in surface area in the world.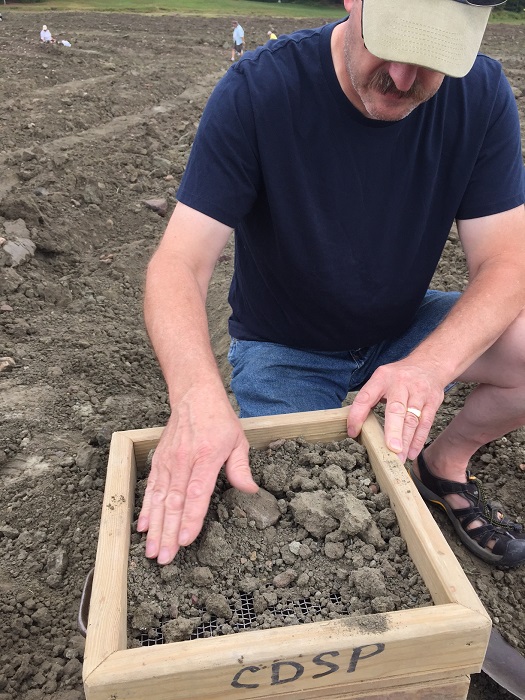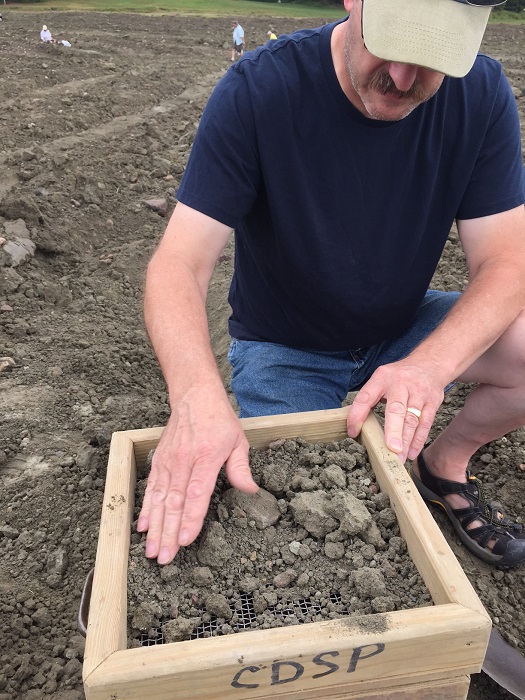 Knowing what to look for is important. Keep your eyes open for objects that are white, brown, and yellow and when you pick them up they are oily to the touch.
They are typically smooth and well rounded. Typically, they look like polished stones with smooth sides and rounded edges.
Surface Searching: This technique is best after a really hard rain storm and, best of all, doesn't require any special equipment. Simply walk up and down the fields and look for diamonds on top of the soil.
Dry Sifting: Shown above, is basically dumping soil into a screener and shaking the dirt off (equipment is available for rent at the park for a minimal fee). This usually involves searching through the first six inches to one foot of soil. Use a small hand tool to turn over the soil while looking for diamonds. Soil can be sifted through the screener to double check that you didn't miss any diamonds.
Wet Sifting: This is a lot harder than the surface searching and dry sifting. It involves digging holes, removing the correct type of soil, and then taking the soil to the washing station and washing the soil in a series of screens. After the soil is washed the gravel is sorted by hand.
Not sure if you've found a diamond or other gem stone? The park offers free rock and mineral identification to let you know exactly what you've unearthed.
Sadly, we didn't have any luck finding diamonds, but we did have a good time. On a positive note, we did have a lot of success finding crystals at Wegner Crystal Mines in Mt. Ida, about an hour north of the diamond park.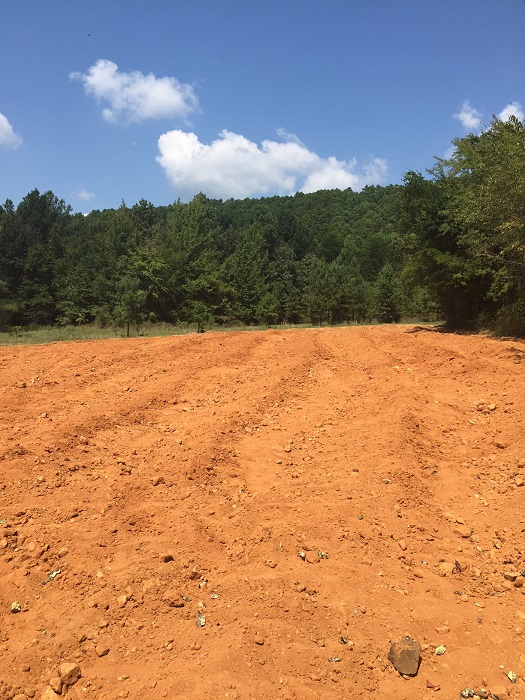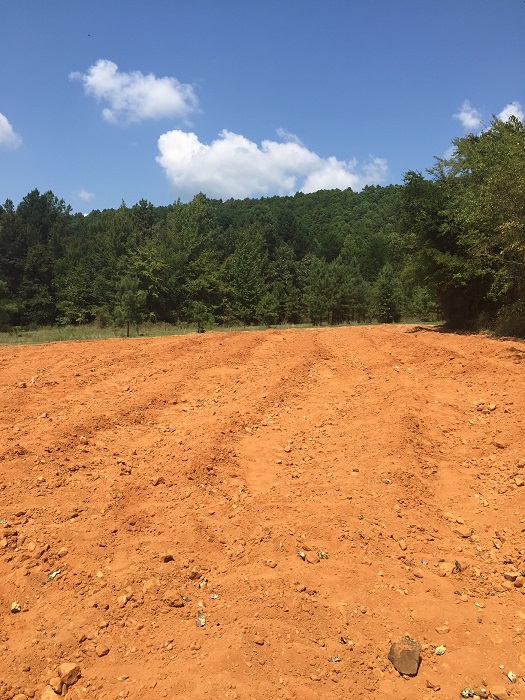 Instead of going out to the actual crystal mines we decided to look for crystals at the tailings area, which is a field with dirt from the mine spread into a concentrated area.
The dirt is then seeded with crystals. Finding crystals in the tailings area is pretty much a sure thing.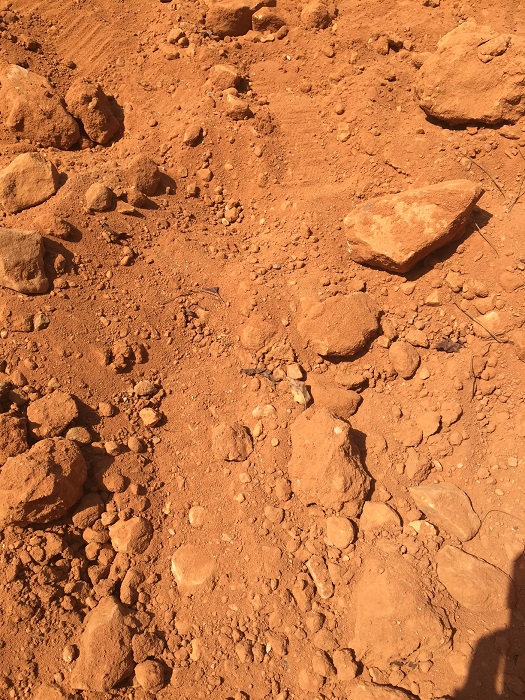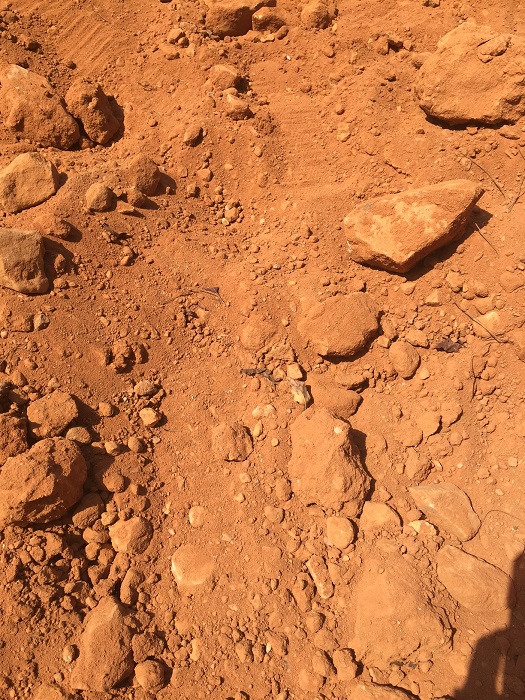 When you go to the crystal mine be sure to wear clothes you don't mind getting dirty. The red soil can stain.
Also, use sunscreen and wear a hat. The field is in full sun.
We were there on a day when the temps were hitting 100 degrees. We took multiple breaks under the shade trees and drank a couple bottles of water each.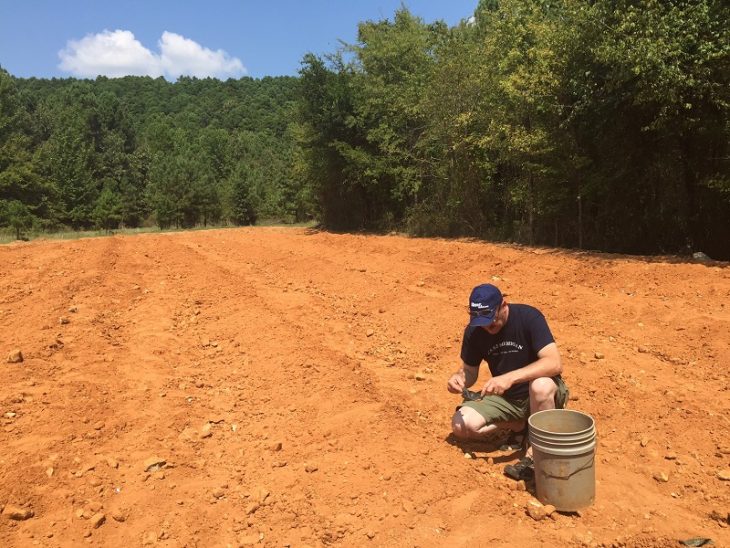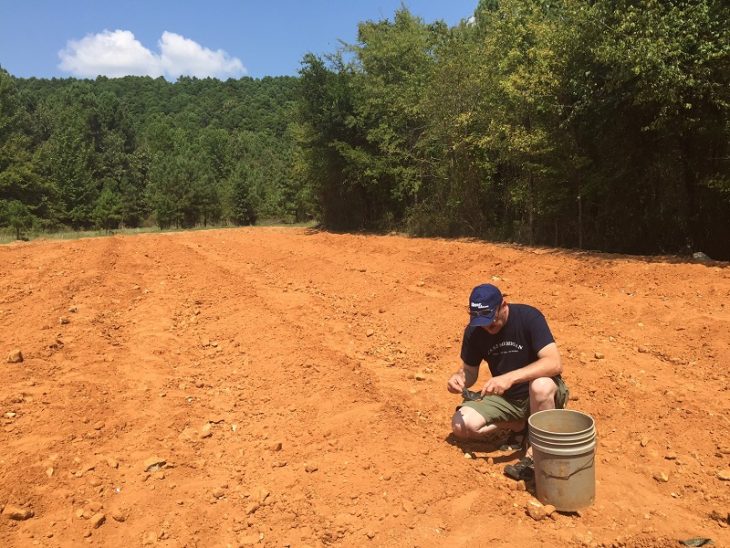 We used a small trowel to dig through the dirt. The crystals are easily identifiable since the red clay doesn't cling to them.
After a couple hours we had a nice pile of crystals and decided to call it a day. The guarantee of finding something was definitely preferable over digging for diamonds.
While we were staying in Murfreesboro we stumbled across the Narrows Dam Recreational Area and maybe fell just a little bit in love with this part of Arkansas.
We visited the park after Labor Day weekend, on a week day, in the evening which meant we had the entire park to ourselves.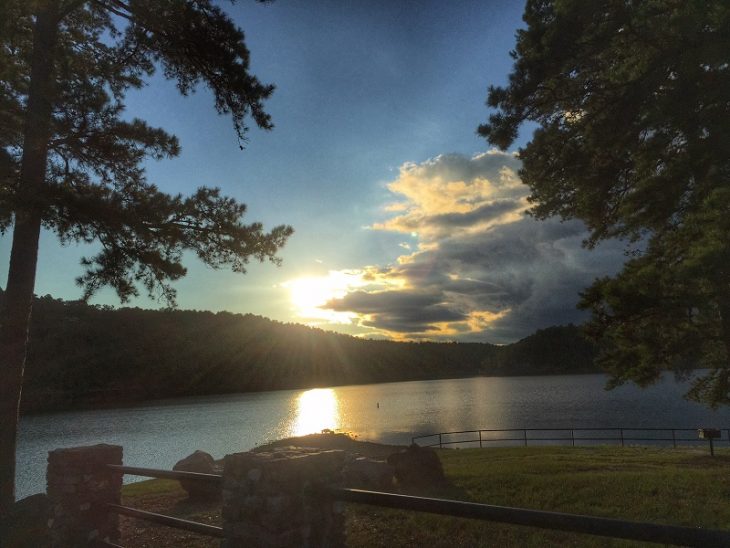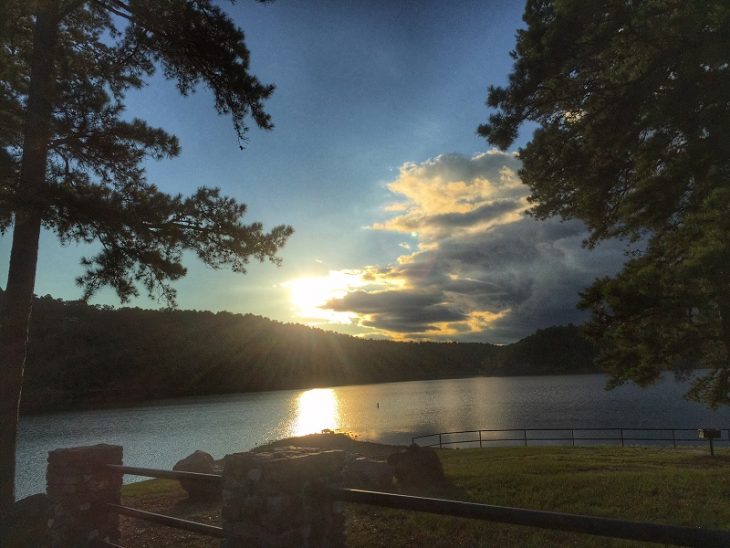 It was so quiet and peaceful. I wish we had more time to spend here.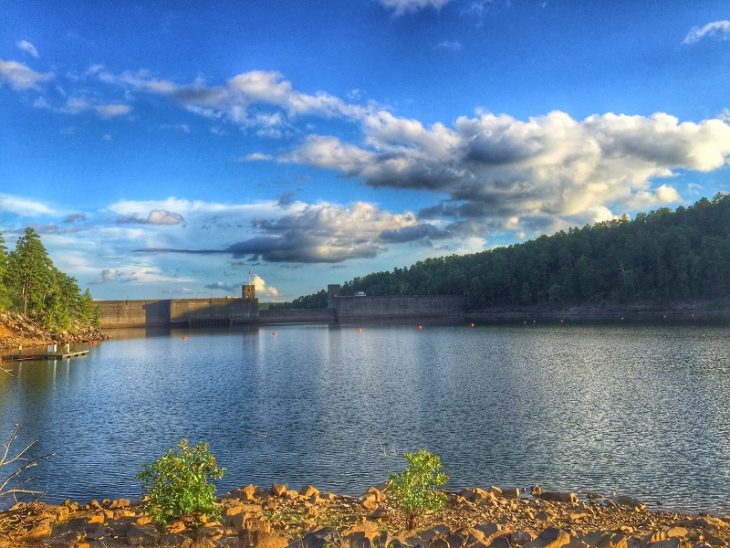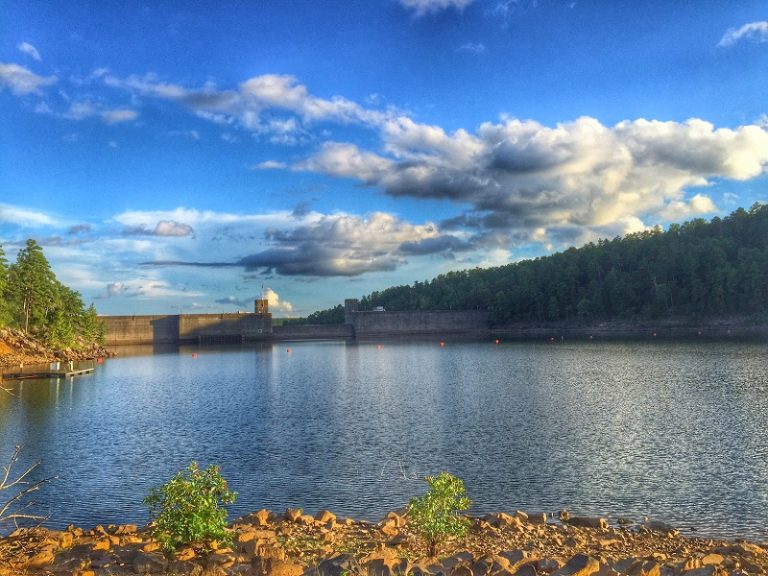 So very pretty.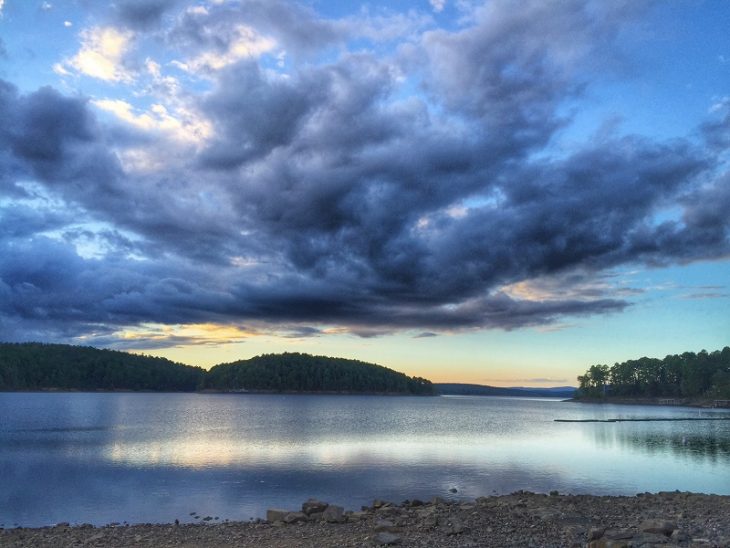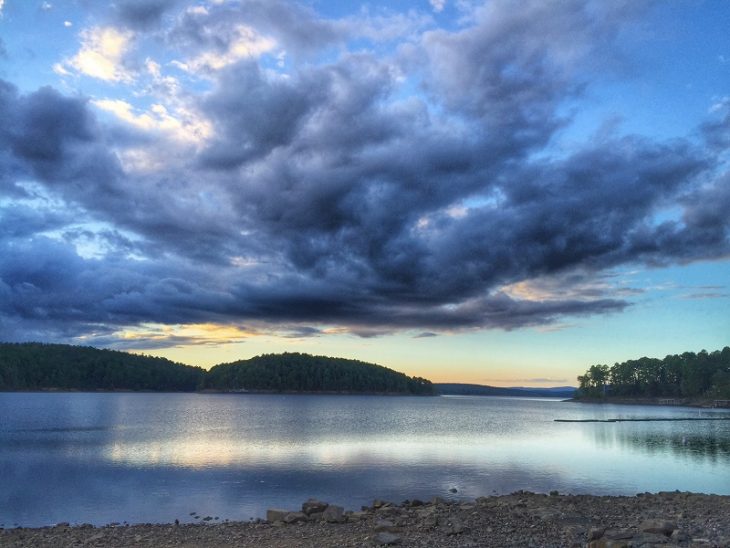 Fortunately the recreation area was right down the road from where we were staying at the Diamonds Old West Cabins.
The cabins are designed to look like an old western town and include buildings like Miss Kitty's, Sheriff's cabin, blacksmith cabin, saloon and more.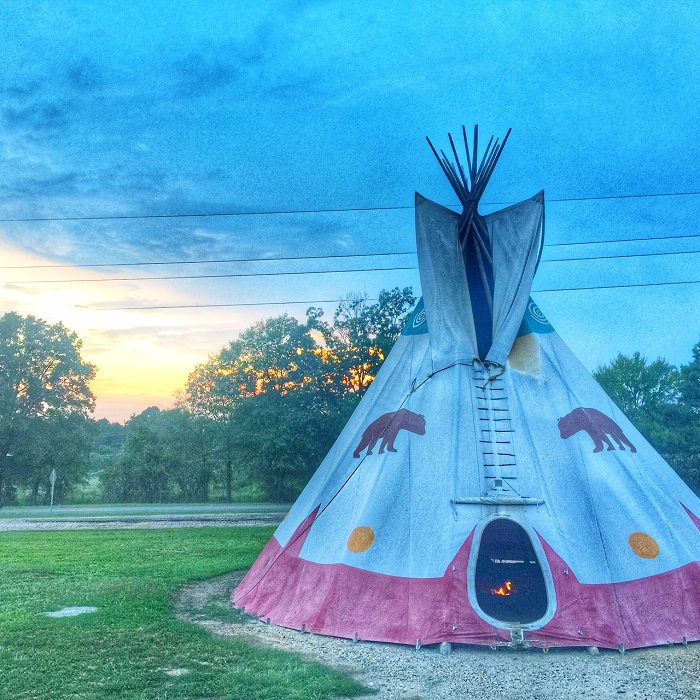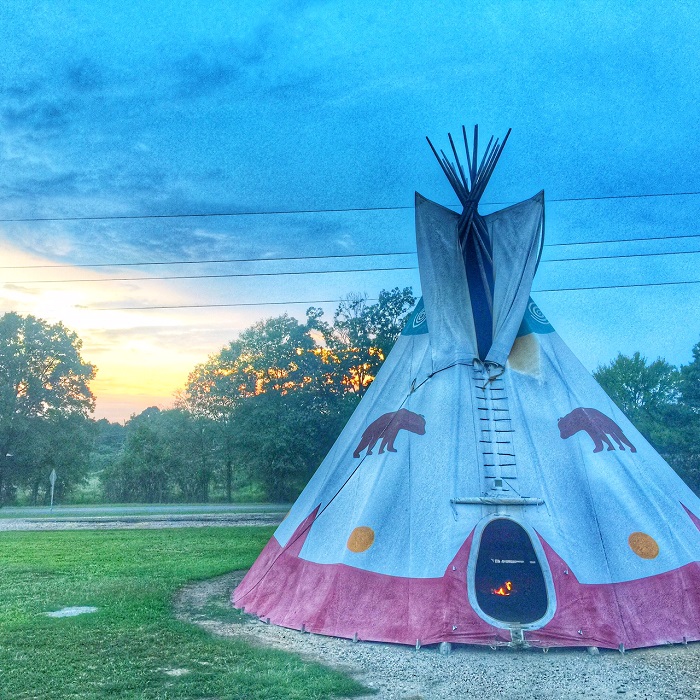 Campfires are lit in the tee pees each night so that guest can roast marshmallows and make everyone's favorite campfire treat, s'mores.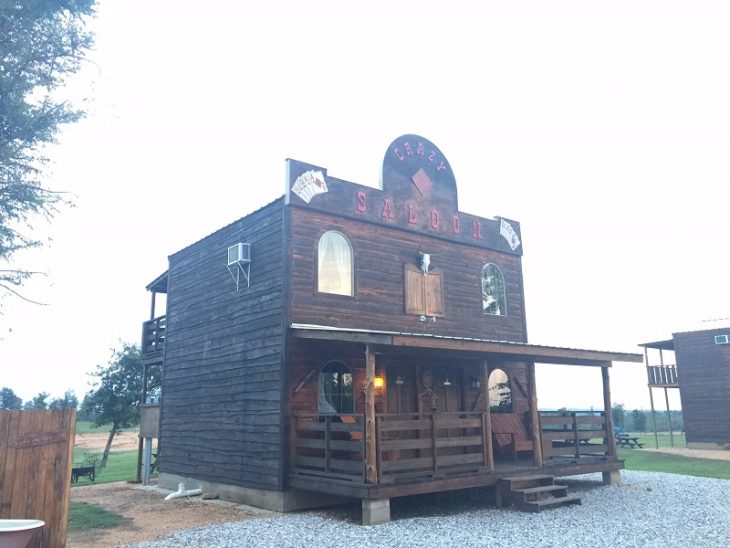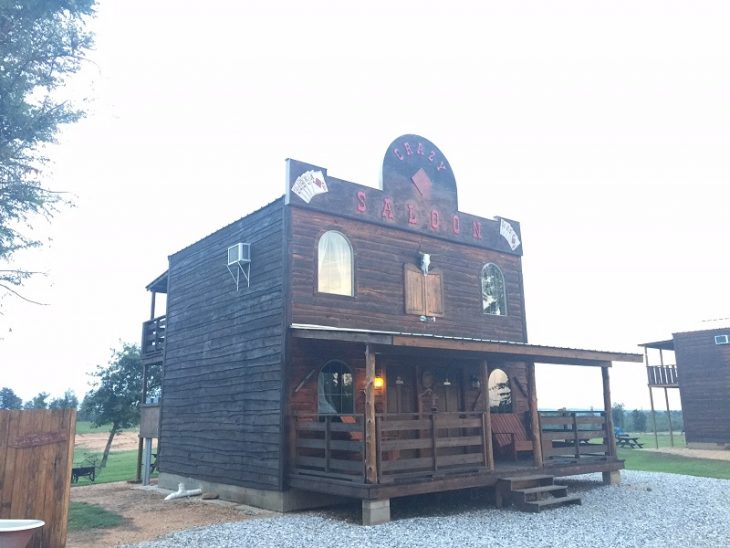 We stayed upstairs in Miss Kitty's cabin and had a cozy room complete with jacuzzi tub, full bath and micro and fridge.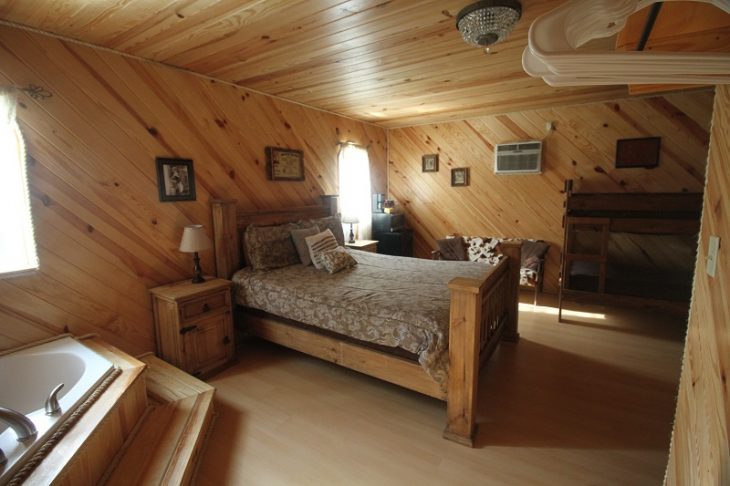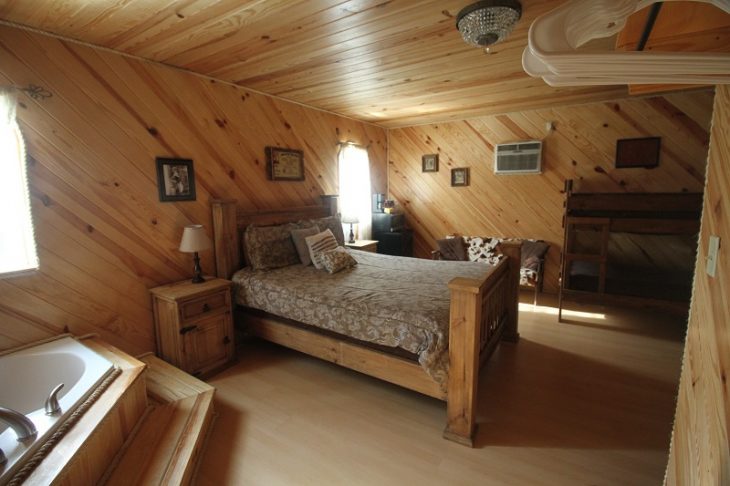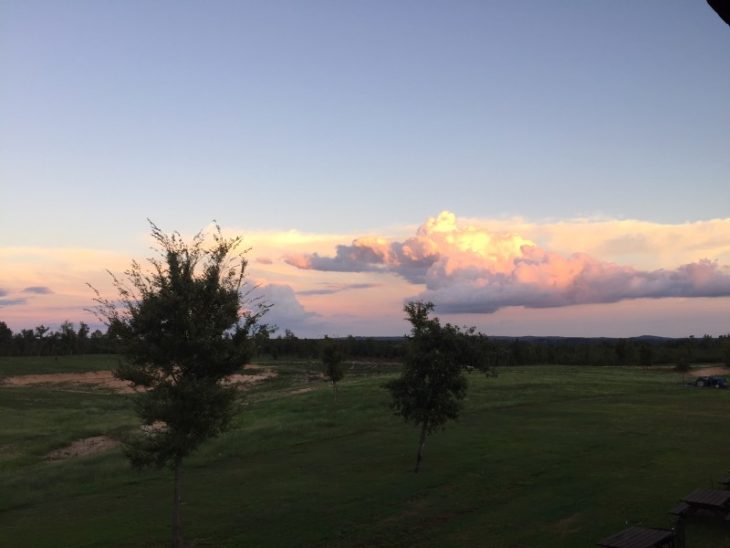 The deck off of our room gave us a great view where we enjoyed sitting outside and watching the bluebirds flit around.
TIPS FOR STAYING AT DIAMONDS CABIN
If you plan on arriving after 5 pm make arrangements in advance on where to find the key to the cabin. We showed up right at 5 and there wasn't a soul around. A quick call to the number listed on the site and we were instructed where to find our key. The downside…there was someone already in our cabin. AWKWARD! Since there wasn't any staff on site it was up to me to figure out what was going on. A little uncomfortable, but even though there were language barriers (English was NOT their first language) we figured it all out. [For those that think the life of a travel blogger is always easy…proof, that everyone has stumbling blocks]
Pack a cooler before arriving. We didn't find any restaurants/grocery stores neaby and ended up driving to Nashville, about 25 minutes away, to do some grocery shopping.
Take time to sit on the deck and enjoy your surroundings. I loved watching the bluebirds.