This post was sponsored by MetLife as part of an Influencer Activation for Influence Central, and all opinions expressed in my post are my own.
I haven't shared the hard turn my life has taken over the past 18 months. Today's post gets a little personal. Usually, our posts stick to ways to make your life easier, but today I want to share a little of my story and why it's so important for everyone to have life insurance.
A rocky beginning
Last spring my mom, who is in her 60's, had not one but two strokes. These strokes kept her mind mostly intact but left her body weak, and we spent weeks in the hospital and rehab where she built her strength back up and mastered walking and dressing herself. It was tough for me because she lives almost three hours from me. I spent a lot of time away from home assisting with her recovery. Yes, she was in rehab, but if you are familiar with the health care system, it almost always requires an advocate to be there every day.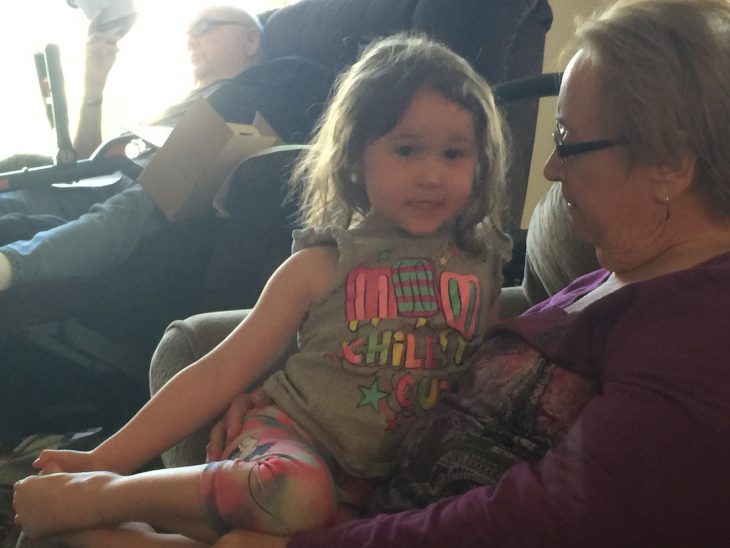 Mom with her youngest Granddaughter, at home, after her first stroke. They sure are colorful.
Fast forward to this winter. She had two more strokes in February. Again, her mind was mostly intact, but her body would not cooperate. We went through repeat above scenarios of weeks in the hospital and months in rehab.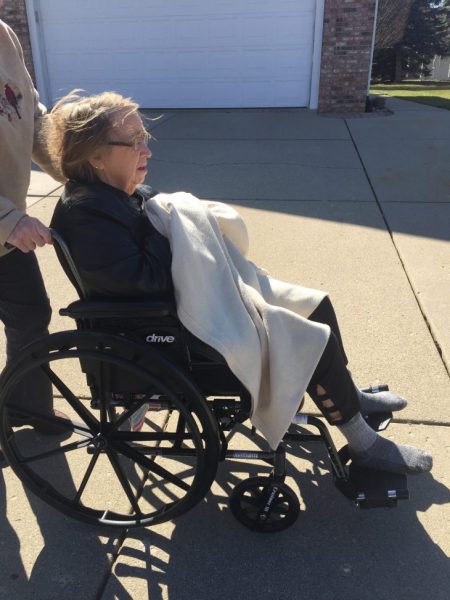 Getting mom out of the house for a short walk after her second round of hospital/rehab.
In April she is finally home. I'm there almost full-time helping her and my Dad. She is walking with a walker and able to do most life skills, except cooking, medicine, and finances. I feel like we are finally on the road to recovery when life strikes again. This time, massive seizures that land her in ICU where she is in a coma for four days. Upon waking up, she doesn't know anyone. Let that sink in for a moment. For my readers who have parents with dementia, I am sending you a great big hug because it is an awful situation to be in, and hard to talk about and have others understand what you're going through.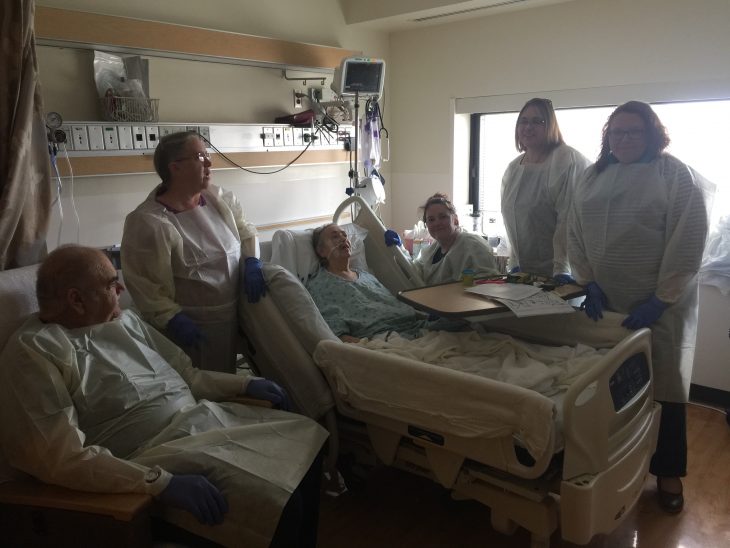 June 2017 family photo. This is a rare moment of all of us together with our parents since we live all over the state.
Our new normal
She has been in the hospital over a month now and will be moved to rehab soon. The doctors think she might pull through but also stated bedridden with dementia might be her new normal. They simply don't know. She still has no idea who we are.
Living with this uncertainty of what will happen to my Mom is stressful. Will she fight through this and live another ten years, or will life end sooner for her? We just don't know, and it scares me.
What also scares me is the fact she doesn't have life insurance.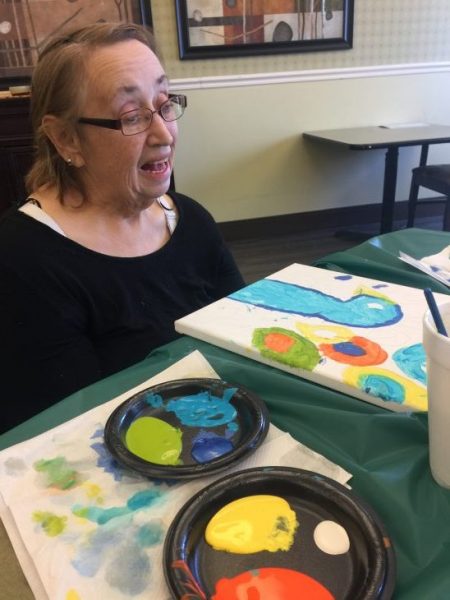 Mom at rehab learning to use her arm again through art.
Not only do I have to keep up with talking to her doctors, dealing with the medical insurance reps, and wondering if my Mom will ever recognize me, I have to think about what will happen when she passes.
Why life insurance is important
I don't share my story lightly, and I don't share it to bring you all down. I share it to drive home the fact that life insurance is a necessity.
If my Mom had life insurance, it would take off some of the pressure of wondering how all of these expenses will be paid.
Whether that is in years or soon, either way, I have a feeling that three hospitalizations/rehabs in less than two years are going to take a very long financial toll.
Here's the weird thing with life. We never know what turn it will take, but we all know that eventually, it will take one final turn. If something as simple as life insurance can help those we leave behind why wouldn't we have it?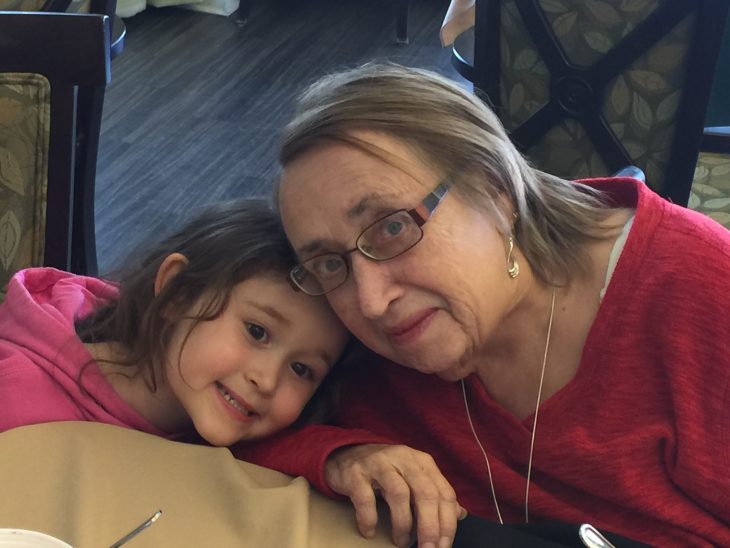 Mom with S. I love this photo of mom looking so healthy.
I know many of us are self-employed so we don't have the option of purchasing an employer subsidized life insurance plan, but MetLife has created a simple term life insurance product that makes purchasing life insurance easy and affordable.
You can apply for up to $500,000 in coverage, without an in-person medical exam or requests for fluids, like blood and urine, ever, just answer a handful of health questions. This can be a great solution for busy women to get life insurance they can depend on with MetLife Rapid Term. For more information on the full terms, conditions and limitations about the MetLife Rapid Term product, I encourage you to look at MetLife's MetLife Rapid Term website.
Buying life insurance isn't insurance for life's "what-if's," what if I have a car accident, what if my house catches on fire. Life insurance is a very definite event in your life. Hopefully, you won't need it for a very, very long time and we all live long and healthy lives. That being said, life is odd. We never know what turns it will take along the way and if we can help offer financial security to those we love then we should.
You can start by simply clicking here to answer a few questions to get a quote. Honestly, it took less than 30 seconds to fill in the box (shown below). There is no obligation. They don't ask for your name or email. Fill in the boxes, click "Get My Quote," and a box pops up with the monthly payment plan. You are welcome to continue at that point or exit the page. No pressure, no obligations.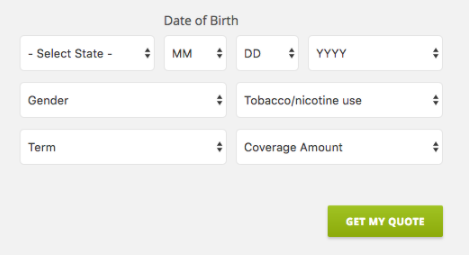 Don't let your life turn into an "if only". If only I would have purchased life insurance. If only I would have heeded advice shared out of concern. Please, at least investigate if a life insurance policy payment will fit into your budget right now. Give your family peace of mind and take the burden of finances off their shoulders.
MetLife Facebook: https://www.facebook.com/metlife
MetLife Twitter: https://twitter.com/metlife