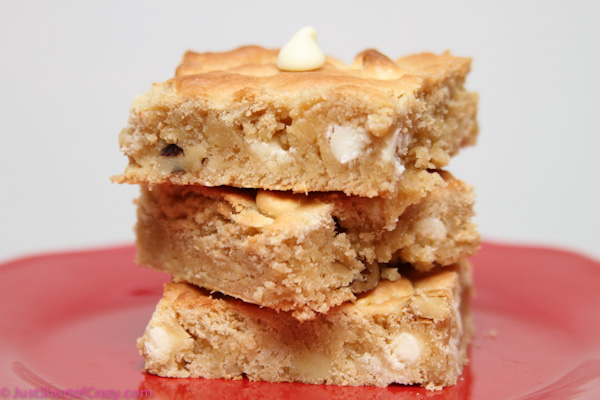 These are so delicious and really easy to make. A few ingredients and in about 30 minutes you can be pulling these out of the oven. I made these the other night and, really, they are so very good.
Life is good 🙂
White Chocolate Walnut Blondies Recipe
White Chocolate Walnut Blondies Ingredients
2 1/4 cups all purpose flour
2 1/2 teaspoons baking powder
1/2 teaspoon salt
1 1/2 cups firmly packed brown sugar
1/4 cup sugar
3/4 cup butter, softened
3 eggs
1 teaspoon vanilla extract
6 oz (1/2 package) of white chocolate chip morsels
2 oz chopped walnuts
White Chocolate Walnut Blondies Directions
Preheat oven to 350 degrees
Grease a 15×10 inch pan
Combine flour, baking powder, and salt in a bowl
Beat brown sugar, sugar, and butter in a large mixing bowl. Beat in eggs & vanilla extract. Gradually mix in flour mixture.
Stir in morsels and walnuts
Spread into pan
Bake for 20-25 minutes or until a beautiful golden brown on top. Cool on a wire rack.