West Virginia waterfalls are many, but for the adventurous, you can see the most iconic ones in a one-day road trip. Yes, it will be a long day, but it will totally be worth it!
The drive from start to finish is 250 miles and if you were to drive it straight it would take about 5 1/2 hours. However, you're going to want to hike, enjoy the waterfalls and the scenic vistas you find along the way.
I'd plan on a minimum of 12 hours for this trip which makes it the perfect day trip for long summer days.
The best part of this road trip is that the roads to the falls are some of the most awe-inspiring and scenic you'll find in the state!
You can start this trip either near Charleston or at Blackwater Falls State Park.
If you end at the state park you could always add a couple camping days to your adventure and enjoy more hiking and relaxing…just an idea.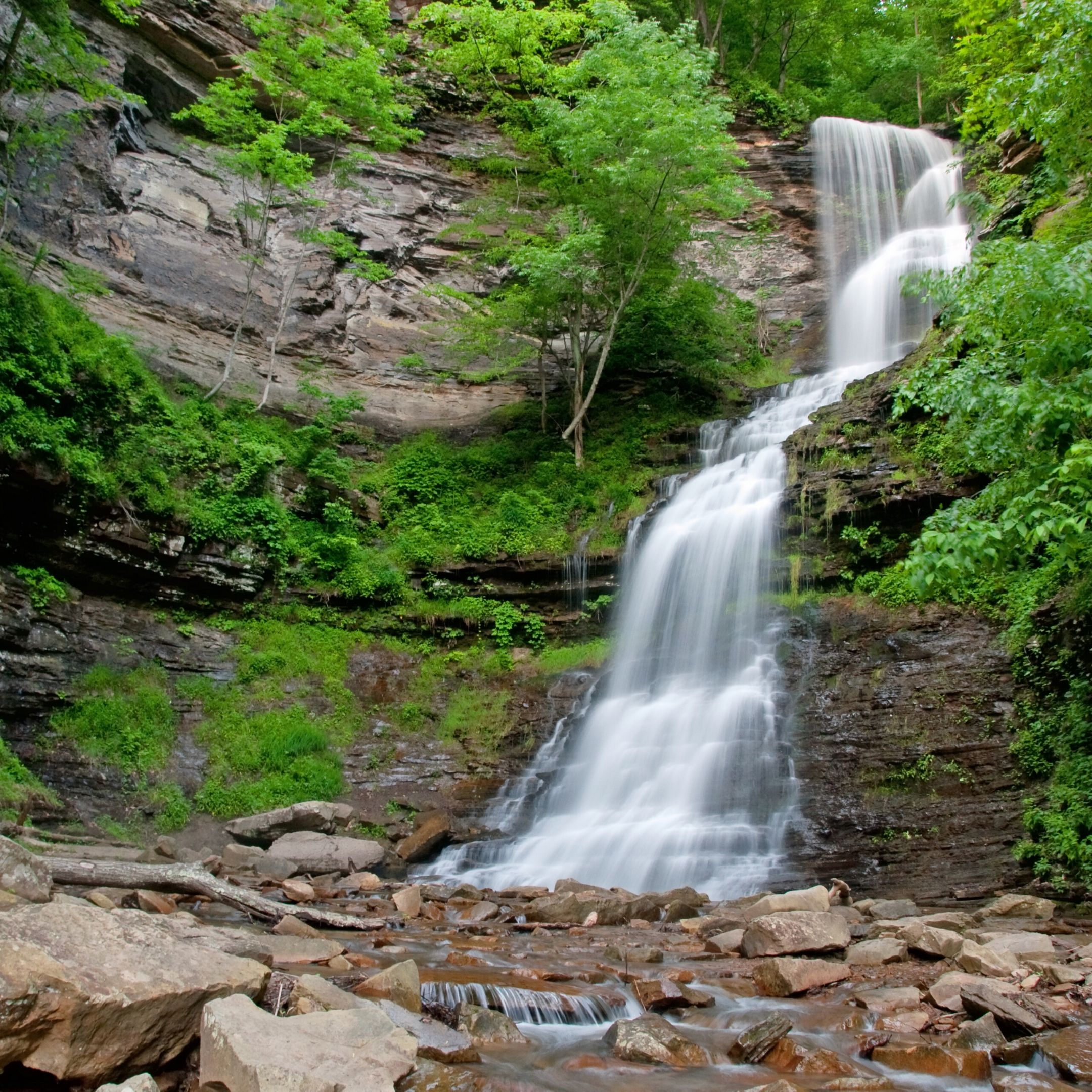 West Virginia Waterfalls Day Trip
Stop 1: West Virginia Waterfalls
Route 60: Cathedral & Kanawha Falls
While Interstate 77 has made travel more convenient between Charleston and Beckley, Route 60 still remains a local favorite for backroad exploration.
Drive along Route 60 and you'll encounter both Kanawha Falls and Cathedral Falls.
Both sets of falls can be accessed just off of Route 60, and Kanawha Falls is a popular fishing destination.
Beyond the falls, Route 60 leads to breathtaking views found at Hawks Nest State Park.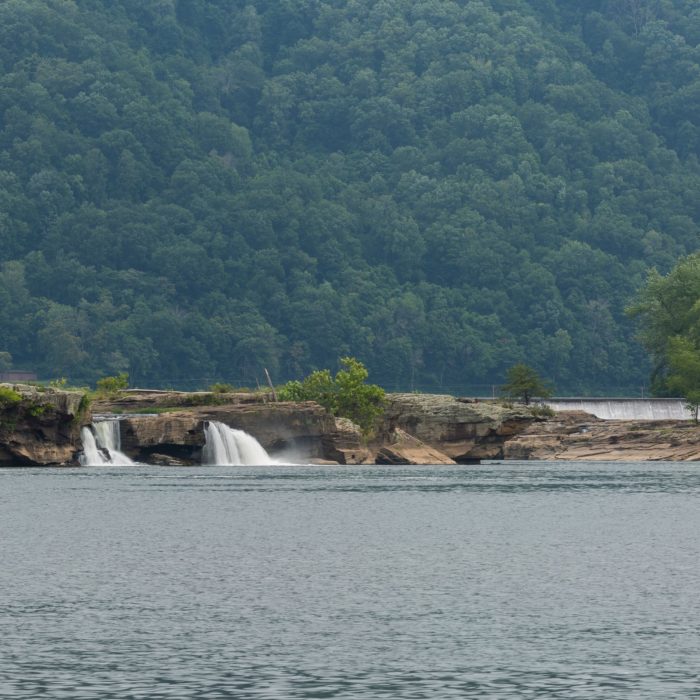 Tips for Visiting Kanawha Falls
Not a very tall waterfall, only 15′, but impressively wide.
1 mile west of Gauley Bridge
Ample parking directly in front of falls
Easy to visit
Tips for Visiting Cathedral Falls
About 2 miles west of Kanawha Falls
One of the highest waterfalls in the state
1 mile east of Gauley Bridge
Small roadside park
Easy to visit, can view from the road but better if you take the short jaunt to the falls.

Stop 2: West Virginia Waterfalls
New River Road: Sandstone Falls
Just a short drive down the appropriately named New River Road is Sandstone Falls – the largest waterfall on the New River.
New River Road is lined with scenic overlooks, trails, river access points, campgrounds and cabins.
Sandstone Falls boasts several trails that lead to different river access points around the park.
Fishing is popular at Sandstone Falls as it is the perfect place to catch catfish and small-mouth bass.
Tips for Visiting Sandstone Falls
Thousand plus foot wide river
Boardwalk takes you to the middle of falls
10 miles north of Hinton along River Road
Bonus: Along the way, you'll pass a number of smaller falls

Stop 3: West Virginia Waterfalls
Highland Scenic Highway: Falls of Hills Creek
Pocahontas County is home to the Highland Scenic Highway – considered to be one of the most beautiful drives on the East Coast.
Between Richwood and Marlinton, the highway takes travelers by places like the Cranberry Glades Botanical Area, Summit Lake, and last but not least, the Falls of Hills Creek.
They consist of a series of three waterfalls that cascade 20 feet, 45 feet, and 65 feet, respectively.
The third waterfall in the series is one of the tallest in West Virginia.
Tips for Visiting Falls of Hills Creek
The walkway to the first fall is paved and handicapped accessible.
5 miles west of the Cranberry Mountain Nature Center
Look for the Monongahela National Forest Recreation sign, turn down the gravel road and park in the small lot where restrooms are also available.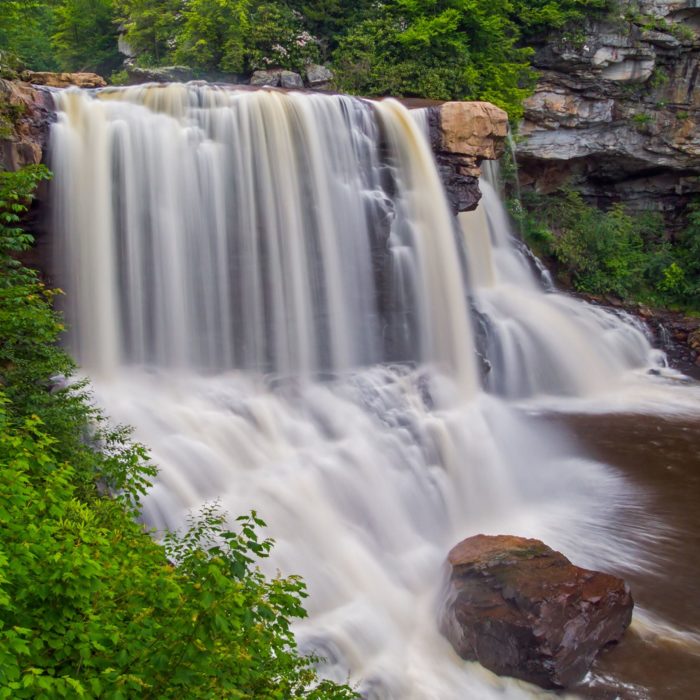 Stop 4: West Virginia Waterfalls
Route 32: Blackwater Falls
A drive down Route 32 in Tucker County will reveal some of the most amazing panoramic views found in the state.
Travelers can trace their way through Canaan Valley before discovering the neighboring towns of Davis and Thomas.
Between these two charming towns lies Blackwater Falls State Park and the iconic waterfall for which the park was named.
At 62′ tall, Blackwater Falls marks the beginning of the rugged Blackwater Canyon. The park is also home to Elakala Falls – a set of four waterfalls along what is known as Shays Run.
Tips for Visiting Blackwater Falls
Other points of interest in the park: Elakala Falls, Lindy Point and Pendleton Point Overlook
Viewing platforms are great for photos
Once in the park, follow the signs to the falls
This is an epic day trip and the perfect way to social distance during this weird time and still have a fabulous adventure through Almost Heaven!
Pin West Virginia Waterfalls to Pinterest