Macy's Heart of Haiti collection showcases 40+ home decor items that include quilts, metalwork, jewelry and more. Most of the items are made from recycled and sustainable items. I love that these products take items already in existence and recreate them into beautiful decor for the home.
It's the perfect way to recycle plus the Heart of Hait program creates work and financial opportunities for one of the poorest areas. By supporting Haitians through purchases we are helping provide a long-term solution for their economic crisis. It is so much better than the band-aid relief of just providing short-term aid.
I received a beautifully handcrafted star from the Heart of Haiti artisans and it reminded me that we all have stars in our lives. People that make us want to be a better person, people that show us, through their actions, that it really is within our power to help create a better world.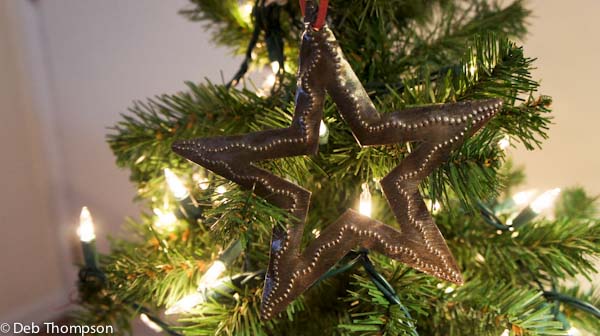 When I was in Vegas this fall I had the opportunity to listen to Doc Hendley talk about bringing clean drinking water to people around the world. Something so simple that we all take for granted, yet Doc seen beyond our borders and took steps to make a difference.
He was a bartender and decided to do something about the water crisis in the world. A bartender. Let that sink in a minute. He wasn't a millionaire, didn't run in high society circles, he was someone who saw a problem and decided to do something about it.
Doc teaches people how to dig and fix their wells so that they can have clean drinking water long term. His is not a band-aid solution either and I really appreciate that. His story has stuck with me. His organization is now one that I fully support. To me, he is a star and his story is proof that we all have the ability to do something that makes a difference.
This holiday season you can help make a difference without ever leaving your home. Just visit the Heart of Haiti collection at Macy's and purchase gifts that have been handcrafted in Haiti. The program employs over 780 artisans so there is something for everyone.
I was selected for this opportunity as a member of Clever Girls Collective, and the content and opinions expressed here are all my own. #CleverHaiti