This is the only holiday gift guide you'll need this season. I'm offering up 5 different suggestions in thirteen different categories.
The ultimate holiday gift guide includes gift ideas for the following:
Coffee Lover
Outdoor Fun
Cocktail Connoisseur
Unique Gifts for Literary Lovers
Home Chef Practical Gifts
Glam It Up Makeup Holiday Gift Guide
Perfectly Posh Stocking Stuffers
Hostess Gift Holiday Guide
Arm Chair Traveler Gift Guide
Best Travel Gear from Thirty-One Gifts
Adrenaline Junkie Experiences Gift Guide
Soft Adventure Experiences Gift Guide
Pet Guide For Power Chewer
NOTE: Affiliate links are included in this post. All prices were accurate at time of publication but are subject to change.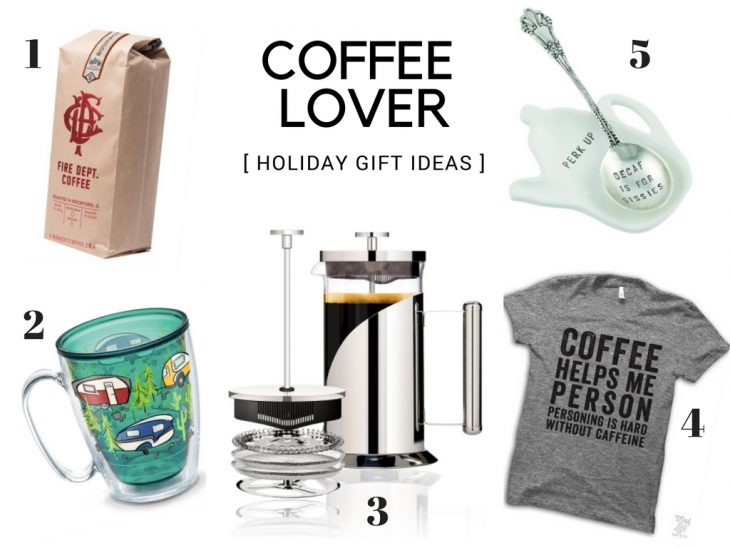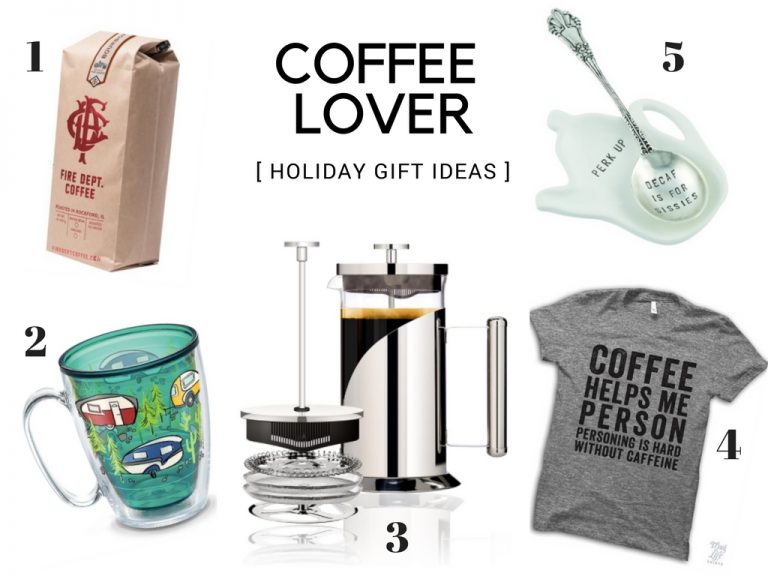 COFFEE LOVER HOLIDAY GIFT IDEAS
1. Bourbon Infused Coffee Beans–Enough said. Order one as a gift and order one for you. Thanks Fire Department Coffee for creating that much awesomeness! $19.99
2. Retro Tervis Coffee Mug–Because I love all things campers this is a must in my life. Luckily Tervis has 100s of options so if campers don't do it for you they will have something that does. Lucky for you, from November 23-27 they have 25% off all drinkware purchases!!! $14.99 (Sale price $10.50!!) Note–they also have customizable stainless steel mugs that are great for travel/work.
3. Coffee Press–This is a MUST for any type of camping. If you can build a fire to boil water you can have coffee, no electricity needed. We take ours van camping all summer long. It's about the only way I survive the camping experinece in the mornings 😉 $19.95
4. Coffee Tshirt–Pretty much sums up how most of us probably feel before our morning cup of joe. $27.95
5. Coffee Spoon and Spoon Rest from the fun creatives over at Mud Pie. A must for every coffee lovers morning. $14.63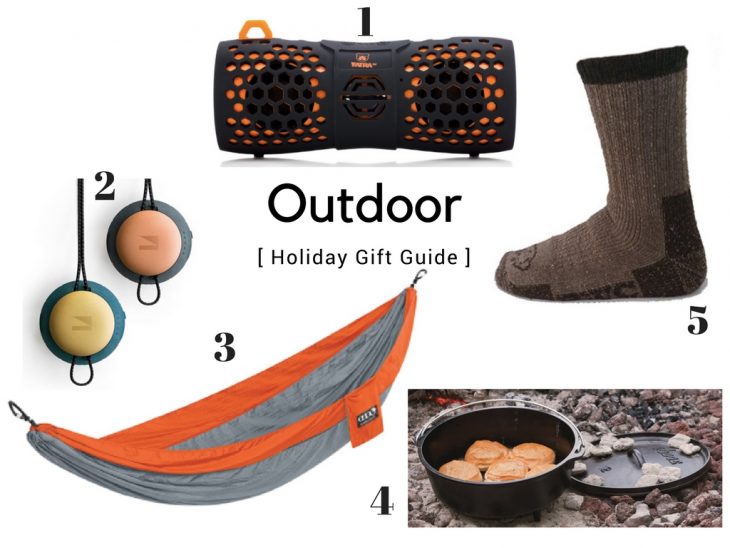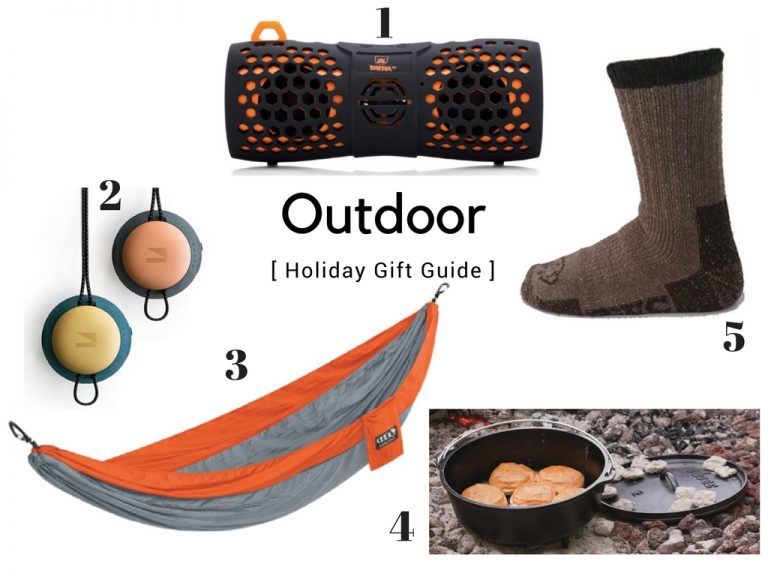 OUTDOOR HOLIDAY GIFT GUIDE
1. Outdoor Speaker–Waterproof, dustproof, and shockproof. This is the perfect outdoor speaker plus it syncs with your devices. $64.99
2. Cairn Rechargeable Lantern + Powerbank–Someone is going to be very, very happy to find this under the tree. The lantern is incredibly bright with a 300 lumen LED light plus it doubles as a powerbank. How fab is that? I can't wait to take mine van camping in the Spring (this girl does not do any winter camping….brrrrr). $49.99
3. ENO Hammock–Lightweight (only 16 ounces) and easily fits in a backpack or in the car to guarantee hammock time anywhere you travel. $59.95 Be sure to include the straps & suspension system, sold seperately. $29.95
4. Cast Iron Dutch Oven–This makes campfire cooking a lot more fun and tasty. $59
5. Bison/Wool Blend Socks–The ultimate sock for hiking, hunting and fishing. American Merino blended with soft and seriously warm bison down. Perfect for outdoor lovers that live in cold climates. $35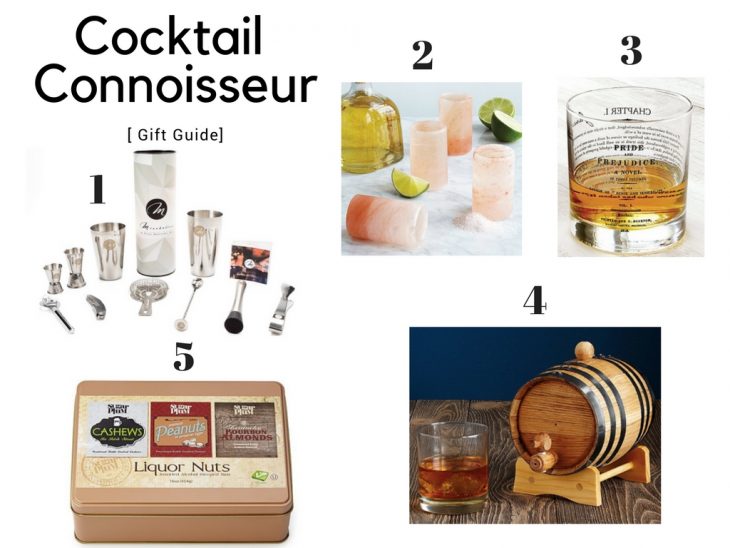 COCKTAIL CONNOISSEUR GIFT GUIDE
1. Mixologist Barware Set, 10 piece–Perfect addition to any bar or bar cart. Includes everything you need to make your favorite cocktails. $29.95
2. Himalayan Salt Tequila Shot Glasses–Offer a salty twinge to your taste buds, but with a more nuanced flavor than ordinary table salt. Salt is naturally antibacterial so you don't have to worry about cleaning mid-fiesta, and the strong salt minerals keep the shot glasses strong through many festive toasts. $28
3. Literary Whiskey Glass. Mix two of your favorite thing, books and whiskey, with these classic whiskey glasses. $14
4. Whiskey & Rum Making Kit–There are multiple options for brewing your own beer, but now you can make your own whiskey and rum with this kit. $75
5. Beer & Bourbon Nuts–Great, tasty assortment of salty treats to accompany your cocktails. $30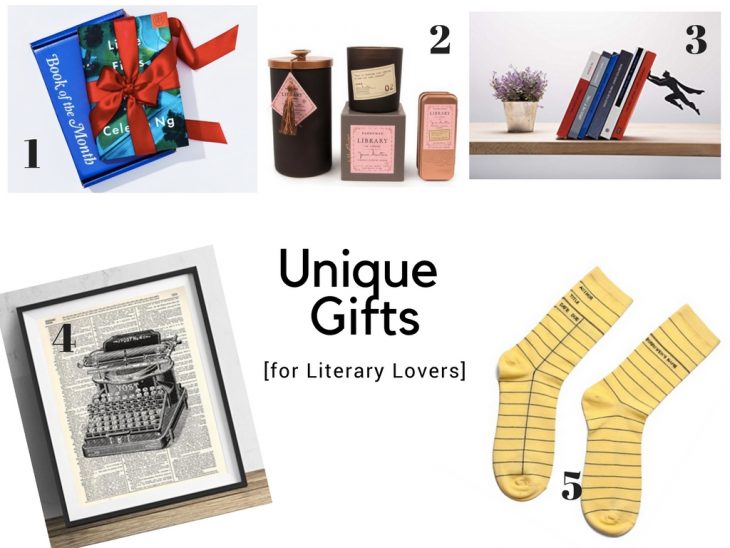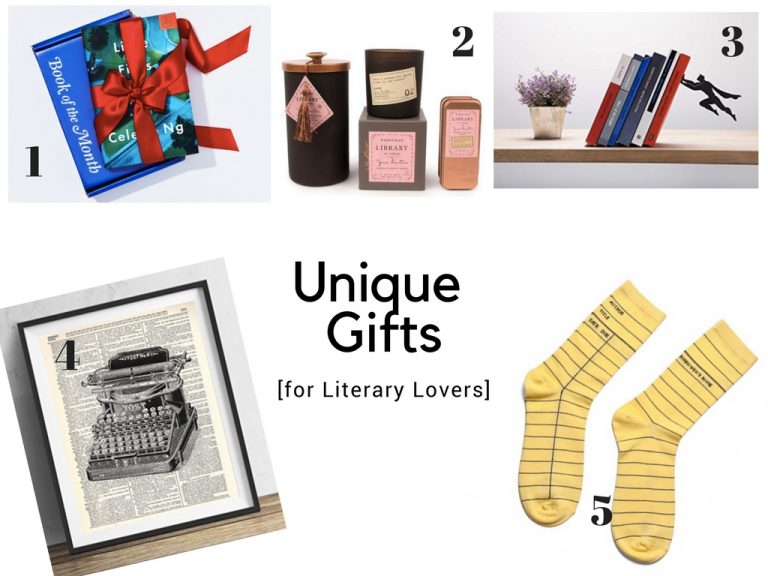 UNIQUE GIFTS FOR LITERARY LOVERS
1. Once Upon a Book Club–I love the idea behind this subscription service. Not only do they send you a book, they include 3-5 wrapped gifts meant to be opened when you come to a specific page in the book. The gift corresponds to what you are reading bringing the book to life. $34.99/month
2. Novel scented candles from PaddyWay. My choice, Jane Austen. Ahh, nothing better than breathing in the scent of your favorite book. PaddyWay has a number of literary scents available. $20
3. Superhero Book End These are the best bookends I've stumbled across recently. What's not to love? $25
4. Vintage Typewriter Illustration (#1) Dictionary Art Print 8×10An art print on top of a dictionary page….yes, please. $12.99
5. Library Card Socks We love fun socks and these kick back to the good ole library days 🙂 $14.99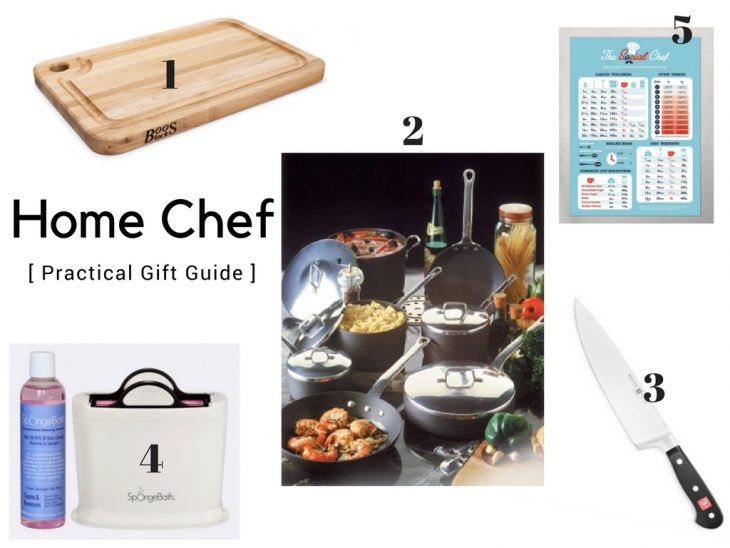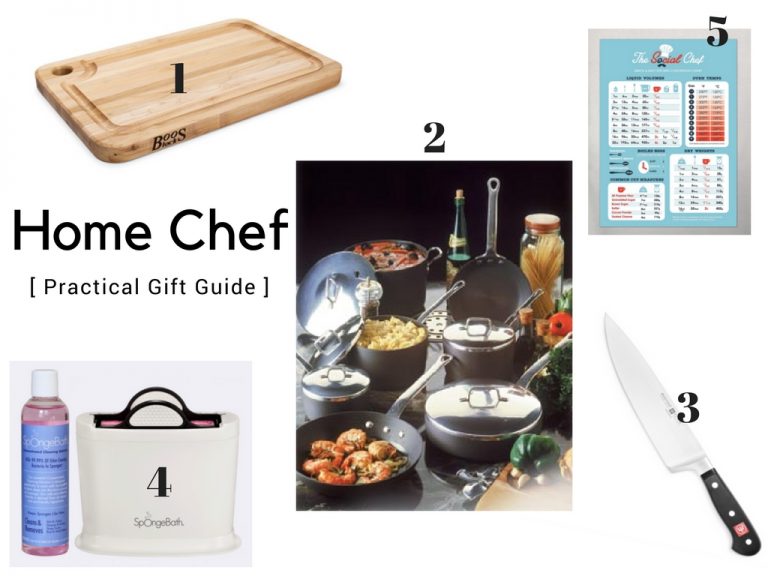 HOME CHEF PRACTICAL GIFT GUIDE
1. Boos Block Cutting Board–Expensive and worth every penny. I've had mine for years and it's still going strong. Take care of it and it will last a lifetime. $45.95
2. MAGPRO Cook Set by American Cullinary–Over 20 years ago my Mom gifted us with a Magnalite GHC Professional (now MAGPRO) cookware set. These pans have served me well and after 20 plus years of use I still dont need to replace them. Buy a quality set of cookware and it will truly last you a lifetime plus. Prices vary.
3. Wusthof Classic Chef Knife–Toss out all the cheap knives you have and replace it with a Wusthof Chef Knife. Regardless of the job this is the knife I grab. We paid over $100 at a local kitchen store almost 8 years ago and it has been worth every penny. $99.80
4. Sponge Bath–I thought this would be one of those ridiculous purchases that we would end up never using. Uh, nope, the exact opposite is true. This keeps all the icky, gross germs off my sponge so that it lasts longer plus helps me cut down on paper towel consumption. win-win $49
5. Cooking Conversions Chart–It seems so simple yet this is one of the most used item in my kitchen. I'm always wondering how many tablespoons in a cup or how many cups in a quart. A magnetic conversion chart on the fridge gives the answer in seconds without having to look it up online. $11.97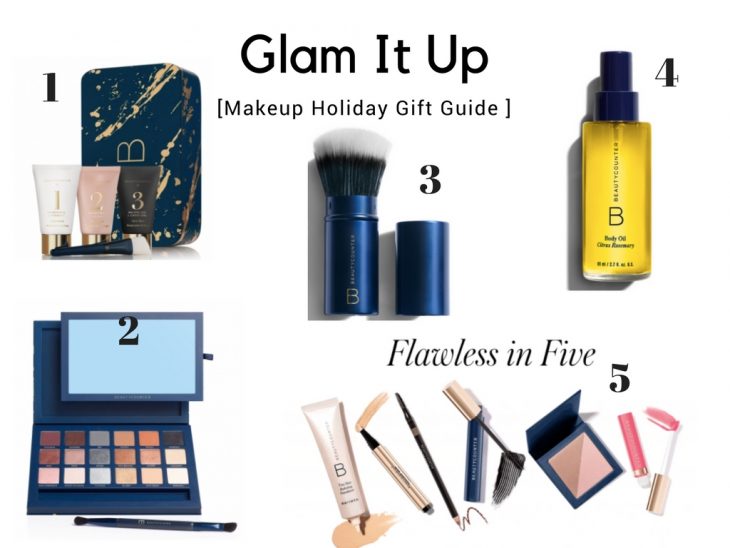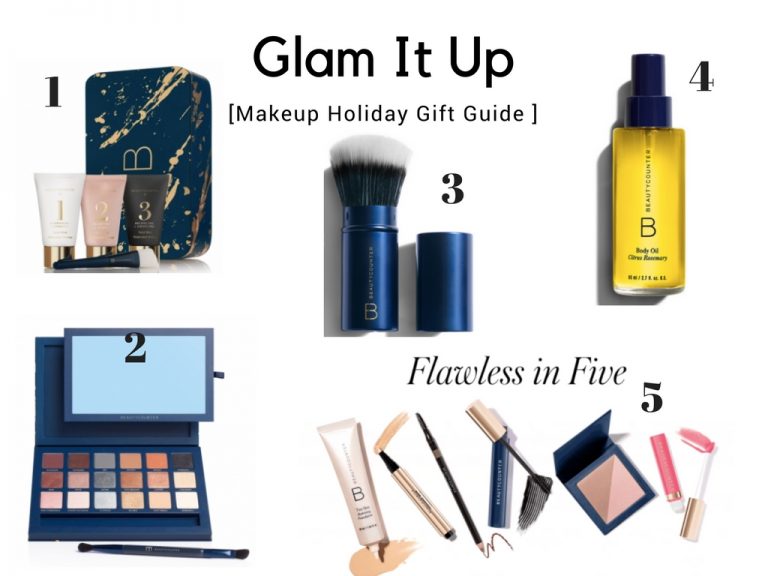 Glam It Up Makeup Holiday Gift Guide
Beautycounter leads the beauty industry by being transparent about what is in its products and bans 1500 ingredients from its products that are known to be associated with health risks. Currently, the U.S bans less than 40 ingredients known to cause health risks. The European Union bans 1400. The great thing about Beautycounter is that there a lot of research behind it so not only is it safe, the products perform well. Beautycounter is sold in the U.S and Canada.
1.Multi-Masker Set–This gift set is a fabulous way to introduce three safe masks from the Beautycounter line. Each one performs different functions. Give yourself a spa day at least once a week. $68
2. Ultimate Nudes Eye Shadow Palette–This great nude eye palette puts 18 neutral shades in one gift set. $88
3. Retractable Foundation Brush–Best foundation brush EVER! $35
4. Body Oil in Citrus Rosemary–This is a luxury body product. It truly is amazing and a small drop can also work to tame frizz in your hair. Perfect for your skin in the winter season. $73
5. Flawless in Five-Set–Literally, five minutes is all you need for your with this set. $148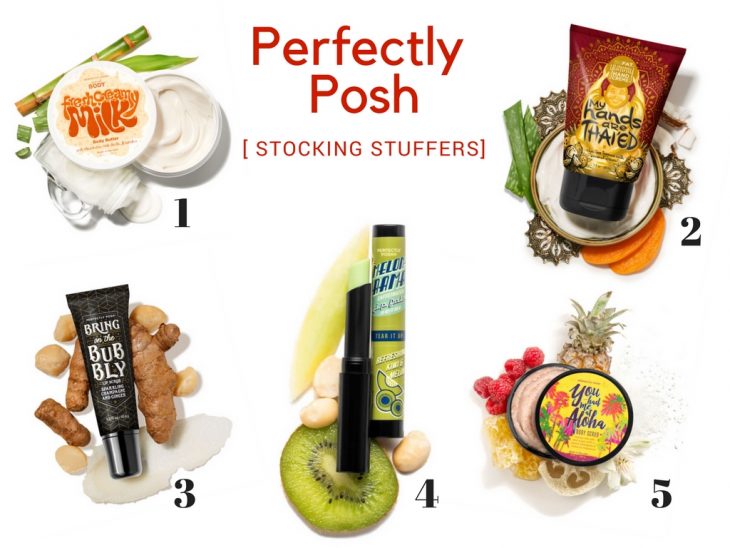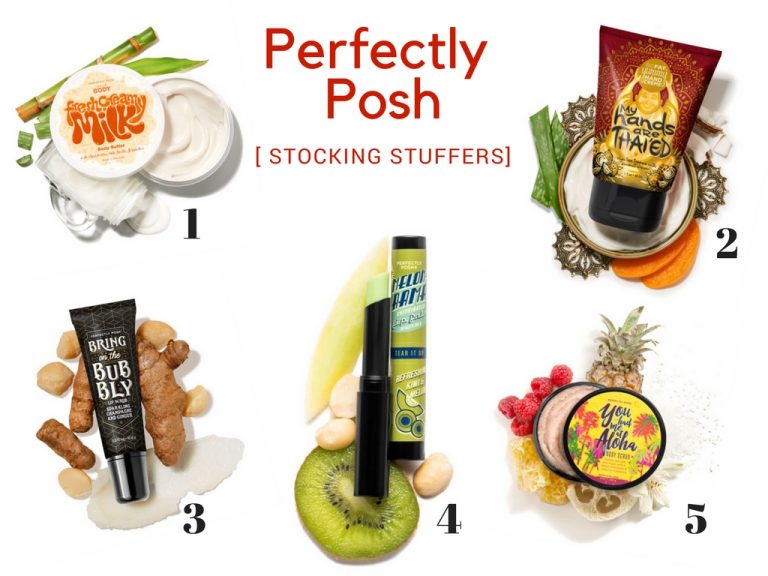 PERFECTLY POSH STOCKING STUFFERS
I recently discovered Perfectly Post and I'm so in love with this brand. They are using nature-based ingredients to help make users feel perfectly posh and indulgent. These are all great stocking stuffers. You'll want to buy extra of the Melondrama for yourself 🙂
1. Fresh Creamy Milk Body Butter–complete with Shae Butter, Milk Thistle and Bambook $22
2. My Hands Are Thai'd Hand Cream–fragranced with Thai tea and coconut cream $9
3. Bring On The Bubbly Lip Scrub–sparkling champagne and ginger-flavored scrub $14
4. Melondrama–softening shea butter, beeswax, and a zip of caffeine $5
5. You Had Me At Aloha Body Scrub–Honey, sea salt and sugar with a sweet pineapple & hibiscus fragrance $24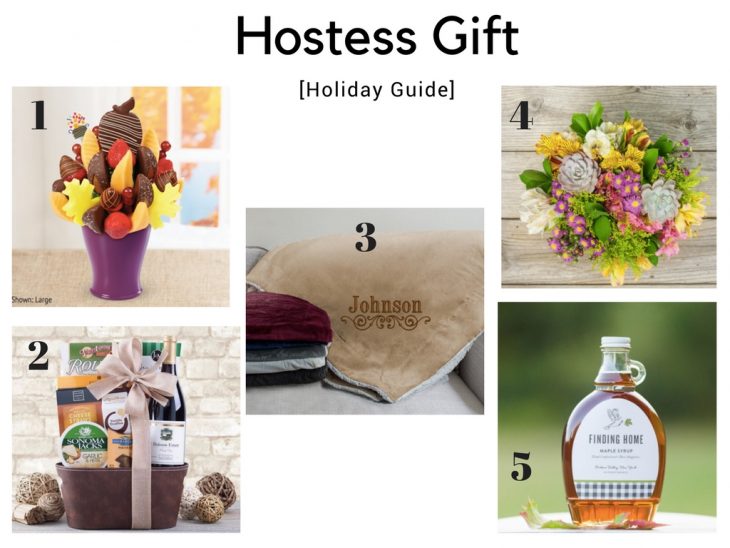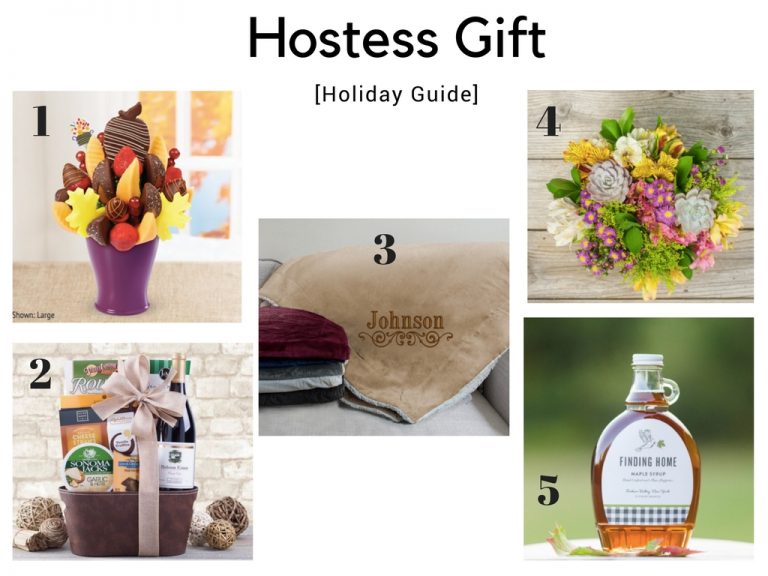 BEST HOLIDAY HOSTESS GIFTS
1. Edible Arrangement–A tasty treat any host/hostess would love to receive. Edible Arrangements can be picked up at a local store or delivered and come in a variety of sizes and designs. Be sure to check out the holiday offerings.  Price varies.
2. Wine Basket–A delicious basket filled with wine and snacks. I mean, hello….wine! Whats not to love? $55.21
3. Embroidered Sherpa Throw is a gift that keeps giving year round but especially during the cold winter months. $49.95
4. Farm Fresh Bouquet–This takes the farm to table movement to an entirely different level. Starts at $50
5. Maple Syrup–Move over pumpkin there's a new kid in town and it's name is maple. Be ahead of the game with the upcoming maple trend by gifting the hostess with the mostess a bottle of fresh off the farm syrup. $16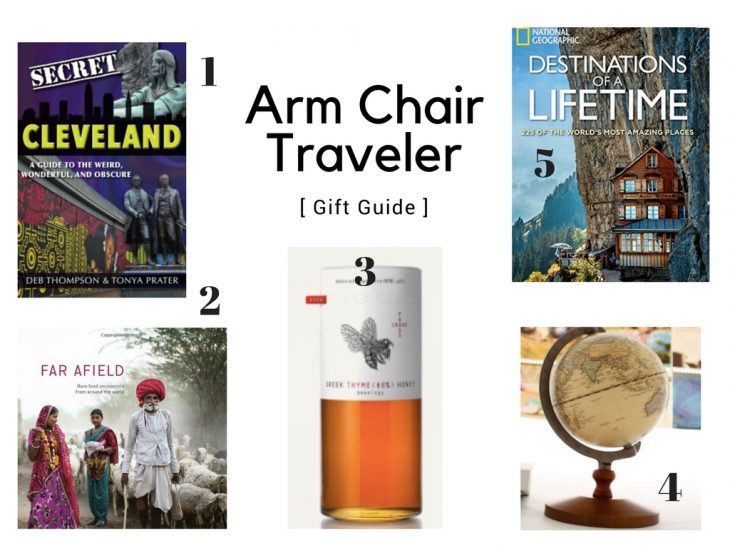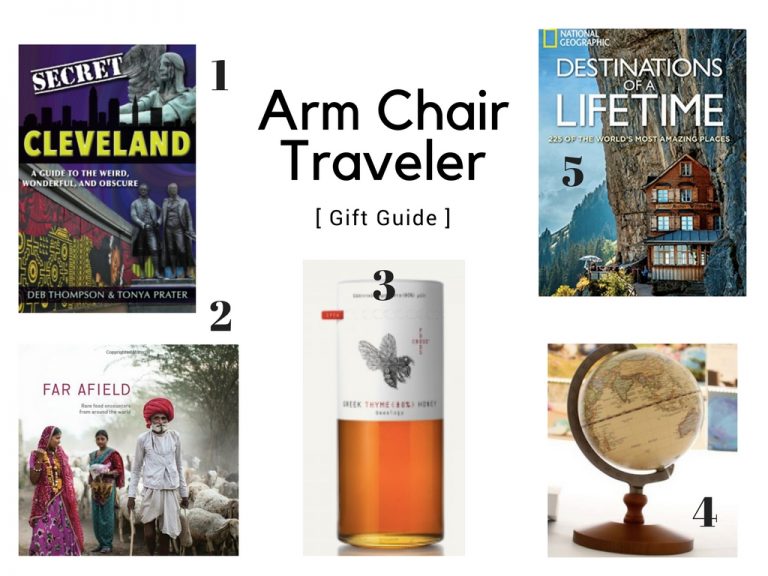 ARMCHAIR TRAVELER GIFTS
1. Secret Cleveland–Journey through the hidden nooks and crannies of Cleveland. You might just be surprised by what you discover in this Midwestern city. $14.85
2. Far Afield: Rare Food Encounters From Around The World–A visually appealing journey around the world exploring the world's oldest food traditions. $27.19
3. Greek Thyme Honey–Enjoy a taste of the Greek Isles. Euros 29.70
4. Vintage World Globe–What better way to see the world from home than with a globe. $25.89
5. Destinations of a Lifetime: 225 of the World's Most Amazing Places–What better way to explore the world than through the pages of a book. $27.19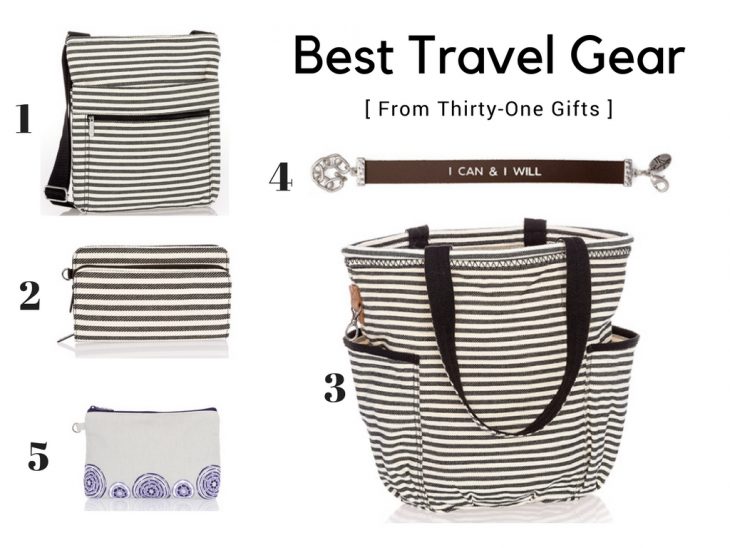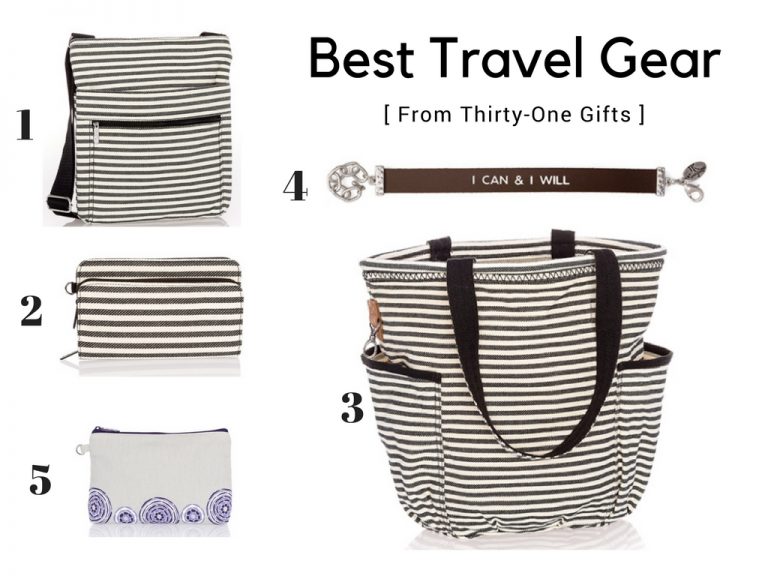 BEST TRAVEL GEAR FROM THIRTY-ONE GIFTS
1. Organizing Shoulder Bag, Herringbone–The cross-body strap on this bag keeps your hands free for photo taking or holding hands. A variety of pockets keeps you organized. It's my current everyday and travel shoulder bag. $48
2. Perfect Cents Wallet, Twill Stripe Plenty of room for cards and cash and easily fits inside the above Organizing Shoulder Bag. $28
3. Retro Metro Bag Twill Stripe Perfect for road trips and weekend getaways. Fits plenty of clothes for a two to three-night adventure. $58
4. Just Write Bracelet This bracelet can be customized however you like. Mine says "Weird & Wonderful" $35
5. Mini Zipper Pouch I own quite a few of these mini zipper pouches. They are great for storing small tech items, cords, makeup and more. $12
Note…Almost all Thirty-One gift items can be personalized!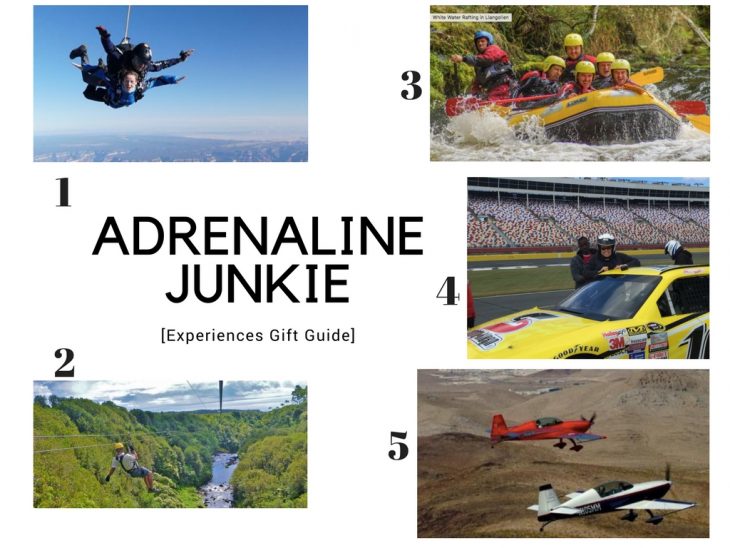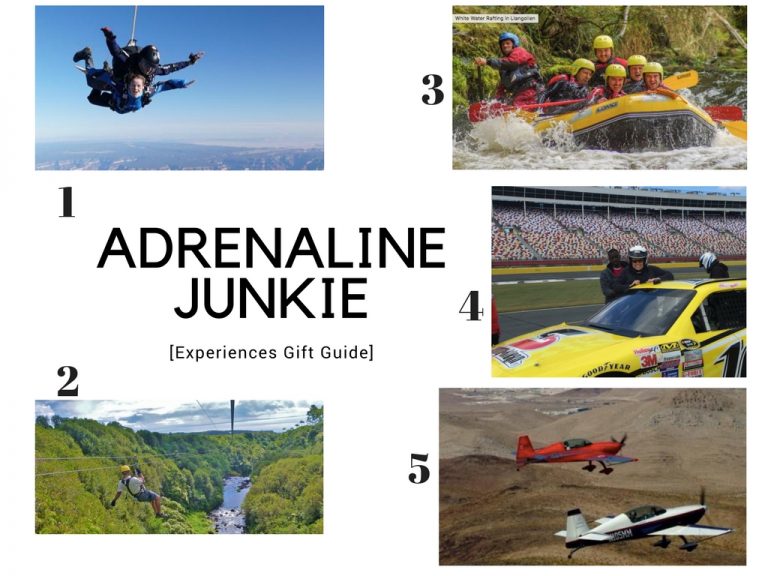 ADRENALINE JUNKIE EXPERIENCES GIFT IDEAS
1. Skydiving–Take a plunge that will be memorable for a lifetime! Prices vary
2. Ziplining–Any number of places around throughout the U.S. and beyond will let you fly through the skies. Prices vary
3. Whitewater Rafting–Personally, I prefer flat water but if you have a need for one heck of a ride head out on 4 and 5 rapids for a memorable experience. Prices vary
4. Race Car Experience–Slide into the drivers seat or into the passenger seat with a race car experience. So. Much. Fun! Prices vary
5. Top Gun and Air Combat–This is NOT for the faint of heart. For those that want a one of a kind, heart pounding experience, this is for you. Prices vary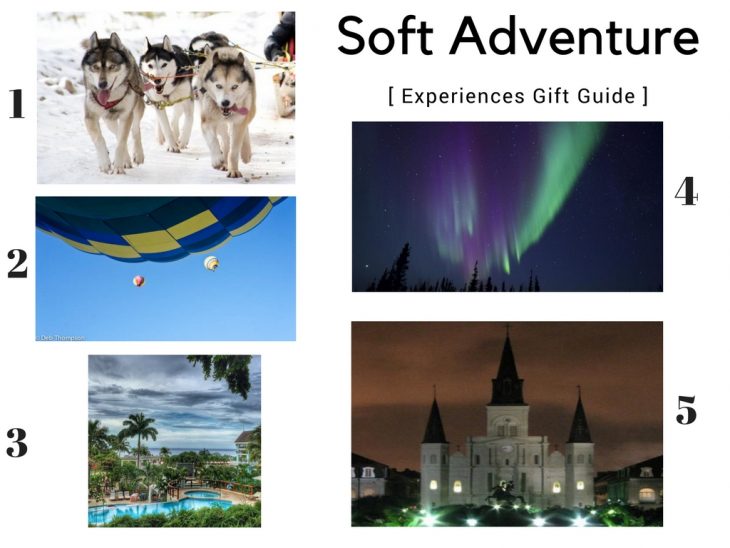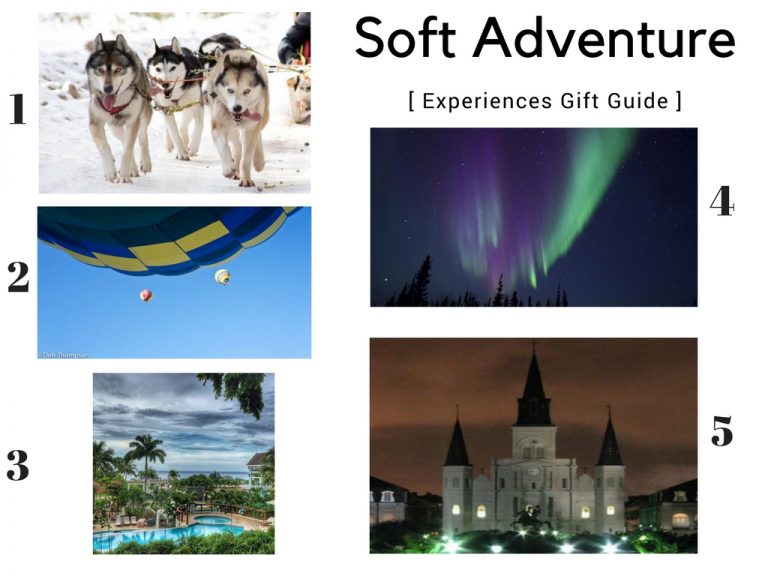 SOFT ADVENTURE EXPERIENCES GIFT IDEAS
1. Dog Sledding–Enjoy the brisk outdoors with some of the cutest new friends you'll meet on a dog sledding adventure. Prices vary
2. Hot Air Balloon Ride–Take to the skies in a hot air balloon. Not nearly as scary as it looks and the views are amazing! Prices vary
3. Beach Escape–Leave the chaos of daily life behind and escape to Sandals Resort. I can tell you from personal experience you won't regret it. Prices vary
4. View the Northern Lights–Bundle up and check this once in a lifetime adventure off your life list. Prices vary
5. Ghost Tour–You all know I had to tuck this one in here. Ghost tours aren't just for October. You can enjoy them year round! Prices vary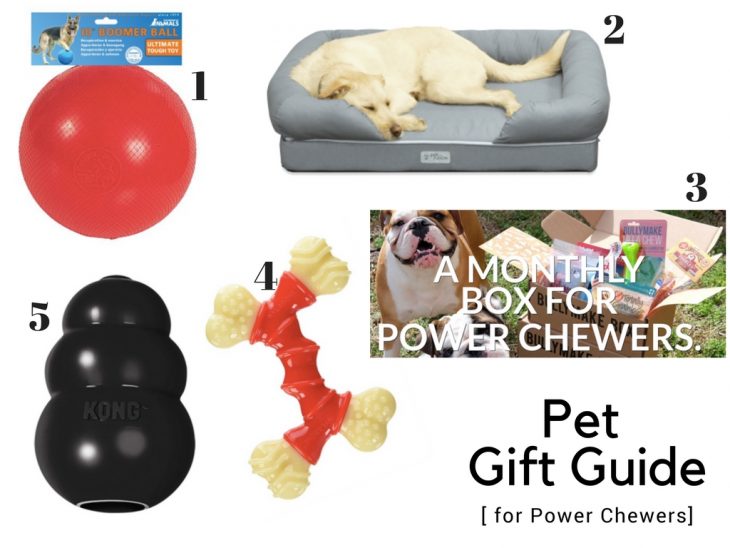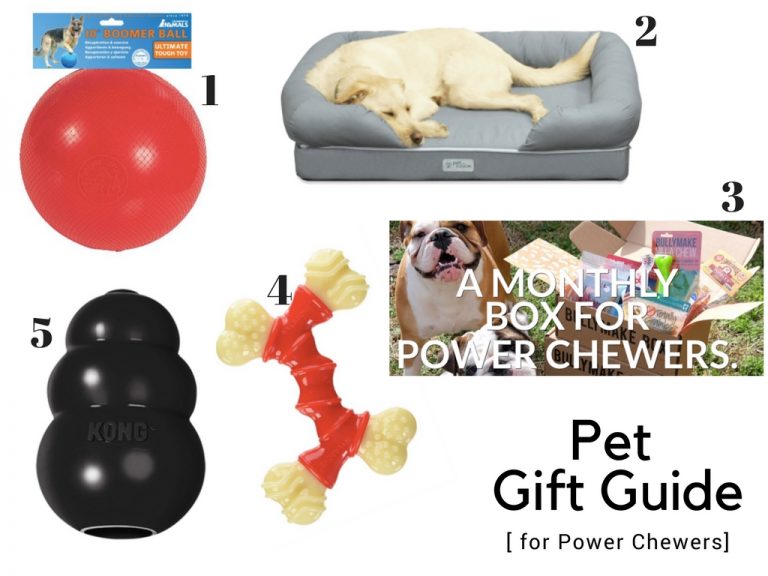 PET GIFT GUIDE FOR POWER CHEWERS
1. Boomer Ball–The ultimate tough toy and ideal for those ball-obsessed toy destroyers. Comes in 4 different sizes. $5.02 and up.
2. Bully Box–The perfect monthly subscription box for power chewers. New toys arrive each month, if your dog destroys it within 14 days they offer your money back! $39
3. Ultimate Pet Bed & Lounge–Give your dog the ultimate in comfort this holiday. The solid 4 inch memory foam base for superior overall comfort, reduced joint pain and improved health, mobility, & energy. $117.53
4. Nylabone Dura Chew Double Bone, Bacon Flavor–This and Kong are two of our go-to toys to buy for Pippie. Her extreme chewing usually destroys every toy in her path….not so with Nylabone. $6.92
5. KONG Extreme Dog Toy, Black–Another go-to toy for Pippie. She's had her KONG extreme dog toy for over six months. $9.06