Listening to great tunes while driving around town or road tripping is key to a fun car experience. At least in my opinion. For me, music is life. If you love music as much or more than I do keep reading because I found the best car audio system and I have to share. While I was at the New York International Auto Show I partnered with JBL Audio to learn more about their brand and to see if I could really hear a difference in the quality of music. What I learned is proof that premium audio systems is a must for any new vehicle purchase. I loved it so much that I'm giving away a pair of JBL headphones so keep reading.
IS JBL WORTH THE INVESTMENT
JBL Audio works with most major automotive brands to make sure you have high-quality sound system options when you purchase your next new car. Now, it might seem like the safe route to not take the upgrade and save yourself a few bucks. Trust me, I completely get that. You all know I'm frugal, BUT there are things in life that are worth the splurge and good car speakers are one of them.
JBL has created speakers that give the same sound experience as being at a concert. The result is crisp, music to your ears. When you are listening to sound so pure it amps the driving experience way up.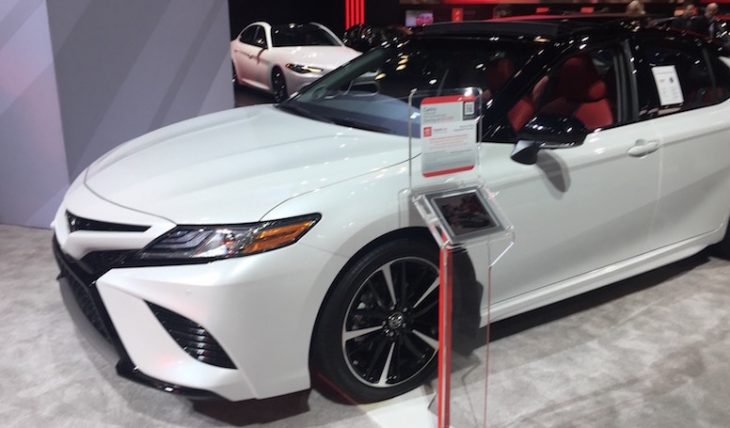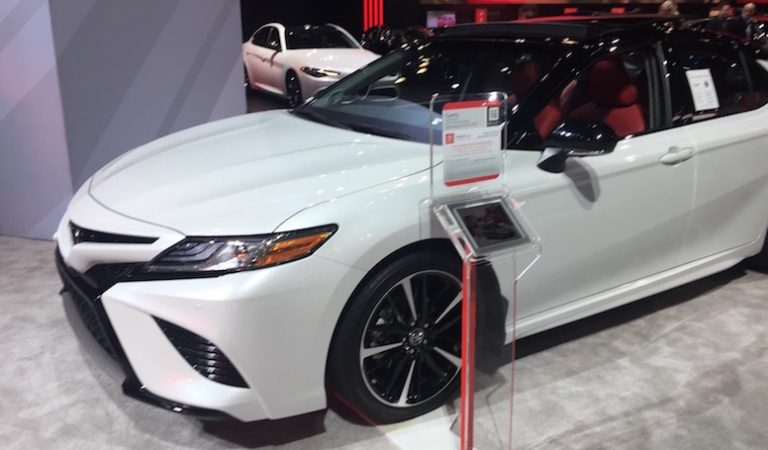 JBL & TOYOTA
Toyota has partnered with JBL for the past 20 years so they have perfected the are of creating good sound for their cars. For the all-new 2018 Toyota Camry, the sound system was completely redesigned. Horn tweeters have been included and those are what is responsible for that live music sound. Make sure your next car has JBL Audio Horn Tweeters. They are worth every dime.
ROAD TRIP PLAYLIST
I have created a Crank It Up & Drive playlist to showcase just how well the speakers work. If you watch my FB live video (yes, it's sideways….I was tech challenged that day and lacked my typical 5 cups of coffee) you'll be able to hear exactly what I'm talking about. Now, playlists on your phone are in a compressed file which can take away the nuances of the music. However, JBL has Clarity tech that recreates the music to restore it to the live or CD experience. Pretty awesome, right?
This list has it all, pop, showtunes, oldies, some of my favorites. Leave me a comment and tell me what you would add to the playlist. Share my playlist on your social media and be entered to win the JBL Headphones (See details below).
PLAYLIST CHALLENGE + GIVEAWAY
Love music? Love to share your tunes? Simply share this playlist [https://bit.ly/2H8AweQ] on social media with the hashtag #JBLPlaylist #sweepstakes, or add a song suggestion to our playlist on this Facebook post.
All social media posts set to 'public' and posted on social media platforms Facebook, Twitter and Instagram and containing the hashtag #JBLPlaylist #Sweepstakes are qualified entries; up to 5 comments on this post per IP address are qualified entries; all entries are entered to win a pair of JBL Headphones.
Winner will be chosen at random from all entries, so enter as often as you like!
RULES
Participants can enter to win a pair of JBL Headphones by publishing a public social media post on Facebook, Instagram or Twitter with the hashtag #JBLPlaylist #sweepstakes, or leaving a song suggestion comment on this post before midnight EST, April 15, 2018 to be entered to win. There is no limit to social post entries; post comment entries are limited to 5 per IP address.
No purchase necessary to enter. Only one (1) winner will be chosen at random from among valid entries. Challenge open only to US residents age 18 and over. Winners will be notified by email or direct message by April 16, 2018. Winners who fail to respond to notification within seven (7) days will be disqualified and a new winner will be chosen. Winners must provide a valid US shipping address for prize shipment. Winners may be asked to provide identification to receive their prize. Prize value up to $299 per prize, not exchangeable for cash or other items. Void where prohibited and subject to applicable law.
PIN TO PINTEREST