The thought never crossed my mind that I'd be trying tree climbing at this point in my life. I mean, tree climbing is reserved for kids, right? Wrong!
At Panola Mountain State Park in Stockbridge, GA you can try your hand at recreational tree climbing and bring back some of those childhood memories.
This form of tree climbing is a bit different from tree climbing as a kid. It requires a rope, harness, helmet and a special skill (one, I quickly learned, I hadn't really acquired-lol), but it's still outside playing in trees so that's still a win in my book.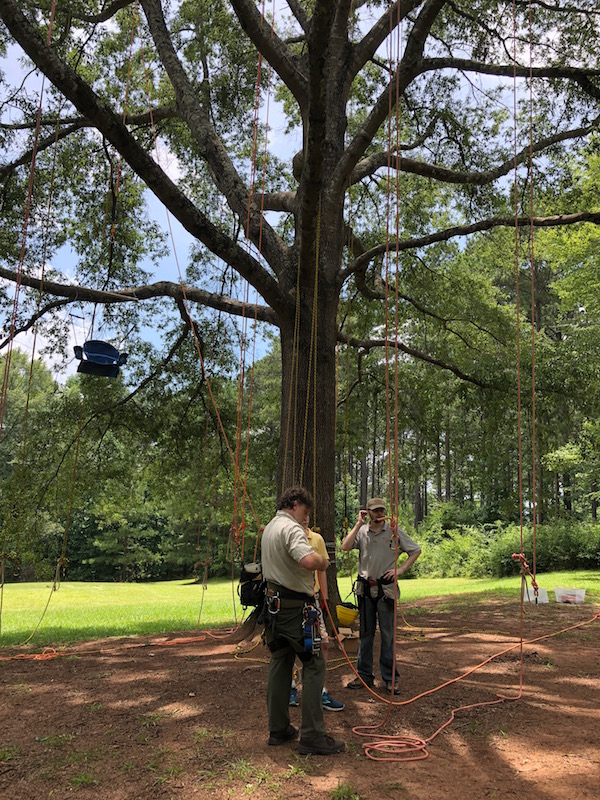 On a recent press trip, I had the opportunity to give this a try.
I was, um, let's say, a bit apprehensive, but, as you'll see below I'm working harder on saying yes to things that I think I might fail at or be embarrassed by (I'm not exactly a svelte looking model in the harness gear, however, nothing to do but grab a whole lot of attitude and try to rock the look).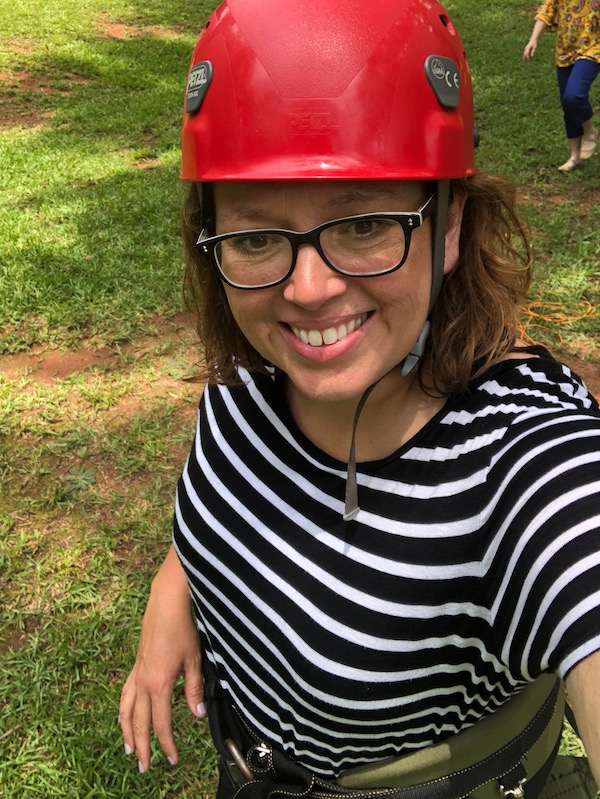 What Tree Climbing Reminded Me About Life
Try something new every day
It's easy to become complacent in our daily lives. Trying something new as often as we can keeps the mind alert and healthy (my opinion, not a medical one, but based on watching my parent's slow mental decline).
Recreational tree climbing definitely falls into the "something new" category.
Become friends with fear
When I received the itinerary for my Henry County visit I DREADED the tree climbing activity.
I had a million excuses of why I couldn't do it (not strong enough, I don't like heights, too fat, too old, not flexible, not sports inclined, etc, etc. It's amazing how many excuses our minds can create), but when I sat down and took a good hard look at why I was truly scared I found an interesting answer.
I was scared because I didn't want to fail. Oh, fear, you fickle, fickle beast. I will eventually make you my bestie.
Which brings me to this:
It's ok to fail as long as you try
Did I succeed at tree climbing? Not even close. Did I try to climb a tree? I absolutely did!! I arrived at Panola Mountain State Park, looked at that tree, and said: "I got this!!!"
I reminded myself that I didn't have to climb to the top, but I definitely needed to put on my big girl panties, set fear aside, and give it my best.
I'd love to say that I took to tree climbing like a monkey, but that is not how my tree climbing story ended. It ended with me just a bit off the ground enjoying a nice swing while I watched others climb.
I didn't quit, per se, I simply recognized my own limitation and decided to enjoy the moment instead of fighting it.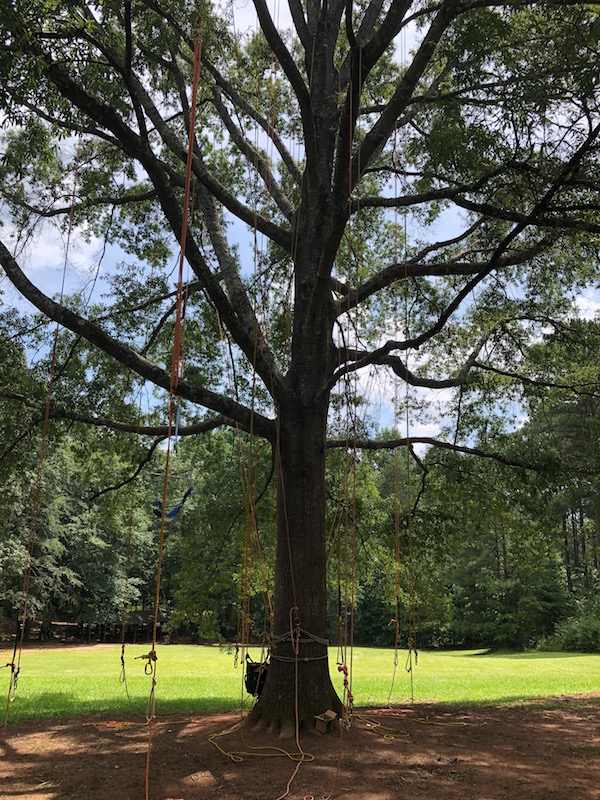 The answer should always be yes
I've tried to make this my year of saying yes to new experiences. If it's not illegal or life-threatening I need to at least give it a try.
Some new experience this year included riding in a Huey helicopter, UTV driving, performing a Native American dance in front of people, paddleboarding and, of course, tree climbing.
The thing is, I had a great time trying all of these. Did some make me uncomfortable or scared, yep, but at least I gave it a go.
Saying yes can give a whole new perspective on life.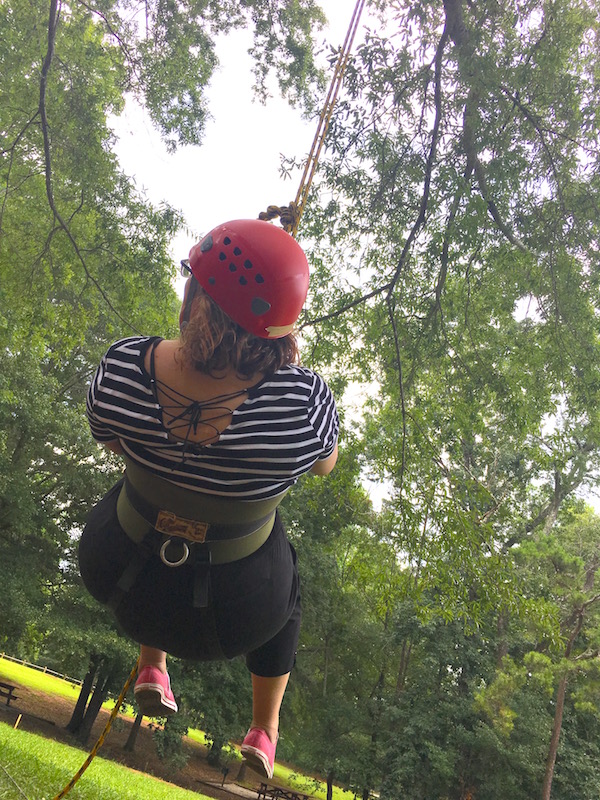 Someone will always be better than you
This is true in tree climbing as it is in just about every other part of life.
Someone is ALWAYS better.
It's true, you may not be as good as others, BUT if you tried you are already way ahead of so many people.
As I dangled a couple feet off the ground I watched as someone else scurried right to the top like she was born to climb trees.
I reminded myself that I tried to climb a tree and that is better than sitting on the couch any day of the week.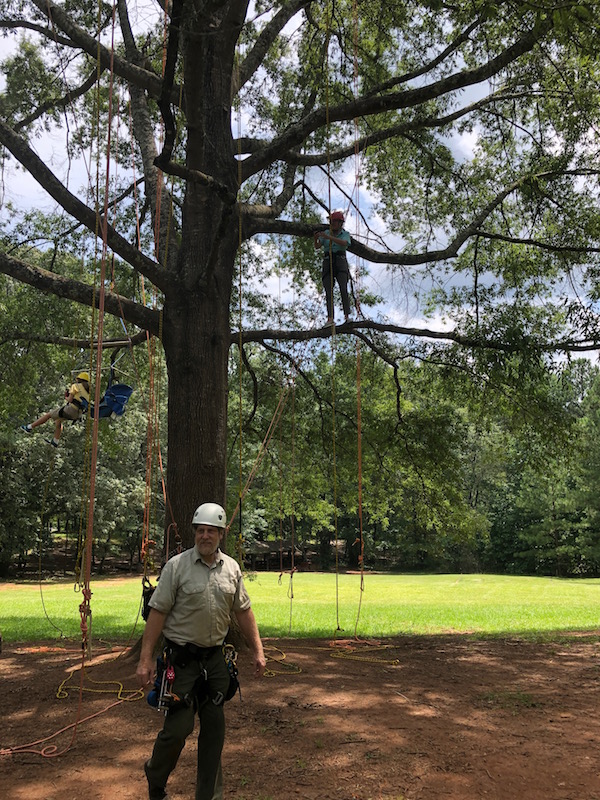 Sometimes, hanging out in a tree with no devices to distract you and time to just think can lead to some pretty profound thoughts.
Plus, anytime spent in the great outdoors is definitely not wasted. I want to go back to this Georgia State Park and hike some of their trails and participate in their other activities.
Check out this epic list of fun things to do!
More Fun At Panola Mountain State Park
Archery — Archery Range Information (fee – annual pass available)
Bouldering — permit required
Orienteering
Picnicking
Bike Rental ($10/hour)
Outdoor Fitness Equipment
Is tree climbing something I'll try again?
Yep, it sure is. I know what I need to do to try to make it easier on myself (building some strength and starting a solid yoga practice to start).
Plus, practice, practice, practice and next time maybe I'll be the one quickly making my way to the top of the tree.
Want to have your own tree climbing adventure (See the 4th point above before answering)? Head over to the Panola Mountain State Park page to learn more!
Thanks to Henry County, Georgia, comfortably South of Atlanta, for inviting me on an epic adventure through their county.
Pin Tree Climbing To Pinterest!