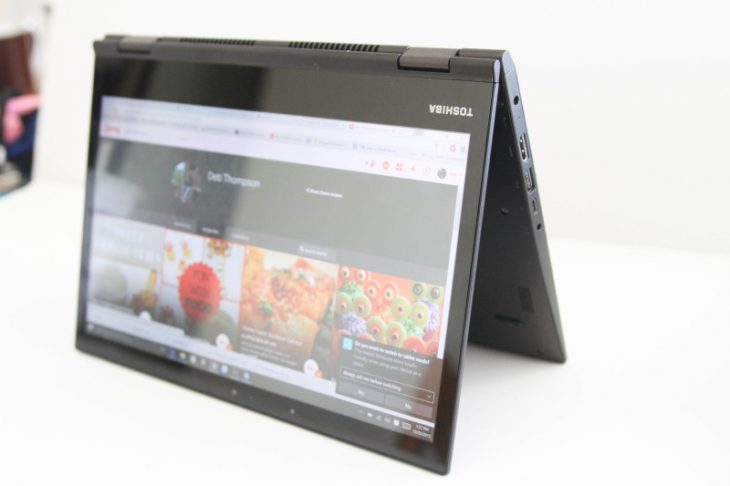 Good News, the new Toshiba Satellite Radius 12 is now available at Best Buy. You might want to add it to your holiday list or just spoil yourself right now.  I was able to get one of the first ones off the line to play with and I have been impressed. It is a slim, lightweight and small computer, but it is big in its capabilities. This is the world's first 12.5 inch convertible laptop with 4K Ultra HD display, powered by Intel(r) and an excellent battery life (Toshiba says 8 hours). Not going to lie, the battery life is one of the things that excites me the most about this computer. Lately, finding an outlet in an airport has been a challenge. Yes, there are charging stations all over, but I never seem to stumble across them when every plug isn't filled. Now I don't have to worry about it.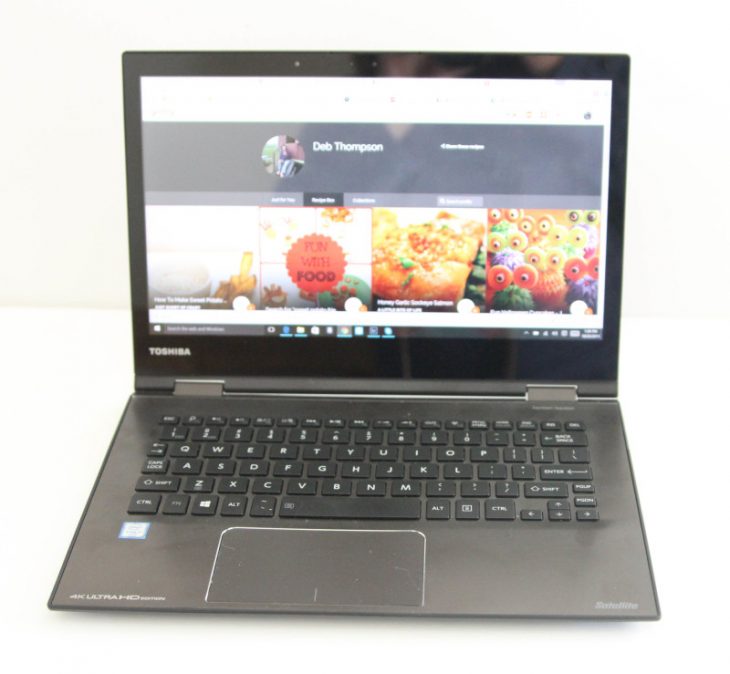 I've been using the computer for about a week now. Of course, it arrived when I was out of town so I had to wait a few days before I could play with it. I've enjoyed it so much that I'll be transitioning to the Toshiba computer full-time. I just need to finish moving files from one computer to another which is always a task I dread, thankfully, Windows One Drive makes it much easier.
I use my laptop for work (blog post, photo editing, social media) and for watching videos on Hulu, Netflix and Amazon. That is the extent of my computer use. However, I know that others use their laptop for gaming, coding and the like. As a disclaimer, I will only be talking about the Toshiba in regards to how I use it and my experience with it. I'll give you all the nitty gritty details on its capabilities though so you can decide for yourself if it is something that will work for you.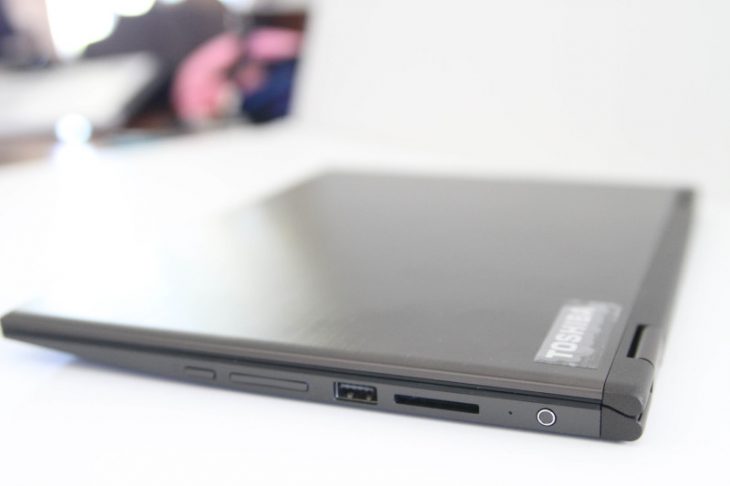 The first thing I notice about the Toshiba is how lightweight it is. I mean, seriously, compared to my other laptop this this is like a feather. I like that I just freed up about 2 pounds in my carry-on luggage. I know two pounds doesn't sound like much, but when you are running through an airport trying to catch your next flight you want your bag as light as possible, trust me. Been there way too many times.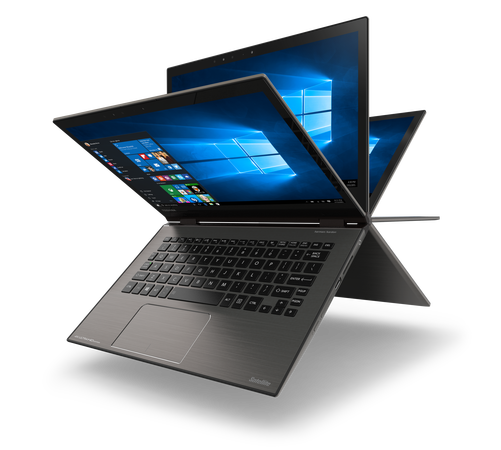 The Toshiba Satellite Radius 12  has 5 different ways you can display the screen depending on your needs. The screen has the ability to fold all the way back onto the keyboard creating a tablet or folded part way back to create an upside down V for presentation, and lays flat. Basically, however you need to use the screen you pretty much can, short of removing it from the keyboard. The touchscreen is very responsive and after having two laptops with touchscreens I know I'll never be able to have any other kind.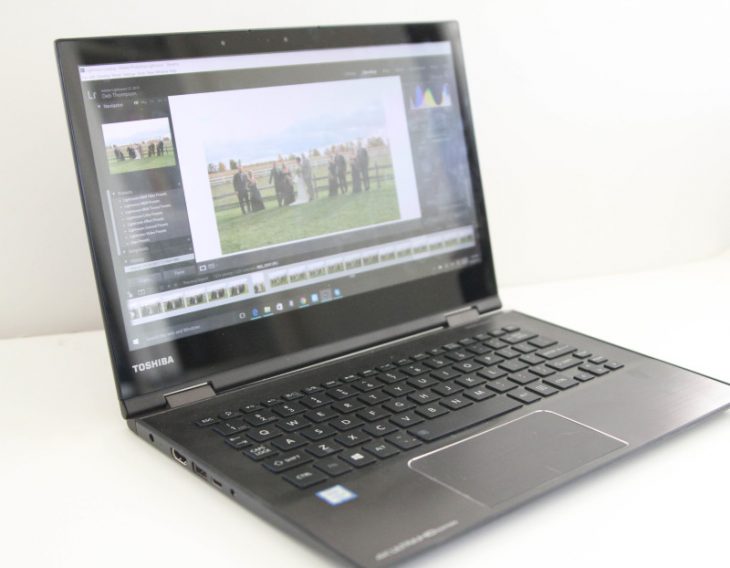 The display color is brilliant, which is important when watching all my favorite shows. I've been binging on old X-files episodes in preparation of the upcoming new season (yes, they are bringing X-files back…finally!) and the display makes Scully and Mulder look great. This display is also great for photo editing. I've installed Photoshop and Lightroom (review coming soon) on the Toshiba and I'm happy with the color display. That is saying a lot seeing that I used to only edit photos on my Mac and was adamant that no other computer would do. Um, lesson learned.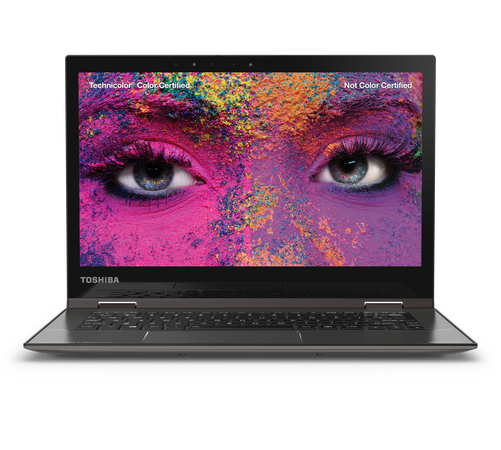 Needless to say I've been enjoying my Toshiba Satellite Radius 12. It is fast, has great display color, lightweight and does everything I need a laptop to do. The only con I can possibly think of is that the keyboard takes a bit of getting used to if you are going from a larger laptop to this one. The keyboard is a little more compact which isn't surprising since it's a small computer. It's just something to note. It took me a good day of use to adapt to it.
As promised, here are some of the nitty gritty details:
Windows 10 operating system
12.5″ 4K Ultra HD touch screen for hands-on control
6th Gen Intel® Core™ i7-6500U mobile processor
8GB system memory for advanced multitasking
256GB solid state drive (SSD)
360° design offers 5 viewing modes
Enjoy secure login with Windows Hello
Intel® HD Graphics 520
Built-in harman kardon speakers
Weighs 2.9 lbs. and measures 0.61″ thin
USB 3.1 Type C connector enables fast transfer rates and flexible connectivity
Of course, all this information and so much more can be found on BestBuy.com