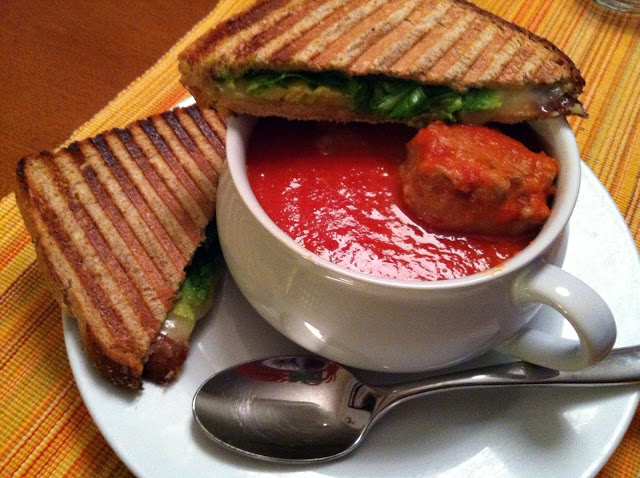 It's National Meatball Day and to celebrate I'm sharing a delicious recipe of tomato meatball soup with a grilled cheese sandwich! YUM!!!
Learn to grow tomatoes to make fresh soup at ILoveTomatoes.com
The great thing about this recipe is that the soup is so easy to make from scratch. Some tomatoes, broth, and herbs and you are good to go. If you've never made meatballs no worries. It's pretty much like making a burger except you make it in a ball shape and add some herbs and spices. Don't worry, you've got this!
Tomato-Meatball Soup with Grilled Cheese
INGREDIENTS
For Soup:
1 (28oz) can Dei Fratelli Crushed Tomatoes
28oz Chicken broth
1 Lemon
1 Onion, chopped
1 clove Garlic, minced
1 tsp Salt
1 tsp Pepper
For Meatballs:
1.5 lb Ground Turkey
1 tsp Red pepper flakes
1 tsp Salt, grated
1 tsp Garlic powder
1 tsp Oregano
2 tsp Dijon mustard
1 Egg
1/4 Cup Panko breadcrumbs
For Grilled Cheese:
Bread
Butter
Cheese of choice
DIRECTIONS
1. For the soup: Saute the onion and garlic in some olive oil. Add the tomatoes, broth, lemon, and bay leaf. Season with salt and pepper. Let this simmer for 20 minutes.
2. Working in batches, pour the soup into a blender and mix until smooth.
3. For the meatballs: Preheat the oven to 400 degrees. Mix all the ingredients into a bowl and stir until just combined. Line a baking sheet with foil and spray generously with non-stick spray. These meatballs are pretty sticky, but that's OK because they're turkey and you need the extra moisture to ensure they don't dry out. Bake for 20 minutes
4. For the grilled cheese: The more cheese, the better. White cheddar, fontina, or mozzarella work well here.
Pan: Frying pan and 14×14 baking sheet
Servings: 6
I'd like to thank Katie from As Good As Bread for providing this recipe.