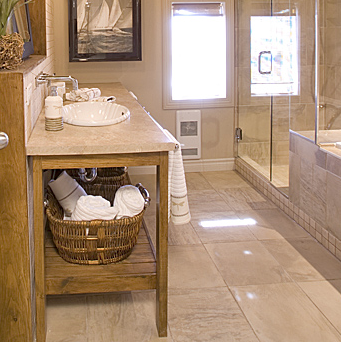 Bathroom tile flooring now come in a wide variety of colors and textures, both natural and manmade. No longer is the homeowner limited to white or beige tile. Tiling a bathroom floor is one of those DIY projects that can be performed with a little work, self-education and moderate investment in tools. The homeowner can save up to 50% from having the job performed by a professional. Here are a few ideas to keep in mind prior to beginning the project.

Measure and Measure Again
As in carpentry, the rule is "measure twice, cut once". This applies to measuring tile as you are cutting and also to initially measuring the dimensions of the room. It may help to place your dimensions on graph paper and draw out a design for your tile pattern. Be sure to account for grout lines between the tiles. These lines can be from ¼" to up to ½" wide. Over the length of the floor, these small gaps will add up.
Take your dimensions with you to the tile store or home center along with your tape measure. Measure the actual tile you plan to purchase. Some tiles may look to be 12" x 12" but are in fact 13" x 13". If the tile you purchase doesn't quite fit the dimensions of your floor, trim pieces are available, or the tile can be cut.
A Good Foundation
A rigid and solid sub floor is critical for proper installation of bathroom tile. Tile is a hard substance and has no give to it. If placed on a spongy sub floor or underlayment, it will crack with the weight of people walking on it. The underlayment of the previous floor should be removed and the sub floor inspected. Any soft spots should be replaced or repaired. This is not a step to ignore.
A Small Collection of Tools
Unlike something like carpentry or auto repair, tiling floor does not require a great deal of expensive tools. Most can be purchased for $10.00 or less. To do an adequate job, the installer will need:
-Notched trowel;
-Grout float;
-Styrofoam spacers or chalk line;
-Utility knife;
-drill with masonry bits;
-mixing bucket;
-drill attachment for mixing mortar (paddle);
-large sponge for grouting;
.tile saw.
Unlike the others, a tile saw is an expensive tool. Fortunately, it can be rented at a home center or tool rental store. It should only be needed for one day if the work is planned well.
Materials and Installation
Besides the tiles chosen, the following will be needed:
-Cement backer board for underlayment;
-Thinset mortar;
-Grout;
-Grout sealer
-Drywall screws for securing cement board.
Cement backer board comes in 3' x 5' sheets and will be secured to the sub floor by drywall screws. Placing a very thin amount of thinset mortar between the sub floor and backer will help keep the cement board in place.
Thinset should be mixed according to the directions on the package, adding a little water at a time while mixing. Be sure to let the mixture set for a few minutes, then mix for about a minute right before use. It should have roughly the consistency of peanut butter. Spread with the notched trowel, and press the tile into the mortar flatly with both hands.
Use spacers between the tiles and check your work periodically to ensure tiles are properly aligned. The thinset will give you a few minutes before fully hardening to allow you to make slight adjustments.
Allow the mortar to dry for a day before applying grout. Grout can be purchased premixed or dry and dyes can be added for different colors. Grout is applied with a float, spreading it all along the tile and pressed into the grout seams. Have a bucket of clean water ready with a large sponge to wash off the excess. After allowing it to cure for a day or two, apply sealer to the grout lines.
The floor you design is limited only by your imagination. With a little work, you can give yourself a beautiful floor that will last for years.