Sometimes we get so wrapped up in taking care of others that we forget to take a minute and do something good for ourselves. I know that I have been really guilty of this lately and I've started feeling completely overwhelmed and exhausted. I've been in some serious need of "me" time so I finally took a time out and spent some time on Gaiam TV.
Have you heard of Gaiam TV? It's an online streaming video subscription service that has been created for people interested in learning more about health and happiness and with over 2,000 titles, including top documentary movies and thought provoking films, Â there is something for anyone that is interested in mind, body, and spirit.
Here are a few that I came across when I was browsing through the available videos.

Gaiam TV's video options include movies, documentaries, and fitness videos. I love that they have meditation videos available. I have been wanting to start a good meditation practice, it's been a little crazy around here and I think meditation will really help. One thing that is great is that the videos can be streamed to computers, iPads, and smartphones so I can enjoy them anytime, anywhere.
During my time-out I watched a happiness film called, ironically enough, Happy and it was fantastic. Happy is a documentary that takes us around the globe exploring why certain cultures are happy while others are not while interviewing scientists in the happiness research community. By the way, its nice being able to watch documentaries online since the family isn't a fan of them.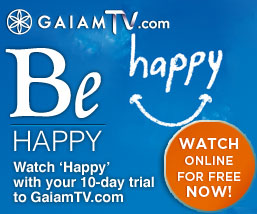 The Happy film made me realize that happiness really is a state of mind and it is a skill that can be learned. We can CHOOSE Â to be happy. Â One of the scientists talked about how individuals that focus on meeting their intrinsic needs are some of the happiest on the planet.
Happiness, for me, means accepting what I have as 'enough' and to learn to embrace things that I can't change. I want to focus on being happier in 2013 and have a few ideas in mind to make that happen starting now.
1. Keep a grateful jar. Take a moment each week to write down what I'm grateful for and add it to the jar.
2. Spread happiness by performing small random acts of kindness. Pay for someone's coffee, send a friend a card, etc.
3. Exercise more. According to the Happy video exercise releases chemicals that help make you feel happier.
4. Meditate. Spend time unplug from the world and clear my mind. Nothing makes me more miserable than thinking about the endless list of things that need to be completed right now. I know moms around the world know exactly what I'm talking about.
5. Buy local. I like buying local because it helps keep businesses going in my local community. I have become very reliant on internet shopping. I want to change the to shopping more within my town and neighboring areas.
Right now Gaiam TV is offering Just Short of Crazy readers a FREE 10-day trial. When you sign up using this link you'll be entered to win a 3-month subscription and cozy blanket. I really encourage you to at least try Gaiam TV for the 10 day free trial. At least use it to take the opportunity to watch Happy. I know you'll find it fascinating and, maybe, a bit enlightening. If you decide to sign up for the subscription service it's only $9.95 per month and allows unlimited streaming of videos. You can cancel anytime so no worries about being locked into a long-term contract.
You can learn more here about the free Gaiam TV offer.
What makes you happy? What makes you happy that you want to do more of in 2013?
disclaimer: This is a sponsored post by GaiamTV.
Cheers,