Last year I found myself in Biloxi, Mississippi attending the Travel South event. I'd spent the previous few days exploring Mississippi and falling a little bit in love with the southern charm of the small towns. One of the keynote speakers at the event just happened to be Elizabeth Heiskell author of the brand new The Southern Living Party Cookbook.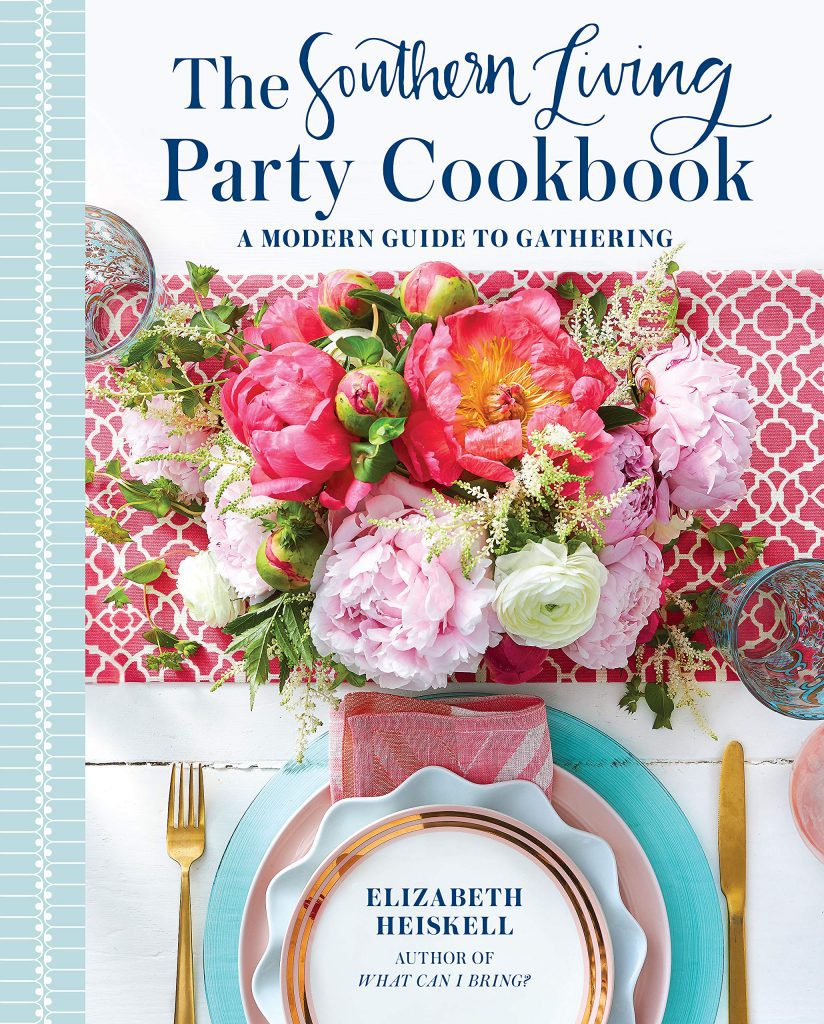 As a keynote, Ms. Heiskell was charming, funny and a great storyteller. She told of her move from the Mississippi Delta to Oxford and all the challenges it brought. Of course, she shared cooking and gardening stories as well.
I made a mental note to follow up and follow her online, but, life intervened and caretaking requirements took priority. However, her book arrived in my mailbox with perfect time and flipping through the pages I started daydreaming of all the parties I could host over the coming year.
The great thing about The Southern Living Party Cookbook is that Ms. Heiskell has removed all the challenges of hosting a party. She lays out the complete menu with recipes. She shares how many the menu will sere, includes table setting ideas, hosting tips, and has incredibly lovely photographs throughout.
Alan knows when I have a new cookbook in my hands I can be lost in the pages for a while and I didn't come up for air for quite some time reading The Southern Living Party Cookbook. So many great ideas, so many delicious recipes, and an entire section dedicated to COCKTAILS!!!
Many of the recipes are easy enough to complete while others are a bit more time consuming and take a bit of work, but nothing is beyond the skill set of the everyday home cook. She breaks the cookbook into types of parties.
Teas, Coffees & Receptions

Sip and See
Graduation Coffee
Welcome Tea
Farewell Coffee
Bridal Tea

Come By For A Drink, Y'all (This might be my favorite section of the entire book–lol)

Bubbles and Birds
Sundown on the Grounds
Summer Nights
Joy to the Girls
Nibbles & Nosh
Cocktails and Canapes
After Theater Nightcap
Cheers My Dears
Brunchs and Luncheons

Gospel Brunch
Christening Brunch
Easter
Garden Club Luncheon
Salad, Salad, Salad

Cookouts

Backyard BBQ
Tailgate
Chuck Wagon Dinner
Lowcountry Boil
Oyster Roast
Picnic on the Lawn
Fish Fry

Celebrations and Dinner

Impress the Boss Dinner
Fall Dinner
Thanksgiving Dinner
"Twas The Night Before….Fondue Party
Christmas Night Feast
New Year's Eve
I swear this cookbook screams for someone to pull a Julie & Julia. One thing it has definitely done is inspire me to have monthly get-togethers with friends. I'm pretty sure I can start with the Come By For A Drink, Y'all and I wouldn't have any shortage of guests.
I highly recommend adding The Southern Living Party Cookbook to your bookshelf. However, don't just buy it and leave it on the shelf.
Start making and sharing the wonderful recipes. This definitely a book that I hope encourages you to jump off-line, call up some friends and invite them over for a cocktail.
You can find the book on Amazon or any bookstores near you.
ABOUT THE SOUTHERN LIVING PARTY COOKBOOK
This new essential guide to entertaining is divided by occasion, offering a fresh lineup of menus and ideas from Oxford, Mississippi's go-to caterer for every celebratory scenario life serves up.
In this update to the best-selling book of our mothers' and grandmothers' era, Elizabeth's tell-it-like-it-is voice provides a twist to the classic Southern advice that is a refresher for entertainers of any age or experience.
Packed with delicious recipes from the original book like Smoked Salmon Canapes, Hot Cheese Squares, and Brandy Alexanders, the book also includes popular picks from the current pages of Southern Living as well as Elizabeth's treasured recipe box.
The Southern Living Party Cookbook is an entertaining handbook loaded with lifestyle tips and hilarious Heiskell stories, along with lush photography to help you get the look from table setting to plated dish.
ABOUT THE AUTHOR
Elizabeth Heiskell was born and raised in the Mississippi Delta, where she grew a passion for combining her love of food and the history of the rich agricultural area she was raised in. Under the brand name the Debutante Farmer, she sells homegrown gourmet pickles, jellies, jams, salsas, and her popular Bloody Mary mix.
She started her food journey with courses at the Culinary Institute of America in Hyde Park, New York. As Lead Culinary Instructor at the Viking Cooking School in Greenwood, world headquarters of the Viking Range Corporation, she has represented Viking on exclusive SilverSea cruises in Europe and the Pacific.
In 2011, Elizabeth moved from the flatland to the hills of Oxford, Mississippi. There, she and her husband, Luke, run Woodson Ridge Farm with a little help from their three girls.
Elizabeth is a TODAY show food contributor and the best-selling author of What Can I Bring? (2017, Oxmoor House). She's also appeared on Food Network's The Kitchen, Hallmark Channel's Home & Family, Pickler & Ben, FOX & Friends, and Chopped. Find her on Instagram (@elizabethheiskellofficial).