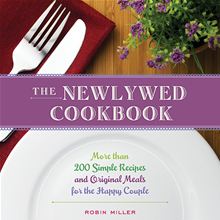 The Newlywed Cookbook by Robin Miller is geared towards newlyweds, but really, it is beneficial to anyone that has limited cooking experience and wants to improve their skills.
The recipes in the book are suited for two. They are simple, heathy meal choices that include everything from quick weeknight dinners to hosting a dinner party. There are ideas for breakfast in bed, picnic lunches, and candlelit meals. As a bonus, there is also a simple guide to cookware and a spice dictionary.
Chapters have titles such as pizza and bread, pasta and risotto, beef, pork and veal, side dishes, desserts, and so much more. I especially like the chapter on special occasion menus.
The recipes are easy to follow and will have you cooking up chicken marsala, seared tuna, sweet potato bay fries, and chocolate ganache in no time at all. Some recipes include tips and/or suggestions on the best cooking techniques, food selection, and how to serve.
The only thing I was disappointed about is that there is no food photography included in the book. I'm a visual cook so I love cookbooks with lots of great color photos, but this is still a useful book without the photos.
Here's a look at some of the pages in the book.

APPLE SPICE BREAD RECIPE
Needed Items
Large and medium mixing bowls

8″ loaf pan
wire rack
2 cups all-purpose flour
2 teaspoons baking powder
1 1/2 teaspoons ground cinnamon
1/2 teaspoon baking soda
1/4 teaspoon allspice
1/4 teaspoon ground cloves
4 Granny Smith apples (about 2 pounds), peeled & grated
1/4 cup packed light brown sugar
2 tablespoons fresh lemon juice
2 tablespoons butter, melted
1 egg, lightly beaten
1 teaspoon vanilla extract
Non-stick cooking spray
Directions
Preheat over to 350 degrees

In a large bowl, combine flour, baking powder, cinnamon, baking soda, allspice, cloves, and salt. Mix together with a fork, make a well in the center and set aside.
In a medium bowl, combine apples, brown sugar, lemon juice, butter, egg, and vanilla. Mix well and fold mixture into dry ingredients until just blended. Transfer batter to an 8-inch loaf pan that has been coated with non-stick spray.
Bake 1 hour, or until a knife or wooden pick inserted near the center comes out almost clean (little bits clinging to the knife means the bread's still moist). Cool in pan, on wire rack, 10 minutes. Remove bread from pan and cool completely.
Note: The apples will brown quickly after they're grated. To prevent discoloration, add the lemon juice and toss to coat. For bread with a crunch, fold in 1 cup chopped walnuts or pecans before baking.
Prep time: 15 minutes
Cooking time: 1 hour
Servings: 1 loaf=8 servings
If you're looking for a recipe book to improve your cooking skills then you'll want to consider The Newlywed Cookbook.