I've really been wanting to review some games I picked up at Gen Con for you guys but due to some moving complications that resulted in all of my stuff being tucked away in storage, those will have to wait. Instead I will tell you about some games that I enjoyed demoing at Gen Con and games that received high marks, but I didn't personally have time to demo. These are, in my opinion, the best games for kids this holiday season.
THE BEST GAMES FOR KIDS THIS HOLIDAY SEASON KIDS GAMES
Surprisingly, I played quite a few family friendly games that would be great for younger kids. The lines for most everything at the Con are horrendous but family friendly games tend to have a quicker turn around which in turn means the wait time is a heck of a lot shorter. These games are great for kids because they are simple to learn and quick to play. Here are my thoughts on the best ones.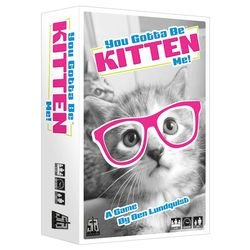 You Gotta Be Kitten Me – This is a card based bluffing game, similar to Liar's Dice or B.S, with a kitten theme. Who doesn't love kittens? I know kids do. The cards in this deck all have kittens wearing vibrantly colored accessories, such as glasses, hats, and bow ties. The object of the game is to guess or bluff about how many colors and/or accessories are in play. Each following player may either raise the bid or call the bluff by saying You Gotta Be Kitten Me, whoever is wrong has to discard one of their cards. This goes on until only one player remains. You Gotta Be Kitten Me will be released 9/15 and can be pre-ordered here.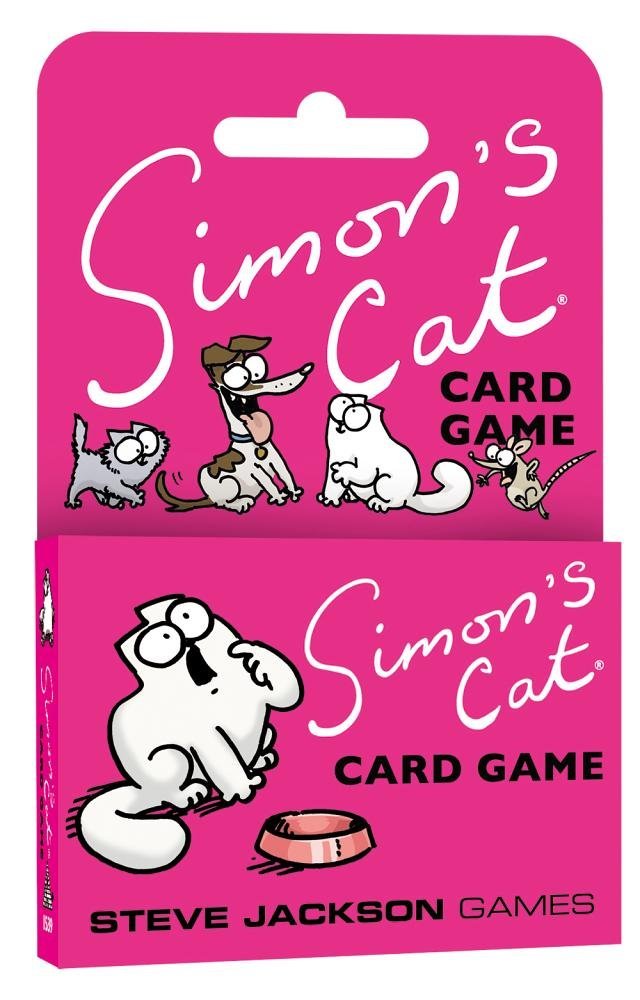 Simon's Cat – This is another cat themed card game based off the hit youtube series of the same name, don't worry I had never heard of it either. It even features artwork taken directly from the series. This game reminded me a lot of Uno. The deck is made up of color coded numbered cards with certain colors having higher numbered cards. Each player is dealt an equal number of cards and from there take turns playing a card. Each card you play must either match the color or the number of the last played card. If you cannot play a card you must take the stack of cards from the middle and place them in front of you. Once all the cards have been played the player with the most stacks loses. Order at Amazon.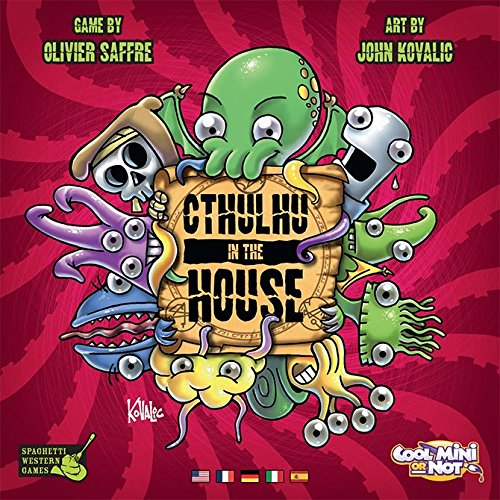 Cthulhu In The House – This one is actually a board game, though slightly harder to explain. Each player takes on the role of two Ancient Ones, but no other player is to know which ones, from the Cthulhu mythos, if you've never heard of this shame on you. Stop right now and go read "The Call of Cthulhu" by H.P Lovecraft, I'll wait…Ok now that you're back we can continue. The game comes with tiles representing rooms of a house that you lay out to form the board, meaning the game board can change every time you play the game. Once the board is set up you place an Ancient One in each room. Each player takes turns moving one game piece to an adjoining room. The catch, however is that there can only be one. If there are two Ancient Ones in a room the active player must remove one of their choice. Once there is only a single Ancient One on the board the game is over and each player is awarded points based on who lasted the longest. This is a fun situational game that doesn't require much skill and gives everyone an equal chance at winning due to the randomness of the game. This game is not yet out but is predicted to be out soon. You can find more info here.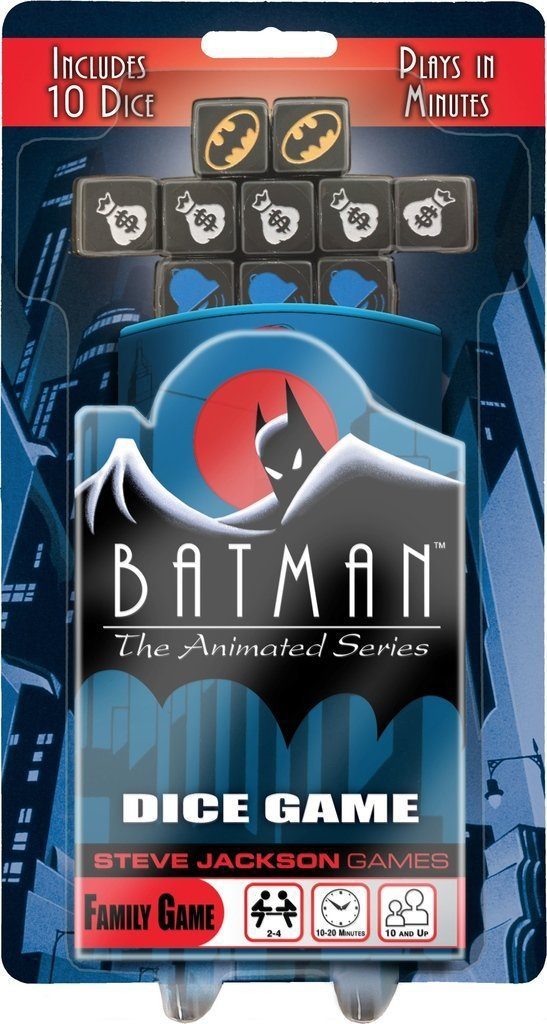 Batman: The Animated Series Dice Game – This game is very simple to teach and even easier to play. Each player takes on the role of 1 of 4 Batman villains: The Joker, The Riddler, Catwoman, and Poison Ivy. The object of the game is to roll as many money bag symbols on the dice as you can without rolling 3 Batman symbols, this is to represent you robbing businesses in Gotham before the Bat catches you. In addition each character has a special power that affects the dice rolls in different ways, such as ignoring the first bat symbol you roll. This game is not yet out but is scheduled to be released before the end of the year.
Sushi Dice – This is another dice rolling game (bet you couldn't have guessed that. I actually had quite a bit of fun with this game, though a friend that was with me at Gen Con did not. There was a little too much going all at once for his taste, but I felt it added to the fun and craziness. For this game each player is dealt a card from the included deck. On each card is a picture of a sushi platter, your mission should you choose to accept it, is to roll the dice until you have a die matching each type of sushi on the platter. But watch out, if you roll the spoiled sushi the other players can call you out and force you to start rerolling all of your dice regardless of how many matches you already have. One aspect of this game I found interesting was that only 2 people roll at a time while everyone else watches calling out spoiled sushi until a player completes their card at which time play shifts to the next 2 players. Over all I thought this was a very hectic game, but in a fun way, that would also make a great drinking game for adults (maybe with sake for authenticity sake). For some reason this game is ridiculously expensive on amazon right now, like $70, but was somewhere around $20 at Gen Con. My best guess for this is that its produced by a foreign company and is behind on shipments for amazon resulting in secondary sellers jacking the price up, but if you'd like to keep an eye on it you can find it here.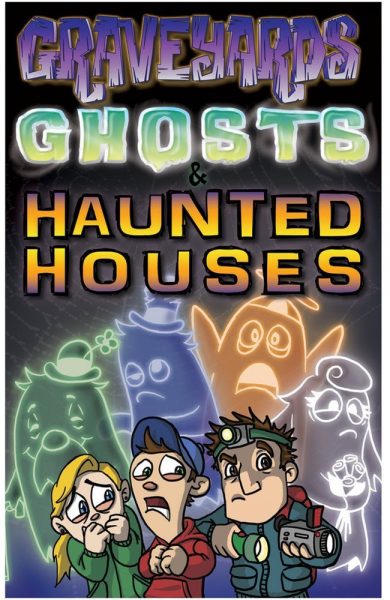 Graveyards, Ghosts & Haunted Houses – We didn't actually see this game at Gen Con we found out about it after the fact and at the same time found out that the company was in fact there but we somehow missed them for 4 days straight. My mom found out about the company, Rather Dashing Games, while she was at a paranormal conference in the U.P. While there she ran into Grant Wilson, co founder of TAPS, co producer of Ghost Hunters, and apparent art director/developer for Rather Dashing Games, oh, and he's a musician. Color me impressed. After checking out their website I found they have a line of games designed with the intention of being easy to learn but tricky to master. Sounds perfect for this list right? I thought so. After looking over their games I decided to add Graveyards, Ghosts & Haunted Houses. It just seemed like the most appropriate choice all things considered, you know, ghost game, ghost guy. Get it? Good. Anywho, this is a tile placing game where the goal is to haunt the largest section of graveyard. Whoever has the most consecutive ghosts touching controls the largest part of the graveyard. Of course this can all change by playing action cards that allow you to shift, rotate, and add other tiles messing with the configuration of the board. However, there are ways to lock down your tiles so they can't be moved (i.e. placing a haunted house on them), as well as ways to mess with your opponent (i.e the paranormal investigator, maybe Grant himself). If this sounds interesting to you or your family you can pick it up here.
Well those are my recommendations for children/family games. Sure there are many, many, many more options out there, however, these are the ones I came across this year at Gen Con and enjoyed the most. Stay tuned for my next article, Holiday Games Guide Part 2, where I will share a list of game recommendations for a slightly older audience.