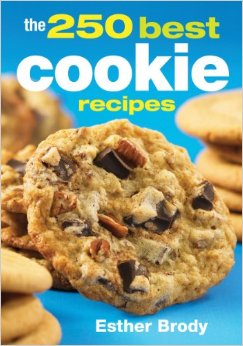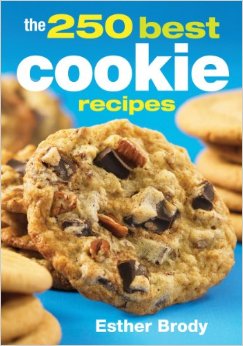 Christmas parties will be here soon and no Christmas party is complete without cookies. The 250 Best Cookie Recipes by Esther Brody provides you with a great selection of cookies recipes sure to wow and please your guests. In years past I have hosted Christmas cookie exchanges and I'm always looking for something a little different to share. Flipping through this book I have found quite a few that are not only easy to make, but also offer a nice variation from the standard Christmas cookie.
The book provides 11 different categories of cookies including everything from drop and hand shaped cookies to specialty, no-bake, and Esther's Favorites cookies. There is a chapter on Holiday cookies as well as one on Biscotti. There are also a few pages of full color photographs that showcase a handful of the recipes.
One thing that is really great about this recipe book is that it provides measurements in both American and European measures. Additionally, she has a troubleshooting section at the beginning. I can't tell you how many times I've made cookies and then wondered what the heck went wrong and how to fix it. The author tackles the most common with easy to follow fixes to result in delicious cookies.
The recipes are simple to follow and don't require any special culinary knowledge. Esther tells you straight up how to make the cookies with no fancy jargon thrown in. I, for one, appreciate that.
250 Best Cookie Recipes Amazon Description
With 250 recipes to choose from, you'll find an extraordinary range of cookies for every occasion and for everyone from young to old in this complete cookbook. Looking for the perfect accompaniment to your next cappuccino? Chocolate Walnut and Chocolate Nut Coffee Biscotti fit the bill perfectly! And with cookie swaps becoming so popular, choosing just one recipe will be really tough. Whether you choose The Ultimate Sugar Cookie, Chocolate 'n' Vanilla Spirals or Butterscotch Pecan Cookies — all are sure crowd pleasers.
And of course no holiday occasion or gift basket would be complete without Hanukkah Sugar Cookies, Cherry Valentine Cookies, Thanksgiving Pumpkin Spice Cookies or Holiday Cranberry Cookies.
The recipes are broken down into easy to find and follow sections: Drop Cookies, Hand-Shaped Cookies, Sliced Cookies, Biscotti, Sandwich Cookies, No-Bake Cookies, and Holiday cookies.
Helpful baking tips are featured throughout the book as are ingredient methods (for example the correct way to melt chocolate), storage methods and even a cookie troubleshooting section. If you love to bake (and eat!) cookies, this is an absolute must-have for your kitchen.
If you are looking for a great way to take your cookie baking up a notch grab a copy of The 250 Best Cookie Recipes by Esther Brody.