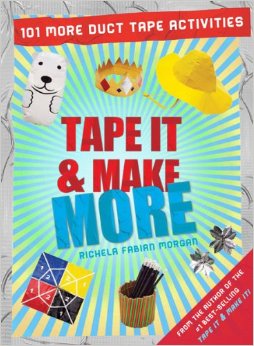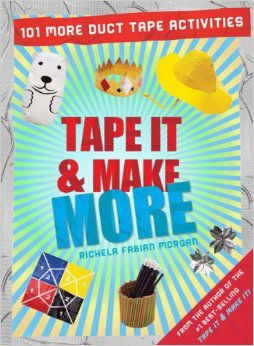 Em & I love creating so I was thrilled when I was asked to review Tape It & Make More by Richela Fabian Morgan. Since duct tape craft projects are all the rage right now we were eager to see what crafts are available in the book.
To be honest, we've done very few crafts with duct tape, but after reading this book we'll be excited to start creating. This book provides easy to follow step by step instructions with images to show you exactly what you need to do.
There are instructions for everything from accessories to home decor to costumes and items for the holidays. I'm thoroughly impressed with how many items you can make with duct tape and that great thing is that duct tape comes in many different colors and designs to make things even more interesting.
I think the first thing I'm going to try is the Rock Star Wig. A bit of pink duct tape and a bit of gold duct tape and I can be sporting a rockin' wig this Halloween. Although, there are also instructions for a crown which I think could easily be tweaked to make a tiara and every girl needs a tiara.
FROM AMAZON:
In 2012, Barron's #1 best-selling Tape it & Make It took the crafting world by storm, turning the humble roll of duct tape into the trendiest craft item since glitter glue. Everyone from creative school kids to famous fashionistas began exploring the infinite uses for the toolbox staple, using it to create everything from tote bags to toys to housewares!
And just when you think we've done everything there is to do with duct tape, Tape & Make It author Richela Fabian Morgan wows us with once again with another round of creative ideas in Tape It & Make More. Who would have imagined that you could make so many unique and amazing items with duct tape?
What have you made from duct tape?