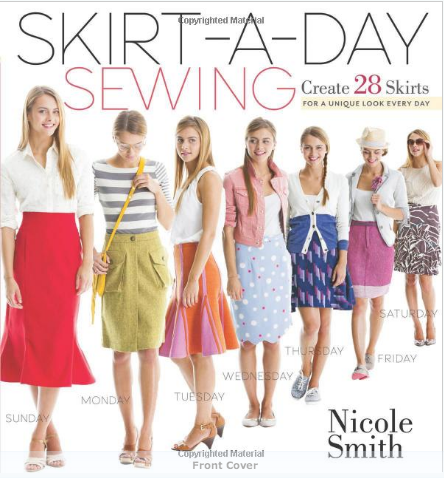 When it comes to sewing I can sew an almost straight simple line like no one's business. However, I have to say that I've always been a little intimidated to try sewing clothes. There is all kinds of special language and patterns and tucks and pleats and so many other things that it often feels like I'm reading a foreign language. Asked if I wanted to review the Skirt-A-Day sewing book I was a little hesitant and then thought I would be the perfect person to review since I'm not a seamstress.
Thankfully the author opens the book with information on what gear you'll need, everything you need to know about fabric, seams and details and even goes into detailed information on how to create your own custom patterns. Thankfully, it is written clearly and concisely for a newbie like me.
The instructions for each pattern are simply laid out with illustrations to show you what to do each step of the way. The author shows how to make wrap skirts, straight skirts, flared skirts, and high-waisted skirts. She encourages you to add your own flair and design to the skirts, but you can also make the skirts exactly as instructed. Either way you'll have some great new wardrobe pieces in no time at all.
FROM AMAZON:
Design a skirt for every day of the week! With these 28 irresistible projects, you'll learn all the techniques you need to custom-design and sew fabulous skirts that fit you perfectly. Smith shows you how to draft a pattern for a custom fit and then alter that pattern into one of four basic silhouettes: wrap, straight, flared, and high-waisted. Each skirt can then be easily redesigned into seven distinct and delicious looks — one for each day of the week. These projects are suitable for sewists at every level, including beginners.
Available at Amazon and bookstores everywhere.