We don't usually get all fancy when it comes to meals at home, but sometimes it's nice to sit down at a property set table for dinner. We keep our table setting casual, because that works for us and my guess is it will work for most people. This is a quick tutorial on how to set a table for dinner.
You don't have to use all the dishes in this tutorial. This is set for a 3 course meal that includes soup, salad and entree. If you are having just an entree than set without the soup bowl and dinner plate. Because it's a casual table setting I only included a dinner fork instead of a dinner fork and a salad fork. I'll talk about salad fork placement in a minute.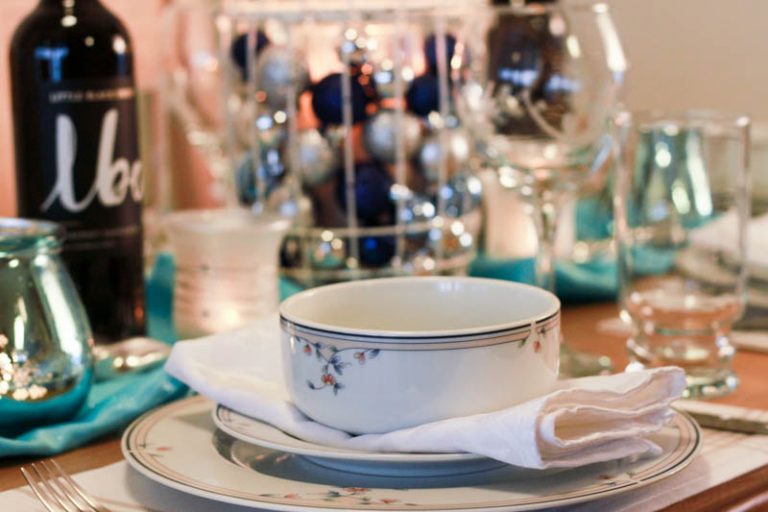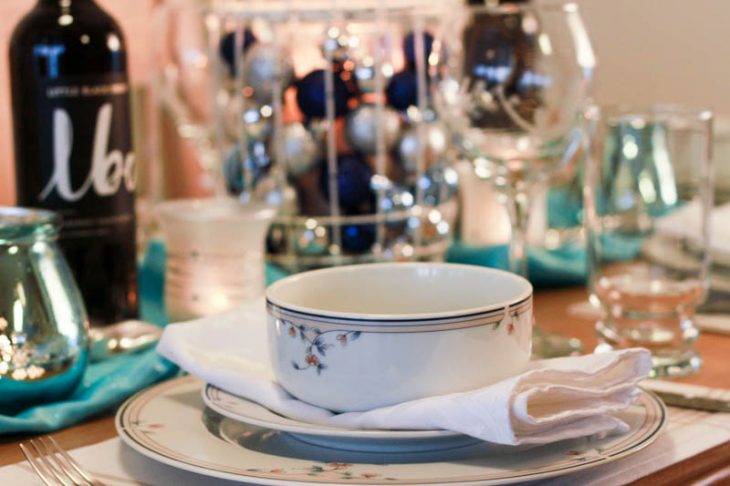 Supplies to set a table:
Placemats
Dinner plates
Salad plates
Soup bowls
Wine glasses (if serving wine)
Water glasses
Dinner forks
Butter knife
Soup spoon (not picture here because I'm human and forgot to include in the images….sigh….)
Napkins (preferable fabric, but paper or paper towel will work in a pinch, hey, remember, I said casual..lol)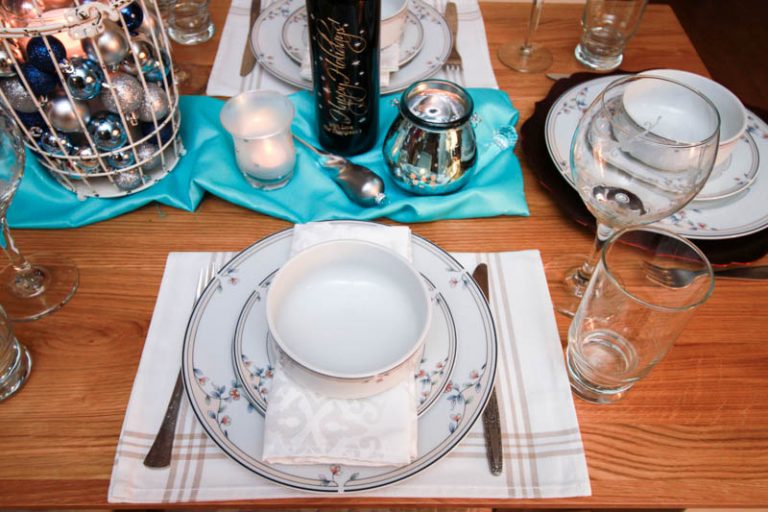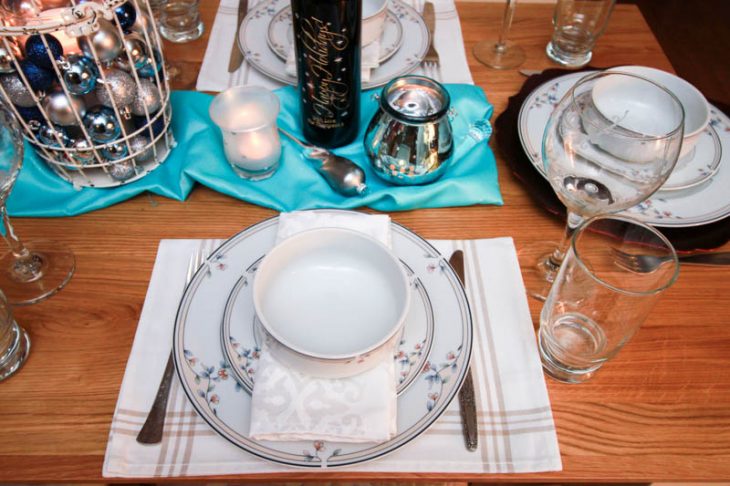 I love my dining room table from Oak FurnitureLand, an online furniture store, it is the perfect size for my dining room and for entertaining. I've had it just about two weeks now and I've been really happy with it. This was the first time I'd set it up for dinner complete with a tablescape and I'm very happy with how it looks.
Note: The Happy Holidays wine bottle on the table is from EtchedWine which is a fantastic way to gift wine this holiday season AND your first purchase is HALF OFF when you click here.
HOW TO SET A TABLE STEP 1:
In the center of the placemat, place the dinner plate, then place the salad plate on top, next place the napkin and then sit the soup bowl on top of the stack.  If you'd like you can also place the napkin to the left side of the dinner plate. Your choice, either way is fine. So far, so good, right? That's probably the hardest part. Well, except for remembering which side the dinner fork goes, but I got ya. Let's move onto step 2.
HOW TO SET A TABLE STEP 2:
Grab your silverware and place the dinner fork immediately to the left of the dinner plate. If you have a salad fork that will go next so the placement from left to right, when sitting down, would be salad fork, dinner fork, dinner plate.
TIP: When dining at a fancy restaurant where there are many fork options remember the age old tip to work from the outside in so that you'll end with fork nearest the plate.
Next, place the butter knife to the right of the dinner plate, sharp side facing the plate and then the spoon goes to the right of the knife. The placement from the dinner plate to the right, while seated, is plate, butter knife, spoon.
HOW TO SET A TABLE STEP 3:
Now, if you have a large enough table the water glass should be place immediately above the butter knife and the wine glass placed to the right of the water glass.
TIP: Another quick tip for fancy dining, your water glass will always be positioned immediately above your knife.
For my sample, I placed the wine glass and the water glass immediately to the right of the knife due to space limitations with the centerpiece taking up so much room. I placed the water glass first so that guests wouldn't have to reach up and over a wine glass to grab the water glass.
That's all there is to when setting a casual table for dinner.
*****PIN HOW TO SET A TABLE FOR DINNER*****