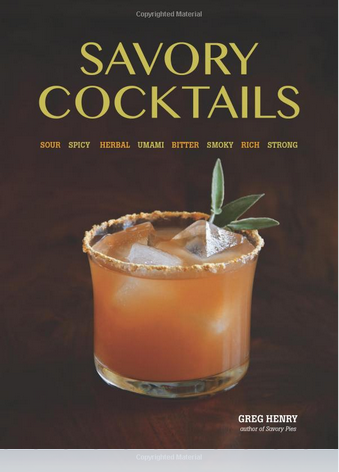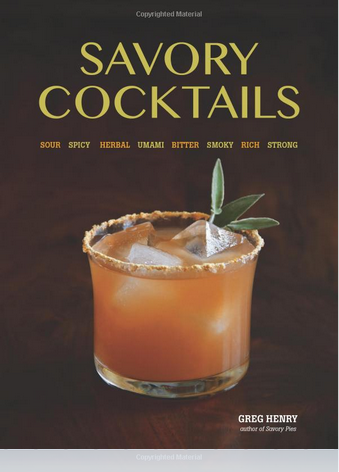 When asked if I wanted to review the book Savory Cocktails you know I didn't hesitate, right? I mean, what's not to love? A book of 100 cocktails with everything from sour to spicy to bitter to strong. Plus, there is exceptional photography to boot. I have to say I base a big part of my recipe book reviews on the photography. In my opinion it can make or break a book and Savory Cocktails does not disappoint. It's written by Greg Henry who just happens to be a professional photographer so that really helps.
Savory Cocktails provides everything you need to know to create delicious cocktails for just you or for a dinner party you may be hosting. Starting with glassware, tools and techniques, to build a solid cocktail making foundation, and moving into syrups, bitters, shrubs and infusions. After you have a good understanding of those elements Greg moves into sharing 100 cocktail recipes in 8 categories: Sour, Spicy, Herbal, Umami, Bitter, Smoky, Rich, and Strong.
I love the section on glassware. I'll be the first to admit that I've never really given the type of glass I use much thought. I kick it a little redneck and just grab whatever is clean in the cabinet. Juice glass, coffee mug, plastic water cup, I never really thought it mattered until I read Savory Cocktails. Surprise, surprise the right glassware really adds to a nice presentation and enjoyment of the cocktail. I don't think it has much bearing on taste, but I'll admit that it makes me feel a little classier than the overworked, exhausted, haven't showered in 3 days writer that I usually feel like. (Note to self, buy more glassware).
The selection of cocktail recipes will make you want to try a new cocktail a day for the next few months. It gives you a chance to try new combinations as well as new twists on old favorites. The recipes are well written and provide clear and concise instructions that are easy to follow. Some of the cocktails I want to try based just on the names alone. Dead Glamour, Smokejumper, Chartreuse and the Chocolate Factory, The Fatal Hour and To Hell with Spain #2 just to name a few.
This is a great book to have on hand for the upcoming holiday season. If nothing else, you'll be able to impress your friends with your stellar cocktail making skills.
Savory Cocktails is available at Amazon and other fine bookstores.