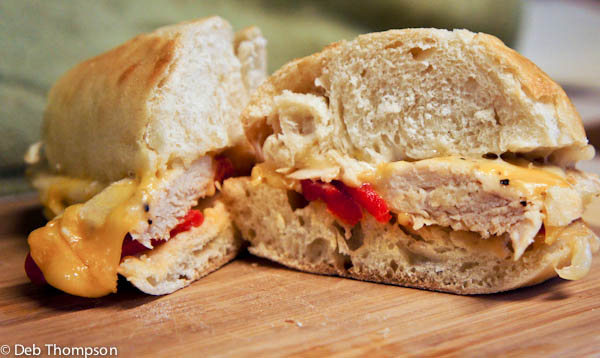 Sargento has a variety of recipes available on their site. I'm always on the look out for new an delicious ideas and Sargento's site didn't disappoint. I wanted to find a great recipe to try Sargento's Ultra Thin Cheese. After browsing for a bit I decided that the Pesto Chicken & Cheese Panini looked pretty darn good. It only takes a few ingredients and a few minutes to make.
However, when I started gathering everything I needed I ran into a couple obstacles so I had to modify the recipe to fit what I had available in the house. It was still delicious!
The orignal recipe calls for pesto. I didn't have pesto, but I thought hummus would be a good substitute. I pulled the hummus out of my fridge and realized it expired a month ago…ooopppps. I thought I had Italian bread in my bread basket, but it ended up being a french baguette. Oh, well. I just went with it. So, my Pesto Chicken & Cheese Panini ended up being a Peppers, Chicken & Cheese Baked Baguette. That worked well for me anyways, I seldom stick with a recipe and tend to go a bit off on my own adjusting to what is available.
You'll find my modified recipe below. I hope you enjoy it. It made a very tasty lunch.
By the way, are you taking part in the Sargento #ThinToWin Challenge on Facebook? There are daily challenges and prizes. Here is todays challenge: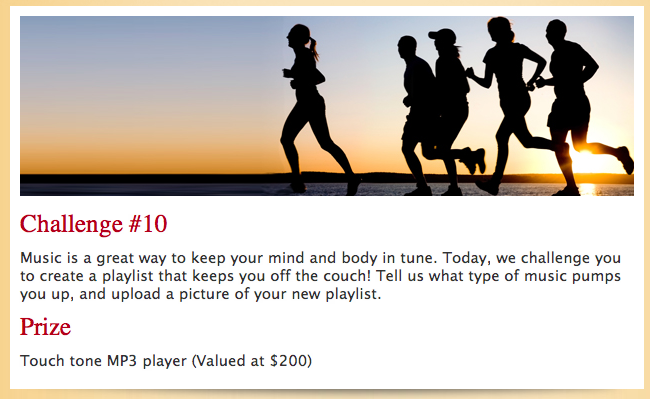 The challenge is to upload a photo of your playlist that keeps you moving. That's it?? Seriously? How easy is that? I'll enter for a chance to win a touch tone mp3 player. It took less than 5 minutes to enter. It was time well spent. Make sure you check back daily for other challenges meant to inspire and encourage you to thin your life.
| | | |
| --- | --- | --- |
| Sargento Ultra Thin Cheese Recipe | | |
Author:
quick and delicious sandwich
Ingredients
Mini Baguette
Thin chicken breast, cooked
Sargento Ultra Thin Colby-Jack cheese
Roasted red peppers
Mayo
Instructions
Slice baguette in half, lengthwise.
Spread a thin layer of mayo on the top half of the baguette add a slice of Sargento Ultra Thin Colby Jack cheese.
On bottom half of baguette place roasted red peppers. Then place cooked chicken breast on top of peppers and then add a slice of cheese.
Keeping the top and bottom layers separate place in a 350 degree oven for approximately 4-5 minutes, just long enough for the cheese to melt.
Remove from oven and place the two layers together.
Wait just long enough for it to cool off a bit and then enjoy.
SO VERY GOOD!!!