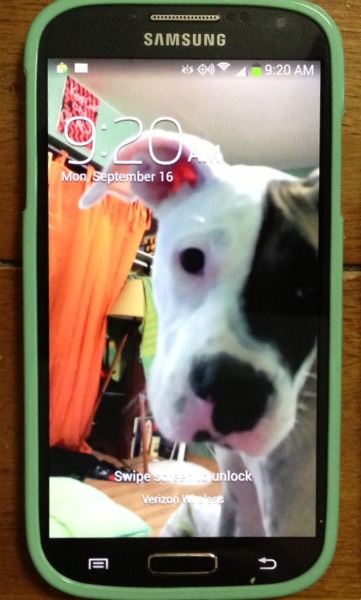 Em has been bugging me for a new phone for a while. I finally told her we would review the Samsung Galaxy S4 to see how she liked it before a final decision was made. Samsung was kind enough to help us out by sending over a phone to try.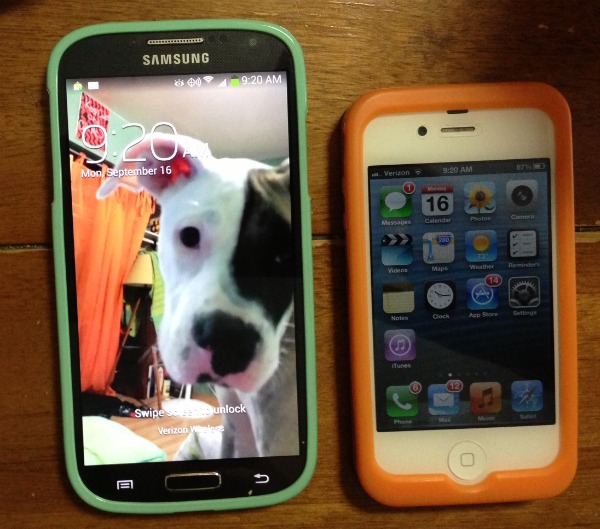 Upon receiving the phone the first thing that both of us loved was the size. The screen is nice and big and makes watching movies, reading a book or surfing the web a nice experience. The phone is also thin & lightweight so that it doesn't bulk up a pocket or feel like you are carrying around a phone from the 90's. I compared it next to my iPhone 4s and love the size of the Galaxy….look at all that screen space.
After charging the phone up and playing with it for a while Em shared her favorite things with me about the Samsung Galaxy S4.
1. The phone holds a charge really well and only has to be recharged about every other day. Of course, if there is excessive use than it needs to be charged sooner, but on average the battery last about 2 days.
2. Unique features that include scrolling web and book pages when you look up and down, pausing a video when you look away and waving your hand over the phone to answer it.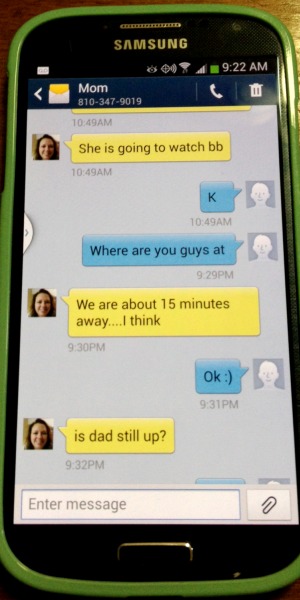 3. Samsung GalaxyVoice commands for calling, texting, writing notes, searching the web, playing music, answering incoming calls, stopping or snoozing alarms, and taking photos.

4. Speaking of photos. The camera on the Galaxy S4 does a fantastic job. I love holding the camera up, saying "smile" or "capture" and it's take the photo. In addition, there is a wonderful selection of options to make sure you capture the scene exactly how you see it: Panorama, sports, night, etc. There is also an eraser option so you can remove unwanted objects from the image.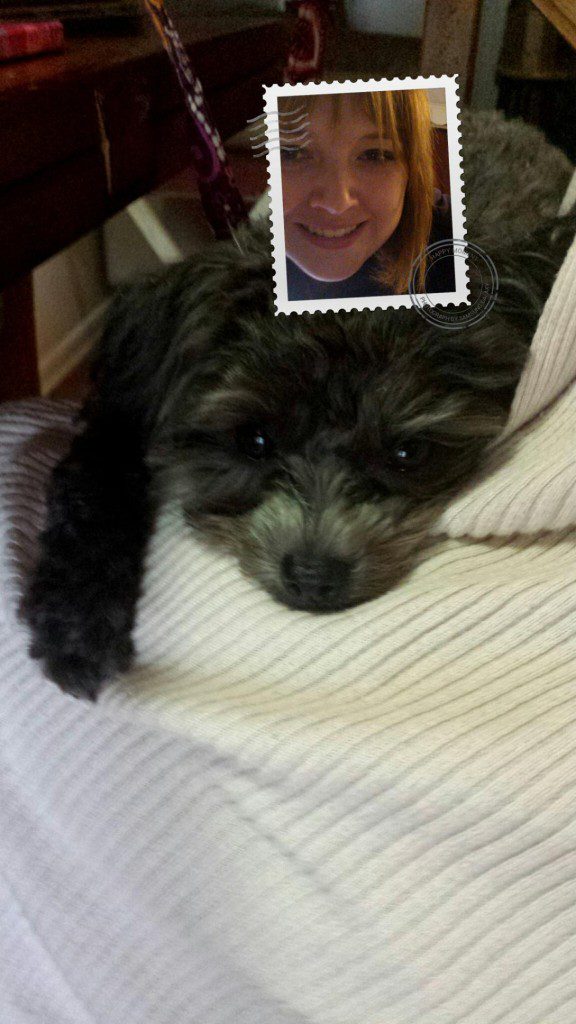 5. Another really cool feature of the camera is the photo in photo capability. The Samsung Galaxy S4 will take simultaneous photos from both sides of the phone. The photo of you is put in a stamp size image in the main image. Pretty darn cool.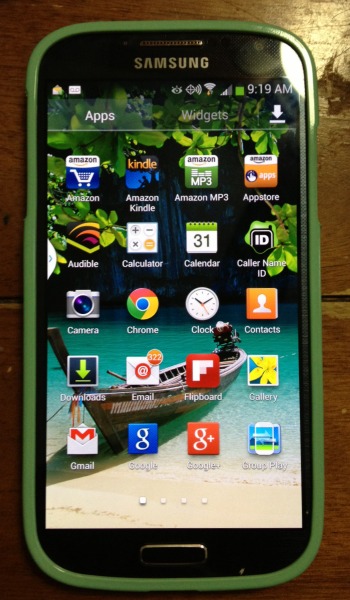 6. The selection of apps is fabulous. Em moved from a windows based phone to this one and she loves all the apps that are available. Vine, instagram, facebook, youtube, kindle, tom the cat, minion rush, and so many more.
Em has really enjoyed this phone and I think it is a great fit for an older teen. There is everything she needs to stay connected, read, and watch movies all in the palm of her hand. I'm amazed at all the fun features that are wrapped up in the Samsung Galaxy S4. It is definitely a phone I would highly recommend if you are looking for something new and fun. I can't wait to see what Samsung comes up with next!