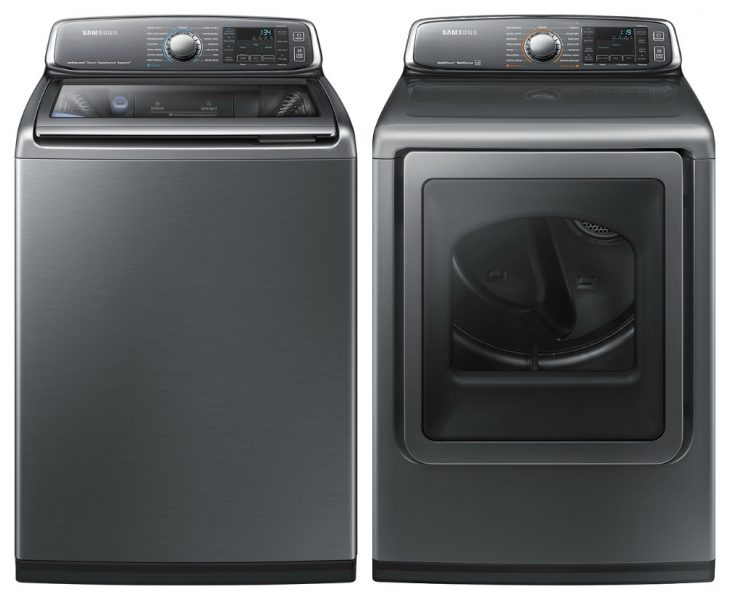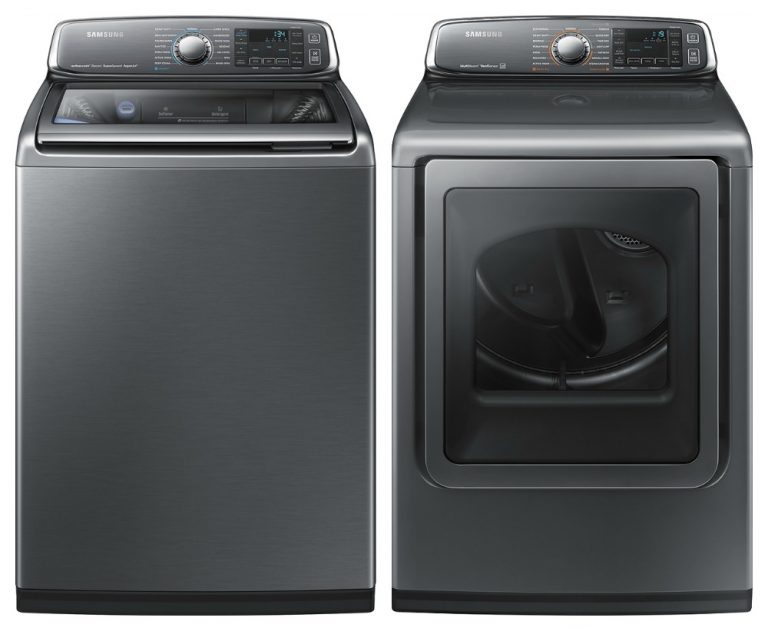 The reviewer has been compensated in the form of a Best Buy Gift Card and/or received the product/service at a reduced price or for free. All opinions are mine and can not be bought. I only share products I love which is why you'll never see a negative review on Just Short of Crazy.
We've needed a new washer and dryer for years. I've been using an old style, simply turn and pull the dial, and it starts. Nothing fancy, about as simple of a washer and dryer as one can find, but it still worked even if I did have have the washer rigged together with zip strips. I'm frugal enough that if an item is still mostly working I am not going to buy a new one until I absolutely have to. Luckily for me an opportunity to review the Samsung Activewash Washer & Dryer was offered to me by Best Buy.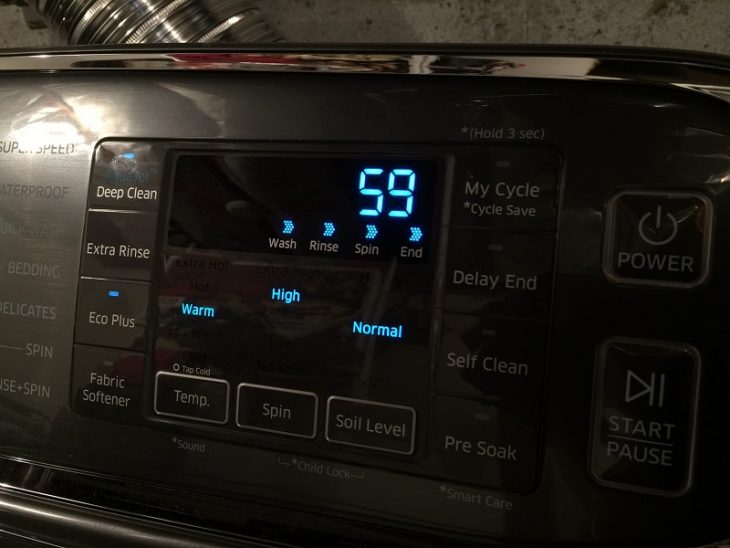 It's silly to get excited about something as boring as a washer and dryer, but I was like a kid before Christmas waiting for them to show up. The Best Buy team installed the appliances quickly and efficiently and before I knew it they were ready to use. My laundry just went from the stone ages to high tech and I couldn't be happier.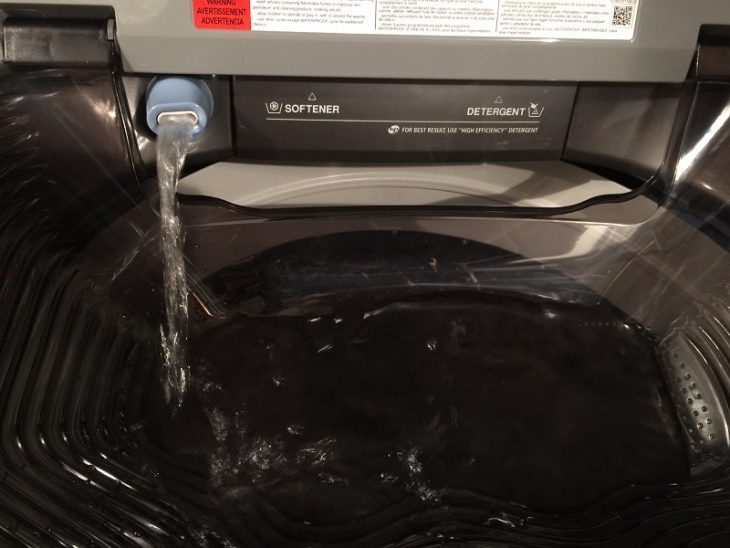 Samsung ActiveWash Washer Features
VRT technology reduces noise and vibration during washes, even in high-spin speeds. I seldom hear the washer going and only if I open the door to the basement and really listen. Gotta love VRT technology.
Self Clean technology–Those might be my favorite words ever. Self cleaning = less work for me. Yay! The drum and gasket hygienically cleans by removing odor-causing bacteria without the need for harsh chemicals. So far so good in that department. The inside of the washer still looks great after a few weeks and there is no smell even though we have hard water. Perfect!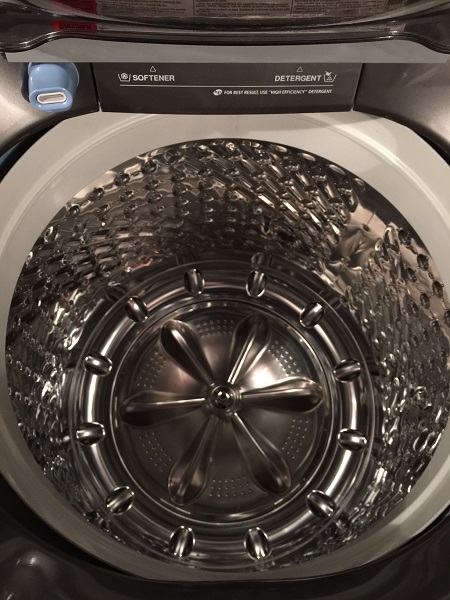 Large Capacity washer. No playing,  you can wash up to 3 laundry baskets of clothes in one load. This is one of my favorite features. The wash tub is HUGE!! The downside of that is I have to stand on my tip toes and stretch to get items off the bottom of the washer, but that is more a result of being shorter than anything else. I washed a set of queen sized sheets, a thick queen size blanket and 5 extra large towels in one load. Color me impressed.
Steam Wash function. This lovely little function helps remove tough grime & stains. Luckily, I haven't had to put this feature to the test yet, but now that summer has arrived and yard work is beginning I'm sure I'll be using this quite a bit over the coming months.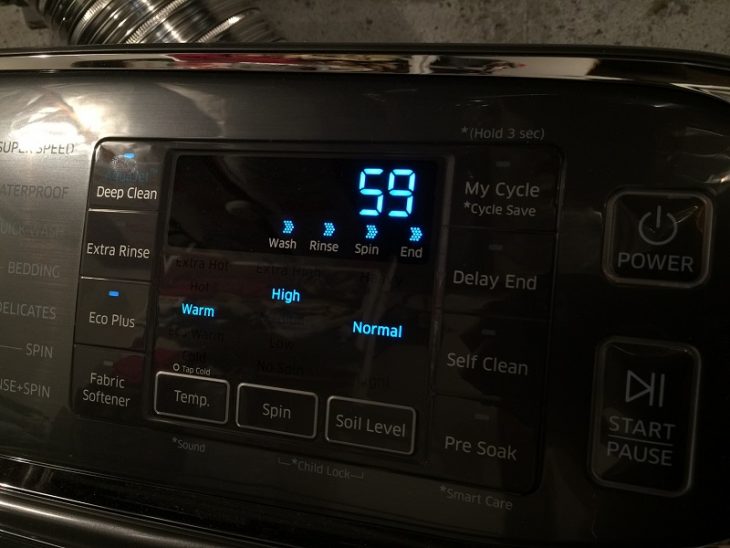 Built-in sink. This is perfect for hand-washing delicate items and pre-washing heavily soiled clothes. This is my second favorite feature (first being the tub size). The built-in sink is perfect for soaking clothes and giving stained areas a little extra scrub.
Aquajet forces out dirty water as clean water pours in to deliver a better wash. I really like this feature and knowing that the dirty water is purged out while clean water comes into the tub.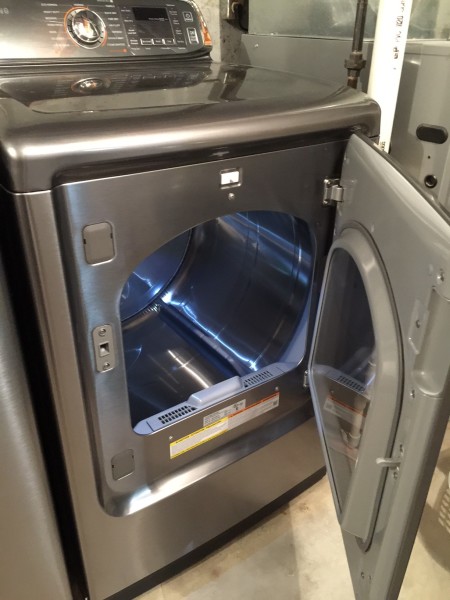 Samsung ActiveWash Dryer Features
15 drying cycles include refresh, heavy duty, steam sanitize, wrinkle away, perm press, delicates and bedding. I love the wrinkle away and heavy duty drying feature. Both have been tested and met with much approval. Bonus of having new washer and dryer is that Alan is having just as much fun as I am doing laundry.
Door can be installed to open on the right or left letting you customize the dryer to fit your laundry room situation.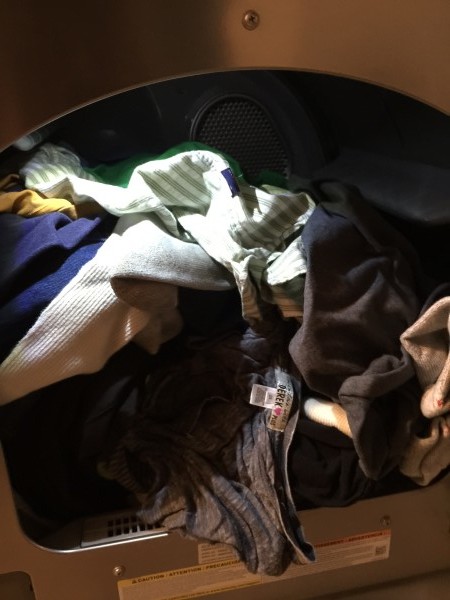 Moisture sensor. This little handy sensor ensures that your clothes are dried to perfection. There is nothing more annoying than thinking laundry is done and pulling it out of a dryer to find it still damp. The Samsung dryer, thankfully, takes care of that problem with the moisture sensor.
Vent Sensor. This sensor shuts down the dryer in the event of a clogged vent to prevent potential fires. I love this. Over the years I've heard numerous stories of houses catching on fire because of a clogged dryer vent. Samsung has built-in protection to help prevent this from happening.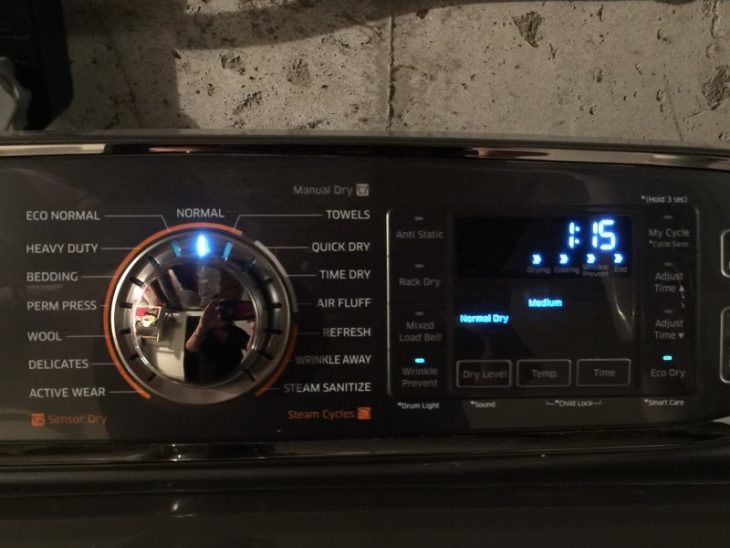 Steam Dry helps keep your clothes refreshed. Seriously, it's a beautiful thing!
4 –way venting options and a moisture sensor for dryness control.
Estar qualification saves you up to 25% in annual energy costs. Saving money on energy costs equals more money for travel. This just gets better and better.
Drying Rack. Place the rack in the dryer and lay out delicates, tennis shoes, or any other item you don't want tumbled. A nice addition to any dryer and one I really appreciate.
Plays music. Yes, yes, it does. After the laundry dries and you open the door to remove the clothes the machine plays a happy little tune. It makes the mundane chore of laundry so much nicer.
Overall, we have really enjoyed the Samsung Activewash Laundry Pair. It has performed exactly as promised and has made the laundry chore so much more enjoyable.