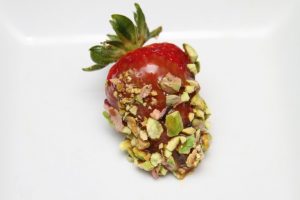 These are soooo good! Here's what you do.
1. Place some caramels in a micro safe bowl, add a pinch or two of salt, depending on how much caramel you are melting.I used kosher salt, but you could also use sea salt.
2. Melt in micro. I set at 30 second intervals and mix in between until melted.
3. Crush pistachios or nut of your choice.
4. After caramel is melted, dip strawberry in caramel, roll in nuts, set aside to cool.
5. Try to eat only a couple. It will be hard!
I only made 6 of these since it's just Alan & I home right now. It was the perfect dessert.
Enjoy!