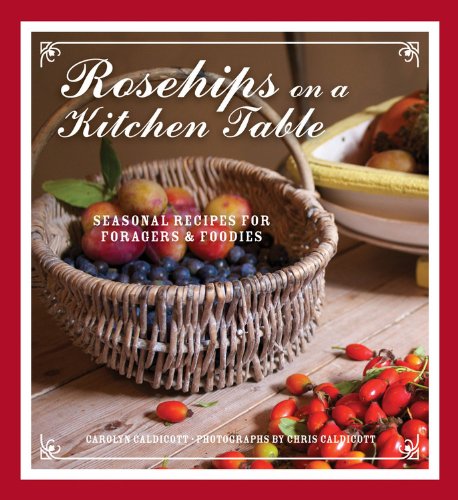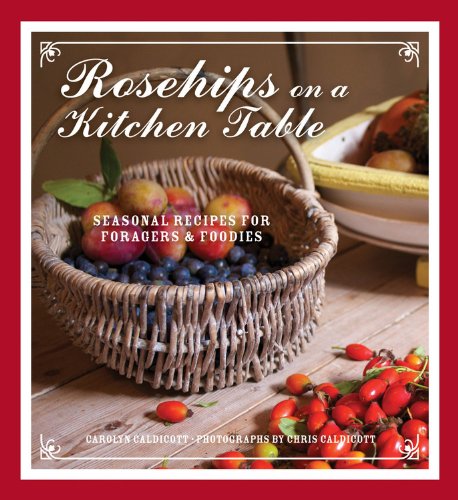 BOOK DESCRIPTION
Carolyn Caldicott's Rosehips on a Kitchen Table combines old-fashioned recipes and tips for cooking seasonal ingredients sourced from the hedgerows, as well as local suppliers and farmers' markets. The recipes combine unusual yet traditional ingredients such as nettles, rosehips and elderberries, as well as plenty of ideas for dealing with seasonal gluts and finding and cooking easily foraged food.
There are chapters on Gleaning, Gluts, Growing your Own and Gathering (from shops or hedgerow) plus a section on how to make something out of the most unusual ingredients. Caroline's tried and trusted recipes include delights such as Cob Nut and Rocket Pesto with Maris Piper and Parsnip Gnocchi, Sloe and Elderberry Cider, Wild Garlic and Heritage Potato Dauphinoise and Quince Poached in Vanilla and Cinnamon Syrup.
MY THOUGHTS
Rosehips on a Kitchen Table is small in size, but big on great recipes and information. Since I live in a very rural area I want to take advantage of foraging opportunities. I've always been fascinated with finding food in the wild, but never really knew what would be "safe" or even what to do with it if I harvested the food.
Fortunately, Rosehips on a Kitchen Table shares delightful recipes using food sourced from the wild. Let me add a disclaimer that you should NEVER eat foraged foods unless you are absolutely certain it is safe for human consumption! Ask a friend, take it to a local DNR office or find a farmer/gardener that may be able to identify it for you. Once you know it's safe turn to this book to find recipes using foods like Rocket, Sorrel, Nettle, Chard and more. There is even a chapter for more traditional foods like berries, beans, root vegetables, tomatoes and more.
Rosehips on a Kitchen Table is available at Amazon or at your favorite local book store.