disclaimer: I'd like to thank Red Roof Inn for hosting our stay and helping keep the lights on around here (as well as making sure BB has extra money for snacks/toys). Much appreciated. Affiliate links are included in this post, purchases made through affiliate links earn me a few pennies to keep the blog going but cost you nothing extra. Thank you for your support!
We'd been driving two days to make our way from the Outer Banks (OBX) back to Michigan. We'd left BB with my sister in Ypsilanti, my vacation home review in the OBX, sadly, didn't allow pets so BB wasn't able to join us. However, as soon as we picked him up we headed to Red Roof Inn because he deserves a little "vacation" as well. Plus, we really needed a break from all the driving so an overnight in Ann Arbor worked for us.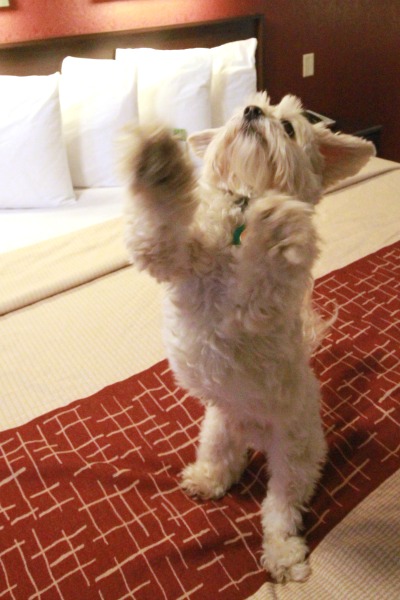 The great thing about Red Roof Inn is that I know they always take pets and never charge an extra pet fee.  To experience pet travel plus Red Roof Inn they invited us to stay with them so we could share our experience with you.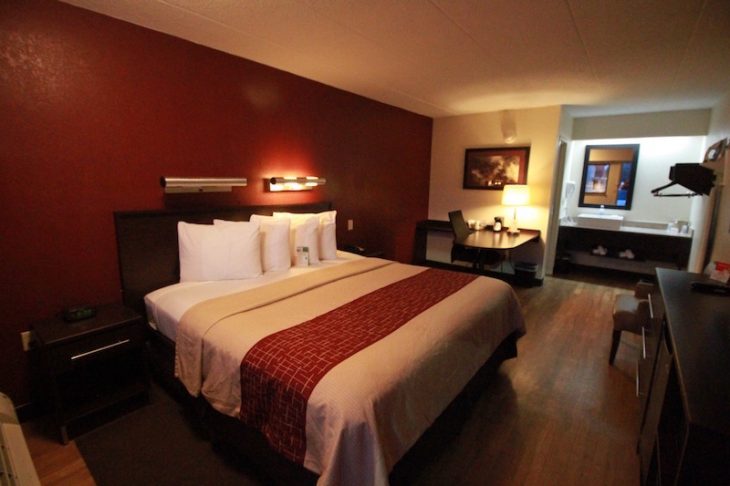 We stayed at a Red Roof Plus in Ann Arbor, MI. The location is very convenient to the US23 and the Universty of Michigan. The hotel was easy to find and check-in went off without a hitch. The lobby was clean and bright and complete with a coffee stand to grab a cup of joe to go.
This location has two buildings and our room was located towards the end of the second building on the first floor. It is a great spot because it's very close to grassy areas for walking BB. A first-floor room is always perfect when you are traveling with a pet as it makes it quick and easy to take pets outside.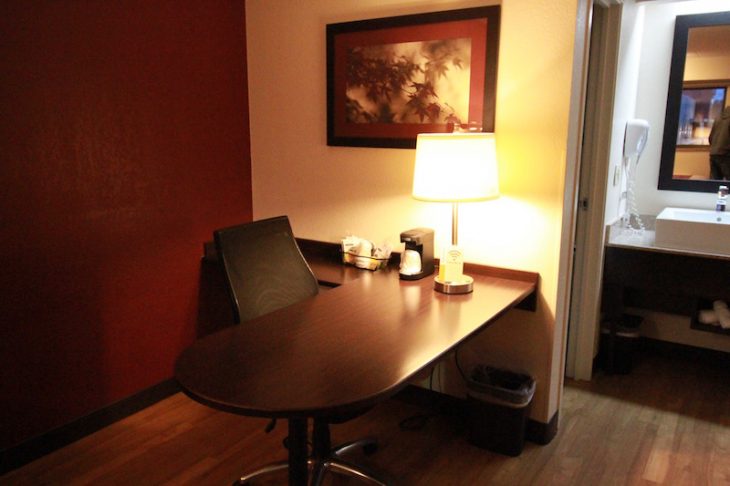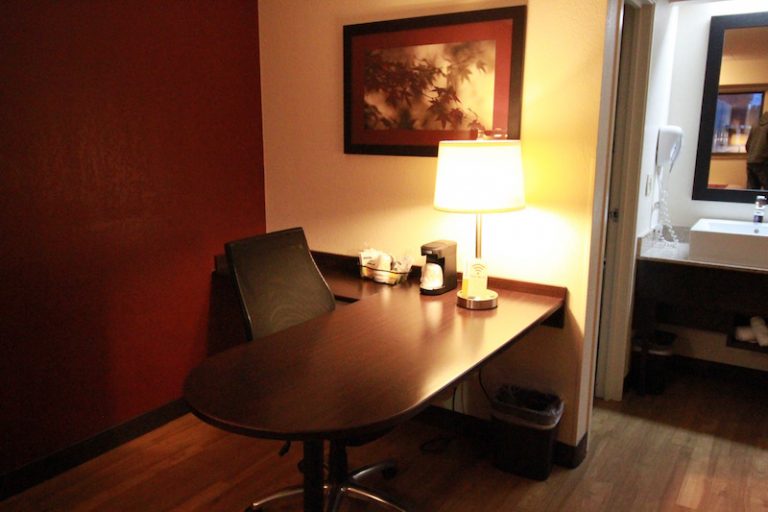 Our king room had a fridge, microwave, safe, excellent desk/work area, large tv, and a small bathroom.The work area was perfect for trying to get caught up on work. The wrap around desk is great for spreading out all my gadgets and notebooks.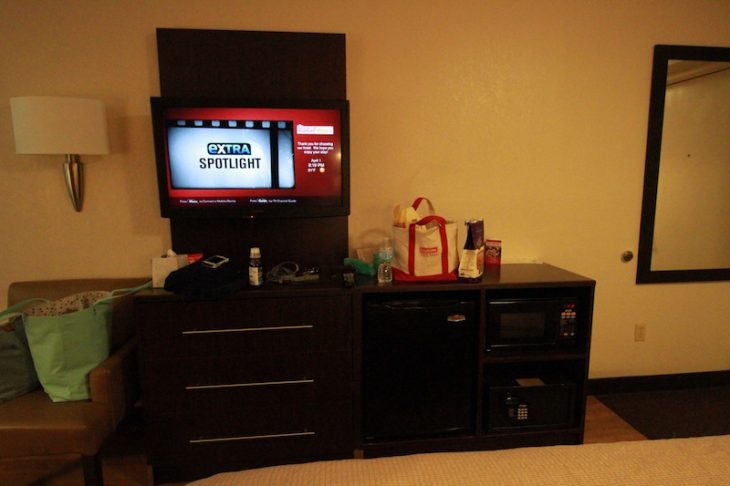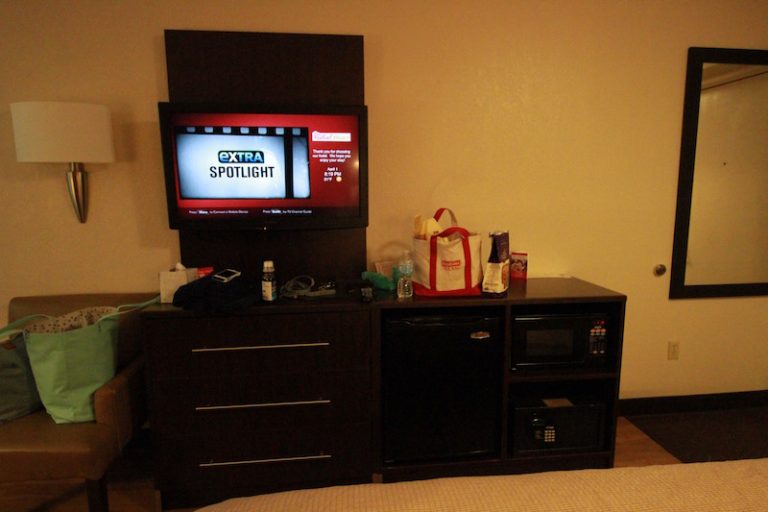 We cluttered the top of the dresser with our travel gear before I took a photo, but figured you all may as well see what our room looks like when we are in it. I love that Red Roof Inn has a lot of useable flat surfaces. It lets me empty those tote bags to find whatever I happen to be searching for. On this trip it was headphones. I know I packed three pair. I couldn't find one. I love tote bags but geez, things always seem to get lost in them.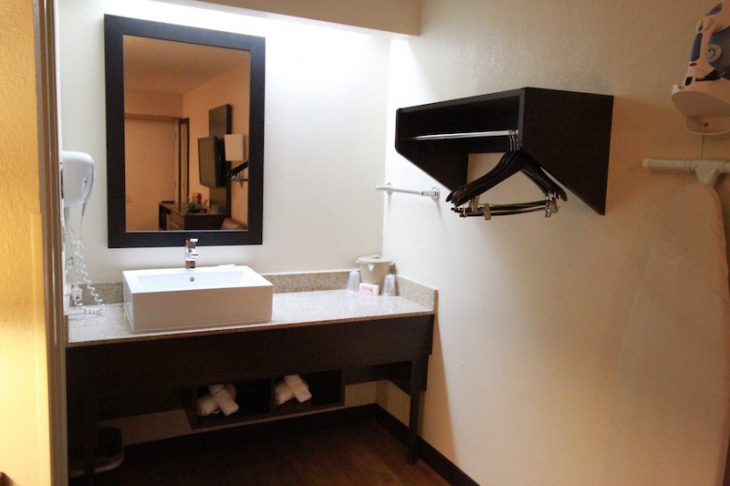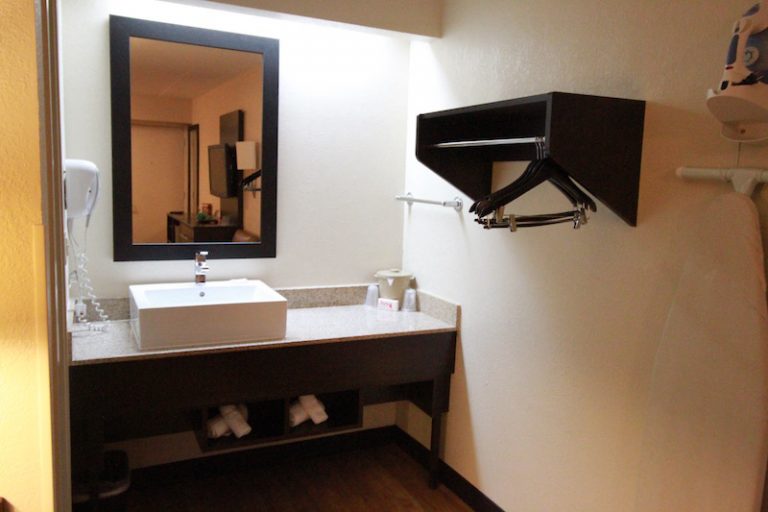 The furniture and decor are very modern with a great color scheme, plus a very comfy bed…even BB agrees.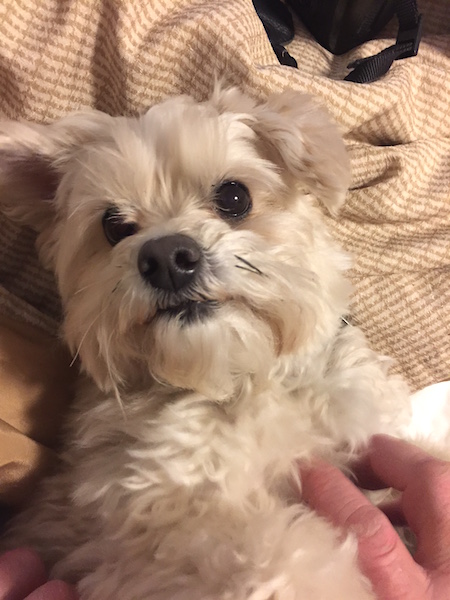 He may be little but he is pretty good at taking up a good share of a king size bed. He's spoiled enough to know that we'll let him get away with it.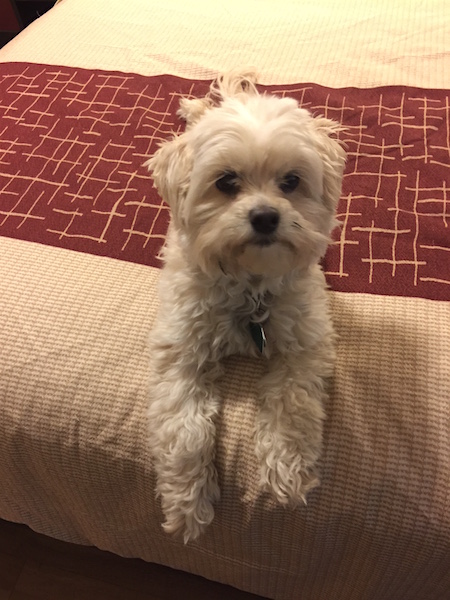 Our stay at the Red Roof Plus was great. We all slept well, BB included. I'm telling pet sitters they no longer need to apply because BB is going to be a full-time traveling family member.
Learn more about Red Roof Inn and their pet policy here and be sure to visit their Red Roof Luv Pets facebook page.
***PIN ME***