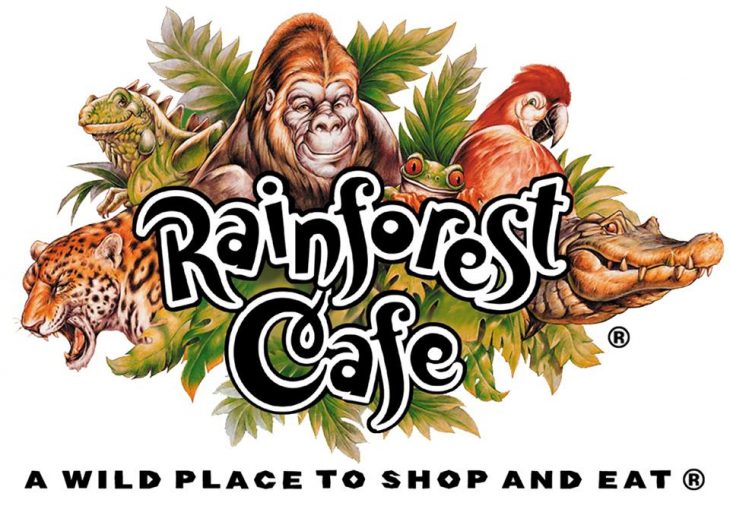 (c)RainforestCafe.com
Looking for a fun place to take the kids for dinner outside of the theme parks, but still want a theme park atmosphere? Look no further than the Rainforest Cafe Downtown Disney. Em and I had the opportunity to visit recently and had a great time. The night we had a reservation there was a huge downpour. Pretty fitting that we walked through a rainstorm to the Rainforest Cafe.
Once we arrived we checked in with the hostess desk, located in front of the gift shop, and shook ourselves and umbrellas off. Feeling a bit drier we only waited a few moments before we were seated at a table for two right next to a giant 10,000-gallon aquarium.


Rainforest Cafe Downtown Disney Atmosphere
Walking into the Rainforest Cafe transports diners to the middle of the jungle. Diners will be entertained by the trees, plants, animated animals, aquariums, thunderstorms, noisy monkeys and so much more. Low lighting levels keep the jungle feeling alive. The noise level is loud, but fun which actually makes it an enjoyable experience.
Rainforest Cafe Downtown Disney Service
Our server for the evening answered our questions, offered suggestions and quickly took our order. Our meal was served by another staff member and the manager even stopped by to say hi and check to see if we were enjoying our meal and needed anything.  We were checked on often enough that if we needed anything we didn't wait long, but not too often that it felt intrusive. It was a very nice balance.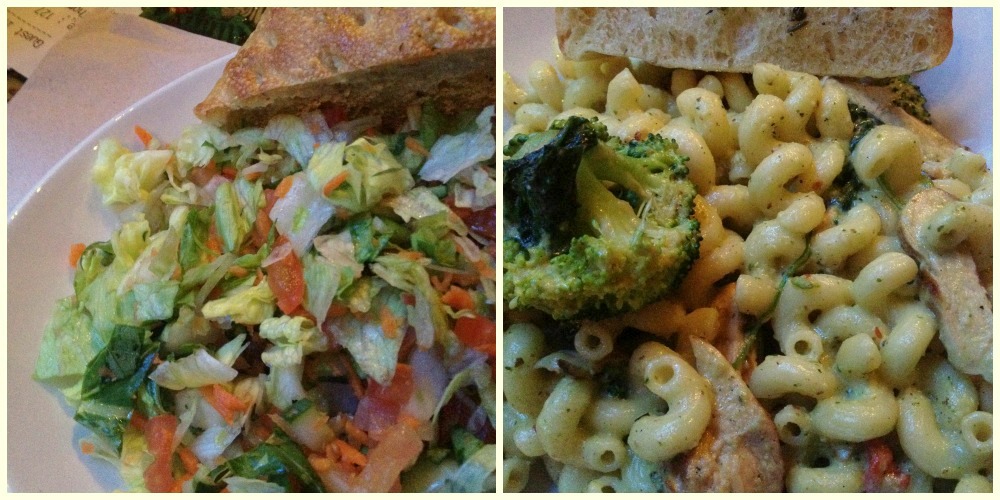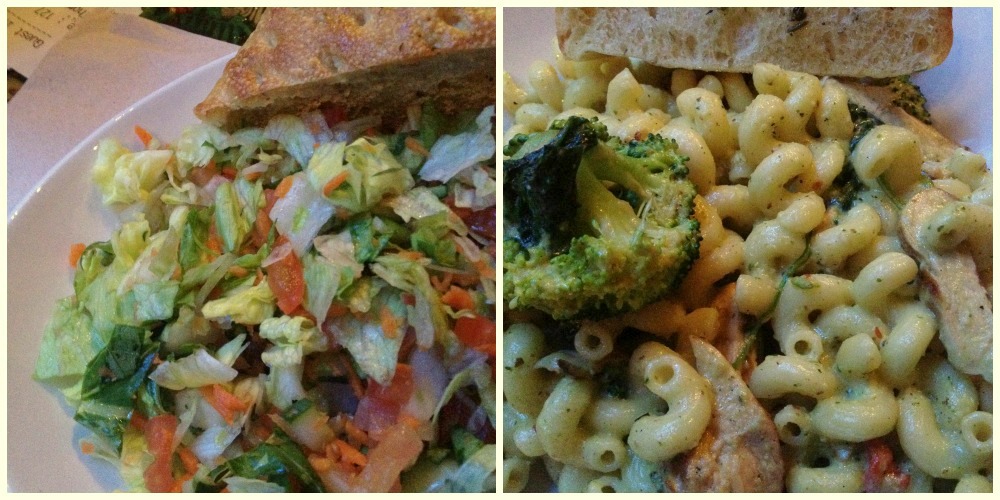 Rainforest Cafe Downtown Disney Food
After much debate about what I should order I decided on the Rasta Pasta and a chopped salad. My pasta was delivered to the table hot and was very good. Now, Em, on the other hand, is a lactose intolerant, sugar-free, carb-free, vegetarian, which means her options are pretty limited no matter where we dine so it's much easier for her to make a selection. She ordered a natural burger sans bun and cheese, which she said was fine.  Sadly, I didn't try any dessert. When I dine out with Em I skip dessert to respect her food choices.  I did get to look at a few as they passed by my table and they all looked very good and indulgent, just the way dessert should be.
Why Dine at Rainforest Cafe Downtown Disney
The Rainforest Cafe keeps kids entertained throughout the meal by providing so much to look at. There are indoor thunderstorms, noisy apes, fishes swimming around and jungle foliage to look at and watch. It really is the PERFECT place for a fun game of "I Spy". Drinks for kids and adults alike can be served in souvenir cups–ask for the ones that light up. After enjoying a meal in the rainforest be sure to check out the gift shop for all kinds of fun jungle gifts.
Once you are done dining spend some time enjoying the fun entertainment of Downtown Disney.
Be sure to check out these other Disney/Orlando/Kissimmee posts:
Tips for surviving Magic Kingdom with a Toddler
Reunion Resort
Great Things To Do In Kissimmee
disclosure: The Rainforest Cafe Downtown Disney hosted Em & I for dinner. All thoughts and opinions are my own.