Hey all, just a FYI, this post is sponsored by Sweet Earth Foods.  All opinions are my own.
So many times we shout the phrase "What's for dinner?" to one another. Well, sometimes it's via text, but when it's by text I don't have the opportunity to yell "NOT IT."
You all know exactly what I'm talking about. It doesn't matter if there are just two of you at home or an entire houseful the mealtime dilemma crosses all generations and cultures, in my opinion. Of course, it's not just dinner, but breakfast and lunch as well.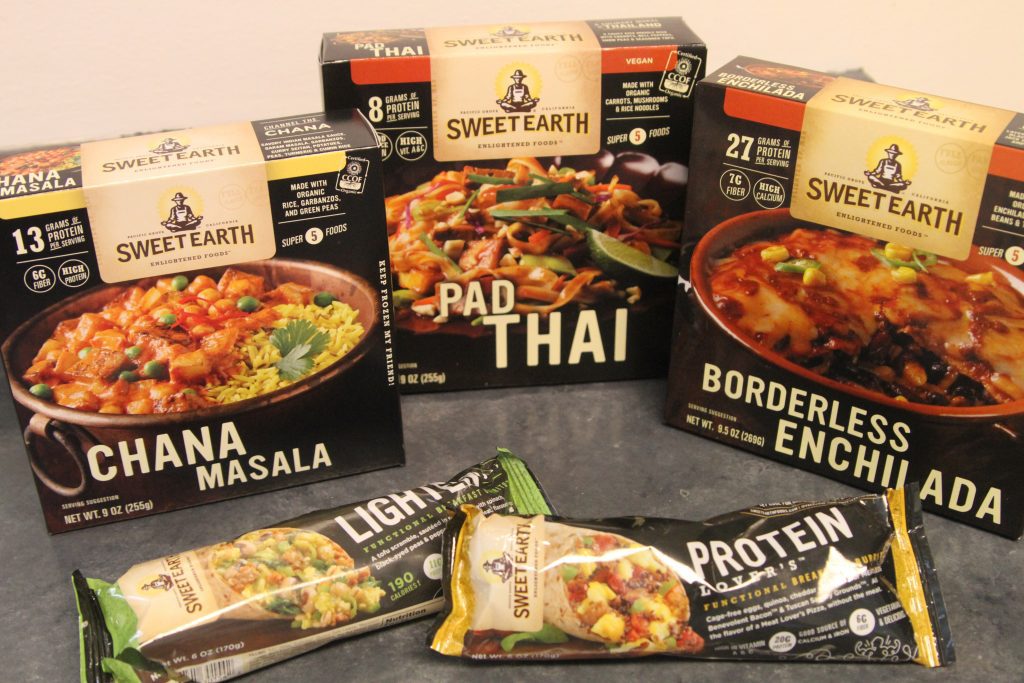 Mornings I want quick and easy and for lunch, well, ok, you got me, quick and easy meals for every meal is kinda my jam.
Enter Sweet Earth Foods. Sweet Earth convenience foods are not only high in protein and fiber they are available in vegetarian or vegan!
Plus, their choices let me travel the world through their flavorful global choices.  Learn more about all the options here.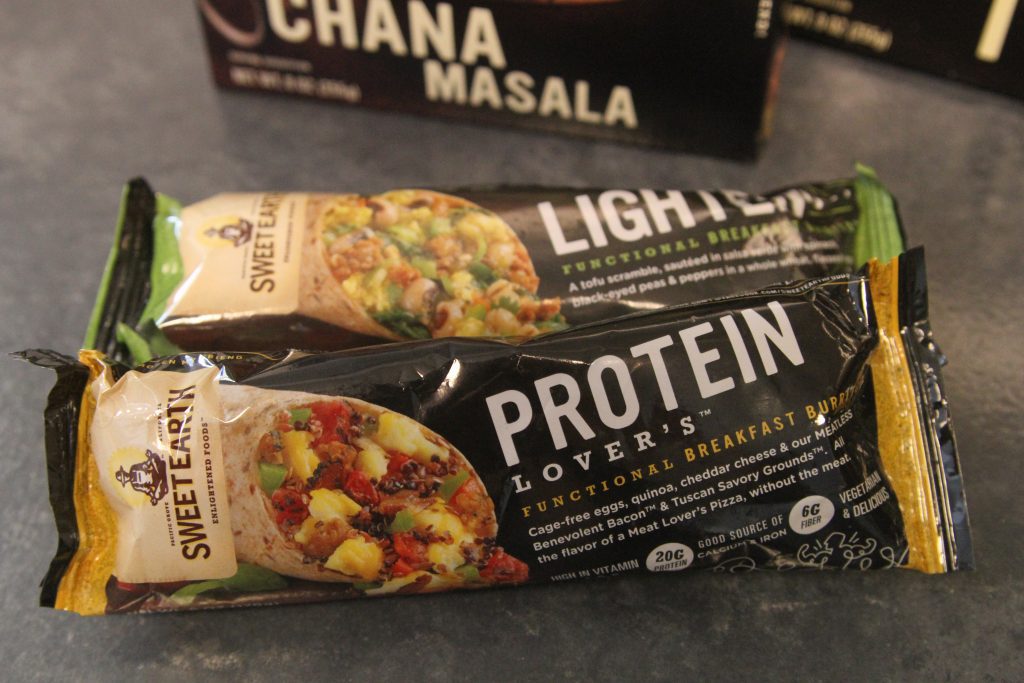 They recently sent me a few of their product to try and we promptly fell in love. Sometimes frozen meals can taste, well, like a frozen meal.
Sweet Earth Foods, on the other hand, has worked some magic so that when I heat up one of their bowls or burritos every bite is flavorful without that weird frozen taste.
Sweet Earth Vegan Lighten Up Breakfast Burrito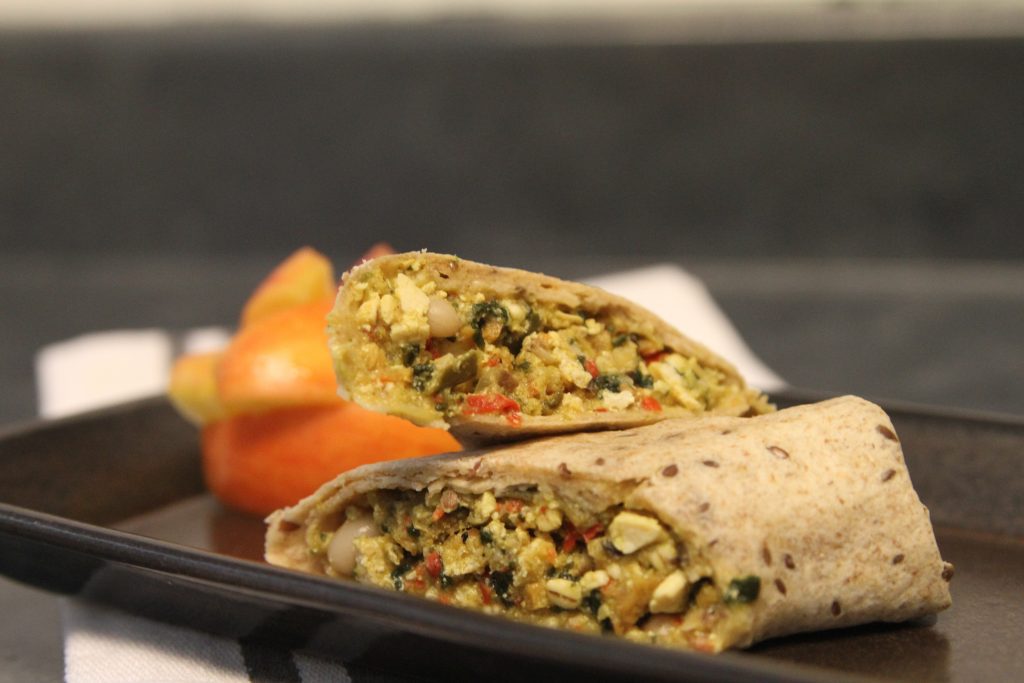 We started with the Sweet Earth Lighten Up Breakfast Burrito. It's a vegan burrito with a tofu scramble, sauteed in salsa verde with spinach, black-eyed peas and peppers and then bundled up in whole wheat, flaxseed wrap.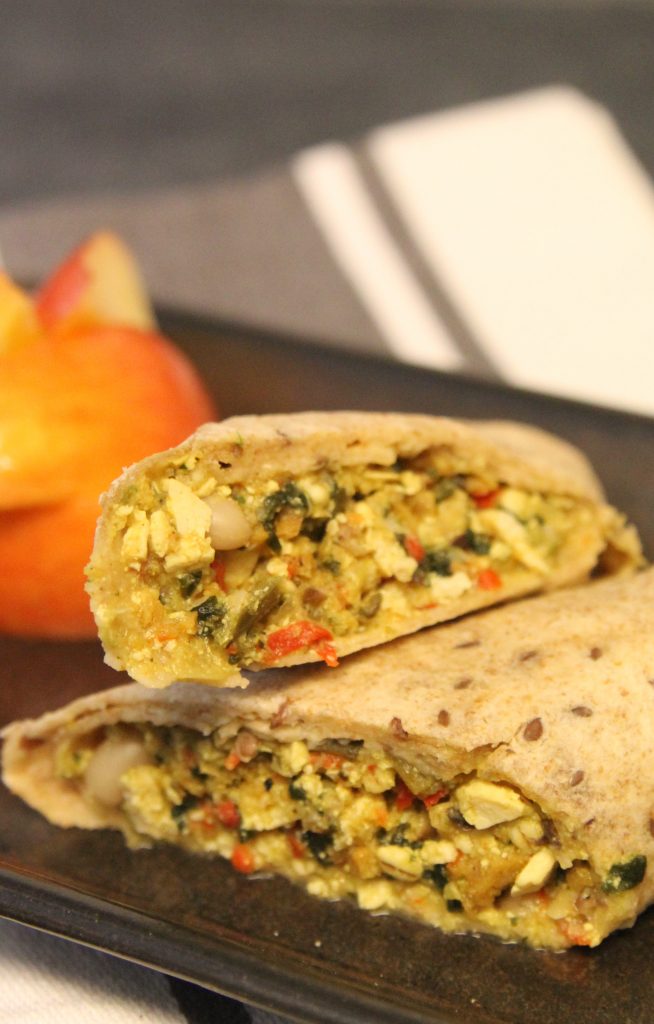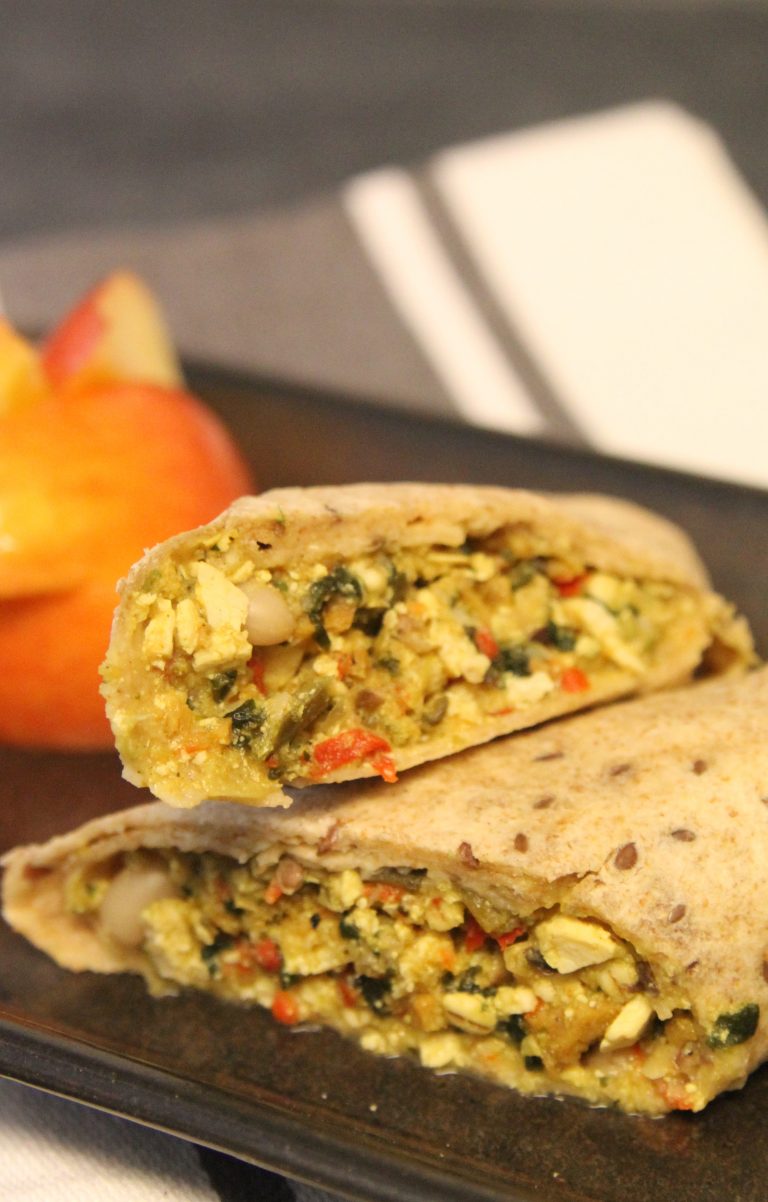 All this deliciousness for only 190 calories, 11 grams of protein and 7 grams of fiber. For anyone watching their calorie intake you know this is fantastic. (Pssst–friends on the point counting system, this comes in at 5 freaking points, I'm loving it!)
Sweet Earth Vegetarian Chana Masala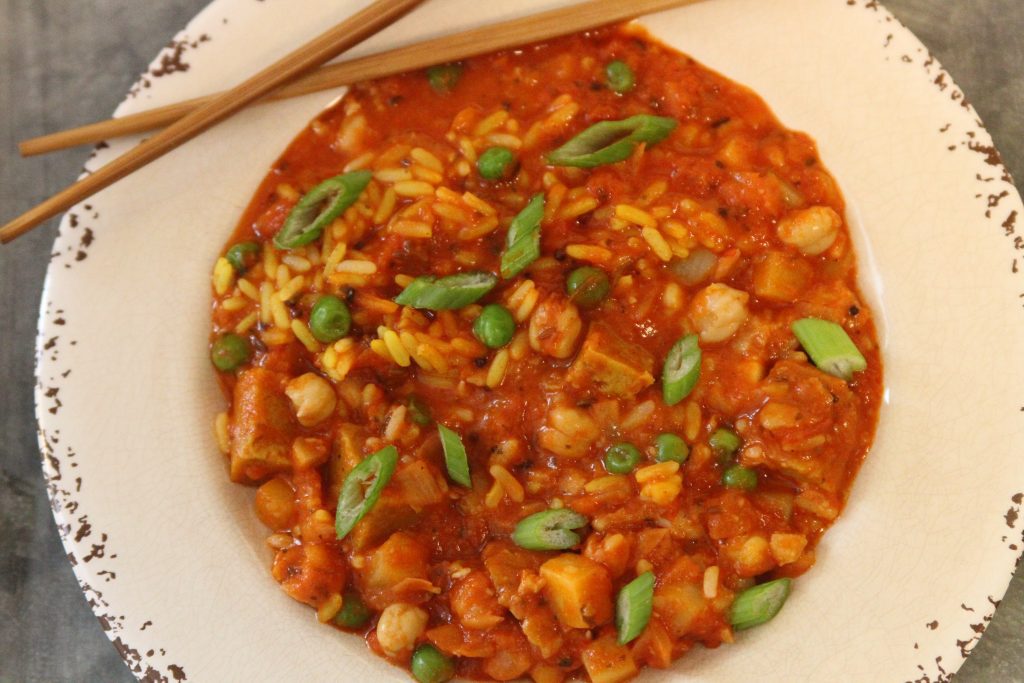 Next up with tried the Chana Masala. Savory Indian masala sauce, garam masala, garbanzos, curry seitan, potatoes, peas, turmeric, and cumin rice.
Now, I will say that I'm completely missing the gene that allows me to eat spicy food so I was a little concerned that this dish would have more heat than I could handle.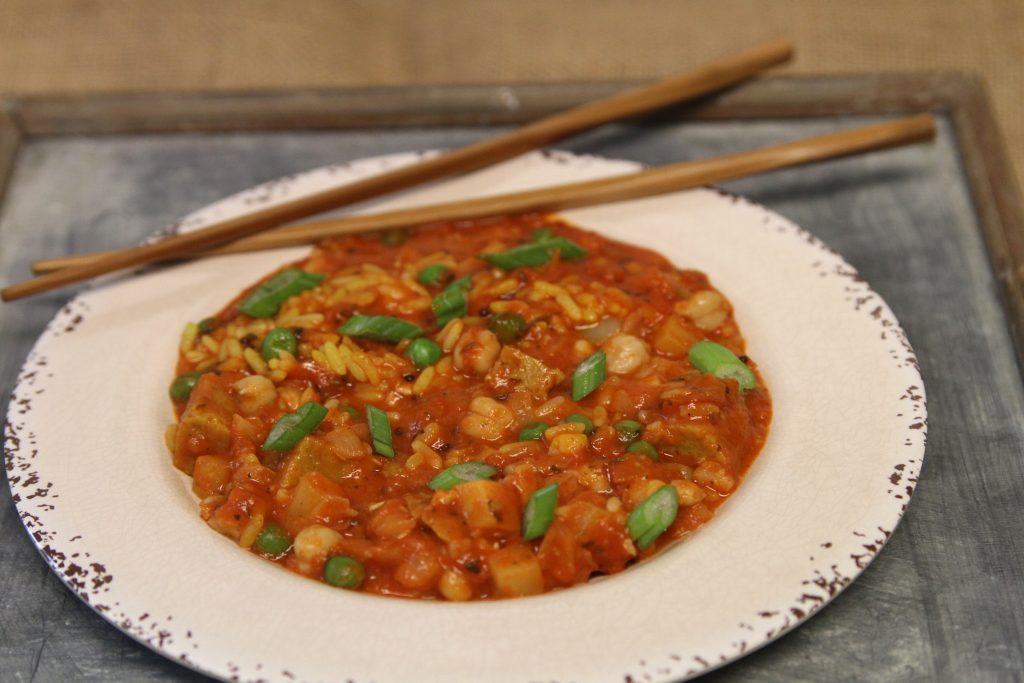 That being said I can honestly say this dish was not too spicy for me and I enjoyed every bite without breaking into a sweat. This vegetarian bowl is ready in 3 hot seconds.
Perfect for lunch on the go or at your desk or when you just want a quick and easy dinner.  If counting points: 10
Sweet Earth Vegan Pad Thai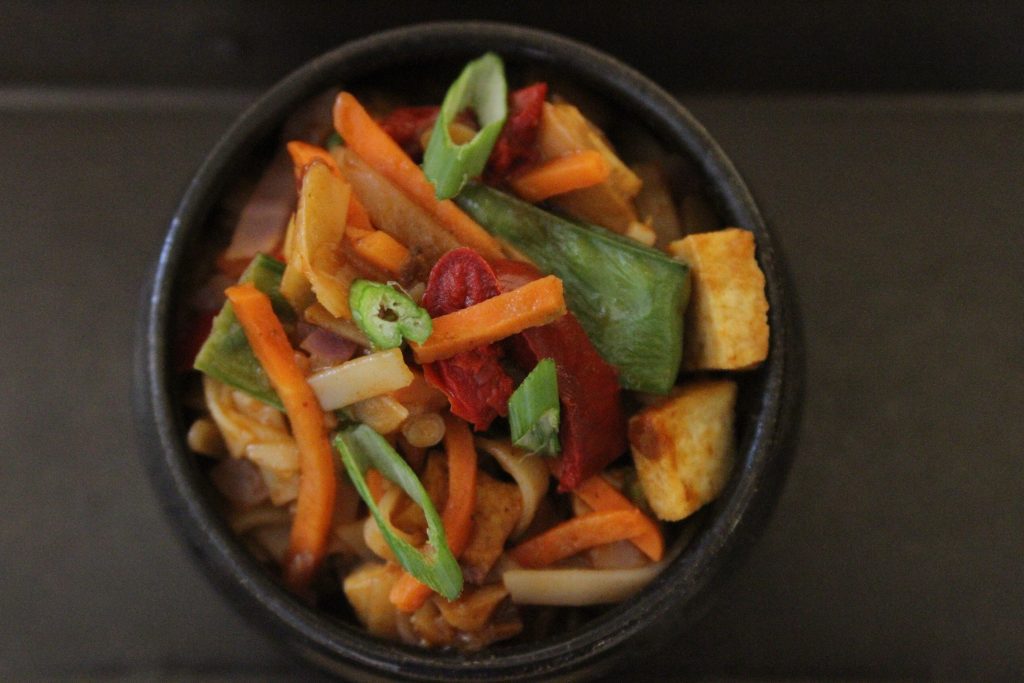 The last one we tried was Pad Thai. Again, another one of our favorites. This one is made vegan style with rice noodles, carrots, bell peppers, snow peas and seasoned tofu.
If you've never tried tofu or think you don't like it I recommend giving this a try. You might just be surprised.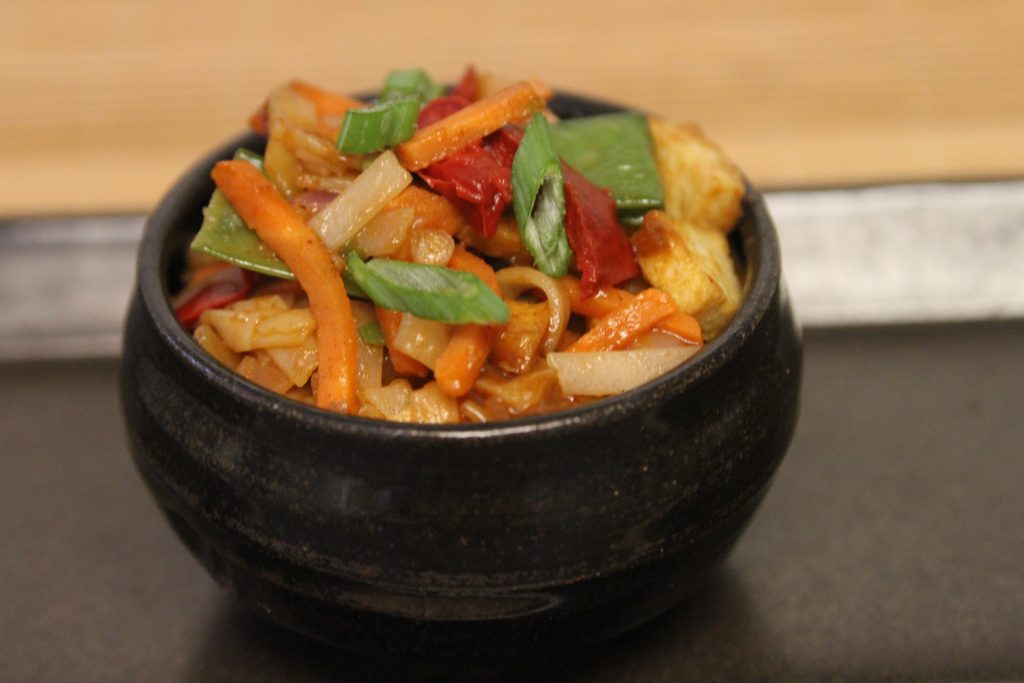 This dish wasn't too spicy either and we had no issue polishing off the entire entree. Points: 10.
We are loving these quick and easy meals that help us quickly figure out what to have for dinner.
Find Sweet Earth Foods Near You
You can find Sweet Earth at your local Kroger, Harris Teeter, Fred Meyer, Ralphs, Frys, King Scoopers, Marianos and more! They are, most likely, available where you live. Check this link to find a store near you.
Pin Sweet Earth Vegan and Vegetarian Foods to Pinterest