**I received free samples of FEEL Natural Energy drink to facilitate this review**
So many days I feel completely drained of energy and exhausted. I have been working, trying to keep up with household chores and traveling a lot. It's a trifecta for complete and utter exhaustion to take over my life. I have been wanting to try something, other than copious amount of coffee, to help keep me powering through my day.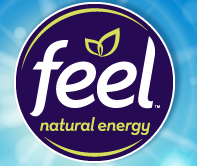 I've considered energy drinks, but they are full of a whole lot of fake stuff which I try to avoid. Plus, they usually have tons of caffeine and sugar. Not good since it will just cause a crash and burn after it wears off. However, a friend asked me to try FEEL Natural Energy drinks. FEEL contains no artificial sweeteners, flavors, colors, or preservatives. In addition, the caffeine in FEEL is sourced from all-natural sources. That sounds a lot better than other energy drinks so I decided to give it a try.


FEEL Natural Energy drinks are available in three flavors: Raspberry Lemonade, Wild Berry, Mango Passionfruit. My biggest concern with energy drinks, besides all the fake ingredients, is that they taste more like chemicals than anything else, which I really don't like. However, FEEL Natural Energy drinks don't have that nasty chemical flavor. YAY! All of the flavors are really tasty, but my favorite is the Raspberry Lemonade. Alan really likes the Mango Passionfruit.


Each can of FEEL only has 2 grams of carbohydrates and is only 15 calories, which my hips appreciate.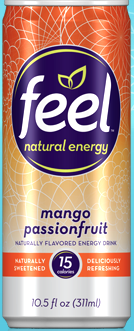 Please note the following: "Individuals with medical conditions should consult their physician before consuming any stimulants, including caffeine. FEEL energy drinks are inadvisable for children, women who are pregnant and people sensitive to caffeine."
FEEL is a Michigan product (love that!) and for every Facebook like they receive they'll donate 25Â cents to Forgotten Harvest (feeding the hungry in metro Detroit). Be sure to click on over and give them a like.
You can buy FEEL Natural Energy at Amazon.com